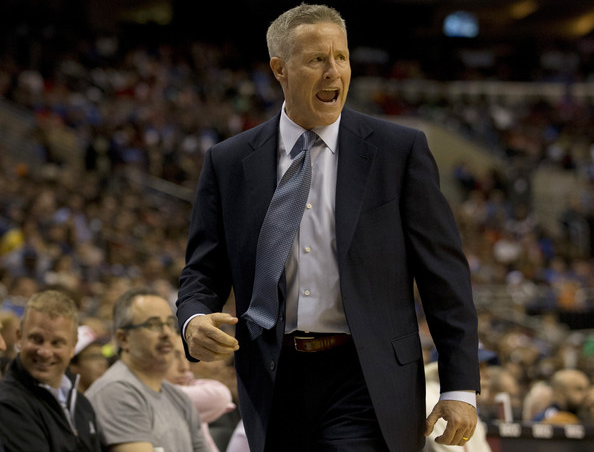 Now that Monday's games are in the books, we've had an entire week of NBA action to digest and enjoy. Every team has played three or four games (...with the exception of Denver), every team has played their home opener, and almost every team has recorded a loss or two. We're starting to get a handle on this year's prominent early storylines (BREAK UP THE SIXERS!) and this year's particularly flawed early expectations (See: Washington). I admit, I haven't gotten quite as much game tape down as I'd like, to date -- I was back in Arizona for a friend's wedding and the revelry tended to disincentivize becoming a league pass hermit. I have, however, noticed a few interesting odds and ends that may pique the interests of a few team's fanbases, and a few general leaguewide trends that should continue to be monitored going forward. Instead of doing a bunch of separate posts exclusively analyzing each, I figured it made as much sense to shorten the text and examine five interesting things at once. Let's get to it.
• • •
Observation #1: THE NBA IS ON SPEED
Okay, no, the NBA isn't on speed. But you'd have to excuse anyone who's been paying attention to the last week for thinking so. Basketball Reference has a neat statistic they share in their season summary page -- Pace Factor, meant to represent the number of possessions per game that a team plays in their average game, normalized to account for pace inflation from OT and other such things. Let's go through the last 5 seasons or so, as the NBA has sped up a bit in recent years, and find each year's fastest-paced team and each year's league average.
2009:          GSW, 98.2     (AVG: 91.7)

2010:          GSW, 100.4    (AVG: 92.7)

2011:          MIN, 96.5     (AVG: 92.1)

2012:          SAC, 94.7     (AVG: 91.3)

2013:          HOU, 96.1     (AVG: 92.0)
Fun times. Want to venture a guess what the current NBA high is?
This year's current fastest team (the young 76ers, much to Doug Collins' eternal chagrin) are averaging a blistering 103 possessions per game. What's more interesting is that they aren't doing it against a skewed schedule -- three of their four opponents to date are currently at or below league average in pace. The Sixers are the ones pushing the tempo, as anyone who's watched Brett Brown's young team can attest. Generally it isn't considered a great idea to rack up a wealth of extra possessions as a team with lagging talent -- as the old adage goes, increasing your sample size vis a vis your possessions per game tends to be a bad idea when your "average" performance is worse than the other guys. Hence why you get so many upsets in the NCAA tournament (... and so many losses for the 2012 Kings). But the Sixers have avoided infamy by being strikingly good at pushing the pace in the right sort of way, taking advantage of the defensive miscues of their foes and any particular slow-footed veterans for easy leak-outs, transition baskets, and open threes before the defense sets. They almost certainly won't be able to keep it up, not with a negative overall margin of victory at a 3-1 record and a league that's suddenly flush with scouting tape on them. But it does appear that Brett Brown may have been a particularly inspired coaching choice, and that's always a delightful find.
Still, that's just one team. Early season results are generally chock-full of outlier values and averages skewed by one or two one-off games. What does the league as a whole look like? Is there anything interesting there? Yes, in fact. While the highest team may be averaging 103 possessions per game, the pace isn't just picking up in Philadelphia. The pace is picking up virtually everywhere. After 50 games played, the current league average pace stands at 96.2 -- higher, I might note, than last year's fastest-paced_ team___. The speed of the game hasn't just gone up for the league's usual fast-paced teams, either (HOU, GSW, DAL) -- it's gone up for the league's slowest teams too. Last year's slowest paced team was the Memphis Grizzlies, who averaged 88 possessions per game. They're currently averaging 94. The Bulls were averaging 89 last year -- they're at 95, now. One other item of interest -- many of the league's highest risers are teams with recent coaching shifts (and, accordingly, shifts in their overall strategy). To wit, three of the top five risers are new coaches, and six of the top eleven.
Lg Rk    Team    New Coach       2013    2014    DIFF
1   PHI BRETT BROWN     91.0    103.0   

+12.0


2   LAC DOC RIVERS      91.1    99.6    

+8.5


4   ATL MIKE BUDENHOLZER    92.6    99.6    

+7.0


6   BKN JASON KIDD      88.8    94.9    

+6.1


10  MEM DAVE JOERGER        88.4    94.0    

+5.6


11  CLE MIKE BROWN      92.3    97.3    

+5.0


22  DET MAURICE CHEEKS      90.8    93.5    

+2.7


23  CHA STEVE CLIFFORD      91.5    93.5    

+2.0


25  PHO JEFF HORNACEK       93.4    94.6    

+1.2


27  BOS BRAD STEVENS        91.7    91.3    

-0.4


28  DEN BRIAN SHAW      95.1    94.2    

-0.9


29  SAC MIKE MALONE     93.6    91.9    

-1.7


30  MIL LARRY DREW      94.7    92.5    

-2.2
That said, the only four teams with a downward pace trajectory are new coaches, so... your mileage may vary.
Now for the cold water. Pace is usually up a little bit at the beginning of the NBA season. While it's never been quite as obscene as this (at least to my knowledge -- don't really feel like pulling together the data to confirm that, at the moment), teams generally start fast and peter out as the season gets on and injuries tarnish the high-flying exuberance of the first month or two. It's unlikely we've seen a sudden sea change into a vastly faster league. It does appear, however, that we've got an inside track on clinching the NBA's highest paced season since 2010. The last time the NBA had an average pace above 93 possessions per game was the 2000 season -- with the Sixers, Clippers, Nets and Rockets exceedingly likely to keep their fast-paced style going (and Mike Budenholzer keeping his Vin Diesel impression immaculate) and many of the league's usual suspects for "slow team that ruins your life" speeding it up (thanks, Joerger!), it seems like taking the over on league pace may serve a solid bet on this one. All good news for fans of faster basketball.
• • •
Observation #2: STEPH CURRY HAS ALL OF YOUR THREES
The percentages players shoot on threes this early in the season are not particularly significant. Rife with variance, it's hard to get a sense of whether a player's hot shooting represents a new mean or a future trivia fact about a player's unbelievable start to the season. Hence, I'm not going to go insane about Curry's current shooting percentage of 50% from three point range. We know he's a good shooter. That's enough. But there IS one thing that may portend to be a leading indicator of a season-wide trend. That indicator? Attempts. Stephen Curry -- through four games -- has shot 36 three pointers. That's nine per game, which has him on track to break the all-time record of threes taken in a single season (678, set somewhat hilariously by George McCloud in 1996) in the 2nd quarter of game 75, with 7 games left to pad his record. Whether Curry continues to shoot 50% or not is irrelevant. The fact that the Warriors aren't afraid to challenge the historical border lines between usage and efficiency to figure out the true maximum value Curry's incredible shooting can give a team should be heartening to Warriors fans. And anyone who likes threes. (... And Tom Haberstroh, since Stephen Curry apparently reads his work.)
• • •
Observation #3: LEBRON SHOULD GET SOME REST, MAYBE
I poked around, thinking that someone else would've probably made this observation already. Apparently not. Despite the Heat's 2-2 record, LeBron James has played: 38, 36, 42, and 34 minutes so far this season. These aren't egregious minute totals, in a vacuum -- especially for the best player in the world. But the Heat are a team that above all else should be looking at the long haul. They don't need to keep to a Popovich-type rest schedule to keep LeBron at 36 minutes a night or fewer. A lot has been made over his career about how LeBron has never suffered an injury that caused him to miss significant time. It's a good observation, but it also comes with an important counter-observation -- he's never actually had to recover from an injury, either, so LeBron's recovery process (whenever it ends up happening) is going to be a touch-and-go thing that's entirely new to all parties involved. Which all comes around to make me think that 42 pressure-packed minutes in a generally meaningless November game against a still-gelling Brooklyn Nets team is a bridge too far, if only just.
I get the whole "certain games are statement games" thought, and I understand that it's difficult to keep LeBron out of the game. They may decide to approach the problem from the other end, effectively cancelling practices for LeBron in order to keep him in the game as much as possible while resting him when it doesn't matter. I also understand that the Heat aren't exactly lighting the world on fire right now -- at writing, the Heat are currently nestled in at 21st in the league in defensive rating despite their evisceration of the Bulls in their season-opener. If you're Coach Spolestra, you're a bit worried about complacency and a team collectively resting on their laurels. But they'll come around, and they know they will. If you combine LeBron's regular season, playoff, and Olympic totals, you're looking at a superstar that's played 11,484 minutes of professional basketball in the three years that have passed since he first donning his Miami reds. Yet another 38-39 MPG season with the assumption that LeBron is an inhuman monster that knows nothing of fatigue or injury may be as reasonable as it's ever been (and don't get me wrong -- by his track record, that's exactly the assumption we SHOULD have)... but count me as one of the few who think the Heat are playing with fire here.
• • •
Observation #4: TOM THIBODEAU'S MINUTES ARE COMPLETELY REASONABLE
Come with me, dear boy, and look at the minutes per game Tom Thibodeau has allotted his top six players in the three games the Bulls have played to date.
Jimmy Butler, 36.7 MPG
Luol Deng, 35.3 MPG
Derrick Rose, 33.7 MPG
Carlos Boozer, 32.3 MPG
Joakim Noah, 29.3 MPG
Taj Gibson, 24.7 MPG
As someone who's spent roughly the entirety of the past 3 seasons sounding the alarm about Thibodeau's absurdist minutes distribution, I have to give credit where credit is due. These are patently reasonable. Butler, their youngest core piece, is the only one above 36 MPG and he's barely there. Rose is getting a slightly shorter leash to help acclimate himself to NBA game speed. Deng is finally -- FINALLY -- not averaging 38+ MPG (which, if it holds, would represent the first Thibodeau-coached season where Deng plays less than 38 minutes a night). He's keeping his big men under 33 MPG, which is generally the danger zone for injury-riddled bigs. The Bulls have not looked very good at any particular moment of their uninspiring 1-2 start. But Thibodeau is keeping his minutes-demons in check, which is fantastic news to anyone hoping that the Bulls get through the season healthy.
• • •
Observation #5: DENVER LOOKS RIDICULOUSLY BAD
There are several teams that could be highlighted here that have looked like genuinely terrible teams to start the season -- the Bucks, the Celtics, and the Wizards all have looked pretty rudderless in the action I've seen them in, as do the Knicks. (The Bucks in particular are starting to worry me a bit -- especially coach Larry Drew's insistence on playing his old friend Zaza Pachulia over Larry Sanders, even though admittedly Pachulia has looked a fair sight better than Sanders in the early going.) But this week's "wait, oh my god" moment for me was when the Denver Nuggets were getting blown out in their home opener by a good-but-not-incredible Portland team.
Let's set the stage. The Blazers had just flown from Phoenix to Denver after having been crushed by a crummy looking Suns team in their home opener, and represented a chance for Denver to get back on track after losing their way against the Kings in THEIR home opener. It looked like the classic situation where Denver's altitude and play-style would carry them against a team that had more talent on their roster. At least, that was my thought going into the game. Suffice to say, that didn't happen. The Nuggets were roundly embarrassed by the visitors, giving up 40 points in the second quarter and trailing by 26 before the Blazers took their foot off the gas in the fourth frame. But even that was hardly a comfort to Denver's season -- after the Nuggets got close, a series of foolish defensive breakdowns by Denver's porous big men let LaMarcus Aldridge drain jumper after jumper to extend a 101-94 lead to a 15-point laugher of a margin. The game never seemed in doubt.
It essentially cemented my prevailing thought when looking at Denver's mish-mash roster. That is: they can't defend anyone. J.J. Hickson may get his boards, but he can't keep in front of anyone and his rotations are two steps late at best. Javale McGee hunts for blocks, not substance, and Anthony Randolph? Get real. Faried may actually be a defensive positive compared to those three, which is pretty awful news for the Nuggets brass that would like to think they didn't completely dismantle a 55-win team and leave themselves a most improbable cellar-dwelling tank machine. Apparently, they did. The Nuggets have time to recover, and I'm sure they will to some extent. Gallo is a solid defender, and as Kenneth Faried and Wilson Chandler come back, they'll start to get a bit of their mojo. And they will always have their built-in home court dominance to fall back on when things get rough -- I can't imagine they won't squeeze out 15 wins or so from opponent back-to-backs in the Pepsi Center alone. But this team looks about as far from a repeat playoff appearance as the Miami Heat look from the lottery, and to fans who were getting used to last season's Cinderella contender, that's not a good look. (NOTE: Now that I have written this, the Nuggets will beat the Spurs by 30 points tonight.)
• • •
One last thing. Hoopdata was officially retired today. Count me as one of the 10-20 remaining people who still used Hoopdata regularly. It's old-hat, now, and other sites DO have everything it once held dear. But humans are creatures of habit, and Hoopdata's delightful quirks were one of mine. I will miss the site dearly. Absolutely incredible work to Joe Treutlein and Matt Nolan for their years of hard work and perseverance to build one of the absolute first public databases that completely changed the game for basketball statistics. You may be gone, but you'll never be forgotten.