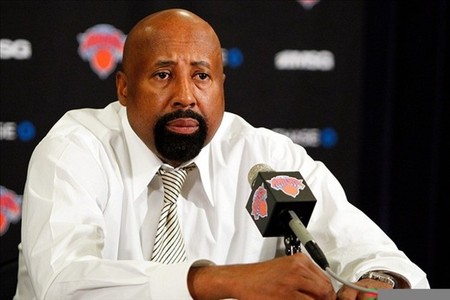 The following is a transcript taken from Alex Dewey's SportFU system. SportFU is based around a series of cameras Dewey placed in NBA arenas under the floorboards. After placing them, our intrepid young reporter realized that his cameras captured absolutely none of the visuals of an NBA game, on account of being underground. So he probably could've saved several million dollars by switching to audio recorders. But we won't get into that. At least they captured enough audio to be able to bring you this post, right?
• • •
Mike Woodson is leading the huddle. His Knicks are clinging to a 1-point lead against the Wizards with 24 seconds left.
Coach Woodson: Alright, y'all. Stick with me here. It's been a rough season, but we've had a great 2nd half today! So let's make something happen! You just gotta trust and believe in your defense, man. One thing I learned in Atlanta is: gotta trust your people, number one. Y'all gotta BELIEVE you can get that stop if ya need it, y'know?
Carmelo Anthony: I believe, Coach. We can get that stop if we need it. Look, you guys, I know we've had troubles before but we can NOT lose this game. We have to trust each other. As long as we have Tyson in the middle, we're fine.
Woodson: Actually, we don't have Tyson.
Melo: Well, where is Tyson? He's not back yet? Dang!
Woodson: Tyson's got, like, an eternal contusion fracture of the spotless mind or something. Somewhere below his knee. Day-to-day. Look, he's still in his suit, right over there.
Tyson Chandler: Hey! What's up, guys? I'm right here. Glad you're looking at me, but maybe you want to focus on that timeout instead of me! I can't play, you know!
Melo: Hey, Tyson! Nice to see you.
Woodson: Bottom line? TC's not going to be available. Andrea, it's gonna be you in the middle. Y'all help him out. Support him!
Melo: Oh sh-... I mean, uh... Yeah, you can do it, Andrea. Just man the middle. Just like we've been practicing.
Andrea Bargnani: [consumes pasta]
Woodson: Right, so we HAVE to guard the middle. Y'all know what I mean? GOT to have a presence. We're down by 1 so I'd rather force them to 3 it, feel me? Even a long J would be fine. But no layups. I'd rather they get an semi-open 3 than an easy-ass five footer. Got me?
Melo: [nods] We got it, Coach.
Woodson: J.R., I know you care about your rep. I get that, young man.
J.R. Smith: [looking up at the ceiling] Right, Coach.
__Woodson: __But this is our whole team's rep, now. I know you don't want someone to hit a jumper in your-- J.R., ARE YOU PAYING ATTENTION?
Smith: [thousand-yard stare] Do what now?
Woodson: Damn, J.R. Look... I know you care about your rep, but focus on the basket, please. Just 24 seconds. Focus on helping at the rim. Don't look at your guy at the 3-point line. Protect the rim first and foremost. Help your people under the rim if someone gets beat. They got a rep, too. Y'know?
Smith: [looking at the opposite basket] Right... shoot it at the rim...
Woodson: Look, just... pay attention on defense. That's all I'm asking.
Smith: [looking at Tyson Chandler] Right, Coach. Seriously, protect the rim, help, I'll do whatever I have to do to make sure they don't score.
Woodson: [a bit touched] Thanks.
Melo: [supportively] J.R. the lockdown man! Keep it going for 24 more, J.R.! You can do it!
Woodson: And Pablo and Ray are out, of course.
Melo: Right.
Beno Udrih: So it's up to me, then.
Woodson: Right, Beno. Good chance you end up on Wall or Beal. Now, you've played under some great coaches in your time, right? You played under Pop, of course.
Beno: Right.
Woodson: So you know two things about the next possession. Simple as anything in the world.
Beno: Right... Why don't you just tell me so there isn't any confusion?
Woodson: Well, for one, they want to put up a shot so they don't leave any time on the clock, and two, they're going to go to Beal on a switch against you, probably on a dribble-hand-off.
Melo: Wait, what?
Beno: How do you know that?
Woodson: Simple. Beal's hot and he's their most explosive scorer, he's a capable ball-handler, and we'd have trouble trapping him. Plus, if he can get a switch to you (and they can easily draw that up), we have to honor it. He's too good a shooter to leave him WIDE open. You're gonna be at a slight size disadvantage, and so they'd be foolish not to try and take advantage.
Beno: Right.
Woodson: But y'all also have a trump card, right?
Beno: [looks around to team] ...Sure, Coach. Why don't you tell everyone so we can all know what you're talking about?
Woodson: The foul to give. We have a foul to give. I can't stress this enough. We have a foul to give.
Beno: Right.
Woodson: If the Wizards try anything before, say, 3 seconds are left (and make sure one of y'all call it out if Beno can't check the time), you should foul them. Make them draw up a whole new in-bounds. That should screw up whatever they want to get, enough to give us the best chance of winning.
Beno: Okay. You know what, I CAN do that, Coach!
Woodson: That's all. Just remember. Trust and believe. Believe and trust. Just do the simple shit that I'm asking of you and we'll win. And, if we don't win and y'all do all of that, y'all can blame me in the next huddle.
Melo: Coach, you're doing great. This is all great stuff.
Woodson: Thank you.
The Knicks gather their hands into the middle of the huddle.
Team: One, two, three, BREAK!
Legitimate intensity, to a man. Even J.R. looks totally engaged, a terrifying, but beautiful, sight.
James Dolan: Hey, what's up, everyone?
Everyone groans.
Dolan: You can't spare a moment for the guy that signs your checks?
Melo: Come on, James, not now. We're right in the middle of a g--...
Dolan: Controversy, right? Felton for Lowry, who says no?
Woodson: Raymond is a fine young man, can we talk about this later?
__Dolan: __I just got off the phone with Phil Jackson. Do you want to know what we talked about?
Woodson: Not especia--...
Dolan: I told him I planned to hire Pat Riley and Ettore Messina to co-coach the Knicks next season. Laughs aplenty.
Melo: Look, Coach is who he is. This isn't helping anyone, James. I don't know what you think you're doing.
Dolan: Hello, Andrea.
Andrea: Hi, James.
Dolan: Some fascinating trade rumors are leaking out today. Most of them involving you. Can you think about that for a few moments and tell me what you think after the game?
Andrea: What... why?
Dolan: It's not that you're not working out. You are, but you know how life is. If you don't have your hand on the trigger at any moment, you're always one step away from missing the dream of a lifetime.
Woodson: Come on, James. What is this even about?
Melo: Yeah, Dolan. What's your problem? Let's just run the play. 1, 2, 3, BREAK!
Dolan: Wait! My favorite movie is "Heat". I listen to the Eagles. I'm a kind, compassionate individual. I've had trade offers just today to send J.R. to Moscow!
Smith: [perking up, stares with attention at Coach Woodson]____ Moscow? What the hell?
Dolan: Nothing very serious, but you have to keep abreast of these things... "Heat"... "Princess Bride" was good, uh... "The Godfather" was a good movie. "Alien 4" was good.
Smith____: [completely losing interest] Never mind, man. I'll score if I get the ball, Coach, if that's what I'm feeling.
Dolan: Beno Udrih for Mike Bibby, Mike Bibby for Orlando Johnson, Orlando Johnson and Bargs for Roy Hibbert, Ryan Anderson, and Omer Asik. Three trades. Who says no?
Woodson: YOU ARE KILLING THIS TEAM, JAMES.
Melo: [sobbing] I just... I played a great game and did everything you asked of me, Coach. Why now? Why this timeout? Why couldn't it have been just three minutes later, James?
Woodson: Nobody knows, Melo.
Dolan: We can compete in the East or West, in the North or South. I sometimes pretend I'm Billy Joel or Bob Seger or Pitbull. I have a band and I like playing in it. I will never trade you, Melo. I will pay you so many dollars, and you will be mine, forever.
Official: Come on, guys. We have a game to play. It's been more than a minute. Commercials are back. If you don't get on the court in 20 seconds, it's a tech.
Woodson: Just... I... yeah, just go, guys. 1, 2, 3, break.
• • •
But now all the Knicks look worried or disinterested. They all heard the ref, but barely beat his 20-second deadline as they wade over to contest the inbound pass.
The Wizards run a dribble hand-off leaving Beno Udrih guarding Bradley Beal. Beno - with sudden thoughts of retirement (or worse, being traded for the retired Mike Bibby), is unfocused and doesn't foul when Beal makes his move with plenty of time. Beal easily slips past Beno, and the rest of the team is caught unawares, expecting him to foul.
The Knicks aren't way out of position, at this point, but Bargs is angry at Dolan's sudden leak to the public about his lack of faith and refuses to man the middle. J.R. Smith, worried about going to Moscow (and a little intrigued, which occupies his attention even more), stays on his man in the corner even after Beal beats Beno. J.R. is not going to let someone shoot over him and give Dolan the ammo to send him to Moscow.
Beal gets an easy, uncontested lay-up on the Knicks' basket. The Knicks have three time-outs, but Mike Woodson has checked out of the game at this point. He refuses to call time-out, and Melo, the only one left to care, heaves a desperate shot.
NOTE: After the game, James Dolan trades his 2022 first-rounder to the ether for Ben Wallace.