NBA Chessboxing Power Rankings: Who's Toad-Style?
Posted on Mon 13 January 2014 in Features by Alex Dewey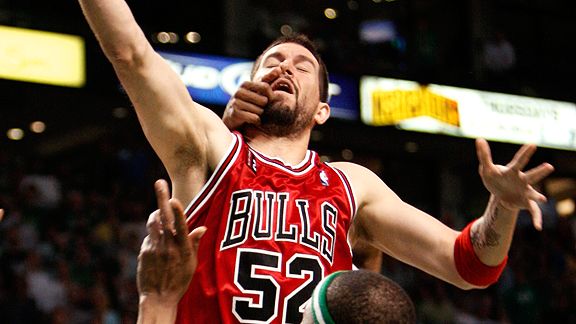 A game of chess is like a sword fight. You must think first before you move.
Chessboxing is one of the most well-known sports of our time. I don't think there are more than two or three people who don't know what chessboxing is. With that in mind, I don't intend to actually define chessboxing at any point in this post. I only seek to answer a simple question: which teams would do best in a chess boxing match? We explore, you decide.
• THE SQUIRREL-STYLE ROADKILL: 30 to 18 •
30. Bucks - Tremendous upside, as Alph-bent-etokounmpo could surely play chess and box and have a puncher's chance against just about any other team's lineup. Everything else about this franchise? Incredibly depressing. No clue why chess boxing would be an exception.
29. Knicks - I'm not necessarily saying they're unintelligent, or bad, or that they'd have some kind of trouble executing the most basic things and having their best ideals and decisions stymied by an owner that alternates between laughably ignorant and seemingly malicious. [EDITOR'S NOTE: You won't fool me, Dewyn Davis. That's exactly what you're saying!] All I'm saying is that the Knicks playing chess is just about the funniest thing you can possibly imagine. Try to think of the worst possible move to make on a chess-board. Got it? Good. There's probably a way worse move that someone from New York's organization intentionally made happen to the Knicks.
28. Sixers - They're fine right here, thank you very much. Check back in a few.
T - 25. Bobcats, Cavs, Raptors - What do you want me to say? You're not very good at chess, and you're not very good at boxing. [EDITOR'S NOTE: I dunno, man. Anderson Varejao is a wild man and you never count Kyle Lowry out in a fight. And Luol Deng would be a chessboxing superstar. I don't like what you're doing here. I don't feel like I have a lot of outs.]
24. Pistons - I keep trying to put them somewhere but they keep going down and down and down the list. I think they'd lose the chess match in the first round, is the bottom line. What are Drummond's free throw struggles but a gigantic strategic target on their backs? You just have to dare Josh Smith to throw a right or hypnotize Drummond to think he's at the free throw line. And what's Greg Monroe doing? How does he fit in, to either chess or boxing? Brandon Jennings is fine, and probably an asset to boxing, but he's not an elite chess player. They could win if they have a good match-up that gets Smith in the thick of boxing. Or whatever the heck actually works for and/or motivates this team. They have yet to discover this on the court, so I don't know how they'd adapt to a new situation like chessboxing.
23. Orlando Magic - In Wu-Tang's "Da Mystery of Chessboxin'," it sort of sounds like they say Jacque Vaughn at one point. They aren't, but let's pretend.
22. Thunder - Westbrook is injured, and I have a feeling that Brooks would feel obligated to start the first round of chess with Fisher and the first round of boxing with Perkins to "get them involved." Also, because Kevin Durant is too lean to be an elite boxer. [EDITOR'S NOTE: While Fisher is an obvious downgrade from Westbrook, we should at least accept that chessboxing is easily the most perfect sport in the world for him. Have you SEEN how bulked he is? Guy's a bulldog, he'd destroy the point guards of the vast majority of other teams boxing! And he's extremely intelligent (head of the NBPA!) and cockroach-style adaptive (somehow still getting NBA minutes!) -- both things that help on a chessboard. Also, Perkins is huge. Who boxes against him and beats him?]
What's more, Durant's particular blend of creativity and athleticism doesn't seem to be the same sort of creativity that would help him excel at chess, in a hard-to-explain way. So let me try: Part of KD's particular charm is the virtually limitless continuum of possibilities he embodies at any given moment on the court. Durant's special creativity is built in part on the dramatic foundation that at any moment, he can go to a until-that-moment-impossible place on the court and react naturally. Every trip down the court feels like the first time someone with his particulars has handled the situation before him. This is maybe tautological -- technically, the present moment is completely new to everyone reading this and presents an endless series of... et cetera, you know where I'm going. And we're all unique snowflakes (no, really). It's just that KD is so obviously and visibly different from all of his peers (and seemingly his historical peers as well), and watching him is (and not "is like", but the flat "is") watching the first player like him to handle a specific situation. It's watching the logic of basketball applied to a thitherto-impossible-even-as-a-metaphor situation, which is perhaps right there (old rules, new context) the heart of all creative thought.
The only problem with Durant as chessmaster is thus that you're taking away a whole lot of the "new context" part of the formula right from the get-go, because chess is a discrete, well-understood sport. Durant is probably not different enough in his mentality from his peers in the same way he's different physically from his peers. Plenty of prodigies modern and historical, plenty of room for creativity, but all of it is bounded by mutually-understood rules and exhaustively-understood context, and I just think KD would find such a vast degree of context and creative history overly-imposing. And for us as viewers of the chess boxing, we'd find that KD's creative output would seem far more pedestrian when stripped of his instantaneous ability to create a new context simply by existing, as he can on the basketball court. Chess itself just feels like something KD would not want or be able to excel at, and any time he would spend dwelling on chess would constitute a tragic stunting of his inevitable phoenix-like basketball ascendancy that spans the universe entire. [EDITOR'S NOTE: Eh...]
(Okay, time to come clean. They're an easy top-10 team, but I'd forgotten about them until the end and didn't want to re-number everything from 10 to 22. Sorry.) [EDITOR'S NOTE: That's better. I accept your apology.]
21. Jazz - Look, I could point to the structural flaws and successes with chess boxing here: Like that Richard Jefferson's just not a good boxer (SOURCE: intuition, watching him on the Spurs). Gordon Hayward would rather play Starcraft than play chess (even if he and RJ likely have some chess game between them).
But the bottom line is that -- for whatever else I could say -- both chess and boxing are sort of violent. Yes, obviously boxing is filled with physical violence. But beyond that, both sports have a dramatic spike in activity centered around a decisive end-move. The knock-out. The check-mate. The end-game. There's a sort of Rube-Goldberg-machine series of alternating game-theoretic levers in an exchange of chess or boxing whose end goal is (eventually) the strategic obliteration of a contestant or an army. Yes, there is a detached, intellectual pleasure to the science of chess (and, to many generations of sportswriters past, to the sweet science of boxing). But ultimately I'm thinking jugular as soon as my pawn crosses the halfway point.
Chess and boxing - unlike the long, obviously-accumulative grind of basketball - are not about having a steady, patient hand through 48 minutes to help your team preserve, endure, and eke its way into a hard-fought 5-point victory (as the Jazz are eminently capable of with the development of Trey Burke). No, these sports - and therefore chess boxing - are about having a steady, patient hand only for the purposes of pulling a world-ending trigger. And - as great as Hayward has looked in stretches - the Jazz are not a team that pulls the trigger. Nor Burke, nor Favors. And especially not Richard Jefferson, despite his pleasant career renaissance on the Jazz.
Trey Burke and Rudy Gobert (eligible) are going to be crucial. After all, it's possible to force check-mate with just two rooks.
20. Wolves - In theory, a great chess boxing team. Plenty of great athletes (and a world-beater in Love), a total savant in Rubio that can probably visualize chess openings in his head given a brief description, and a good system that they're able to adhere to. The only problem is that the Wolves suck in close games, and boxing and chess are always incredibly close games. You're hardly two feet from your opponent!
19. Bulls - Top-five boxing, bottom-five chess. Kirk Hinrich plays an important role in both, which makes people that watch kinda sad.
18. Lakers - Top-five chess, bottom-five boxing. Nick Young plays an important role in both, which makes people that watch irrepressibly mirthful.
• THE GIRAFFE-STYLE PRETENDERS: 16 to 8 •
T - 16. Pelicans and Kings - The Pelicans are only here because Pierre isn't technically eligible_._ I have no doubt Pierre would consume the opposition, the only unknown is whether that's a literal statement or not. The Kings are here because they average out to a very average chessboxing team. Some mechanical issues aside, Isaiah Thomas and DMC would be excellent at chess and boxing respectively (even if I have my doubts about DMC's patience in a game of physical momentum). The only problem is that no one else on the Kings would be remotely passable. Except for Rudy Gay, and I don't know that I'd want him playing chess or boxing if I were coaching. Also, "Kings"? Talk about having a target on your back, as far as chess goes. Yeesh.
15. Hawks - "Never Trust The Hawks" is a bit like "Nothing Was The Same" in that they're both common four-letter short-hands you'll see in the intersection of basketball and hip-hop culture. Unfortunately, they're mutually contradictory. You have to choose one. If "Nothing Was The Same," then you could wake up tomorrow and trust the Hawks. If you can never trust the Hawks, then something is the same. QED. As for me, I'm going NTTH. Sorry, Drake. Here is a vocoder; why don't you sing how you feel?
14. Nuggets - Altitude gives them a cheap advantage or they'd be 20th. Oddly, despite the NBA influence being more athletic-based, the Nuggets benefit more in chess than in boxing. Impulsive moves from queens and rooks are generally easier to avoid when you don't have to go to bed in Miami and wake up in an ice fortress in the sky.
13. Mavericks - They'd be good, it's just that I'm pretty sure DeJuan Blair is something like 1-13 against Tim Duncan all-time in the Spurs' surely-extant offseason boxing work-outs. They're fine, but I don't trust that frontcourt to box and also play chess. I bet Monta is sneaky-good at chess but plays too impulsively to bank on.
12. Clippers - With Chris Paul, Jamal Crawford, Stephen Jackson [EDITOR'S NOTE: Stephen Jackson was cut.], and J.J. Redick, the Clippers would certainly have the advantage during the chess rounds over most teams. Chris Paul is probably the smartest single player in the league, or, at the very least, he's the most visibly and tangibly cerebral player in the league. He probably knows those tricky openings that can kill beginning chess players before they get a chance to fight back. And Stephen Jackson probably has a gigantic chess set in his backyard. I don't know why. [EDITOR'S NOTE: Stephen Jackson was cut.] Their weakness comes in the boxing category. Immense athleticism, and not taking anything away from their toughness, perceived or otherwise, but physically I don't think it works. After all, this isn't chess kickboxing. T-Rex arms by Blake and late (but improving!) off-hand defense by DeAndre Jordan will neutralize their athleticism and guarantee that they'll be above-average but mediocre at chess boxing. Sorry. And S-Jax would be - and likely is - a great boxer, but he's aging badly. [EDITOR'S NOTE: Stephen Jackson was cut.]
11. Rockets - Morey would teach them the high-leverage points in both sports, and how to take advantage of the single moment of opportunity that will raise Houston's chess and boxing games above an average nerd's into some super-human realm of self-actualization that is still really hard to watch with all the free throws (... technically they're called en passant and holds, but still). [EDITOR'S NOTE: Stephen Jackson was cu--wait, you didn't mention him, my B.]
10. Suns - Scrappy, will beat the Vegas odds every time. The Morris twins will run interference for each other and end up upsetting better chess players using their brotherly wiles. Miles Plumlee went to Duke, which -- for once in his life as an NBA player -- might actually be valuable.
9. Nets - Yes, they're a little long in the tooth. But they're also long in the arms and the legs and the career histories. As for chess? I wouldn't necessarily want any of them to play chess except for Deron Williams and maybe KG. Actually, I haven't decided if KG would be an incredible chess player, or just someone that constantly tried to use the king to shove pawns off the board when it wasn't anyone's turn and the opponent wasn't watching, thinking that he was winning the "psychology game". Or maybe that's what an incredible chess player actually does. I don't know.
8. Heat - They're great on paper, but it's a gimmicky tournament and Wade is going to be in full branding mode. He'll demand the Heat only move bishops and bishop's pawns ("Three" moves). He'll endorse a new product (Connect Three),__ be featured in a commercial and say "I got you. Diagonal-three." on your TV screen ad infinitum on what is basically tic-tac-toe (like the ticky-tack fouls he draws!). [EDITOR'S NOTE: ...What?] Spolestra will have crow's feet and circles under his eyes as he gets no sleep for a month trying to compensate for Wade's demands, and in the end Spo'll do a pretty good job putting together a chess boxing squad, helped by the fact that LeBron turns out to be possibly the best boxer on the planet and a passable chess player.
• THE TOAD-STYLE CONTENDERS: 6 to 1 •
T-6. Wizards and Celtics - I think John Wall could handle this all himself. Cerebral and athletic. He's a player that can credibly contest Greg Monroe at the rim in a game. Twice. I'll give him the benefit of the doubt on the length. As for the Celtics, Rondo and Brad Stevens both advanced past chess when they were five (were given cap and gown to signify their graduations in brief, private ceremonies) and moved on to the real hard stuff: Connect Four. They are both aficionados of the sport, which is probably the closest single-game encapsulation of chess boxing. Will we ever understand da mystery of chessboxing? No, but Rondo and Stevens probably already have. They got you, diagonally.
5. Grizzlies - we in the mud.
4. Wa--... [EDITOR'S NOTE: Four words for my Grizzlies, Alex? THAT'S ALL YOU WROTE?!?! FOUR WORDS???]
5. Grizzlies - Apparently Aaron is literally refusing to let me continue this post until I expand on his favorite chessboxing team. I'm willing to bet money that Tony Allen is actually a grandmaster under multiple aliases he maintains as he red-eyes between dozens of seedy Russian airports and hotels. I'm willing to bet he's also pretty good at boxing. This is one of those matchups that's straight-up unfair for most other teams, given that the Grizzlies have 5-6 legitimate large-dude big men on the roster that include 3-4 of the most unguardable boxing talents in the league. And that's BEFORE you get into scrappy technical never-say-die fighters like Conley and the wildcards like Allen. Mike Miller strikes me as a decent chess player, too. Really strong team.
4. Warriors - Start with Bogut and Green for boxing, Curry and Barnes for chess. Iguodala for both. They could be a contender, although I have issues with their depth and don't really know where David Lee fits, which sounds not-dissimilar to my preseason thoughts about their basketball roster. Still, a virtuoso like Curry and bruisers like Bogut and Green are going to put you high on any chessboxing rankings. Just a fact.
3. Blazers - They have the presence to get offensive boards, they have somewhat-unguardable length, and their general level of production is pretty much sustainable. They don't have any obvious weaknesses, except for defense, and they have enough energy to weather a storm. They don't lack confidence, poise, or mechanics. Their collective footwork and handwork -- Lopez aside -- is pretty darn good. That will pay off in the sweet science. Lillard and Stotts can handle the chess, making moves that are unorthodox and risky but that pay off precisely because no opponent is on Lillard's wavelength enough to bring about the down-side. They're exciting, they're dynamic, they're elite. But I'm putting them here largely by default, because of health, random chance, and the lack of better alternatives. The Spurs of Chess Boxing Power Rankings.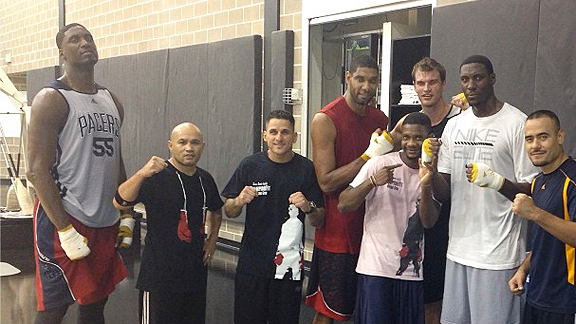 T-1. Pacers and Spurs - These teams have to be at the top for several reasons.
The Spurs are the most likely team to have several chess players, followed closely by the Lakers, Heat, and Pacers, in that order.
As you can see above, both team spend time in the off-season boxing, and the Spurs have for several seasons. We know this practice dates at least back to Fabricio Oberto.
Roy Hibbert boxes through his connection to Tim Duncan. George Hill was on the Spurs for a few wonderful years and likely boxed several times. And David West obviously boxes every day of his life and knows every boxer in the world personally from having boxed said boxer. Paul George is a ridiculously lengthy athlete entering his prime who relishes defensive assignments.
The Spurs have Kawhi Leonard.
Aaron and I are contractually obliged to post this image whenever we possibly can.
Physically I'll give the slight advantage to the Pacers. They have tremendous length and know how to use it. Hibbert with his rather slow frame might be susceptible to toppling, but that's assuming you're able to reach him to put your full weight at Hibbert, a gambit that, if it misses, is immediately disastrous. And there's a good chance Hibbert's just too large for that to even become a consideration, even against NBA athletes. You might be able to tire him out, but then the Pacers can just go to West or George to spell him. The Spurs are - at least in terms of starters - plenty old and on a bad night could end up getting destroyed like the sad later career of Ali, before they even get to play a round of chess. Duncan would get toppled at it would be so sad. But on a good night, they're not only formidable but elite. Also, Boris Diaw is impossible to move intentionally and would likely be deceptively elite at dodging and using your momentum against you.
As for chess: With Pop on the sidelines, Boris Diaw, Tim Duncan, Manu, Danny Green, and Patty Mills? I'm sorry, this is a lopsided match-up for just about anyone. Maybe Chris Paul takes control of the Clippers/Spurs chess match. I doubt it.