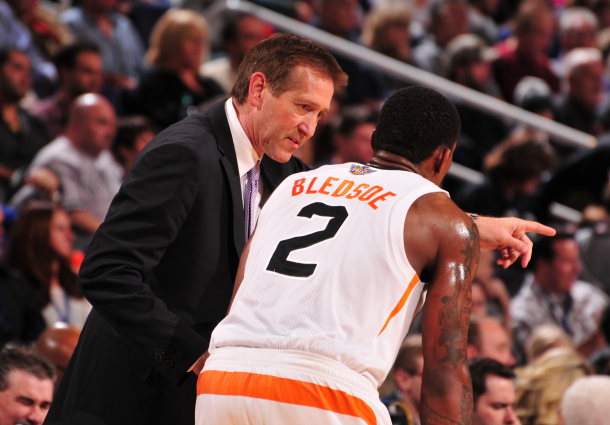 As a Grizzlies fan, no one should be happier about Eric Bledsoe going down than me. My team -- flailing without Marc Gasol for two months, although they're staying afloat -- now has a much better shot at making the playoffs. In fact, at this point, if they DO manage to reach the top-8, we may end up seeing the Bledsoe injury as directly responsible for the spot.
Despite all that, I'm inconsolable. Out of all the major injuries in the NBA this season, this one hits me hardest. Yes, even harder than Marc. Yes, even harder than Rose. One might think this is because the Grizzlies march to the postseason now seems almost too easy, but that'd be wrong-headed -- nothing related to my guys has anything to do with it. If they get in, I'll be thrilled regardless of how they accomplish the feat. What devastates me so much about this injury is that one of the weirdest basketball stories in the last few seasons will be left unfinished. We'll never know what exactly this Suns team could have done.
• • •
Take a step back: the Suns weren't expected to do anything this year other than lose very frequently. In an insanely deep Western Conference, the Suns were the only team that no one thought could compete for a playoff spot. (Even Utah had a few crazy believers!) They were supposed to bottom out for a draft pick, nothing more than four easy wins for the Clippers and Warriors. Instead, they stunned everyone who pays even the slightest bit of attention to basketball. I mean, cripes -- they started out 21-13. Twenty-one wins! That represented more wins in their first 34 than many would have given them over an entire season. And this wasn't some case where they kept getting lucky in close games, either. Their point differential matched their record -- their expected Win-Loss record was right on track with their actual record. No one could totally explain or understand the Suns, and no one had to. It was beautiful. They just worked.
The best thing about the Suns, to me, was that one of their expected problems turned out to be their greatest strength. Dragic and Bledsoe weren't supposed to be able to play together. Dragic was supposed to be trade bait while they bottomed out, because there was no way two point guards could exist in the starting lineup. Right? Wrong. The Dragic-Bledsoe duo proved to be phenomenal, stymieing opposing defenses and rivaling Steph Curry and Klay Thompson for the title of best back court in the league. Splash brothers meet slash brothers, or so they say.
As the wins kept piling up, the question of "can they keep it up" hung in the balance. Even though their record was consistent with their Pythagorean Win-Loss mark, it still seemed questionable that they could keep playing THIS well. After all. Channing Frye couldn't keep playing that well. Miles Plumlee couldn't keep playing that well. Gerald Green couldn't keep playing that well. Whether or not the Suns could blow our minds for a whole season and actually make the playoffs was shaping up to be most fascinating storyline in the league going down the stretch. And we'll never know the answer.
Given their inspiring play to-date, there's a chance they might not fall all the way into the gutter. They've still got more than a puncher's shot of finishing over 0.500, a massive accomplishment for the roster they put together. But with Bledsoe gone, their limitations are impossible to ignore. Dragic is their only true quality player at this point. Everyone else on this team was playing above their expected talent level, and the idea of them playing even more out of their minds than before is pretty laughable. What's more likely is that without Bledsoe, the team will fall into a funk. It's hard to know how much psychological factors can impact a team's performance, but its not a stretch to think the loss of Bledsoe could hurt the Suns just as much mentally as it does talent-wise. With Bledsoe healthy, this team knew they could win, even if no one else believed them. Now, no matter how much they might try to deny it, they know they don't have much of a shot. Confronting that on a daily basis could end up accelerating their descent into the gutter.
Still -- what's the big deal? After all, the Suns know what they have in Dragic and Bledsoe, and there's no reason they can't be competitive next year. If anything, they could be even better, since the prowess they've shown in the first half of the season should increase their odds of a luring a big-name free agent. Further, dropping into to the lottery -- even the fringes of the lottery -- gives them a better draft pick in one of the most loaded drafts in recent memory. And it's not like this year's Suns team was going to win a championship, anyway. Anything after the first round would have been a miracle.
• • •
So why does it hurt so much?
Because of the same reason the 2004 Heat are Aaron's favorite Heat team ever -- this is the only year where it was going to be special. We know what the Suns are capable of now, and we're going to into next year basing our expectations on that. If they lure the likes of Luol Deng or Carmelo Anthony to town, we'll be even more confident in their abilities. This was the only year where the Suns were going to push our imaginations to the limit. As NBA fans, we know the game we love is predictable, and we know it's hard to get casual fans excited about it. "Don't the Lakers/Heat just win it every year? I'll watch in June." It's hard to combat that attitude, because deep down, they kind of have a point. The year starts with four or five legitimate championship contenders and four or five legitimate tire fires. The year ends with the same, year-in and year-out.
These teams oscillate, and there's a decent amount of back-and-forth while we adjust expectations and figure out exactly who they are. But the broad strokes remain the same, except in extraordinary circumstances. The 2014 Suns -- prior to this injury -- were an extraordinary circumstance. The greatest thing about basketball's wretched predictability is that when we do happen upon a team like the Suns, it's all the more mesmerizing. Look at the NFL. The worst team in 2012 (the Kansas City Chiefs) ended up winning 11 games and making the playoffs this year, and it wasn't even that much of a surprise. That's the downside of parity, and the upside of predictable hierarchies; when a team plays better than they have any business playing, it really feels like something. It rekindles your excitement for the game and continues to teach you new things.
Deep down, I know the Rose injury is a much bigger deal. It caused the front office to blow the team up with Deng out the door and Boozer likely joining him soon, and now we'll never know if the Rose-Deng-Noah-Boozer Bulls could have won a title. I'm pretty unhappy about that, too, but at least by the time Rose went down again, I already knew where the Bulls were talent-wise. After all, we saw them finish 1st the East for two straight years. They were a known quantity, even if the injuries made them a nebulous unknown. With the Suns, I had no idea how good the team actually was. I had no idea how far they could go. That made them fascinating night in, and night out. They'll certainly be intriguing next year (I'm already expecting them to be at the the top of my Tiers Of Intrigue come September), but the element of surprise will be a gone. And in a sport where genuine surprises come some few and far between, it will be sorely missed.