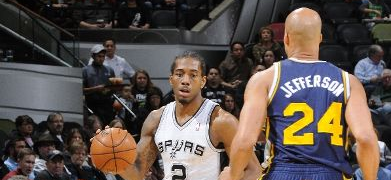 Before I started this post, I was planning on re-drafting a post about Danny Green for today. In my head, it was standard sportswriter fare -- present the Hero's Journey through the lens of a player. Green's is as follows:
Be an intelligent, versatile, unselfish, winning player in college... and go undrafted anyway.
Get cut by multiple teams (the Cavs and Spurs, specifically)
Address flaws and polish strengths (his personality was never in question, but his work ethic went from "respectable" to "irreproachable" quickly as his dire situation became apparent).
Have a break-out game (the instantly-legendary "Bench Game" where the bench brought them back from a massive deficit against the Mavs before losing in a ridiculously close match)
Start to get acclaim as one of the league's best spot-up shooters
Put up one of the most electrifying post-seasons by a role player in recent memory.
Beginning, middle, end. Boom. It's a great story. That standard sportswriter fare has long been the go-to backstory for San Antonio's "3-and-D" position. Hit your corner threes, pass to the wing, (maybe) hit your wing threes, and lock down your man. Bruce Bowen, Stephen Jackson, and Danny Green all had long breaking-in periods into the league. Heck, Bruce Bowen was actually eligible for the 1993 NBA draft (3 years before Kobe, Nash, or Jesus Shuttlesworth), but he didn't really establish himself as a bonafide NBA player until he made it to the Spurs in his 30s. And Jackson has had long stretches of off-court notoriety. But they're all still in the league! [EDITOR'S NOTE: Stephen Jackson was cut. Also, Bruce Bowen hasn't been in the league in half a decade.] With Danny Green injured, and his current season a bit disappointing, I think it would be nice to focus instead on what's more in view. On Wednesday night the Spurs and Jazz played. Predictably, San Antonio won, although Utah put up an eminently respectable late run that very nearly tied it.
While "3-and-D" is the way Spurs fans tend to look at their off-wing roleplayers, the big match-up most Spurs fans were familiar with was between two men that recently challenged the Bowen role. In the last 5 years, Kawhi Leonard and Richard Jefferson have posed on-court challenges for how the Spurs want to use the small forward position. Their backgrounds differ starkly from the "3-and-D" of Bowen, Jackson, and Green. Both are mid-to-high 1st-round picks, a decade apart, and both Jefferson and Leonard had plenty of hype and respect coming into the league. And both quickly proved worthy of any such respect allotted. Jefferson played a key role in helping his Nets team to two consecutive Finals appearances in his first few years and Leonard played a large role on title-contending teams in his first two seasons as well. Both came via the rare Spurs blockbuster trade, and both were immediately expected to produce. And both had the uncanny air of respect that comes from undeniable professionalism.
Most importantly, both express the athletic gifts that imply a greater athleticism, although they do so in fundamentally different ways. Jefferson has the traditional hops and meat on his bones that makes him consistently deadly in transition and a fantastic dunk artist going back to college. He'll casually uncork a huge vertical when skying for an uncontested rebound, and his full-court sprinting speed in his prime was immense. At one point with the Spurs, Jefferson got a chase-down block at the rim by outrunning Ty Lawson before sprinting back into the play on the other end to hit an above-the-break 3. Jefferson is a track star with physicality perfect form carving out an above-average career in the NBA. Kawhi is less traditionally athletic. but has what I'd call a Spursian modification of athleticism: Ridiculous wing-span, good height, stable frame, incredible hands, agile, and can cover immense ground with length alone. And, most importantly, the seemingly monastic discipline of Tim Duncan.
In its totality, Jefferson's tenure with the Spurs landed halfway between dread mediocrity and an outright disaster. Despite saying all the right things in an uncanny impossible-to-fake way, Jefferson simply did not seem to have the presence of mind expected of professional basketball players on good teams. Fans found him disappointing, as did the coaching staff, as did eventually the most optimistic of Jefferson supporters. His disastrous first season was followed by an off-season back-to-basics regimen by the Spurs and a fat contract extension, and then his mediocre (though great-shooting) second season fizzled out with a quick playoff exit. The Spurs traded for their future in Kawhi on draft night 2011. Jefferson was traded 9 months later for Stephen Jackson, and that was that.
On the other hand, Kawhi's tenure has been somewhere halfway between good and sublime. A mirthful Hubie Brown voiceover seems to hang in the background whenever you watch Kawhi, even on his bad nights. His first season was promising and incredibly productive, his second was excellent and punctuated by moments of quiet dominance, and despite a slow start to this season Kawhi still appears to be on an All-Star trajectory. [EDITOR'S NOTE: Maybe. He plays in the West!] It's fair to say that Kawhi is much the superior player to Jefferson in nearly every facet of the game. It's hard to think of any situation that I would ever want to bench present-day Kawhi Leonard for Richard Jefferson. And, in the Jazz-Spurs game last night, Kawhi clearly outplayed RJ. This has been the hierarchy since Kawhi's first game with the Spurs (and, perhaps, since Kawhi turned about 18).
Yet, if you were looking closely, Jefferson was making similar sorts of 'impact' plays to Kawhi last night, and they weren't altogether flukes. Lacking Kawhi's handle, grace, defensive length, and apparent presence of mind, Jefferson has nevertheless carved out a niche for himself in the Utah franchise on both ends. Suddenly the presence-of-mind and poor decision-making issues that had plagued Jefferson on the Spurs look to be somewhat in the past, or at worst ameliorated. Sure, watching all his shots this month, RJ has made some hilariously bone-headed attempts that recall the worst of his Spurs (and Warriors) days. And don't get me wrong -- some of the hilariously bone-headed attempts are the essence of NBA comedy. My personal favorites are his turnaround contested air-balls and his perennially absurd attempt to dribble from the corner to the hoop in an parabolic arc whose vertex gets closer and closer to the three-point line every season. But overall, Jefferson makes screens, comes off screens well, and typically stays beyond the arc (but in an engaged, motion-heavy way that helps his set-up men find him in rhythm).
Because I'm a masochist, I actually watched all of Jefferson's shots-on-the-season at the end of November. And the difference is stark and fascinating: The Richard Jefferson of December and January is completely different from the offensive "jugger-not" of October and November. And let's be clear. In these dark days, it was a totally credible position that Jefferson's extended minutes early were a de facto wink-wink-nudge-nudge-win-no-more _Producers-_esque arrangement to tank as effectively as possible. For that first month, everything that was good about Jefferson was mitigated by his crushing flaws, and what was terrible was magnified by circumstance. His shot -- the stellar improvements in which led to his infamous 2010 extension -- looked to have a hitch in it. His offense was a wreck of awful baseline dribbles and up-to-that-point-waiting-to-die corner threes.
But with the emergence of Michigan rook Trey Burke as a savvy, well-developed point guard that can hang in the league, Jefferson has flourished. Suddenly the iso-heavy sad spacing of the Jazz has been replaced with motion-heavy downright-competent offense. Alec Burks and Gordon Hayward have made strides as well, but the player benefiting the most from Burke's ascent (other than Burke himself!) has been Jefferson. His percentages are up, and he constitutes a real weapon in the Jazz arsenal. Gone are the nights where the Jazz looked like the worst offense in the league. According to the NBA's stats site, the Jazz have made hand-over-hand improvement, month to month. In their first 10 games this season (they went 1-9), Utah's offense was scoring 92.2 points per 100 possessions. Their last 10 games? A very-nice 106.3 (they're going 5-5). It's not scorching, but it's above-average and, for the season, those numbers would be comparable to fine teams like Denver, Phoenix, Sacramento, and Golden State. All this despite having arguably less offensive talent than any of those teams (well, Phoenix is... its own thing, but still). Maybe it won't hold, but the Jazz offense has a pulse, and for a non-playoff team looking for a great lottery pick? That's highly encouraging with the inevitable breaking-in period with their lottery pick looming next season.
Yes, their defense has been league-worst. Yes, that league-worst defense comes from the very same games I'm lauding. But consider that at one point they looked to be the worst offense in the NBA by a wide margin, and they've climbed their way back, first into respectability and second into downright good. And their defense? It's still awful, but that's not really Jefferson's fault, as RJ has looked aware and sprightly in defensive space and in taking the load off of Hayward a bit with typically-tougher-and-larger assignments (though they're properly both small forwards).
And yet, it's reductive to say adding Burke immediately fixed the Jazz, because a) basketball is not just an additive game but a game of repeatable processes, and b) Burke's shooting numbers have been (relatively speaking, and yes, he can get better!) abysmal. Burke is shooting under 40% and below 50% true shooting. Burke is worlds better than Diante Garrett and John Lucas, but the rookie's shooting numbers are frankly comparable to oft-derided Ricky Rubio without Rubio's passing brilliance. Plus, he's not exactly spacing the floor at 35.4% beyond the arc.
What really seems to be going on with the Jazz is more complicated. It helps that Gordon Hayward doesn't have to do everything, most obviously losing the ball-handling responsibilities to Burke. As a result, Hayward is much more effective. Even beyond Hayward, the Jazz are making the best of their point guard addition with all manner of baseline motion. Flex cuts among the wings are common and the players are individually good at making decision-making to use those flex cuts to their advantage, leading to open shooters and good match-ups in the post. The Jazz have a battle-tested drive-and-kick game coming out of the abject despondency of November; now, however, the drives and kicks are actually starting to work as there are more options for a defense to worry about and Hayward, Burke, Jefferson, and Burks continue to develop as solid passers to, from, and around the perimeter.
And what's kind of fascinating is that the Spurs are doing much the same thing with Kawhi. Flex cuts along the baseline (that serve to get Kawhi open in his most potent area of the half-court) have been gradually entering the Spurs' vocabulary the last couple years. Set plays designed with Kawhi's role in mind (especially to open up 3s for him) seem to be far more common. More generally, the Spurs have been trying to buck their old approach to small forwards in order to guarantee that Leonard's jack-of-all-trades-master-of-none offensive repertoire is resulting in at least a few great looks a game, and that these looks fit into their offense. With the Big Three in the precarious and unpredictable spin cycle of father time, integrating Kawhi (and making it really work) is all the more difficult.
This might sound like basic stuff, but in a way Kawhi and RJ are both right-around-average half-court players relative to their own team. This is true for Kawhi because he's with the Big Three, etc., etc., etc. It's true with Jefferson because he's surrounded by precocious pupae. Kawhi started the season having improved from virtually every area within the arc and having gone cold from every area outside it, a trend that's only starting to reverse a bit. His assists and threes (so crucial to his offensive role) are only starting to rise to the levels that would garner All-Star consideration over the next few years. Kawhi's situation is on a whole different level as Jefferson's, yes, and Kawhi is -- as I've said many times -- worlds better than Jefferson.
But the way the Spurs are molding their offense around Kawhi makes me wonder in hindsight whether Jefferson's failed tenure with the Spurs was really as attributable to Jefferson's flaws as it seemed. Perhaps the Spurs organization bears some blame for treating him like a low-usage, worse-at-defense replacement for the entirely-different Bruce Bowen. If the Spurs had recognized Jefferson's below-average handle quickly and chose to focus on other things, like his off-ball motion in baseline and backdoor cuts, perhaps Jefferson could have been more valuable. Instead of being locked in a bad role by a poor handle and easily-scoutable in the corners and wings, maybe the mobile Jefferson could have been more than a poor man's Bruce Bowen or a less-aware Danny Green. Maybe he could've started a pastry habit and become a new-age Boris Diaw. I wonder if Jefferson was quite as foolhardy on the court as he appeared in San Antonio, in short. Perhaps he was just overly hesitant in an unfamiliar and unhelpful role, feeling that he was being put in a situation not conducive to success and not knowing how to tell terrible decisions from just plain bad.
Honestly, I have no clue. You can't transplant the solutions a desperately awful rebuilding team has come up with on partially by fortune to the clever solutions of a well-scouted, top-ranked offense in flux. And Jefferson has looked awful the better part of three years before his resurgence with the Jazz. But while RJ provided an endless source of comedy to me while with the Spurs, his recent success bears notice. Veterans like RJ in a drain-circling swan song generally don't stick around for a few more productive years, but the Big Jeff has a serious chance to do so. Be honest -- you didn't see this coming. And I must admit -- despite being the world's leading expert on Richard Jefferson and Richard Jefferson culture, I too didn't see this coming either. Sometimes folks surprise you. Sometimes folks are Richard Jefferson.
And sometimes, so very rarely, the aforementioned two folks are the same exact person.