"What's Wrong With the Spurs?" -- Hashing it out with McGuire and Dewey
Posted on Mon 27 January 2014 in Uncategorized by Alex Dewey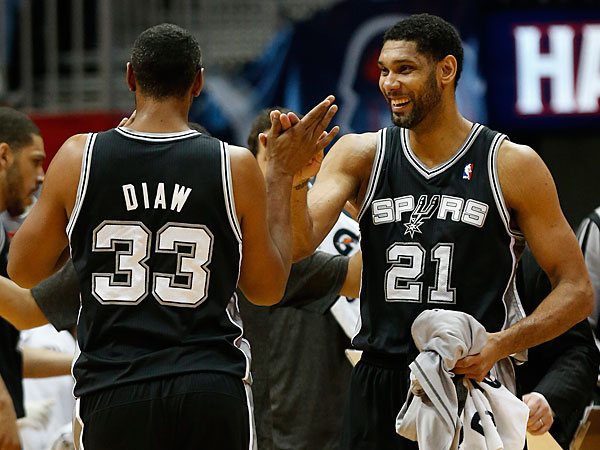 Every once in a while, McGuire and Dewey have expansive conversations on AOL Instant Messenger about odd ideas and strange wrinkles they've noticed in recent NBA action. (Alright, more than "once in a while.") Once in a blue moon, we decide to post these conversations with minimal editing. Is it laziness? Sloth? Idolatry? ... Or is it just entertaining? You be the judge, Dredd.
ALEX: Alright, so. I've got a grand thesis on this year's Spurs season.
AARON: I am now your thesis advisor. Shoot.
ALEX: So, okay. Duncan = Diaw offensively, and Duncan = Splitter defensively, if a bit better on both counts. This is historical fact. The 2013 Spurs were essentially governed by it. Check the top three lineups here. Decent sample size for all three.
AARON: ... what?
ALEX: One is Splitter/Duncan, one is Duncan/Diaw, one is Splitter/Diaw.
AARON: Yes, Alex. They're San Antonio's most effective three big men who not coincidentally played the most minutes. I'm... not sure what this is getting at.
ALEX: Jesus, Lisa, you're tearing me apart. Let me finish.
AARON: OK, Denny.
ALEX: Look, Duncan is very similar to Diaw offensively in terms of impact and role. And when they're on the floor it isn't hugely additive compared to Splitter-Diaw or Duncan-Splitter. But the giant elephant in the room is Duncan's failing shot this season. He can't hit from midrange, even when he's wide open. I just finished watching all of his midrange shots from the last 20 games. It's not pretty. I don't know the cause but I don't think it's mere fluke. It could be conditioning, it could be mechanical, it could be aging. But it's been this way all season, and here's the thing. I don't think it necessarily takes the Spurs out of contention, but it means Duncan is barely better than Tiago Splitter offensively.
AARON: Slow down there, R. Kelly.
ALEX: I mean, OK, yeah. Duncan is obviously a better passer, and maybe a bit better defender. Despite switches on threes late in the game that Tiago is more qualified for. But when you restrict Duncan to the low block, there aren't as many passing options for his understanding of space. You essentially have the problem where he's either near the rim or a non-entity, which is subtly affecting Parker. You can't have much motion away from the rim by Duncan, because defenses can simply disrespect and ignore him now. He's been much more effective in Diaw lineups because when Duncan's shot isn't falling Diaw is more complementary than Splitter. Diaw takes over the role of big-man facilitator and high-low passer, and with his newfound offensive aggressiveness he's been decent.
AARON: With you so far, I think.
ALEX: Contextually Diaw's been a fine defender, although his lineups suffer far more than any of the other two big men for obvious reasons. Chiefly, he's not a rim protector. What I'm saying here is that Duncan/Splitter last year is offensively similar to Diaw/Duncan this year. You still get the spacing on the pick and roll, and if Tony gets back to form totally, Danny and Kawhi can get more open looks. It's an elite, perhaps dominant offensive lineup to have Duncan/Diaw with Parker and two shooters. But replacing Splitter with Diaw defensively is killer. I think the playoffs aren't JUST determined by your starters.
AARON: Controversial statements from Alexei Pynchon Dewey, right there.
ALEX: Shut up. Not just starters, but killer competitive advantages engendered by the presence of the starting lineups. Danny Green works because he has the perfect skillset for that spread pick-and-roll lineup to function while adding muscle on defense, not because he's brimming with talent and guile. Anyway. What I'm saying is that Duncan's shot going missing -- if it holds up -- represents the defensive difference between Diaw and Splitter. That's the ripple effect for the Spurs as contenders. And given how great Diaw/Duncan has been, this might not be the end of the world, but Blake and DeAndre Jordan are better on both ends, the Warriors can neutralize the Spurs' attack and punish Diaw's defense, and the Blazers... well, okay, Diaw/Splitter isn't huge against LMA, but Splitter has more presence and could stop a few more Batum/Lopez/Lillard drives a game. And Harden lives at the rim and I'm not loving Terrence Jones against Diaw. And then there's OKC. It'd be GREAT to have two rim protectors against them, and with it, it's arguable that the Spurs could've forded the gap in the 2012 series.
AARON: So, what's your net take here?
ALEX: I don't think this counts the Spurs out, but it definitely makes them a sub-tier contender. This is a huge story. It shows how the fall of one crucial domino can effect a whole bunch of unrelated consequences. We don't think of Duncan's shot as crucially important, but it's the difference between the Spurs being a top-tier "favorite" contender and a middle-of-the-pack squad hoping for a run of good luck. That's my thesis. Do you agree?
AARON: Not completely.
ALEX: Rude.
AARON: Look, it's not bad, but I'm not really bought in on it. My main hang-up is that it's massively oversimplifying their skillsets to frame Duncan/Diaw/Splitter as a straight offense-to-defense trade off. That sort of binary "DUNCAN GOOD, DIAW BAD" framework falls apart when you really take a close look at their skillsets. They all have very different ways to play the game, of course, but they all have their own advantages. For instance, Diaw bodies up people on defense better than Duncan or Splitter, even if he isn't a shot blocker. He's also much better at covering athletic tweeners and three-point shooters than either of them are. Splitter is much more mobile than Duncan and much better at covering up the pick and roll at this stage of their respective careers. Duncan is the best screener of the bunch, I'd say, and he's a more cerebral inside presence that can go toe-to-toe with the league's best bigs in a way that Splitter has never been totally comfortable with.
ALEX: Okay, fair.
AARON: Conversely, Tiago is a better and more creative finisher straight-off-the-pass than Duncan or Diaw, which is why he plays so well with Manu. Duncan has a much broader set of post moves than either Diaw or Splitter, and at his best, his outside shot has an LMA-type impact on San Antonio's spacing that Splitter can't hope to touch. Diaw has a better outside shot than Duncan and combines that with off-the-pass finishing that's nearly at Tiago's level, but he doesn't have the ability to produce offense under pressure like Duncan does and he has a bad habit of over-passing. Both Splitter and Diaw are extremely dependent on San Antonio's system to get them their open looks. Pop has to manage all of these things when he tries to put together lineups, especially with Leonard and Splitter out. Now Diaw is playing the three half the time, which is... special, let's put it that way.
ALEX: *quiet sobbing*
AARON: Anyway. You're spot-on in the assertion that Duncan's absent midrange has modified a lot of aspects of San Antonio's game, mostly in pretty ill-omen ways. But framing it with an oversimplified "he's good at X, he's good at Y, he's good at X+Y" framework is imposing elegance at the expense of real complexity. And I really don't know about the "middle-of-the-pack" contender assertion, especially given exactly how the Spurs have broken down against elite teams this season. Your grand thesis is entirely focused on San Antonio's offensive difficulties, but that simply doesn't make sense. Their offense has yet to break down in a game against elite competition -- their issue, very simply, is that to date they haven't been able to stop a single elite team from running their offense. Duncan/Diaw/Splitter haven't looked particularly spry in ANY configuration against teams with well-designed offenses that know exactly how they want to attack you, and our perimeter guys haven't been nearly as tenacious as they used to be (with the obvious exception of Kawhi). Your theory rests on the idea that the offense is going to be what submarines their playoff hopes, and we just don't have any evidence that's the case.
ALEX: See, it's not the offense. It's the offense when Splitter and Duncan are there, which forces the change to Duncan/Diaw, which hurts the defense by removing one rim protector. That's the thesis -- that the defense has been crippled by a seemingly unrelated offensive problem.
AARON: Sure, but that doesn't reflect what's actually happening. The Spurs have defended worse with Duncan/Splitter on the court than they have with one of the two alone. Checking NBAWowy, with a any of our Duncan/Splitter lineups on the floor, the Spurs are allowing 0.99 PPP. With Duncan (and no Tiago!) it's 1.07 PPP, and with Tiago (and no Duncan!) it's 0.91 PPP. Which may make you think that Duncan's the issue, but it's more that Diaw is dragging him down -- if you look at Duncan's minutes without Diaw OR Splitter on the court the Spurs are allowing 1.01 PPP, which is hardly very different from the Duncan/Splitter numbers.
ALEX: What? I'd need to check that, but my basic assertion was based on this.
AARON: I just checked it for you!
ALEX: I don't know if I trust that, though. What minutes does Tiago play without Duncan, ever?
AARON: Quite a few of them? It's a sample of 268 minutes. The top four units are Diaw/Splitter lineups, then a few with Bonner, then a few with Ayres. A handful of spot lineups with Kawhi at the four, as well. Duncan doesn't play every game, and even when he DOES play, Duncan plays less than 30 minutes a game. The Spurs aren't just playing 18 minutes a night of Ayres/Bonner to maintain our "best" lineups.
ALEX: I'm at least a little skeptical that it's entirely a bench thing. I can't think of any point in the game when that rotation would actually occur. Maybe it's the beginning of the 2nd and 4th quarters?
AARON: That's probably part of it, and I'm not arguing that Tiago's impact isn't getting exaggerated due to the level of competition he's facing. But my main point is that Splitter/Duncan doesn't really look like San Antonio's best foot forward on defense, at least this season. And if we were to cut the sample to ONLY the NBA's elite teams I'm betting the Splitter/Duncan numbers would look downright ghastly. It hasn't been effective in the slightest against the big dogs, on offense or defense.
ALEX: That's fair. I've been focusing on offense, but maybe that's not the problem. Does Duncan look worse on defense this season? He looks maybe a quarter-step slower to me, but not significantly worse. It's not like 2011. He's good on his feet.
AARON: I'm not sure he's worse at all. I do think teams are getting smarter in how they attack his lack of mobility on the pick and roll. And I think one of the more understated issues that's getting to him is that Manu and Marco have supplanted most of Green's minutes. Green is a defensive bulldog that kept his man from making clean drives to the rim -- Manu and Marco are both prone to gambling for steals, and when they inevitably fail, it leaves perimeter players a clear path to the basket that forces Duncan's hand. He still recovers decently well, but he's not as spry as he used to be and the fact that he has to do it so many times a game is starting to harm his numbers. I think.
ALEX: That's fair.
AARON: Also, Danny has played poorly in a general sense. On offense and defense.
ALEX: True.
AARON: My own big-picture thought on the Spurs this year is that they're a very good team. They're one of the five best teams in the league. Perhaps a tier below the Thunder and the Pacers, but right behind those two with the Clippers and the Heat in no particular order. That's good. They certainly have a title shot, regardless of their current issues with elite teams, and if they're healthy come playoff time they'll represent a very tough out for whoever draws them.
ALEX: All good.
AARON: Sure. Except that this season is about as terrible an omen for San Antonio's future as it possibly could be, which goes a long way towards explaining the tortured hand wringing Spurs fans are known for going overboard with. To explain: Kawhi Leonard's offense hasn't developed in any real way this season, despite ample opportunities to do so -- if anything, it's taken a big step backwards with his strangely absent three point shot and his rising turnover rate. Danny Green has been a pretty awful NBA player, straight up. Tiago Splitter has performed well on defense against bad teams, but the gaps in his defense that made him irrelevant against Miami are now making him irrelevant against almost all of the league's best offenses. Tony Parker doesn't really look like a grade-A superstar at the moment, either, despite a few good games in the last few weeks. He's not on my all-star ballot, nor is he particularly close -- if you stretched, you might be able to convince me that he's the fifth best point guard in the league. Maybe. But it's a tough argument, and if I'm honest, I'd probably argue he's outside that fivesome. And he's at the age where expecting bounce-backs and improvements is simply unreasonable, too, which is... depressing. He's supposed to be their superstar in his prime. Certainly doesn't look like it.
ALEX: I don't think Tony's looked great. I'd choose Conley over him, and that hurts.
AARON: Right. The issue with San Antonio's performance in the big picture is that their play is essentially being carried by the two oldest players on the roster. Manu Ginobili is the NBA's best sixth man right now, and arguably San Antonio's most important player -- their offense has been unbelievable with him on the floor, and he's been their spark for virtually every impressive stretch the Spurs have played this season. On the other end of the floor, Duncan has played like San Antonio's overall best player, DESPITE losing his midrange shot! Boris Diaw has been the only overachieving role-player, and he's the fourth-oldest player on the team. This team has been unbelievably dependent on Manu and Duncan (and Diaw!) in a way that -- while sustainable for perhaps the rest of the 2014 season -- is NOT sustainable going forward as Duncan approaches forty and Manu approaches the heat death of the universe. They're not the players in their prime, they're the aging players that San Antonio's playing roulette with. If the Spurs want to contend after Duncan and Manu finally fall off and leave, they desperately need their young players to put up good seasons. Virtually none of them are right now, which is simply not a good sign.
ALEX: You have a point.
AARON: Whether they realize it or not, I think THAT'S why San Antonio fans are freaking out right now. This is the first season since 2009 where San Antonio's young talent has been substantially disappointing. Spurs fans have spent years overlooking their aging core with the reasonable counterpoint that San Antonio's young talent has looked fantastic, and that a "big three" of Splitter/Green/Leonard was maybe one piece away from continued playoff contention. And with the best front office in the business, who was going to argue against that? But that idea assumes those three young players get better -- or, at the very least, don't get worse. This season has broken that assumption, and finally made the Spurs the decrepit old team they've been incorrectly advertised as for years. San Antonio's fans broke the glass to their emergency hyperbole stashes in panicked response. Perhaps it's a bit unreasonable, especially since the Spurs clearly look like a title contender THIS season. But perhaps the sense that this finally IS San Antonio's last rodeo has lent an air of true desperation to the proceedings. As Bill Cosby might say, every loss against a younger elite is a reminder of "a man on the way out." Which is... a bit uncomfortable, to say the least.