Trading Places: NBA Moves and Grooves on the 2014 Deadline (PART I)
Posted on Thu 20 February 2014 in Uncategorized by Aaron McGuire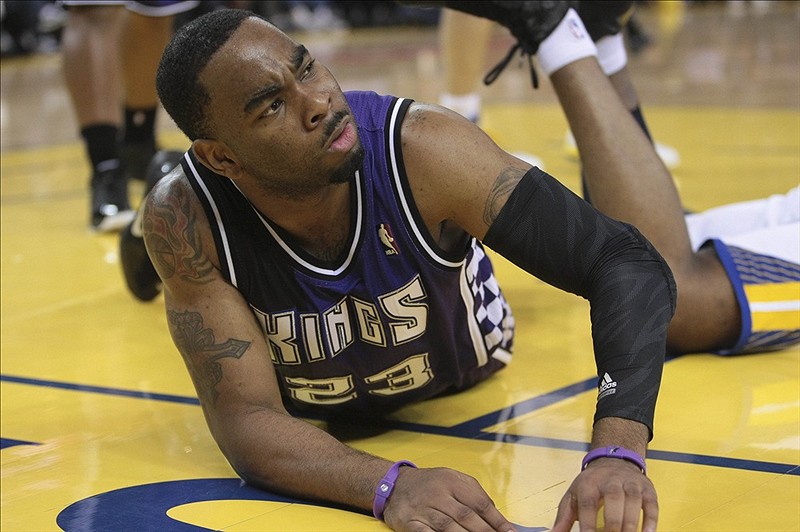 Every year, we do SOMETHING for the trade deadline. Sometimes it's an after-the-fact reaction piece with observations that often look silly in retrospect. Sometimes it's a run-down of every single trade that happened. Well. Most of the time, it'll be that. And that "most of the time" includes today, when I'll be updating this post with running reactions to all of the NBA's huge, sea-changing moves. (Spoiler alert: we probably won't get any. We can dream, though.) Let's get to it. I'll keep a list of trades covered in the top piece of the post so you know how recently updated this post is. [LAST UPDATE: 5:43 PM]
DEAL #1: BKN acquires Marcus Thornton, SAC acquires Jason Terry & Reggie Evans.
DEAL #2: GSW acquires Steve Blake, LAL acquires Kent Bazemore & MarShon Brooks.
DEAL #3: CLE acquires Spencer Hawes, PHI acquires Earl Clark and two second round picks.
DEAL #4: SAC acquires Roger Mason Jr., MIA acquires literally nothing whatsoever.
DEAL #5: CHA acquires Gary Neal & Luke Ridnour, MIL acquires Ramon Sessions & Jeff Adrien.
• • •
EVERY ROSE HAS ITS THORNTONS (Trade story on ESPN.com)

BROOKLYN RECEIVES:

Marcus Thornton (2-yr/$8.3 mil per)

SACRAMENTO RECEIVES:

Jason Terry (2-yr/$5.7 mil per), Reggie Evans (2-yr/$1.7 mil per)
This is an absolutely classic Brooklyn trade. Over his tenure as owner, Mikhail Prokhorov's Nets have made performance art out of trading bad contracts for worse ones that represent marginal talent upgrades. This trade is no different. Marcus Thornton has had an interesting NBA career -- after breaking out in his first two seasons as a surprisingly second round steal, the Kings traded away Carl Landry (who was at the time their best player) for Thornton. They followed up the trade by paying a king's ransom to keep Thornton in-house, specifically in the form of a 4-year $32 million dollar deal. Theoretically, if he'd developed from where he was in his second year season, that contract wouldn't be horrible. In actuality, it turned out to be a downright awful move. Thornton hasn't developed in any real fashion since his sophomore season, and in many ways has deeply regressed. His shot selection (once a mortal lock to improve) has actually gotten worse as time went on, and his shooting has finally reverted to the mean.
"Wait, what? He's shooting 31% from three, what do you mean 'reverted to the mean'?" Well, yeah. Here's what you need to understand about Marcus Thornton. Although he's a good shooter, Thornton's shot selection (in terms of TYPES of shots, not locations) has always been among the worst in the league, and he takes an obscene number of wildly contested shots off the dribble. As I pointed out in his capsule a few clicks back, Sacramento scorekeepers have had a weird habit of crediting other players with assists when Thornton takes shots off several dribbles while moving-into-the-defender. Don't let this numbers fool you. Thornton is notorious for making easy shots difficult with no particular regard for efficiency or tact, and while his awful shooting this season is out of character with his general career numbers (and perhaps more importantly someone with his technically adept form) it's hardly out of character for a player with the shot selection he has. Other than his scoring, there really just isn't much else there -- Thornton's game is essentially an iPhone app that gives you a recorded fajita sizzle without actually providing sustenance. No defense, no passing, no rebounding, no chance. And he's making $8.3 million, which is... less than ideal.
That said, I don't dislike this deal for Brooklyn at all. Nor do I really hate it for Sacramento, either. Brooklyn is at the point where they need to start looking at the future. You don't look at the future by playing the dessicated corpse of Jason Terry, who's effectively done as a professional basketball player. If we're honest, you probably don't look to the future by playing the 27-year-old Thornton either. He is what he is, and it's difficult to see a situation where he becomes a player worth his salary. But at least it's a lateral move with some limited quantity of upside. Perhaps Garnett, Kidd, and Pierce badger Thornton into playing off-ball and using his technically sound shot on fewer off-dribble heaves, making him a passable semi-young three-point gunner on a team that does realistically need more spacing. You know, given Garnett's offensive collapse and the absence of Lopez. He has a possible role, at the very least. And if Thornton DOES fail, it's not a humongous problem -- the Nets will have spent a lot of money on it, but money is essentially a concept rather than an actual restraint to Prokhorov. So it's not really that big of a deal. And the contracts are the same number of years, too.
As for Sacramento, they save a few million dollars, which is going to be essential when it comes time to give Isaiah Thomas his extension this summer -- in the aftermath of the Rudy Gay trade, they're already pushing up against the luxury tax line. They've got the potential to save a few more as well, if Jason Terry accepts a buyout. They aren't realistically going to get anything on a basketball court from Terry or Evans, but they managed to offload their worst contract and save a few bucks without giving up a draft pick. And the contracts they got are easier to move, especially that of Reggie Evans. I could imagine a team like the Clippers potentially putting out feelers for Evans and giving out a low second rounder for him to bolster their big man rotation. Hardly a shabby result, at least when your main motivation going into the trade was to simply get a gigantic albatross off your books.
• • •
BIDDING ADIEU TO THE BLAKESHOW (Trade story on ESPN.com)
GOLDEN STATE RECEIVES:

Steve Blake (1-yr/$4 mil per)

LOS ANGELES LAKERS RECEIVE:

MarShon Brooks (1-yr/$1.2 mil per), Kent Bazemore (1-yr/$0.8 mil per)
There isn't much to belittle or joke about here. This is just a solid trade for both sides, straight up. The Los Angeles Lakers are a flaming tire fire this season, a team with a record that overstates their quality (yes, they're worse than 18-36) and a rabid fanbase that was clinging to nori-thin playoff hopes for reasons passing understanding. Steve Blake is an odd looking guy whose game has never been big-picture important in the NBA. This move doesn't exactly change that, but it does reflect that he's had a tiny bit of a comeback season this year. At the age of 33, Blake is putting up his best PER since 2009 (which, full disclosure, is still well below average for a point guard). He's posting the highest assist rate of his career and his highest usage rate since 2009, and he's done that despite a gross spate of injuries and a difficult season overall. Which would indicate that he'd be perfect for the Warriors as a final solution to their irritable backup guard problem. I think it's a good move by the Warriors to kick the tires on it, but I admit that I'm not 100% positive it'll work out for them. While Blake has been involved in several of L.A.'s best lineups, a lot of Blake's best work has been done in dual-point lineups when he's alternating his ball-handling with better point guards beside him.
His two best five-man combinations this season have come while he was flanked by Steve Nash (+3.9 net rating for Blake/Nash/Young/Gasol/Kaman) or Kendall Marshall (+10.5 net rating for Blake/Marshall/Johnson/Williams/Kaman). This doesn't extend to ALL lineups including Nash and Marshall, and looking at the tape, Blake certainly did take on more of the ballhandling than you'd expect. But given that Blake's three is his best weapon, you really do need to have another good ballhandler on the floor with him if you intend to fully utilize his skillset. I'm not positive Jordan Crawford is going to suffice as that ballhandler, which may to require Marc Jackson to get creative and test out dual-guard lineups with Curry and Blake, with the two of them getting alternating off-ball reps to force double teams and open up their offense. That said, there's certainly a chance that Blake ends up being everything Golden State wants. Good passer, decent shooter, competent floor general. He's also not an embarrassment on defense anymore, which is great. Old point guards often get a little bit better on defense as time goes on, simply by dint of being around long enough to develop a good predictive sense on where a possession is heading before it gets there. Blake has that second sense, and he reacts accordingly. It doesn't make him a positive defender, but it does make him less of a turnstile than he was earlier in his career.
It's also a relatively low-cost move in the long term for Golden State, as Blake is nestled firmly in a low-money expiring deal that doesn't push them over the tax line. They also opened up a roster spot, which could be used down the stretch if they suffer a big injury and need to pick up some low-cost depth or kick the tires on a D-League prospect. As for the Lakers, the subject of the hour is money -- specifically, the fact that they saved $2 million dollars and now sit within spitting distance of the tax line. If they move Jordan Hill for peanuts (as is expected), any further minor move could place them under the tax and give them a bit more time before they run into the notoriously horrific tax-repeater penalty implemented in the 2011 CBA. Blake is 33 years old, and didn't represent any particular part of L.A.'s future. He was also having one of the better seasons on their team. Moving him out makes them a bit worse and gives them a quality opportunity to assess a semi-talented young piece in Kent Bazemore. It also sets up an epic clash in the 2014 Las Vegas Summer League between Laker Legend Kent Bazemore and the heel-turn summer league dynasty that kicked him to the curb. This is going to be the greatest subplot of the 2014 Las Vegas Summer League. If I were you I'd get a head-start on your disgustingly long oral histories now.
• • •

GUESS THAT'S HAWE THE COOKIE CRUMBLES (Trade story on ESPN.com)
CLEVELAND RECEIVES:

Spencer Hawes (1-yr/$6.5 mil per)

PHILADELPHIA RECEIVES:

Earl Clark (2-yr/$4.2 mil per), 2014 second round CLE/ORL draft pick, 2014 second round MEM draft pick
Color me a bit surprised that Philadelphia got any value at all for Spencer Hawes on an expiring contract, but I probably shouldn't be. One of this season's odd plot twists have been the soaring statistical profile of virtually everyone in Philadelphia despite the nettlesome truth that virtually everyone on their roster has had a disappointing season. This is a result of an age-old tendency to look at a player's season averages without looking at the context around them. Don't make the same mistake -- although Hawes is putting up a classic box score line on downright excellent per-36 rates (specifically, Hawes is averaging per-36 minute numbers of 15-10-4-1-1), those numbers are extremely skewed. The Philadelphia 76ers are currently playing faster basketball than anyone else in the NBA, to the point that they're playing six more possessions in the average contest than the average NBA team. This effect becomes even more pronounced when you're extrapolating per-36 numbers, massively inflating the classical box score chops of Philly's strongmen. Hawes is decent, but tricking teams into giving up actual assets for him is just that -- a trick.
He's not a 15-10 type player, and despite the gaudy averages, he probably averages out as a 3rd or 4th best big man on a contending team in the overall picture. Despite his 7'0" height, Hawes a terrible habit for completely disengaging on defense, which is something you simply can't abide as a starting center in the NBA. He reminds me of a slightly larger edition of Indiana's career-year Troy Murphy -- his rebounding total is deceptively high (10 rebounds per 36 minutes!) due to Philadelphia's pace. He actually rates out as the NBA's 25th best rebounder out of 40 bigs who receive regular minutes this season, and he's far closer to the bottom than the top. His offense is valuable mostly in that he's actually developed into quite an effective three point shooter, as he's shot an incredible percentage (40%) on serious volume this season. His post moves are an adventure and his short-range shotmaking is poor, but his range could be a deathly effective option in a pick and roll heavy offense with Kyrie Irving and Dion Waiters setting him up. Possibly. His flagging rebounding and awful defense should put the kibosh on dreams of him as a starter, but he could be a nice younger piece to grow as a tertiary big beside Cleveland's young core.
In the overall picture, I like this trade for Philadelphia. While Earl Clark has two years on his deal, next year is a team option they're extremely unlikely to take. The Memphis second round pick is probably not going to be particularly valuable (it currently projects as the 50th pick overall), but the other pick is a nice get. Reports aren't yet clear on whether it's Cleveland's own secondyou round pick or Orlando's second round pick, but it hardly makes a difference -- it's likely to end up in the 32-37 range, which is exactly where you want to be in the second round. Given the current CBA, a pick from 31-40 is arguably a higher value bet than a pick from 20-30. Players from 20 onward are all crapshoots, but the high second rounders combine the merits of a decently large player pool with the merits of non-guaranteed money and flexibly structured salary. It essentially lets Philadelphia take a flyer on a late first round talent without having to take on the guaranteed salary that entails, which is a giant boon when you're looking for cheap young talent that could make up pieces of your core.
As you might've picked up, I'm a bit more shaky on Cleveland's role in the trade. I see why they did it -- Spencer Hawes likely represents a large upgrade from any value the Cavs could've gotten from the two second round picks, and Earl Clark was an unmitigated failure in Cleveland. From a value perspective, they got good value for their picks, and it was a decent move in a vacuum. But I'm not entirely loving the end-game here. Tyler Zeller is finally having a nice stretch of games that indicates his potential as exactly the sort of 3rd-to-4th big that Spencer Hawes represents, and the Cavs currently have one of the league's biggest boondoggles in their frontcourt. Adding Hawes to the mix virtually guarantees that one or two members of the Varejao/Thompson/Zeller/Bennett foursome will lose minutes, and that's not a result I find very appealing.
Rentals for shakily valued picks are good if you're intending to kick the tires on a player who you were thinking of signing in the offseason. It's a great way to ensure the player fits with your core BEFORE you sink a large amount of money into their deal. But I don't really have the slightest idea where Hawes fits without sending out some of Cleveland's big men. Given the age and relative productivity of Cleveland's cadre of frontcourt young'ns, I'm not sure if Hawes is much of an upgrade at all, even if they'd gotten him for free. Good trade, value-wise. But Chris Grant's epitaph as a general manager was a guy who got excellent value in almost all of his trades but never had a coherent plan to use that value. Grant may be gone, but this trade echos his philosophy. Which isn't ideal.
• • •

GUEST POST: BILL SIMMONS ON ROGER MASON JR. TO SACRAMENTO
MIAMI RECEIVES:
A draft pick that literally does not exist.
SACRAMENTO RECEIVES:
Roger Mason Jr. (1-yr/$1.3 mil per)
EDITOR'S NOTE: I'm on my lunch break, so I decided to commentate this trade by simply copy and pasting a segment from the Sports Guy's feature on the James Harden trade from the 2013 preseason. I have done no editing to the text other than replacing "James Harden" with "Roger Mason Jr.", all Lakers mentions with Nets mentions, and all Thunder mentions with Heat mentions. Also, I took out a swear. This is exactly how to analyze this trade.
Never — not in my wildest dreams — did I imagine Miami breaking them up.

When everyone started playing the blame game after the trade — Roger Mason Jr. shouldn't have been so greedy, Miami should have played it out for one more year, the trade never would have happened if Roger Mason Jr. played better in the national TV Finals rematch against the Spurs, Pat Riley didn't get anything whatsoever back in this trade, etc., etc., etc. — I kept thinking about those three guys with their arms around each other. Do you really want to break THAT up? Weren't these guys headed somewhere together? Wasn't that series part of the journey? Wasn't this like canceling a great TV series after one and a half seasons, like if Homeland just stopped right now and we never found out what happened to Brody and Carrie?

Forget about worrying whether Roger Mason Jr. is a max player (and by the way, he is — 15 teams would have given it to him), or why Roger Mason Jr. didn't play better in the 2013 Finals (um, James Worthy sucked in the 1984 Finals and turned out fine), or if it meant something that Roger Mason Jr. didn't just blindly take less than what he's worth (when he had already sacrificed minutes, numbers, and shots to succeed on that team). Miami significantly hindered their chances of winning a title — not just this year, but every year. And they did it because, after raking in ridiculous amounts of money these past four years (including $30-35 million PROFIT during last year's shortened season), they valued their own bottom line ahead of their title window. A window that included the second-best player in the league (Roger Mason Jr.), a top-10 player (Roger Mason Jr.) and a top-20 player (Roger Mason Jr.) … all under the age of 45.

That's why every Brooklyn Nets fan spent the weekend rejoicing and making 2014 Finals plans. This was the one team that scared the living crap out of them — these past two seasons, Miami was too young, too fast, too relentless, too everything. Even after the Nets added Paul Pierce and Kevin Garnett, it's worth noting that (a) Paul Pierce can't defend Roger Mason Jr. unless he's allowed to use a two-by-four, and (b) Juwan Howard is overpaid mainly because he's been Garnett's Kryptonite these past few seasons, someone with the bizarre ability to frustrate and even neutralize Garnett beyond any realm of common sense. After the Heat traded Roger Mason Jr., every Nets fan I know e-mailed me. They were overjoyed.
EDITOR'S NOTE: Aaron McGuire has been fired.
• • •
CHARLOTTE RECEIVES:
Gary Neal (2-yr/$3.2 mil per), Luke Ridnour (1-yr/$4.3 mil per)
MILWAUKEE RECEIVES:
Ramon Sessions (1-yr/$5.0 mil per), Jeff Adrien (1-yr/$0.9 mil per)
This deal is relatively minor on its face, but I'd deem it a pretty good get for Charlotte. Ramon Sessions is a useful player as a slasher, but he's a bit duplicative with Charlotte's current rotation of smalls. Kemba Walker, Gerald Henderson, and Michael Kidd-Gilchrist are all effective slashers with good at-rim games and generally shaky range -- it was somewhat unlikely Sessions was coming back after his contract expired anyway, so replacing him with a few pieces that add different wrinkles to the Charlotte offense is a reasonably strong move. Especially for the two they picked. Luke Ridnour has fallen off badly this season with the absolute dearth of talent in Milwaukee, but he's less than a year removed from a solid season in Minnesota next to Rubio and Love and his assist rate is roughly commensurate with what Ramon Sessions gave the Bobcats at the point. He's still a decent three point shooter, as well -- even in this year's down season he's sitting snug at 37% from behind the arc.
The big upside bet the Bobcats are making in this deal lies in Neal, the once-proficient three point gunner that Milwaukee poached in the offseason from San Antonio. I've never been Neal's biggest fan for a wide variety of reasons that don't really bear mentioning here, because he simply doesn't make enough money for them to matter. Neal's sitting at $3.2 million a year on an extremely short contract. Yes, he's been awful this year (39-36-83 shooting with absolutely nothing outside his scoring), but again... $3.2 million! For a team like Charlotte that all too often has to overpay veterans to attract them in free agency, getting to kick the tires on a once-proficient young shooter on a bargain bin deal makes a heck of a lot of sense. Even if Neal and Ridnour maintain their tepid play from Milwaukee, they'll still roundly upgrade Charlotte's three point attack and immediately give the team 3-4 more decent-percentage heaves from the three point line every night. If Neal can return to his San Antonio form, the bet becomes even better -- I've a suspicion that Neal at peak form would work extremely well in a space-and-drive lineup with Kemba, Henderson, Jefferson, and Tolliver. He might take too many shots, but Charlotte's stagnant offense isn't generating looks that are all that much better than any average Neal chuck anyway. It's just generally a good fit.
As for Milwaukee, they wanted to get out of Neal's long term money, and -- perhaps -- wanted to kick the tires on a cheap prospect in Jeff Adrien. Sessions is hardly in Milwaukee's future plans, and his summer departure seems like a lock to me. They'll get 30 games of two players unlikely to play a huge role in their future as they tank for a blue chip superstar. They'll hope for the best, because there isn't really much else to do. It's hard to take a long view at Milwaukee's future, because that future seems so desperately far away. Maybe Ramon Sessions will do the fans a solid and uncork one of his throwback 24-assist nights. Let's hope so.
• • •
I was pretty sure going into the day that I'd be able to fit all of the trades into a single post. Evidently, I was wrong -- I'm already hovering around 4000 words and I've only gone over 5 deals. Thus, I'll cut this post off here and analyze the rest of these in a brand new fresh-til-death post on the remaining seven deals. Taste the fever!