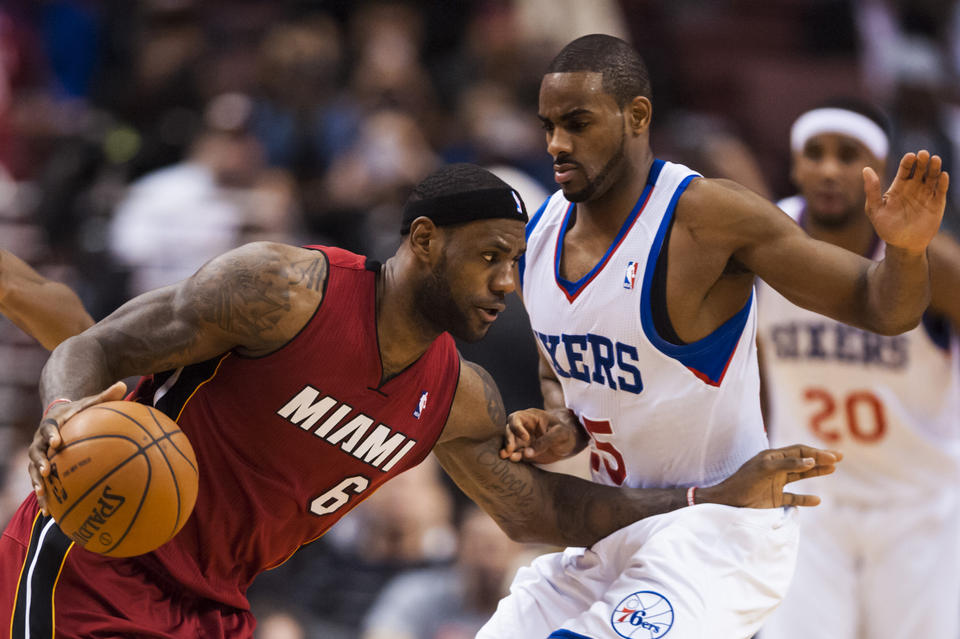 curio, n. -- a small and unusual object that is considered interesting or attractive
No, I didn't just misspell "curious." I promise! I'm referring in plural to the singular "curio", the definition of which can be seen above. It's usually used to describe tchotchkes and baubles. In this case, I'm referring to those little statistical factoids that interest the multitude of NBA nerds among us. The general point of the matter is that there are a lot of interesting statistical oddities that we've been person to in a substantially strange 2014 season. Many have gone widely reported (Durant's point streak, Corey Brewer's 50 point explosion, Indiana's collapse). Others haven't. Some of them are more interesting than others, and some of them are especially fun for me. In this post, I'll examine my seven favorite oddities. Let's get to it.
1. No Spur has played over 30 MPG
Let's start by taking a look at their overall minutes chart.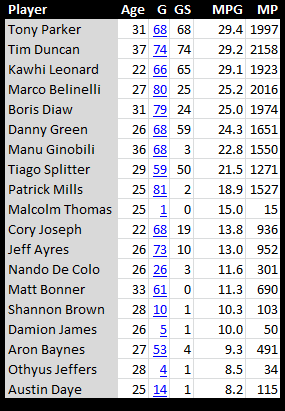 This may not surprise you. We all know the drill: the Spurs are known league-wide for their minutes management tactics and their general strategic resting. So why would it be surprising that no Spur has played over 30 MPG? Simple. This is the first time in the history of the NBA that a team has gone without a 30+ MPG player. And not by a close margin, either. There are very few who are even remotely close -- Hubie Brown's 2004 Grizzlies almost did it, with their only 30 MPG player being a 23-year-old Pau Gasol. The 2012 Spurs were similar, with Parker's 32 MPG being their only transgression. But that's it. The actual accomplishment -- arbitrary though it may be -- has only been achieved by these Spurs.
Look, I get it. This is the Spurs! They do this! Except that what they did this season isn't just quirky and strange, it's completely historically unprecedented. Even last year, they had THREE players who averaged over 30 MPG. Portland had five this year. Every other team has a handful. The Spurs may not win the title -- getting out of the West is going to be a hell of a task, regardless of who they face. But in keeping their minutes so equal, the Spurs have grasped a substantially strange accomplishment that makes them the first team ever to even their regular season minutes to this extent. It's pretty impressive, and it lends them historical notoriety as a strange footnote in NBA history.
2. The Clippers Solved Offense
This one isn't quite as historically unprecedented as my last one. Nor is it quite as stark as the Pacers were earlier in the season. Still interesting, though. The league-leading offensive rating the Clippers put up over the whole season (an offensive rating of 112) was bettered by two teams in 2013 (the Heat and the Thunder, respectively, with 112.4 and 112.3) and by virtually every iteration of Steve Nash's Suns. So... how exactly did they "solve" offense? Simple. Very few teams have finished the season with a league-leading offense despite losing key pieces for the majority of the year. The Clippers were able to accomplish it because whenever their full complement of offensive players have played together, the results have been absolutely terrifying.
Check out the top two offensive lineups in the league this year. I'll wait. ... Yep. The two best offensive lineups in the NBA were LAC lineups. And what's more? Other lineups weren't even close. The Paul/Crawford/Barnes/Griffin/Jordan lineup scored at a rate of 117.5 points per 100 possessions. When Crawford wasn't available and they had to use Darren Collison, the same lineup produced at 117 points per 100 possessions. The third place lineup was 4 points per 100 possessions worse on offense, roughly equivalent to the distance between the 3rd place lineup and the 17th place lineup.
Los Angeles has a half-decent defense this year, but don't fool yourself into thinking that the defense is going to drag them to the Finals. If they make the finals, it's going to be because nobody in the league can stop their core lineups from filleting their defense. Plain and simple.
3. Miami went 1-2 against the 76ers
I can't get over how funny this is. Yeah, I know -- they were resting LeBron and Bosh for the last game of the season. Obviously. But Wade still played 23 minutes and Miami's supporting cast isn't THAT bad. In the last game of the season, Miami's obscenely permissive defense allowed the Sixers to shoot 53% (their 3rd best field goal percentage of the season) with an offensive rating of 109.8. It was one of Philadelphia's best games this year. And that's despite Michael Carter-Williams going 3-of-10 in a forgettable 12-6-4 performance.
So, it begs the question. Has a defending champion ever had a losing record against a team that ended the season with a point point differential of -10 or worse? There have been 16 teams in NBA history who have been outscored by the requisite margin. So that gives us 16 champions to look at.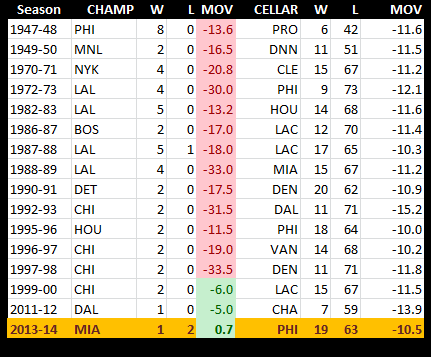 Oh. Oh wow.
So, the funniest part about this? The 1988 Clippers -- who beat the Lakers once in 6 tries -- only won that game in overtime by a single point. Philadelphia's first game of the 2014 season is the first win by a team that got outscored by 10+ points per game over the course of a season has beaten the NBA's defending champions in regulation... ever. And their two wins against Miami this season doubled the number of wins that their 15 previous counterparts accumulated over FORTY EIGHT previous tries. Seriously. 1-47. That's the total record of sub-10 point margin teams against the defending champs, until now. Am I the only person who can't stop laughing about this? The Heat have as much of a chance as anyone of winning the title, but this factoid has me keeled over.
4. Spurs starters paced the league... on defense, again.
A lot of ink was spilled in the early season about how the Spurs -- despite a decent record -- were underperforming with their "core five" starting unit of Parker-Green-Leonard-Duncan-Splitter. In 2013, the unit was one of the NBA's best, obliterating the league with a league-best defense and a near-best offensive attack. Midway through this current season, results with the their starting lineup were decidedly negative, and savvy Spurs fans were starting to wonder if Duncan's absent shot and Danny Green's initially tepid defensive season had made their core lineup lose its bite.
Spurs' starters were league's best defensive lineup for 2nd straight year. '12-13: http://t.co/aDMyWv7lXh '13-14: http://t.co/bxlyuLbDKy

— John Schuhmann (@johnschuhmann) April 18, 2014
Of course, then the post all-star break happened. And for the second year in a row, the Spurs have the league's best defensive lineup. Keep in mind that the Pacers spent most of the season with one of the best defenses in league history. And, indeed, they're second. But once Leonard returned to full-form, the Spurs blitzed the league on defense in the second half to such a degree that completely overwrote their poor play in the first half. Pretty excellent result for the Spurs, and -- frankly -- the biggest reason Spurs fans feel better now than they did entering the break.
5. Grizzlies are on-track for a fourth straight OKC/LAC/SAS draw
I have absolutely no idea how I should go about quantifying how weird this is. So I won't. But the Grizzlies have played seven playoff series over the last 4 years -- two in 2011 (vs SAS, OKC), one in 2012 (vs LAC), and three in 2013 (vs LAC, OKC, SAS), and at least one in 2014 (vs OKC). This year, they're starting out vs OKC, and they may well lose that matchup. But am I the only person who's a bit weirded out by the fact that they're on track for a fourth straight year of facing OKC/LAC/SAS, if they make a deep run? If the Grizzlies make the conference finals and the other seedings play out as they'd be projected to, their draw this year would be to start in OKC, play LAC, then play SAS. That would be four years and nine separate playoff series played against just three teams. Every once in a while a franchise gets caught in a trap where they only play a team from a small shortlist, but I can't for the life of me remember a time when a team has the ability to make consecutive conference finals without facing a single new lineup. The last time the Grizzlies played a non-OKC/LAC/SAS team, Pau Gasol was a Grizzly. Just saying.
6. Mike Miller played 82 games, but Ramon Sessions played more!
On first glance, that's not a particularly surprising result. Each NBA season has somewhere in the neighborhood of 30 players who play every single game. But look at Mike Miller's career. He's only played 82 games ONCE before -- his rookie year. He hasn't played more than 60 games since 2009, when he was in his late 20s. He's had back surgeries and medical maladies that would make most people's knees weak. Despite that? He played more games than every single player on the Grizzlies, and would've tied for the league lead... if the league lead was 82. Yes, despite playing every regular season game, Mike Miller did NOT lead the league in games played.
That honor goes to Ramon Sessions, who ended up suiting up for 83 games this season due to his midseason trade to Milwaukee. It's the first time since 2011 that a player has managed to play over 82 games in a single season. Sessions joins a list of 40 players who managed the feat, with five of those coming in the last decade. The all-time leader in single-season games played is Walt Bellamy, who played 88 games in 1969 after being traded from New York to Detroit. My question for cap experts: do players who end up playing extra games due to trades get paid extra for the extra work? It depends on how the NBA distributes their salary, I'm guessing, but where does the money come from? Does their per-game salary just drop slightly after the trade to accommodate the additional games? I tried figuring the answer out myself, but I'm honestly not sure I've found it yet.
7. Charlotte -- CHARLOTTE! -- made 'the leap'
Credit to Nathan Walker's Twitter feed for bringing this one to mind for me. If there was a most improved team award for the team that improved their efficiency differential the most, the Bobcats would've won it (with a close second place finish from the Phoenix Suns). A lot of people have talked about how impressive Phoenix's rise has been, but I feel like Charlotte's got a bit of a short stick given their Eastern allegiance. But make no mistake -- watching Charlotte this season has been a joy. They haven't been one of the league's best teams, certainly, but they've been exceedingly solid. Respectable. Decent, even! Their offense is simple yet effective, their defense structurally sound though unrefined. Much of this has been attributed to first time coach Steve Clifford, and that's a fair assessment in a lot of ways. His system has been a vast improvement over the puzzling wares of Mike Dunlap, and they've put together a legitimately competent NBA defense without a surfeit of defensive talent. That takes gusto. But the men on the court are the ones who play the game, and fetishizing improved coaching strategy at the expense of the very real progress made by Charlotte's young guns would be a bit of a mistake.
Kemba Walker has broken out from a marginal journeyman into a legitimate rotation piece, and Gerald Henderson has been a minor steal on his recently resigned meager deal. Michael Kidd Gilchrist is approaching mastery of NBA defense (although his offense is still a bit grotesque) and Josh McRoberts had an unexpectedly strong comeback. Of course, no Charlotte appreciation could be written without an appreciation of the incredible season Al Jefferson's put up. He's been roughly the same as he's always been, offensively, but he's worked within a team defense better than he's ever done before. Clifford deserves a lot of credit for putting him in the right spots, but Jefferson deserves a lot too -- it's hard to wash out an entire career of bad defense in a single season. He put in the work and became passable. That's a huge achievement.
Although Charlotte's likely to find themselves run out of the building in the remainder of their series against Miami, don't sleep on what they accomplished this season. Many talk about the leap between a roleplayer and a star on an individual. Fewer talk about the leap between a hodgepodge of lost souls and a real honest-to-goodness basketball team. More should. And Charlotte, bless their hearts, managed to make that leap and drag their downbeat fanbase into a few exciting playoff games. Good work, kitties.