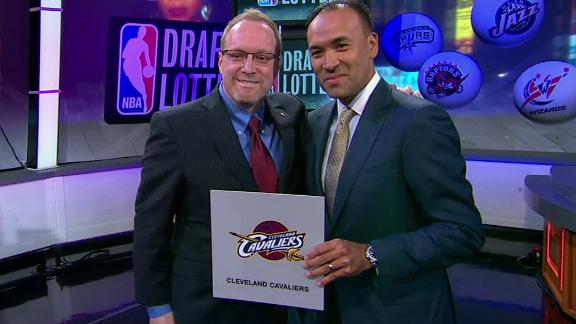 "The Cleveland Cavaliers won the most recent NBA Draft Lottery." If you picked a date at random from the 1463 days in between the 2011 NBA draft and the 2015 NBA draft, there's a 75.7% chance that the previous statement would be accurate. The Cavaliers -- those oft-maligned miscreants -- have won three of the past four lotteries, netting them a franchise point guard (Kyrie Irving), a franchise centerpiece (Jor-El Embiid or Ender Wiggins), and the best nickname of the 2013 NBA draft (Anthony "Tubs" Bennett). They've won it three times despite repeated assertions that they were gunning for a playoff spot in literally every year since LeBron left.
No, really. Am I the only person who remembers this? It was obviously unrealistic from a retrospective point of view, but in 2011 Gilbert and his front office were insistent up until late December that the 2011 Cavaliers could make the playoffs led by Mo Williams and Anderson Varejao. They underestimated the defensive dropoff in letting Brown walk, but there was a tiny grain of reason in their expectations. In 2012, the expectations weren't super high, but Kyrie and Varejao looked like two possible all-stars in a terrible east, which made a preseason expectation of playoff basketball not-entirely-unrealistic either. In 2013, they added Waiters to the mix and had two rookies poised to make big sophomore leaps in Thompson and Irving, which looked like an eastern playoff team in the preseason. Whoops. And we don't even need to bring up their expectations in 2014, do we?
Most of this is just a result of playing in a dismal eastern conference where shiftless and half-awake basketball is generally enough to secure a top-5 playoff seed. Were they in the Western conference, I don't think Gilbert or the front office could've sold any of the fanbase on slim playoff hopes. But some of this actually made a small deal of sense. Kyrie Irving's best season to date has been his rookie year -- he's stagnated in tiny ways since then, never quite developing the way his previous trajectory implied. (Not that he's bad, just not-quite-as-good.) Anderson Varejao's injury bingo has completely undermined his beautiful defensive game. The supporting cast hasn't just been bad, they've been borderline criminal -- even when the Cavs can put together a decent-by-Eastern-standards group of starters (2013, 2014) the bench has been so grotesque that they STILL can't help but get blown out by any other half-competent team. And when injuries strike? They're a joke.
So, long story short, they keep entering the lottery year-in and year-out, despite fielding a ton of top-tier talent and high-upside rookies. And they usually have a decent chance at a high pick, too. So it isn't totally unreasonable. But, I mean, cripes. It's still pretty unreasonable. Three out of four years? This hasn't ever happened before! It's so deliciously improbable that there HAS to be some incredible conspiracy theory that explains it. Right? This morning, I have decided to outline the three most likely conspiracies that are behind this rampant favoritism towards Cleveland from Stern and Silver. Don your tin-foil caps and follow me to a world of subterfuge and deceit. It's Clarissa Explains it All, only if Clarissa was inordinately concerned with NBA lottery conspiracies. Hooray!
• • •
CONSPIRACY #1: QUICKEN LOANS REFINANCED THE NBA HQ
Okay, bear with me here. Outside of basketball, owner Dan Gilbert is famous for his primary business venture -- founding Quicken Loans, the largest online mortgage lender in the United States. Quicken Loans used to have a somewhat squeaky clean image, mostly by dint of their quick ascent from a minor player in the industry into a ridiculous powerhouse over the last 15 years. Fun fact -- Gilbert founded the company in 1985 under a different name, then sold it in 1999 for about $500 million dollars to the company that sells the eponymous Quickbooks/Quicken tax software. Then, less than 3 years later, he and a group of investors inexplicably managed to repurchase the loans subsidiary for just $64 million dollars.
Nope, not a typo. You read that right. Gilbert and his investors effectively bought back something they sold for $500 million dollars for $64 million less than 3 years later. Investments are so much cooler when you're filthy rich! As with all financial transactions, it is easiest to visualize how hilarious this is with Pokemon cards. Let's say you traded your holographic Charizard to a friend of yours for his entire deck of cards. Three weeks later, you decide you want Charizard back, so you trade your friend a bent Voltorb and a ripped Nidoking. They happily return your Charizard, allowing you to keep everything they originally traded the Charizard for. Isn't that awesome? That's what happened to Dan Gilbert. But I'm getting off track. The point is, Quicken Loans only started experiencing major success in the mid-2000s, around the time of the financial crisis.
Their main claim to fame is that they were able to not only stay afloat but aggressively expand their market share during the crisis, something Gilbert attributes to their can-do attitude and special culture. Others have a slightly different take on the matter, with lawsuits claiming that they used their small stature and internet-base to dodge regulations, which is (the lawsuits imply) much more responsible for their expansion than any sort of cultural version of M.J.'s Secret Stuff. If the accusations are true, Quicken Loans was (and perhaps remains) one of America's big-time predatory lenders, a company that sells numerous lemon loans to elderly people in high-pressure situations and made it a regular business practice to inflate customer interest rates and use false appraisals when hashing out loan terms.
I don't know whether the accusations are true or not. Maybe they are, maybe they aren't. But assuming they are, what's the operative clause in the previous paragraph? Lemon loans sold to elderly people, of course! What if part of Dan Gilbert's purchase of the Cavaliers back in 2005 included refinancing on the mortgage of the NBA's New York headquarters? If Quicken Loans is used to suckering old dudes, David Stern's 2005 incarnation was pretty elderly. The Cleveland Cavaliers didn't have their own pick in the 2005 NBA draft, so it wouldn't have been obvious that year. And they made the playoffs every year from 2006 to 2010, which made it impossible for any lottery-based stipulations in the loan to rear their head during that duration. But after LeBron left and the franchise collapsed, Gilbert and the QuickCabal (... still workshopping this one, bear with me) came to Stern and pointed out the following TOTALLY REAL clause in the terms on the NBA's mortgage refinance that TOTALLY EXISTS:
74. The provisions of this Article 74 shall govern all Commissioners of the NBA.

(a) Whensoever the Cleveland Cavaliers, owned by Daniel "The Hammer" Gilbert, are to be found in the draft lottery, a special odds-boosting algorithm shall be employed. The exact mechanisms of this algorithm are at the NBA Commissioner's discretion, so long as they are bound and governed by the following provision: in THREE (3) out of every FOUR (4) lotteries in which the Cleveland Cavaliers are receiving lottery odds, the Cleveland Cavaliers must win the first pick in the NBA draft. This is applicable even in cases of busts, fraud, murder, Low Winter Sun marathons, and the drafting of entire contracts in the "Comic Sans" typeface. Furthermore, the Commissioner is bound and obligated to read Twitter's response to each lottery win, staring vacantly as the NBA's greatest fans balk in confusion and woe over this downright incomprehensible gesture."
Gilbert, you slithering snake.
• • •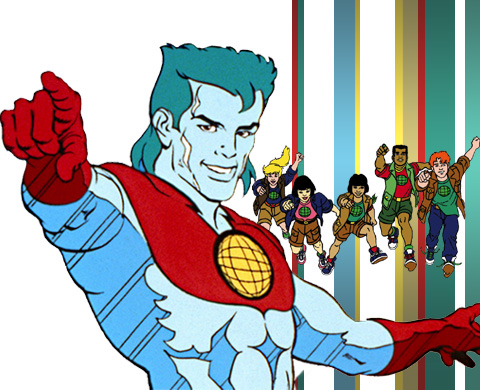 CONSPIRACY #2: CANADIAN CAPTAIN PLANET
This one is my favorite, even if doesn't actually make sense. Or possibly exist. It's like my version of reptilians. Captain Planet was an environmentalist cartoon from the 90s. The basic premise was that five kids had rings that allowed them to tap into the Earth's core five elements: Earth! Fire! Wind! Water! ... Heart? (Yeah, I don't think they ever really explained that one.) When they acted apart, they could control their respective element through their ring of power. When they worked as a team, and put all their elements together, they could summon this strange chrome man with the powers of all their rings, along with the additional power to tell 10-20 bad puns per second.
Actually, wait. Hold on a second. I don't think combining their powers into Captain Planet actually increased their ring abilities at all. They could've done what he did just by working together. In fact, I distinctly remember that his only weakness was pollution, which is exactly what they faced in every single episode. Hey, but... wait... then why did they ever summon him at all? What was the point? "Hey, polluters! We're going to combine all our powers to create ONE person who's weak to your crap, instead of FIVE people who are! And we can't use our rings while he's around, which makes us all completely useless! Take that, nerds!" I'm not entirely sure that the premise of Captain Planet made any sense whatsoever. Huh. How about that.
Anyway. Captain Planet and the five kids were tasked with defending the Earth from polluters and drugs and all sorts of things that are Bad For Kids (TM). In this conspiracy theory, Captain Planet doesn't exist, because he's silly and a cartoon. Instead, there's a CAPTAIN CANADA.
Yeah, that's right. CAPTAIN CANADA is entering your world. He'll never leave it.
Remember how Captain Planet combined five elements to form the core of his powers? Captain Canada combines five too: maple syrup, poutine, public nudity, the NHL, and Quebec. His mission? To seek out new life and new civilizations, and to boldly go where no -- ... I mean, to spread Canadian values and smiles all over the world. Obviously. What does this have to do with the NBA draft? Simple. The Cavaliers already have Tristan Thompson, Canada's #1 basketball son. When the Cavaliers chose Thompson back in 2011, Captain Canada put the Cavs on his radar -- he realized that he finally had an NBA team to slowly turn into Canada's 2nd national team! Ever since, he's sneakily tried to push all the Canadian players he could Cleveland's way.
And he's succeeding! In 2013, he was scared that they'd pass Bennett over for someone else, so he snuck into their minds and made Bennett their top choice before giving them the #1 pick to ensure that nobody else messed it up. In 2014, he realized that the only way to ensure Wiggins made it to Cleveland was to rig the #1 pick for Cleveland and slowly release false information about Embiid's injury. His next task? Get the Spurs to trade Cory Joseph to the Cavaliers, and have the Cavs flip some of their tertiary pieces for Andrew Nicholson from Orlando. At that point, Cleveland will be able to put out an all-Canada lineup of Cory Joseph, Andrew Wiggins, Anthony Bennett, Andrew Nicholson, and Tristen Thompson.
That... oh my god, wait, that's a terrible lineup. Captain Canada, what have you done.
• • •
CONSPIRACY #3: SILVER ACTUALLY WANTS TO ELIMINATE THE LOTTERY
By the standards of conspiracies, this one is pretty low-key. It has the conspiracy feature that it actually sounds halfway reasonable if you're willing to set aside disbelief for a second. No, the commissioner doesn't really have the power to rig the lottery, not how it's currently set up. But if he did, wouldn't a three-in-four showing by Cleveland be EXACTLY the kind of ridiculous flawed incentive-rewarding that would put some gas behind serious lottery reform? The media response and the fan response to Cleveland's win was unpredictably vitriolic for me, but for a smart guy like Silver, I'd imagine he had a decent idea of what was about to go down.
The way I looked at it -- taking off my "Cleveland Sports Fan" glasses for a moment -- it was a minor repudiation of tanking. The Cavaliers, failed though they were, actually tried to win this year. And they tried to win last year, too. They were just amazingly bad at it, much like the 2014 Milwaukee Bucks. Chris Grant made some terrible moves and they constantly leveraged their draft picks to pick up rental deals on marginal pieces in pursuit of what would've likely been a 5-6 game pasting at the hands of a solid Indiana squad. They spent the entire season trying to wring as many wins as possible out of a mismatched roster with a not-very-good coaching staff. They probably fell below their true talent, but only just -- the ceiling for this team was probably around 35-36 wins, and they came within a hair of it. They have a lot of dead weight crowding out the marginal talent they've accumulated, and desperately needed a jolt of something to bring them back into the realm of the living. So the argument is that their win isn't THAT bad -- it just pooh-poohs tanking teams and reminds everyone that winning doesn't necessarily torpedo you.
Except that's not what happened. At all. Twitter erupted with all the indignation of a seriously offended Mount Vesuvius when it became obvious the Cavaliers had moved up in the lottery. And when it became obvious that they'd won it again, that indignation turned to righteous volcanic fury. The basic thesis behind this is both simple to understand and a little bit hard to justify. The Cavaliers have gotten every lucky bounce since LeBron left, but mismanagement and general incompetence have kept them mired in a place where they aspire to rank mediocrity. And they fail miserably at actualizing those aspirations, despite it all. It's like watching a child constantly buzz in first on Youth Jeopardy, get all the Daily Doubles, throw all his opponents off their game... and completely mangle the obvious answers every single time, leading to a loss despite it all. It's like watching a born-rich white guy turn their riches to rags.
It marginally challenges the concept of "fairness" and lends new vigor to the anti-tanking movement. If Silver really wants the lottery gone, there aren't many ways to make it look like a farce. Give it to a tanking team, it "works." Give it to a randomly selected good team, and it seems like it's doing its job. But give it to a flailing team with no reasonable explanation for their string of good luck? Give it to an owner who non-Cleveland fans completely despise? That's probably the one way Silver could've gotten this kind of an anti-lottery reaction. As I've said multiple times, I sincerely doubt this is actually what he was doing. But if it was, well... let's not lie to ourselves. He would've done a pretty slick job of it, huh?