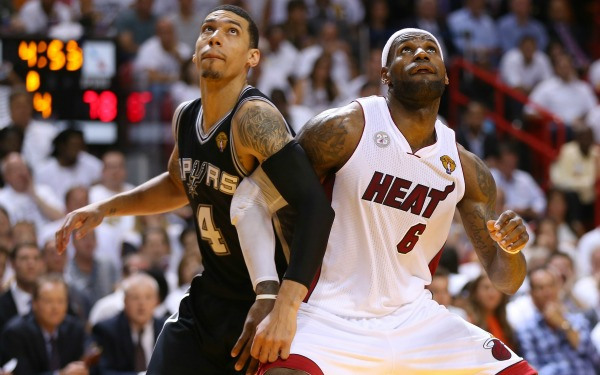 As part of our coverage of the 2014 NBA Finals, we're going to have an every-few-days check in with Aaron, Alex, and Jacob regarding various questions and quibbles with the Finals as it plays out. Today, we're going to give you a strange reprieve from the usual preview schtick with a "preview" of the world's worst upcoming stories. No, really. Let me explain...
Just about every single blog and writer has gone hard in the paint to bring you the best storylines and things-to-watch in this year's Finals. Most of them are really awesome, and some of them are terrible! Friends: what storyline in the NBA Finals promises to be the single most annoying and unnecessary thread we nonetheless devote unseemly amounts of our focus to? What are your top few things-to-avoid-watching? Note: storyline does not have to exist, it merely needs to have the POTENTIAL to exist.

AARON: This one actually happened last year, and it was one of the least substantial NBA stories I'd seen in a while. After the 2013 Finals, Danny Green happened to stop by the club that LeBron was celebrating in and gave him a dap and a handshake before leaving. TMZ (or some related rag) happened upon photographs of it, which led to a number of articles about how Danny Green was a failed Spur and how TRUE rivals wouldn't be able to give the opposing superstar dap at a club after he'd beaten them for a hard-fought title.
You know what? SHUT THE HELL UP. Danny Green started his career in Cleveland, and he was friends for LeBron for a long time before he was a Spur. So it isn't exactly some betrayal in the first degree that he felt the need to congratulate a friend of his. The worst part, though, was that the pictures were presented completely out of context and the stories assumed that Green had been seeking LeBron out. According to Green's later statements, he was just going around from club to club trying to get his mind off the Finals. He happened to find LeBron. He left as soon as he realized LeBron was there, even though LeBron invited him to join the Heat players. In essence, he did exactly what the media would expect of a bitter sports rival – he refused hanging out with his old friend because of residual rivalry fury.
But the pictures were taken out of context and became a stupid big story. I imagine something similar is going to happen this year. Because it happens every year. Don't know what, don't know when. Maybe LeBron will be caught flipping off Duncan as a joke. Maybe Parker will be caught making eyes at a Heat cheerleader. But some completely innocuous action is going to get snapped or taken wildly out of context to create a stupid sideshow story that distracts from the awesome series at hand. Alternatively, some quote will be taken completely out of context, like the infamous Jennings "Bucks in Six" comment last year or the "We'll do it this time" bravado from Duncan this year.
Avoid watching the tabloids. It's never a good idea.

ALEX: Ooh. How about one of the most irritating tropes in recent memory, and one that doesn't dog just the Finals but every game the Spurs play. It's sort of a logical counterpart to the "LeBron just needs to take over [take and make 100% of available field goal attempts]" nonsense. It's the idea that ball movement, as practiced by the Spurs and Heat, is fundamentally unselfish and virtuous.
Maybe this is just something that only bothers me--a Spurs fan deigning to choose the exact lines of praise my team receives--but this always strikes me as a basic misapprehension of the sport. It's not always even altogether wrong, but it elides so many complexities as to be practically useless except as ambient noise. Passing as Manu Ginobili or LeBron does is phenomenally difficult. It may be easy to "just find the open man" in, like, a scrimmage, but almost by definition the situation changes_ the moment_ competition on a professional level is introduced. Most players in the human population just simply don't have the on-court intelligence or skill or athleticism to dribble all the way to the rim--if someone is in that rarefied air, it takes a kind of genius to be able to get there and then decide between the options you've created in a way that's consistently right even when defenders have been watching your previous choices for signs of exploitable weaknesses. Everything Manu or Boris or Tim does with passing is a potential masterstroke built on years of experience and an unteachable genius with angles and space. The way the Heat find space and surgically swing the ball around the perimeter is awesome and creative. But it's not built on virtue, and I genuinely believe it's not built on virtue even a little bit. No matter how personally caring and understanding these players may be, the dominant factor that determines the success or failure of their style is their unbelievable level of skill to create those kinds of plays, a skill plenty of teams identified as "selfish" would love to have.
And then, there's the slanderous converse of the narrative, even worse to these eyes. Prime example: The Thunder don't have an iso-heavy offense because they lack for virtue, emblematized by Russell Westbrook's evil shot-taking. Rather, it's their personnel. They can get away with several defensive non-scorers on the floor while still putting up a top-5 offense year after year, in part because the very same "selfish" Westbrook is able to selflessly carry that kind of burden. When the Thunder have sought out offensive lineups, why, it's remarkable the gain in virtue and unselfish, Secret-Santa-esque passing lanes! Reggie Jackson must be a saint, I tell you. Seriously, most teams do precisely what they have to do to win, including the Heat and Spurs. And scores of great players on both kinds of teams, whether the versatile two-way anchor of some of the best offenses and defenses of recent memory or the born scoring prodigy from an adjacent state, seem to me personally selfless enough for anyone's tastes. Durant and Duncan give the lie totally to that dichotomy.
The two offenses on display in these Finals are beautiful and a testament to the sport of Naismith. Let's not tarnish these offenses by reducing their brilliant geneses to ordinary virtue.

JACOB: This is a little more of a hot sports take type of thing, but I do mean it with all sincerity. Thus far it's been mostly overshadowed (and rightfully so) by the imminent drama of two Hall of Fame trios facing off to seize their respective basketball destinies, but were the Heat to seize control of this series, I anticipate the likely continuation of a running story-line 3 years overused: The Heat's triumph over struggles and strife. Look, I'm tired of hearing about the Heat's struggles. All of them. I'm tired of the over-dramatization of what they've "had to go through" and the mental gymnastics fans and the media have collectively performed to justify their slavish treatment of this team.
Seriously, what have the Miami Heat had to go through?
This story-line cropped up a few months ago, when LeBron responded to the Indiana's befuddling internal struggles with dismissal, implying it was nothing compared to what he and the Heat had suffered. Talking heads and the commentariat roundly cheered his response. "Yeah! Suck it up, listen to a real man!" was the implied sentiment towards the Pacers. But seriously, hold the phone. What have the Miami Heat had to suffer through? Wasn't the reason we all turned on them in the first place that they colluded to unite three Hall of Fame players in their prime? Weren't we insulted that they did so with reckless bravado, and responded to their ensuing domination with somewhat of a sneer of dismissal, because of course they were supposed to do that? Wasn't the extent of the suffering they had to go through the exact same kind of media criticism faced by the Pacers -- that is, almost completely self-inflicted? Correct me if I'm missing anything about the post-Decision media dynamics, and explain to me the difference between the two situations (beyond the obvious fact that LeBron speaks with the benefit of hindsight and the "RINGZZZ" that retroactively "justify" his decision).
Sometime during the 2012 Playoffs, while the Heat struggled gamely with a young Pacers team and an overachieving Celtics team playing on borrowed time, everyone seemed to talk themselves into this collective absurdity that everything said of the Heat before the Boston series was no longer true. Because Bosh was injured for a couple of games and Wade was no longer "Finals MVP" Wade, LeBron had done what he never could in Cleveland and dragged an inferior supporting cast past elite competition, won on the biggest stage, and triumphed over adversity. At some point we all talked ourselves into believing that because Chris Bosh's counting stats have fallen off, he's not a player still in his prime who proved himself as one of the best forwards in the league in Toronto. We point to Dwyane Wade not playing half the season as evidence he's basically replacement level (an argument I've heard made unironically by quite a few fans), rather than evidence that he'll be all the more dangerous come the big moments in the playoffs.
The Heat are a team with four Hall of Famers, minimum, playing a majority of the minutes in a system where they can all maximize their roles and unique specialties. They receive unabated adulation from the media. They're an elite team that plays in a largely noncompetitive conference, in one of the most one-sided eras of conference imbalance in modern league history. We all pretended that their jog to the much-lauded Fourth Consecutive NBA Finals wasn't by default because of the Pacers, but it's been clear to everyone since April that the Pacers were as much a perfunctory effort as any other Eastern conference opposition the Heat might face. "Overcoming struggle" never should have been a legitimate part of this team's identity, were it not for the media tripping all over itself to prostrate itself in apology for its overreaction to the Decision.
Don't get me wrong, the Heat have won these past two Finals fair and square (some good fortune in Game 6 last year aside). But in both cases against opponents who've had to overcome far worse in their journey to the same destination, and neither of whom could have ever afforded to "coast" the way the Heat can through large swaths of their regular season, much less the playoffs.
So yeah, I'm already tired of hearing about the Heat reaching the Finals four times in a row, the "first since the Celtics" and all that. To me, that's a laudable achievement when you've come by it honest, through legitimate competition and strife. But the Miami Heat have yet to suffer any pre-Finals drama that wasn't almost entirely self-inflicted. No team in the Eastern Conference during this run has been good enough to make Miami sweat when Miami isn't playing down to their competition. They still have had multiple game sevens and multiple incomprehensible embarrassments. Their fourth consecutive Finals is more circumstance than anything else, a byproduct of the period of competitiveness in NBA history they happen to play in. It's an accomplishment, but I'm not sure it's quite as incredible as it's been made out to be.
If anything, this talk of a fourth Finals in a row should give us some pause, and lead us to reflect on how screwed up the NBA conferences are that one of these Finals teams only had to beat one team that even would've made the other conference's playoffs in order to reach that much-exalted fourth Finals.

ALEX: I agree. But I would argue that the overzealous, tracks-covering narrative of triumph over adversity is as old as politics (and perhaps sport) itself. How tall was Goliath, really? How impossible was Thermopylae, really? How many of the great obstacles of history are completely apocryphal and how many legends were only half-legends carried by canny myth-makers eager to build up a legend? And how many actual legends were either forgotten by history or folded into generic legendary figures that were the most convenient or politically advantageous to ascribe those legends to?
Glory is so much determined by how it is framed by history's storytellers that, for me, it's hard to even talk about a supposedly glorious victory in battle without also picturing the glory-seeking PR reps and politicians walking astride the battle, looking for the best photo-op. The real story will always either be lost or fought to the bitter end. Because that's how the story goes, and it works. It's poignant. It's inspiring. It makes good copy.
My point is that it didn't start with the Miami Heat. Even in the NBA. Bill Russell was perhaps the best and surest winner in the history of North American sports, but the Celtics were cheaters. The legendary parquet floor had dangerous nails sticking up and broken boards, strategically placed. That floor had potholes upon potholes, and that famous steal by Bird on Isiah was probably preceded by an unseen bottle thrown by a Boston fan at Thomas, temporarily blinding Isiah from his right field of vision. I'm exaggerating, but not by much: the locker room dirty tricks by Red Auerbach were legendary, and that's after you account for the Celtics being essentially 20 years ahead of everyone else, on and off the court.
Michael Jordan, despite being the greatest player of all time, made up all sorts of adversity for himself. The Spurs feasted on incompetent management across the league and ridiculously advanced scouting and development (and, above all else, completely lucked out with Robinson and Duncan -- would the Spurs be the Spurs if they'd picked a 1997-era Anthony Bennett instead of Tim Duncan? NO!); the Thunder -- even with excellent scouting -- still hit the jackpot with Durant/Westbrook/Ibaka/Harden; and the Heat and Pacers had Pat Riley and Larry Bird, two of the smartest, savviest folks in the history of the league. And let's not even get into how Showtime and the Bird-McHale-Parish Celtics were born.
All this to say that you can make the argument that no great team has ever been in a position of pure adversity. Sports is never like a flat playing field - a large proportion (maybe even a majority) of victories were concocted out of good fortune. Athletes and media, always needing fuel for their next journey, endorse any narrative that makes the hero the uber-hero. That always means exaggerating the triumph and downplaying the fortune. Miami went 7 games against Indiana, Boston, and San Antonio -- they played their worst possible hands and risked elimination time and again, and they still emerged victorious. Ergo, the fact that they loaded the deck with 12 aces didn't matter. Not that much.
If you turn your eyes askew, The Decision was as much a stacking of potential humiliations upon themselves as it was a stacking of potential championships. The East's decline made it several times easier, to be sure. But, on the other side of the coin, imagine if they'd lost to Indiana or Boston. They'd be pariahs of the league, and LeBron would not just be hated by some; he'd be utterly derided. Laughed out the gym. They placed themselves on the cusp of ultimate vulnerability and emerged as champions. And that's just truth-feely enough to put into copy as an ultimate narrative of triumph.
It all circles around, though. It IS the most annoying narrative. When you break it down, they made the easiest path in the world to their great accomplishment, and then they made it rocky only with hubris and unlikable pomp and underperformance, and then they "heroically" overcame that rockiness. And they got some absurd breaks their way. That really isn't the most inspiring narrative in the world. But most real narratives about real people aren't, even legitimate legends, the moment you cast a critical eye.