The 2014 San Antonio Spurs -- A Team for All Seasons
Posted on Mon 16 June 2014 in Features by Aaron McGuire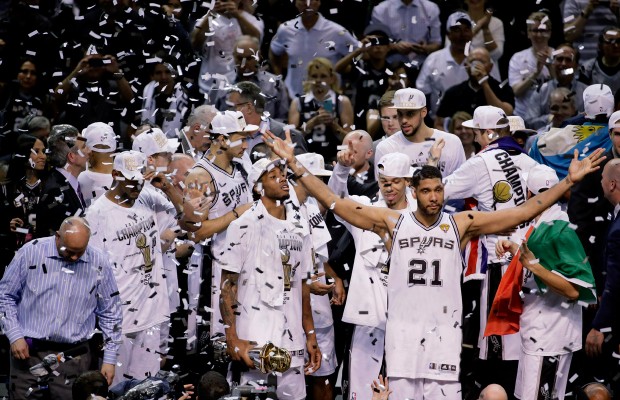 "Sir Thomas More is a man of an angel's wit and singular learning. I know not his fellow. For where is the man of that gentleness, lowliness and affability? And, as time requireth, a man of marvelous mirth and pastimes, and sometime of as sad gravity. A man for all seasons." -- Robert Whittington on Thomas More
There's going to be a lot of time to reflect on exactly where these incomparable Spurs stand historically. Legacies are written with the benefit of hindsight, not as in-the-moment missives. They ran roughshod over the league in the regular season, managing to win more games than anyone else despite dealing with injury trouble that would cripple their peers. They were the first team since the NBA/ABA merger to go without a single player averaging 30 MPG in the regular season, and they were one of just five title teams in the history of the league to field a Finals MVP who didn't make an all-star game. There are lots of team-wide accolades and accomplishments to thrust upon them, and many ways to tell the same story about their collective brilliance. It is beautiful. But it is hardly the be-all and end-all of the Spurs. Being the so-called "perfect team" can get you far, but to spin their accomplishment like that is to necessarily minimize the individual components that make up the whole.
Sir Thomas More was the philosopher-statesman who refused to recognize King Henry VIII's authority as the supreme head of the Church of England, given Henry's ill-begotten marriage to Catherine of Aragon. He was executed. He's historically relevant for both the courage of his convictions and the uncommon range of character and nobility he embodied -- as his friend Robert Whittington described him, More was a man of all seasons. Gentle, mirthful, noble, grave. He had a range of emotion and character rarely discussed when those around him canonized and idealized him. They simplified his character for ease of reference, and boiled him down to an uncomplicated idea in order to better share his story with future generations. They glossed over his flaws (see: his rabid persecution of protestants) to tell a simple and beautiful story. They obviously succeeded -- we're still talking about him, right?
Inevitably, we will simplify the Spurs. The 2014 Spurs will always be remembered as a stunning achievement of a team that redefined the NBA's hierarchy. But there will be time to reflect on the team as a whole later. For now, while the taste is fresh, it profits us to discuss the range of characters that conspired to bring about this singularly dominant run. The motley crew of oddballs and weirdos who collectively made up one of the finest NBA teams to ever run the gamut. There are fun men, there are sad men, there are hard-working men. There are strange, strange men.
These are their stories, at least a taste of them.
• • •
THE MIRTHFUL
If you're looking for San Antonio's resident smiley-sacks, you'd do well to start with the first point guard off the bench. You know who I'm talking about -- Patty Mills, professional towel-waver. His background was covered rather extensively in the player capsule I wrote about him and his little-known history. Ethnically, Mills is an aboriginal Australian, a long-suffering race of people who were subjugated by the British and whose children were forcibly torn from their homes with little-to-no records kept to put the pieces back together again. Patty's mother was taken from her family at the age of two, and Mills proudly waves the Aboriginal and Torres Strait Islander flags as strongly as he waves his Australian flag.
Mills could be a gloomy man. He could be of grave disposition -- he could be stoic, silent, sad. But he's not. He's the happiest man on the Spurs roster, a whirling dervish of energy and smiles that makes the court shine every second he steps on it. His family has had hardships to last a million lifetimes, but the man virtually never stops smiling. He's Australia's most famous basketball player. He averaged 22 points per game at the most recent Olympics, and he's finally filled an NBA niche as a hyper-efficient bench scoring guard with a great handle and a pestering defensive activity. His incredible turn in the 2014 Finals likely priced him straight out of San Antonio's budget for next season, but I doubt there's a single Spurs fan who won't remember him fondly. And nobody can deny the warm and tender feelings of his first title. He made it to the top of the mountain -- and with him, he brought his people and flags along for the ride. He gets to cement his aboriginal flag straight to the NBA's pinnacle.
Matt Bonner already won a title. And he was a bit player to end all bit players in this one, averaging the fewest minutes-per-game of his career (11.3) and even fewer in the playoffs (6.2). That said, he still filled a role, at least for me. Every single time he checked into the game, he was a threat for one of his patently hilarious lumberjack teardrops. That's what I call his unbelievably weird attempts at driving to the rim and scoring, a lumbering ginger determined to sniff the rim. Teams would generally leave him wide open, mostly because he's Matt Freaking Bonner. Matt Bonner took four free throws in the Finals this year -- prior to the Finals, his last free throws were in early March. That's right -- he went THREE MONTHS without taking a free throw in an NBA game. He made three of the four, because Matt Bonner is wonderful. Thanks, Coach B.
Austin Daye seems to enjoy the game of basketball. That's a good thing, because Spurs fans made it a point to give him "honorary MVP status" midway through the season. Clearly, he lived up to the task -- the Austin Daye Spurs have yet to lose a playoff series. When you compare it to the Nando era, it's like night and Daye. (... yeah, that pun was pretty bad. I'm sorry, but I'm also not really sorry in the slightest.) And then there's Aron Baynes. I've been really happy to watch Baynes this year, mostly because he's (fittingly) the NBA player who's closest to imitating the way I play in pick-up basketball. I'm skinnier than him (...obviously), but I can't shoot the ball to save my life and just try to constantly bruise in for post-ups. Aron Baynes is the Aaron McGuire of the NBA. Watching him play amuses me to no end. He's also the Aaron McGuire of the NBA in how he celebrated his title:
With his country's flag wrapped around his shoulders, Aron Baynes bellowed out, "I'm not an alcoholic, I'm just Australian!" as he dumped champagne on his own face.
Yep. That's pretty much how I'd play it too, Baynesie.
• • •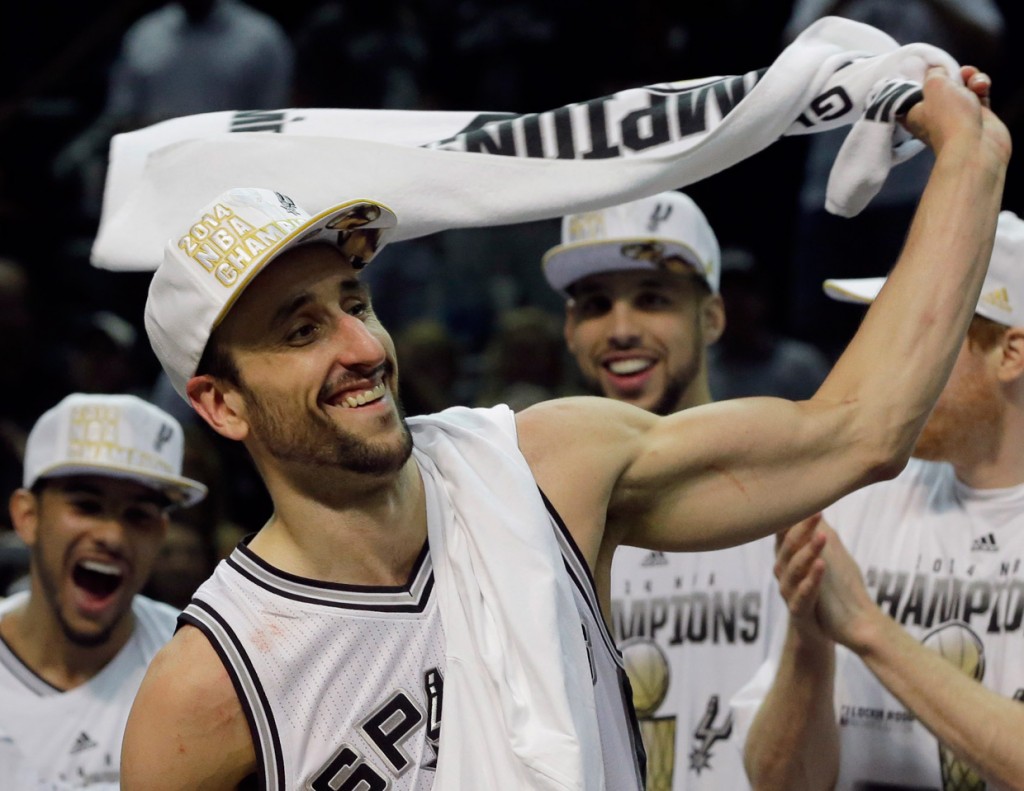 THE STRANGE
There are weirdos on the Spurs roster, too. The organization may be mundane and buttoned up from the outside, but some of the NBA's strangest stories come from the sweltering San Antonio heat. (Yes, that's a joke about the air conditioning mix-up in Game #1 that's likely doomed to be forgotten in a year or so. If you're a future generation of NBA fan reading this to remember the 2014 Finals, run a Google search for the air conditioning kerfuffle in Game #1. It was kind of absurd.) To wit, three of San Antonio's weirdos:
Marco Belinelli. Yeah, I know. He played like rubbish throughout the entire playoffs. Doesn't matter. He's a champion now! And him being a champion gives me an excuse to go back to one of this season's most hilarious sideshow stories -- Marco's early-season attempt to use Twitter as Tinder and match up with a randomly selected cute follower. Seriously, spend a moment to really take that pickup line in. It's astonishing. Possibly the worst pickup line ever. How weird of a person do you need to be to think that's a reasonable line? WHO EVEN SAYS THAT?! Look. Every single time Belinelli shot the ball during the playoffs, I was scared for my life. But we'll always have this pickup line, and he'll always have his ring. (Somehow.)

Boris Diaw. When people refer to the Spurs as a team built of men taken from the garbage heap, Diaw is probably the first player everybody will flock to. After all... Boris was waived by the Charlotte Bobcats, a team then in the midst of a season where they'd come ever-so-close to the worst record in league history. People don't quite remember the circumstances correctly -- he was waived less because he was useless and more because he wanted to go to a new team but there wasn't a team in the league that would trade for him. But it's a fine story regardless. Diaw is roly poly to a fault, a post-up passing mastermind whose nicknames range from the "Stay-Puft Marshmallow Center" to "the Cream Shake". He's a tubby maestro whose basketball success is based on a multifaceted game the league may very well never see again. He was 3rd or 4th on most people's Finals MVP ballots despite averaging 6-9-6 in 35 minutes a night. The league will see other superstars, certainly. But it will NEVER see another Bobo. (Read this, when you get a chance. You'll understand.)

Jeff Ayres. Okay, no. He's not that strange. Ayres is the player formerly known as Jeff Pendergraph, if you weren't familiar. Pendergraph was the surname of his stepfather, a man who married his mother when he was in elementary school. Pendergraph Sr. left the picture when Ayres was in high school, and when Ayres and his wife had their first child this past summer, they decided that they didn't want their daughter to have the name of a stepfather that left his life years ago. Ayres is the name of his biological father, chosen to hearken back to his ultimate roots. There's nothing particularly strange about the idea of changing your name to better reflect your heritage -- it's a beautiful sentiment. But it is a bit out of the ordinary, and the story itself is sort of funny. There was a point in their name choices where they were jokingly considering renaming themselves to Mr. and Mrs. Awesome. Seems legit.
Finally, there's the player who most embodies the fundamental weirdness of the San Antonio Spurs: Manu Ginobili. All praise in the world to San Antonio's star shooting guard, the doting father whose weirdness is more on-court than off-court. We call ourselves Gothic Ginobili for a reason -- we're a weird blog, and Manu's a fundamentally weird player. He completes passes that exist on the fringes of human possibility. He's always a billion steps ahead of everyone -- sometimes, in his turnovers, this precognition is a curse. But all too often he just sees things that nobody else can. For all the talk about how teams should "play the right way" and play like San Antonio does, there's hardly a single player in the NBA who makes as many ridiculous and unnecessary plays as Manu Ginobili does. A Manu by any other team could be considered a chucker, or a risky daredevil who gets too cute for his own good.
It is strange, then, that he is so important to the Spurs.
But he is. And that's his charm. That's the odd twist at the core of the San Antonio system. The precise, rigid machinations of San Antonio's pinpoint passing are possible partly because of the wild unpredictable chaos that Ginobili brings on the court. Any lineup of marginal players becomes an offensive nightmare with Manu on the court. Any lineup of star players becomes unpredictable when he's on the court, and it disorients the defense in a way that few other players accomplish. His passing is similarly prolific, but it's fundamentally different from that of Steve Nash or LeBron James -- he doesn't JUST put his teammates in a position to succeed, and he doesn't JUST dominate the ball and score like an all-time great. His game isn't that simple.
Ginobili is an unstable chemical compound. He's an acid that reacts with the basketball to turn the game into a chaotic storm of air-bending passes and impossible step-back jumpers with barely a hair of space. He whips the ball from butter to cream, shakes defenders, and scoffs at the impossible. Manu Ginobili essentially blew out his hamstring on a dunk earlier this season. In Game #5 of the NBA finals, Manu rose and threw down exactly the same dunk -- in traffic, under duress, without fear or hesitation. That's his way. That's how he plays the game. He doesn't know how else to play. That's what it means to be Manu Ginobili. And the Spurs would crumble without him.
• • •
THE DILIGENT
Not all players on the Spurs can be considered weirdos. Not all players are likely to be smiling on any random moment you turn on a Spurs game. The overriding narrative about the Spurs places them as a team of lunch-pail strivers, a team of diligent workhorses who do their jobs and operate within their system like the blue collar folks that watch their games. This is, for many players, bluster. Nothing about Manu Ginobili, Boris Diaw, or Patty Mills is "blue collar." They all work hard, but the Spurs don't necessarily work any harder than any other NBA team. They're more talented, more successful, more beautiful (to certain eyes). But that's silly. To conflate talent and success with how hard they work is to make a rank mistake in how you assess any team.
That being said, there ARE a few strivers on the team -- and they're worth mentioning, even if you reject the broader storyline. There's Cory Joseph, of course. He was a bit player during this run, and he wasn't a very important player to San Antonio's season on the whole. He played a tiny bit over six minutes in the Finals, when all was said and done. But his tiny role undermines his evolution as a player, and the importance he held in one key play. Joseph used to be a generally useless player -- no real defense to speak of, little shot, passing of ill repute. He's hardly perfect now, and he can't really get minutes in San Antonio given their reliance on Parker, Green, Ginobili, Mills, and Belinelli. But he's gone from a marginal-to-worthless player to a skilled spark-off-the-bench, mirroring the transformation Patty Mills went through from his marginal spark in Portland to his key rotational cog this year.
And, as I mentioned, he had that moment. Amidst a deflating blowout loss that had Spurs fans in peptic nervous terror, there were few positives for Spurs fans. The Thunder had roundly destroyed San Antonio's system in the fourth game of the Western Conference Finals, making Duncan and Parker look mortal and keeping Kawhi Leonard completely in check. Virtually the entire fourth quarter was garbage time, and Spurs fans are used to the random back-and-forth of those minutes -- it's hard to really take anything from it. Usually. Except for Cory Joseph, who used those garbage time minutes to do something nobody else on the Spurs had the courage to do. To wit -- he went straight at Serge Ibaka, rose up, and threw the damn ball in the hoop like an angry pint-size rottweiler. It's funny that a play as visceral and emotional as that one can be considered a triumph of process and work ethic, but it was. It stood as a culmination of Joseph's evolution as a player up to this point. And the Spurs took notice -- from that moment onward, the Spurs went hard at Ibaka regardless of their fear of his blocks, and the Spurs offense stopped getting quite so gummed up. Even though he barely played in the Finals, that play cemented Joseph's impact on this title run. It changed the complexion of a series the Spurs could have lost. He earned that ring.
And what of Tiago Splitter? The Spurs' oft-criticized starting center was beyond essential in the first two rounds, taking primary coverage on Dirk Nowitzki and LaMarcus Aldridge (who both had, not coincidentally, a terrible time scoring on him). He matched up less well against Miami and Oklahoma City, but he hardly backed down; he simply accepted the matchup difficulties and accepted his move to the bench with aplomb, impacting the game with his quiet defensive brilliance and his impeccable movement, screening, and box-outs. He doesn't play loud, and his skills are subdued. But he was as essential to this run as he needed to be, showing himself to be mightily deserving of the large contract he got last offseason.
Oh, and that other guy. Danny Green. Don't forget him either. Green's story is one of redemption and evolution above all else. He entered the league as a marginal player, a bit piece from one of the greatest college teams ever whose NBA skills seemed lacking. He was less than a nonfactor on LeBron's final Cavaliers teams, and he (like Diaw) was waived by a bad Cleveland team and left to the trash heap. He went abroad, and played in the D-League, and came back to the league as one of San Antonio's young guns. And he worked. For all the credit Chip Engelland gets for San Antonio's shooting stars, it takes an incredible amount of work to actually apply the tips and form overhauls Chip gives a player. And Green was ready to do it. He had his coming out party last year, with his NBA-record threes-in-a-Finals. This year he was less impressive, offensively -- he made 9 threes, a far cry from last year's 27. But his defensive achievements were many, including a national coming-out party for the best-in-class transition defense that silly egghead Spurs fans like myself have appreciated for a few seasons now. And he solidified his status as one of the league's absolute best shooting guards, full-stop.
He represents the absolute ideal of a roleplayer, and he's a roleplayer so game-changing and impressive that he's very nearly as valuable as a star. He always had the talent, but it took so much work to unlock it that one would be remiss not to point that out. He's got his ring.
And then there's -- in my view -- San Antonio's last strictly blue-collar player. It's strange to call him that, especially given his personality, game, and tastes. He's the drama. He's the one who wanted to go to New York. He's the one with the occasional bouts of heroball and isolation basketball. But Tony Parker's game has hardly stayed the same with time, and that's part of what makes him so similar to the Josephs and Splitters and Greens of San Antonio's universe. Think about it this way: Tony Parker was a superstar, back in the day. He was San Antonio's most essential offensive player for 3-4 years, a cog without whom the offense simply wouldn't function. San Antonio's constant playoff failures rarely fell squarely on his shoulders, but there was always a decent case that they should have. He was their rock, and he never quite seemed to be all there in the bitter end.
But now? Years later, as the Spurs ran roughshod over the league and ripped the title out of Miami's lethargic grasp, Parker had... a profoundly nonessential playoff run. He was important, of course -- he held the ball more than any other Spur, he darted across the court to make the plays and the reads Pop needed, and he kept the ball under control against Miami's tired-yet-dangerous defense. All of this is good. But part of Parker's brilliance was that he too sunk and faded into the background, letting the threat of his breakout game keep the floor open for the shooters San Antonio knew they could rely on. The Spurs offense could've worked with Parker averaging 20 points a game, most likely. But Diaw and Joseph were the only two Spurs who shot worse from the field over the NBA Finals, even with his garbage-time padding at the end of the final game.
Which is really the point. Miami spent much of the 2014 Finals chasing the shadows of Parker's prior accomplishment, covering him hard as they dared San Antonio's lesser lights to beat them. They were so scared of the threat of a throwback Parker game that they refused to leave him, even if it left a few open shooters around the rotation. At an earlier time in Parker's career, he would have seen that as a challenge -- he would have driven into the double and thrown up a wild layup, or accepted the long two and tried to drain fadeaways until the lights went dark. But this is a more evolved Parker -- he still does all of those things, but he does them contextually. He does them when the game really demands it, not when it's merely convenient.
Parker could have averaged 20-25 points a night in these Finals. But the Spurs wouldn't have won quite so emphatically. Perhaps they'd still have taken it in five -- it's hard to imagine any individual switch flipping the last three games. But the feeling of annihilation, this overriding sense that the Spurs demolished the competition en route to the title? That was accomplished by pushing every lever, and understanding EXACTLY which threats should remain threats and which roleplayers should shine to keep the opposition disoriented and disheveled. Parker couldn't have done that five years ago. Hell, he couldn't have done that three years ago.
But he's there now, and the Spurs are too.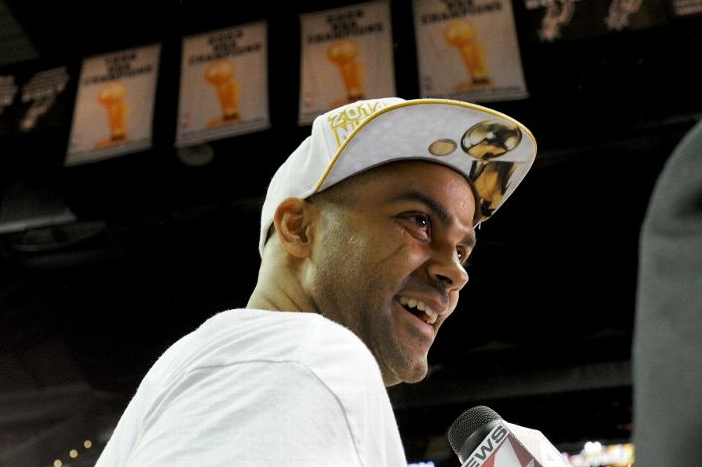 • • •
Yes, I know. I'm missing two of San Antonio's players. You know the ones -- Duncan and Leonard, the past and the future. This post has gotten too long to do them justice, so I'll have to return to them later this week. They deserve more words than I could possibly give them, but I'll try. Until then? Welcome to the offseason. Basketball will be back, before long.
Do try to enjoy the quiet before the storm.