Free Agency, 2014: Day #1's Three Biggest Stories
Posted on Wed 02 July 2014 in Features by Aaron McGuire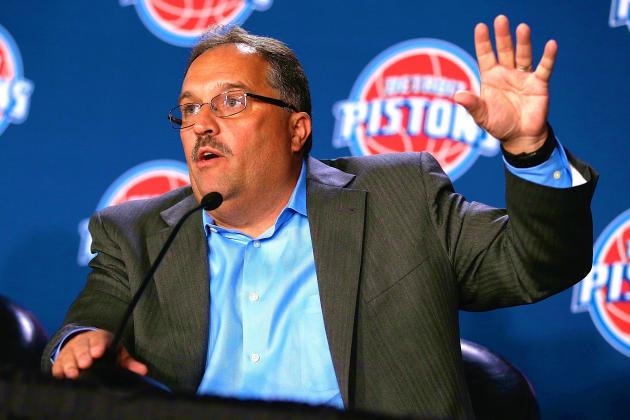 Lest you've been living under a rock, I must inform you -- free agency started yesterday. Zach Lowe and Tom Ziller have gone over this ad infinitum, but one of the unintended consequences of the NBA's 2011 CBA renegotiation was a collective bargaining agreement that dramatically increased the craziness and general velocity of free agency. Essentially, max contract lengths were slashed dramatically in the new CBA, meaning that far more of the league (by percentage) goes to free agency than they used to. And because contracts are shorter, teams churn through cap space much quicker, which means a good 10-15 teams have easily accessible avenues to hand out max deals. The in-season trade block is less lucrative than it used to be, but free agency is wilder than ever. In recognition of this, I'm going to try and give a rundown of the three most interesting stories (in my oft-besotted mind) of the previous day's free agent action. Today I'll be covering:
Stan Van Gundy building the team he wants to coach
Miami's shaky tightrope, and Pat Riley's high-risk traversion
How an inopportune injury can completely derail a player's career
Let's get to it.
• • •
Story #1: GM STAN VAN GUNDY LISTENS TO COACH STAN VAN GUNDY
In the most shocking development of the first day, it turned out that there is a huge overlap between the wants of Detroit Pistons head coach Stan Van Gundy and Detroit Pistons General Manager Stan Van Gundy. Shockingly, Van Gundy and Van Gundy appeared to be on the same page. They were acting as one. It was eerie, almost as though they were the same person. Absolute shocker.
Okay, I can't keep that joke going much longer. But more seriously, it WAS a bit shocking that the first contract of free agency rated out as a deal for 3 years and $19 million dollars for -- of all people -- Jodie Meeks. I suppose I knew peripherally that Meeks was a free agent, but even if I'd actively paid attention to him, I probably would've made the fair assumption that he'd be a late-period signing for a team that struck out on all of the big prizes -- you know... your Gortats, your Lowrys, your Melos. Meeks as a first signing seems like an odd choice tactically, although it makes more sense the more you think about it.
Let's start with the obvious. Detroit isn't exactly anyone's first choice when shopping for a future home. There's a massive difference between living in Detroit as an average citizen and living in Detroit on a multimillion dollar salary, but neither is going to sniff the first-in-class choices for either income bracket. To some extent, attracting free agents to Detroit without having a championship-caliber core in place is going to take a bit of overpaying. It's just not somewhere that anyone wants to live. Until Stan Van Gundy molds Detroit's young talent into a contending team, he doesn't really have much to sell on the "potential" side either, which makes living in Detroit an even thornier value proposition. Why live in Detroit to play for a shiftless eastern lottery team?
Through that lens, this particular overpay looks a bit more understandable, even if it's still a bit undesirable. Jodie Meeks is a good shooter, but he's got little beyond that. His defense is hardly worst-in-class (and generally gets way too much crap -- he's a good ballhawk and sticks on his man), but it isn't enough of a tertiary positive to add that many millions to the deal. He doesn't have any best-in-show defensive chops like Danny Green's transition defense or Avery Bradley's petty theft. And Meeks can't handle the ball at all, which is something of a problem for a team that needs tertiary ballhandlers beside their marginally overpaid shooting-focused point guard in Brandon Jennings. He's flawed, essentially. And those flaws have a big potential to make this signing look silly if the Pistons are ever wanting for cap space in the next three years.
That said? If you want to get a free agent to come to Detroit, this is probably the way to do it. Give the free agent a slight overpay earlier than any other team reaches out to them, sell them on their value, then finish it off by reminding them that they were Detroit's first call out of the gate. Make them feel important. My guess is that the overpay was partly ensuring that the offer blew Meeks away and made him accept the money quickly, theorizing (perhaps correctly) that if they waited a week or two, Meeks would have to decide between offers like their deal and a 3-year $10 million dollar deal for a contending team or 3-year $15 million dollar deal for a lottery team in a better location. Much less likely they'd get their guy. If Van Gundy really wanted Meeks, which it appears he did, striking fast and early with a slightly above market offer to counter the location and the inevitable run on shooters is exactly how you get your man.
Beyond the Meeks move, there are signs that Stan Van Gundy is working diligently trying to build a team he'll enjoy coaching. Meeks was a play to get more shooters into the fold for a team that was abysmal beyond the arc last year -- Cartier Martin represents a cheaper all-in raise on Van Gundy's shooting dreams. Meeks is lacking in versatility, but Martin's one-track skillset makes Meeks look like LeBron. He's a decent shooter that does virtually nothing else with any proficiency. Although Greg Monroe might be decent with Stan Van Gundy, there are further signs that Van Gundy is pursuing routes to flip him for someone that fits a bit more into his space-and-pace stylings; just look at the myriad sign-and-trade rumors for Monroe, including this tasty morsel where the Pistons receive Van Gundy alumnus Ryan Anderson in exchange for Monroe's rights. And then there's my favorite rumor of free agency to date -- Van Gundy is mulling an offer of 3-years $24 million dollars for Sacramento's Isaiah Thomas.
Thomas is a restricted free agent, so it's certainly possible (and perhaps likely) that Sacramento matches and ruins Van Gundy's plans. But they're strangely close to the cap despite a team that's nowhere near playoff contention in the West, and a $24 million dollar contract might be a bridge too high for them. Thomas is a phenomenal young guard despite his diminutive stature, and on a team like Detroit that tends to play monstrously large lineups his size could prove to be less of a problem than it would be otherwise. Sort of a change of pace -- as guards switch on and off of each other on defense, it's possible that Isaiah's lower center of gravity would let him take advantage of guards that get lazy and switch to a high dribble while they face off against larger men. And offensively? He'd be lights out -- a brilliant three point shooter, worthy finisher, and an adept floor general that takes care of the ball and keeps the ball moving. All of these are things that you love to see on a Van Gundy team, especially one that's likely to be based around the threat of a Drummond dunk or an unexpected corner three. He'd be a far better fit than Jennings, and a possible perennial all-star candidate in a not-so-packed East.
If there's one story out of the first day's actual action that I'd take away, it's this -- the Pistons aren't playing around, and Stan Van Gundy is really intent on building a Central Division version of the 2009 Orlando Magic. These are fun times to be an NBA fan.
• • •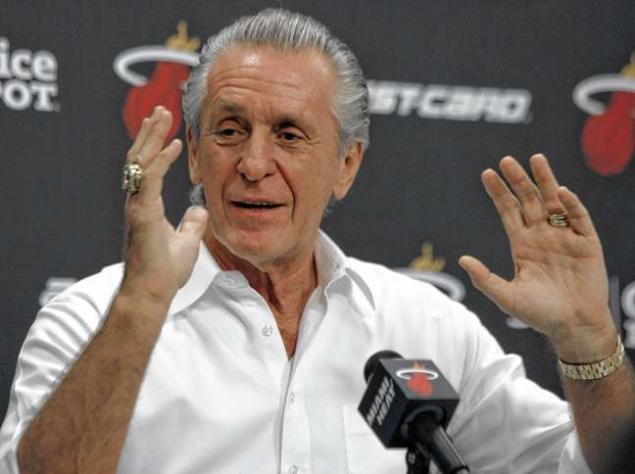 Story #2: PAT RILEY BALANCING ON THE ABYSS
Around the middle of free agency's crazy first day, one of the oddest news breaks I've ever seen came up out of nowhere on my news feed. John Canzano, a veteran reporter for the Oregonian, broke what appeared to be news of embryonic final contract numbers for Dwayne Wade (4 years starting at $12 million) and Chris Bosh (5 years starting at $11 million). After an hour of reporters frantically trying to confirm his story one way or the other, Brian Windhorst confirmed that Pat Riley was selling free agents on the idea that Miami had $12 million dollars in cap space, indicating that Canzano's numbers might actually be accurate.
If it seems strange to you that a veteran reporter for the Portland-based Oregonian would be breaking news about the Miami Heat before any of the legion of national reporters assigned to the beat sniffed it, well, you'd be human. And you'd be right. As it turned out, Canzano was correct in the assertion that Riley was selling free agents on significant cap space (indicating massive pay cuts for Bosh and Wade, given LeBron's perfectly reasonable demand for a maximum salary), but completely incorrect on the idea that Bosh and Wade had actually agreed to those terms -- as you can see in the edited closing paragraph in Windhorst's piece.
Let's be frank -- this is a__ highly dangerous__ game for Pat Riley. The Miami Heat have -- assuming they waive bird rights (which they'll need to do -- or sign them to sub-market contracts quickly) -- somewhere in the neighborhood of $55 million dollars in cap space. This is a dangerous game. Part of the reason teams rarely allow their entire team to churn is that when everything's up in the air, managing the possible comeback kids with the new roster additions is fraught with peril. There are more moving pieces than there are in the average offseason, and Riley's management of those pieces strikes me as interesting. It appears there's a bit of information asymmetry in how Riley is approaching his discussions with free agents and his own team. That is to say -- he hasn't yet gotten an agreement from Wade and Bosh on the contract numbers he'll need to actually have the space he's advertising to free agents.
This isn't necessarily a bad thing. It's smart strategy -- he's trying to finagle a verbal commitment from a free agent or two given certain contract parameters, bringing those back to the Big Three as a bargaining chip. Once Wade and Bosh balk at the salaries they'd need to take, he's probably counting on their friendship with LeBron to force LeBron's number down a bit and open up the wiggle room he needs to sign the new players and bring the gang back. He's playing his players against each other in such a way that he's able to fill the roster adequately. It's smart. But it's also incredibly risky. Because it's all dependent on a lot of shaky verbal agreements, all it takes is one naysayer to throw the entire ecosystem off balance.
Let's say that Riley gets Lowry to verbally agree to a 4-year deal starting at $9 million dollars, and let's say he gets Pau Gasol to verbally agree to a $4-year deal starting at $4 million. Both of those deals are assumed to be contingent on an in-place big three. He brings those players back to the Heat's current star trio as his leverage to get them to resign, but he needs the big three to make up just $42 million dollars to fit Gasol and Lowry into their space. If LeBron doesn't lower his max salary demands to a $18-20 million dollar level, one of Wade/Bosh is going to have to accept a sub-$10 million dollar deal. If they say no, the entire puzzle falls apart -- Riley has to get Lowry/Gasol to agree to less (hardly likely) or LeBron to lower his salary (likelier, but hard to see if Wade/Bosh can't do it themselves). Which makes the verbal dominoes fall apart, putting Riley squarely back at stage one with days of legwork down the drain.
Additionally, it adds a level of variance to the Big 3's fate. Sure, the assumption is that they'll come back to Miami. It always has been, and until they ink contracts elsewhere, that's going to be the safe bet. But it also means that there's a clearly defined possibility that they'll simply enter real free agency later than the rest of the class. If Riley can't fill his roster with the proper impact players to whet LeBron's desires, it's hard to envision LeBron coming back to a bare-bones roster that's clearly worse than last year's team. Not if there are any better options on the table. And even after the Melo dominoes drop, there are still going to be 3-4 teams that have enough cap space to sign him outright -- and even more still that could open the space with a few easy moves.
Nonetheless. The game's afoot. Most of the reporting around LeBron and the Big Three has focused on how teams are backing off a bit now that LeBron's agent has been cool on other teams. That's fine. But silence doesn't necessarily represent success for Riley, not until the ink's on the paper and he's turned a few of these verbal agreements into something more tangible. Let's see if he can rekindle his 2010 free agency magic. Lord knows he'll need it.
• • •
Story #3: INJURIES! THOSE FREAKING INJURIES!
This isn't a very long one, but it's a sad one. Reports broke yesterday evening that Patty Mills will miss several months of next season rehabilitating a torn rotator cuff in his shoulder. I know, I know. It's one injury -- he'll still get a decent value contract (most likely from the Spurs) based on the strength of his breakout 2014 campaign, and he'll likely remain a strong rotation piece on a contending team for years to come. In terms of fit, this might be a better long-term play for him. Mills was a strong candidate to receive one of the league's legendary "post-title glow" contracts, where some random lottery team throws monstrous money at a limited player with expectations that they'll bring championship mojo to their struggling squad. Did we REALLY want to see Mills become the next J.J. Barea?
Well, no. But it still sucks. I feel like I mention this point dozens of times a season, but it bears repeating -- NBA players have really short careers relative to most jobs. They obviously make a lot of money, but for marginal NBA players, that cash represents the vast majority of their career earning potential. Any minor malady that causes them to lose out on a few million dollars during their playing career is a massive hit to their long term savings. It's not like most NBA players smoothly transition from the life of a millionaire to a profitable business owner that makes their money work for them -- there's a depressing trend of NBA players throwing good money after bad and winnowing away their savings within a decade or two after their playing career draws to a close.
In that vein, Patty's injury -- perhaps the most poorly timed injury I can possibly imagine -- royally sucks. Mills was looking at a contract in the $5 million to $7 million a year range -- when Jodie Meeks got 3-years and $19 million dollars, Patty's agent had to be salivating. That's exactly the kind of contract a healthy Mills could've gotten from a spacing-hungry team that struck out on the big players at the point guard slot. Strike out on Isaiah Thomas or Kyle Lowry? Take the unconscious flamethrower fresh off the bench of a champion! It's an easy pitch... you know, when he's healthy. But he wasn't, and he'll probably end up losing out on $5-6 million dollars over the course of the next three years because of it.
Long story short? Injuries suck. They ruin careers and ravage earning potential for marginal players all the time, although rarely as starkly as it's happening here. Here's hoping the Spurs give Patty a fair offer commensurate with what he would've gotten healthy.