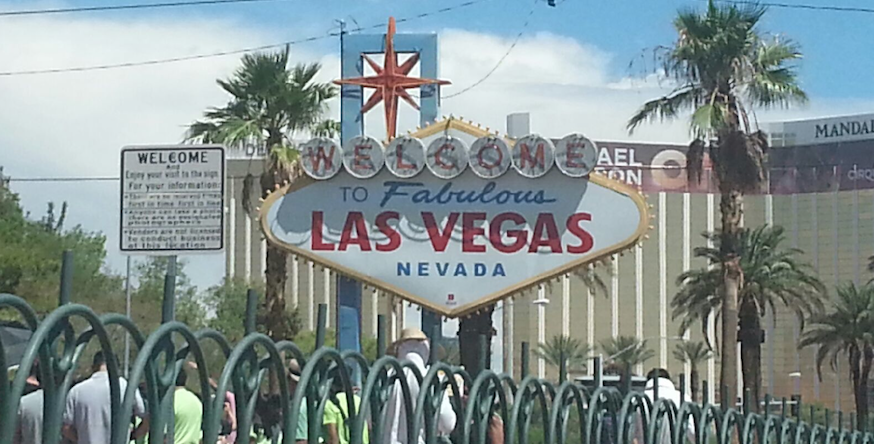 I like to vary my experiences a bit. When Gothic Ginobili covered Summer League last year, I got to Las Vegas the day Summer League started and left right as the "playoffs" portion began. This year, I decided to do the opposite -- instead of coming to Summer League with Dewey and Arnon and dedicating a week of my life to Summer League coverage, I'd arrive in the dead of night on the Friday before the last weekend and observe how the mundane-yet-maniac energy of last year's Summer League changes as an outsider being thrust in right at the end of the game. I'd also be swapping out Arnon and Dewey for my girlfriend Yoko Julia, a lovely individual with no discernible interest in the game of basketball and no particular investment in any of the teams playing at Summer League. The only way this year's Summer League experience could be more different would be a sex change.
To the many who haven't been to summer league, it's a difficult place to pin down. "Summer League ball is totally wicked!" is how I'd describe it if I was peddling lies. Also: if I was from Boston. I'm no peddler, so I'll be frank: the basketball at the later reaches of the NBA's summer league might be the worst basketball in the world. For tiny children playing basketball in Elementary School gymnasiums, at least there's some iota of fun. For mid-league FIBA games, the players are playing for clear and obvious goals, and with knowledge that their end-of-season stat sheets would be finely combed through by the arbiters of their next contract. But the players that remain at summer league at the very end aren't having fun, and they aren't particularly hopeful of building a contract case either.
Why? It's pretty simple. In the first few games, the scouts are out in full force and all the players are on their best behavior while they try and finagle their way into a big league contract. That changes as time goes on. As one scout aptly relayed: "I saw everything I needed to see in the first few days." Did he really, for every player? Perhaps, perhaps not. But that's how scouts approach the exercise, which makes real effort among the players a rarity as time passes. While the scouts are still here, they aren't really paying THAT much attention to the actual basketball anymore, and the main takeaways have already been taken. Which leads to hours upon hours of half-interested "playoff" basketball between teams that aren't invested and players that have nothing to play for. It's a pretty dreadful product, and finding fun in one of these games is often like finding water in the middle of a desert – the truly industrious can salvage a few drops, but you're going to need to chew up a cactus to do it.
• • •
Chief among those rare tidbits of fun: the numerous random moments where NBA journeymen suddenly look like next-level superstars because the competition is so lousy. In the first day of games, this happened most obviously with noted no-shot journeyman Shannon Brown. He was playing for the Knicks, and was cradling the ball around the top of the three point line looking for a hole in the defense. He didn't really find one, but decided to throw caution to the wind anyway and curl around 3 defenders to charge the rim. If we're being honest, all of them had ample time to try and steal the ball back from him. It didn't matter; even at what looked like half-speed, the 28-year-old Brown juked by all three defenders and finished a scoop layup against the remaining two. That's right – the threat of Shannon Brown warped the entire Charlotte defense and caused the whole team to effectively quintuple team a guy who might never play in the NBA again. Reflective of how warped the NBA's competitive fabric becomes in the Vegas heat? Sure. But at least Shannon's having some fun.
Another element of fun comes from the thirsty throngs who make the yearly trek to watch terrible basketball. Sure, they're mostly ridiculous, but the crowds get significantly more invested into Summer League games than you see at most NBA arenas during the regular season. This is partly a function of size – as with college crowds, Summer League is held in front of a small enough group of people that it's possible for a single fan to have a far greater impact on the crowd en masse. In fact, a single guy with a loud voice and a grudge can completely take over the arena. Case in point: one tanned-to-the-limit dude sitting near press row ended up taking over the entire crowd with his loud and droning "AIIIIIIR BAAAAALL" chants while the ball was being thrown back in play. They had stopped the music, which made him and his acolytes echo through the arena in a way that felt more like a cage fight than a basketball game. It may not have made much sense, but at least it distracted from the basketball.
Even though the league is theoretically a proving ground for the NBA's newest younger guys, few of them were still playing when I got there. Wiggins and Jabari were long gone, and the Spurs had eliminated Exum's one-man-show a few days prior. That left Adriean Payne as the big early showcase for my first day's action. His stats were rather weak, but I liked what I saw. For starters, Payne had great speed when recovering off a set screen – he was excellent at setting a screen, switching directions, and catching a pass in motion going towards the basket all while moving in a fluid, controlled motion. This isn't exactly RARE in the NBA, but it speaks to Payne's offensive versatility in a system that requires a mobile, active big guy on offense. He appears to have a decent toolbox. His decisionmaking was hardly ideal – he was a few steps late on defense with regularity. When you look slow and plodding during summer league, it's pretty hard to see how you project out as a positive NBA-level defender. This also ignores the fact that he was chucking with abandon, although it's hard to blame him given how disinterested the rest of his team was in the day's proceedings.
• • •
I'm sort of burying the lede, though. On my first day of Summer League action, there was one particular game I was excited to watch. It was the most excited I'd been about ANY summer league game I'd ever watched. Yes, even more than the interesting matchup with Wiggins against Jabari -- the story was certainly cool in that one, but the play was never destined to live up to expectations. The summer slate is hardly the place that brings out the best in much-ballyhooed young talent, and the game would hardly serve as a referendum on whether Jabari Parker can hang with NBA-level athletes on a work-a-day level or whether Andrew Wiggins could bring to the league the same defensive tenacity he showed at Kansas. Hence, it wouldn't really answer any of the questions I had about the players, and the hype was so high I felt it could never live up to expectations.
No, my big focus was on the Spurs/Wizards "playoff" game -- the last game on the Saturday slate. There were two reasons for this. I'm a Spurs fan, so there's a natural enjoyment in watching the various odd and varied incarntaions of the Spurs. San Antonio's summer league teams tend to run a much-simplified version of the classic San Antonio playbook, much like the Austin Toros and the preseason Spurs. It isn't nearly as beautiful as San Antonio's regular fare, but it's a decent enough echo to keep me piqued. The second reason? No team has ever won the NBA title (est. 1946) and the Summer League title (est. 2013) in the same calendar year. So I pose to you my question: WHY NOT THE SPURS, DEAR READERS? WHY NOT THEM.
Alright, yeah -- that's mostly a joke. But there were plenty of fun Spurs-tinted plays by the faux team. Vander Blue showed off some excellent creativity on the bounce throughout the night, whipping passes that were generally on point and creative. Midway through the second, he threw this positively awesome mustard-ball bounce pass through the outstretched hands of his defender straight into the hands of Austin Daye, who finished a pretty off-hand layup in fluid motion. Good stuff, right? The Summer Spurs had 14 assists on 21 made field goals at halftime, and looked to be on their way to a fun rout. The dream was alive! San Antonio was heading to back-to-back titles! No San Antonio team would furrow away a 10 point lead, right?
Wait. Yeah. They definitely would. These are the summer Spurs. And even the regular season Spurs have noted issues with holding leads, as Gregg Popovich loves to remind his guys – after shooting 50%-57%-100% in the first half, the Spurs shot an almost inconceivable 14%-0%-0% in the first 5:27 of the second half with four mostly-fast-break turnovers. The Wizards almost instantly turned around San Antonio's bulging lead into a blowout-margin of their own. Although the Spurs fought back, they had trouble getting over the hump, and ended the third frame down a few points. All the uninitiated quickly discovered that Jeff Ayres literally has hands made of stone and granite – pretty hard to put a soft touch on the ball when your hands are a TSA-banned heavy weapon. Alas.
Then, with about a minute left in the game, I wrote this in my notes:
The Spurs and Wizards kept it surprisingly tight (and interesting!) throughout the fourth quarter, but Otto Porter essentially put the Spurs away with a three point basket with roughly 2:30 left in the contest. I mean, being down three with 2:30 to play is hardly a death knell during most of the season. But this is Summer League, where the defense is sparse but the shotmakers sparser.
That's where the basketball gods decided to mock me. The Spurs went on to tie the game with a chance to win it at the buzzer – they missed, but it made my prognostication look pretty silly. I figured there was no way Coach Udoka would extend a Summer League game. I was wrong. The best part about OT wasn't the play or any of the stories – it was the fact that I had five rows of press row to myself. Andy Katz was a few rows down, and Holly McKenzie (among others) were closer to the front. But I wasn't going to let anyone enter my territory – definitely leaning more Walter White than Kermit the Frog, here. So I just ended up with this massive space all to myself. It was delightful.
As for the endgame, it wasn't too bad – the Spurs rode Vander Blue and Austin Daye pretty hard in the extra period, although they kept inexplicably trying to involve Jeff Ayres in the offense. (Probably for his championship experience. Maybe they thought his will to win the previous year's title would translate to buckets.) For their part, the Wizards continued doing what they'd been doing the entire night – they fed the ball into Otto Porter and Glen Rice Jr. and let them do literally everything. Near the end of overtime, Austin Daye had a few free throws that could've put Washington away for good. He missed them, leading to a second period where the Spurs were up 3 with less than 3 seconds left in the contest.
That was too much time, as it turned out – Otto Porter drained a three from the left quarter to force an unprecedented TRIPLE overtime, where the Spurs finally fell after essentially conceding the last few possessions in an effort to make sure nobody had to play another overtime. Ime Udoka: the real summer league MVP. Although I spent most of this post grousing about the quality of play this past weekend, I can't deny it -- the SAS/WAS game was the best summer league game I'd ever seen, and about as good as a mid-tier regular season game. As such, my first day ended happily. Hooray!
• • •
MISCELLANY AND NOTES:
Midway through a surprisingly tight game between the Summer Rockets and the Summer Hawks, Steve McPherson hijacked the attention of nearly every writer on press row by bringing back everyone's favorite hashtag: "#RemoveALetterRuinABand". The general idea is that you can usually completely ruin a band name and change their overall image by taking away a single letter. I want to remember some of these, so here are some of my favorites. I don't remember who tweeted which, but I know that @DamianTrillard and @CalebJSaenz were responsible for a bunch of these. I was pretty proud of "Ron Maiden", myself.

Grateful Dad

Taking Heads
Ron Maiden
Dr. Dr
2Chinz
I'll keep you guys abreast of the situation as I workshop more of these. This is extremely important journalism.
Overheard in the crowd: "Ayo, son, Kevin Love lives on double doubles. They like water to him, bruh. I aint sayin Klay Thompson's a bad player, man -- he's a top 20 at his position, maybe -- but he aint that last piece. You gotta have Kevin Love over Klay Thompson man. You just gotta." There are a lot of layers here, and the idea posited probably deserves a post of its own. My main question, though: how is Thompson only top 20 at his position? I realize he's a bit overrated, but there are barely 15 decent starters at that position. By dint of being a half-decent player, he's ALREADY above his positional average. In his defense, I asked him about that later and he realized that he was being a bit hyperbolic. He also said the following: "Jeff Ayres is like a 9 year veteran in this league, but he's still playing in summer league. What that mean to you, son?" It's a good point.

The arena staff introduced a fun wrinkle at the end of the final overtime period: tossing copies of NBA Live 2014 into the much-depleted crowd as they broke for the last 4.8 seconds of the first overtime. They spent all day tossing random things, but an actual working video game was saved for the final game of the day, 10-12 minutes from the end. Talk about burying the lede.

There was something really silly about the overtimes in the last game of my first day. For most of Summer League, the NBA instituted a rule replacing all extra time after one OT period with a sudden death shootout. It was a really good idea, because nobody there actually wants to register extra time. But rather inexplicably, they abandoned the sudden death concept for the "playoff" component of the league, which meant that as the competition gets more and more languished, the players suddenly have to play extra basketball. Absolutely nonsensical, especially since they set teams up in a position to play three days in a row if they make the "title" game.
• • •
That concludes our first summer league dispatch, admittedly posted after I got back. I'll compile the rest of my notes into a catch-all conclusion tomorrow before continuing with our inexplicable free agency grades. Stay frosty.