This is the second of a two-part dispatch from the 2014 Summer League. For the first part, see this post.
As I discussed yesterday, my approach to this year's summer league only gave me two days of games and analysis. The second day was a quick two-game slate, starting with a rough-and-tumble grinder between the Rockets and the Hornets. They were playing for a spot in the summer league finals the next day. Somewhat inexplicably, both teams were pretty into the game -- there was at least a cursory effort on the floor, despite the obvious boredom of the coaches and the few remaining agents. Among my favorite examples to the point: near the end of the game, one of the refs completely missed a call on a ball out of bounds play -- Isaiah Canaan and Donatas Montejunas proceeded to SCREAM at the refs and throw their best Duncan bug eyes, pointing incredulously at the ball and various body parts.
Amusingly, the ref just flashed a smile and told them to calm down, reversing the call almost immediately. It's almost like the refs only cared insofar as the players could make them care. Given the quick turnaround on the call (despite the fact that none of the other refs seemed to be present), one wonders if a player like Kevin Garnett or Chris Paul (any obnoxiously vicious competitor, really) probably could've talked himself into 20-30 free throws if they actually cared about winning the contest. "Ref, I'm the only guy who really gives a crap about this game. Free throws, please!"
It became essentially impossible to pay attention to the simplistic and poorly-executed sets being played by both teams after a few minutes of the day's action, which led to me paying a bit more attention to one of my old college favorites: Andre Dawkins. See, okay. I went to Duke. I'm not the biggest fan of my alma mater in the world, and that's putting it lightly. Coach Krzyzewski once hissed at me at a game. I don't think I'm allowed to sit in the student section anymore. But Dawkins was one of the dudes I liked. He had a good head on his shoulders, and was in the same dorm as one of my best friends. Where a lot of the Duke team acted like they were above the rest of the student body (... and yeah, let's be honest, they were!), Dawkins was soft spoken and easy to get along with. An adorably nice kid on a team of people who were generally pretty difficult to talk to. So I've been at least marginally familiar with his game since he arrived at Duke.
I could be totally wrong, but I think he'll make a deep-rotation NBA player at some point. His three point shot is just so functionally pure, I can't imagine he won't get a shot. It's one of the quickest releases I've ever seen, and he can get it off under significant duress. He's also good at slithering without the ball -- he sneaks through seams as well as anyone. Of course, he can't defend worth anything, which dramatically lowers his NBA potential. And he somehow managed to amass a handful of technicals during his time in Vegas (... technicals in summer league! TECHNICALS IN SUMMER LEAGUE!!), so perhaps that soft spoken moniker doesn't apply to him anymore. But a shooter as good as him with passable NBA size has a place in the league on a minimum contract, and I'd be shocked if he didn't end up there. Of course, he also was kept out of Houston's crunch time lineup in a close game against summer league competition, so I could be vastly overstating this.
Aw, heck. I probably am. Love you anyway, Dre.
• • •
The second game of the day -- and the final game of my 2014 Summer League experience -- was a lethargic contest between the Sacramento Champs-in-Waiting (Congrats, Sactown!) and the exhausted Wizards. There were a few things that stood out. For starters, Ben McLemore needs to get better at catching the ball. He doesn't seem to have a good sense of where his hands should be, and it makes passes in his general direction a risky proposition. This was partly obvious because he wasn't receiving great passes, but there were a lot of missed directional reads on his end. Too many to ignore. Another obvious part of the game: the Wizards weren't really ready to play again. Washington started the game with the first two points and held tight for 2-3 minutes, but they ended the first quarter down 18-11 and quickly went down 28-11 within 90 seconds of the second quarter. It's almost like playing a triple overtime game the night before at a league you don't want to be at isn't conducive to a great semifinals performance. Who'd have thought?
Beyond the one McLemore notation, it was hard to really take any coherent basketball knowledge from WAS/SAC -- it was one of the least interested games I've ever seen. Sacramento got bored by halftime and spent the entire second half playing with their food. Otto Porter and Glen Rice Jr. -- who had combined for almost 60 points the night before -- shot 3-13 combined in the first quarter for 7 points. They got a bit better as the game went on, but both were blisteringly inefficient, combining for a tough-to-watch 1-14 shooting display from the 3-point line. Given their constant grousing to the refs, it was pretty obvious that Washington felt Sacramento was playing too physically, but it's hard to imagine a team playing LESS physical basketball than that of the Kings this game. They were laying off Wizards players and daring them to shoot jump shots. Which they did, they just happened to miss them. All of them, basically. By the middle of the 2nd quarter, the game stood at 43-17 in favor of the Kings. Marshon Brooks had almost completely outscored Washington BY HIMSELF. The game got a bit closer later on, but the Wizards never really launched a credible threat.
Before we knew it, the game was over.
• • •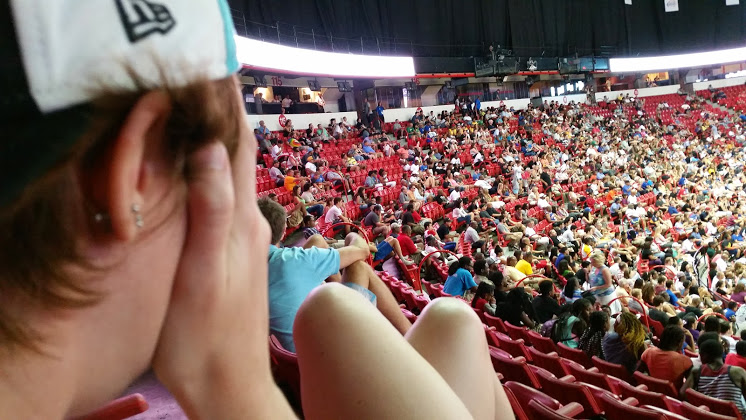 PLUGGED IN SOURCES SAY...
This was my girlfriend Julia's first time in Vegas. Since I was there with her, I didn't get a chance to interview the handful of real basketball kingmakers left in the arena. Lots of journalists go for the cutting-edge sources and the big NBA gurus when they're anonymizing sources and turning them into gospel. Me? I'm just gonna take random quotes from Julia and try to turn them into quotes from a plugged in anonymous source. It's all for you, readers.
JULIA SAYS: "Man, the refs all have perfectly shaped butts. I'm serious, look at them! Do they have padded butt-pants? The players are nice, but... wow. Just wow."

"Plugged-in sources assure Gothic Ginobili that the NBA's referee crew are working diligently in areas related to their respective gluteus maximi, perhaps with the advent of FEDs (fashion-enhancing-drugs). While the players are working to combat this reality, the referees are not to be trifled with."

JULIA SAYS: "Wait, you're writing all this down? Oh man. I've gotta get some popcorn."

"My sources would only speak on conditions of anonymity. Also: popcorn."

JULIA SAYS: "So, uh... I think I heard someone snorting coke in a bathroom stall. Are you sure Summer League is safe?"

"Las Vegas is a den of iniquity and drug abuse, sources confirm. Bathrooms are dangerous. Don't use them."

JULIA SAYS: "Player #40 seems pretty OK. I don't know. Why are you asking me this?"

"Scouts in-the-know say that Jordan Henriquez, a Center playing with New York's summer league squad, is seemingly a lock to be picked up by OKC."

JULIA SAYS: "I am outraged that you've never had Dippin Dots. You've been to HOW many sporting events? This is a travesty."

"I can confirm that my sources have abandoned me at the curbside due to my lack of Dippin Dots knowledge. Send help."
• • •
MISCELLANY AND NOTES:
I didn't notice this last year, but the elevator that takes media members from the main arena floor and the media hospitality room is quite possibly the slowest elevator used in the modern world. It takes almost 30 seconds to make that one-story trip upwards, and 35 seconds to make the one-story trip downwards. This may not sound like much. In a vacuum, it's not a ton of time. But I felt that it was very long for an elevator, and while drunk I inexplicably decided to test this out by counting the seconds it takes other Vegas elevators to get a single story in larger buildings. The average I came to based on the wholly scientific numbers written on the back of my hand (after 5 hotels and a few restaurants) was about 5 seconds. No wonder the arena elevator seemed so absurd. One of the staff members pointed out that the building is extremely old, which led to us to the conclusion that the elevator is slow because there is a long-suffering soul at the bottom of the elevator tasked with pulling it up and down. That's his entire job. Plot twist: his name is Mario Chalmers. Why don't I have a book deal yet?

Many other sources have written about this, but I have to emphasize -- hearing random people in the crowd yelling "COVER THE SPREAD!" and "AYO, POPS, WHAT'S THE SPREAD?" is kind of incredible. It's like listening to Carlos Boozer's "GET DAT, JO!", but yelled by random people in the crowd -- it's just the perfect embodiment of the moment and the player, with the moment here being "existing in Las Vegas" and the player here being "the aforementioned random folks in the crowd." Speaking of which, the crowds were actually surprisingly large -- the arena was mostly full, which I wasn't expecting at all. Good on you, Vegas.

The halftime entertainment wasn't really BETTER than it was last year, but given that I hadn't had to watch a week straight of it, I was able to accept it a bit easier. In halftime of the SAS/WAS game, they had a bunch of 4-5 year old kids playing ball, and I'm gonna be honest with you, it was pretty amazing. Maybe these were just way better kids than usual, but there were actually several baskets in the game despite the use of NBA regulation hoops. The first one was a layup in a crowd, the second was a neat scoop shot, the third one was a fadeaway scoop shot by this long haired girl with a lot of heart, and the last one was this skyhook-looking thing. Look, okay. It wasn't exactly the greatest basketball in the world. But I can't deny that it was completely adorable.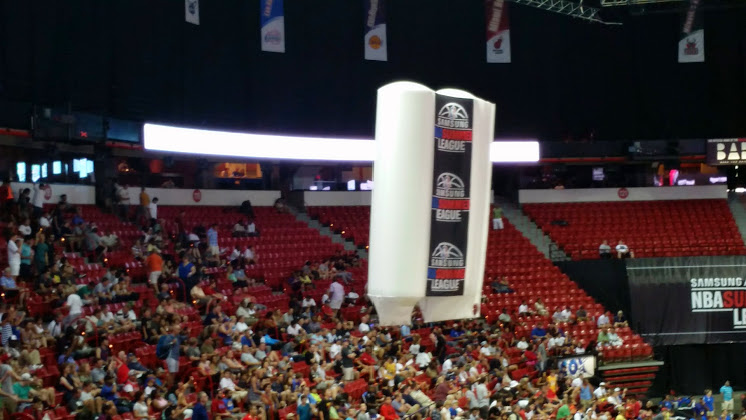 By far the strangest addition to this year's summer league action? This obnoxious dirigible that flew over the crowd dropping foam fingers. Seriously, that thing was weird. Look at that picture of it above! It was shaped like a flying smokestack and propelled by what looked like a bunch of handheld fans attached to the bottom of the balloon. The arms race to create bold new methods for swag dispersal is going too far.

On press row at the LVSL, there's always a staff member who comes around peddling statsheets for writers on deadlines and anyone who's curious. I tended to avoid them, just because they represent a bunch of clutter I don't particularly want to keep around. But they usually don't ask directly if you want the sheets, instead gesturing them towards you like a cigarette toting hipster outside of a concert. For the last statsheet of the day, though, the staff member changed it up -- he walked up behind me and asked "Hey, do you like stats?" Without skipping a beat, I responded "I do. I mean, I work as a statistician, so I suppose I have to. I don't know if I like referring to statistics as a monolith like that, and admit that there are many places where stats are misused in the profession of basketball, but I'm a fan." He stared at me for a few seconds, before I realized he was holding the stat sheets and was NOT actually asking me a broader question about my profession and life goals. That was about when I decided I was too tired for Summer League.
• • •
This concludes Gothic Ginobili's coverage of the 2014 Summer League. Please wait patiently while we cue up our coverage of the 2014 Extreme Knitting Championships of the World, which is likely to be roughly as relevant to the 2015 NBA season as this year's Summer League was.
<a name="p1"></a>