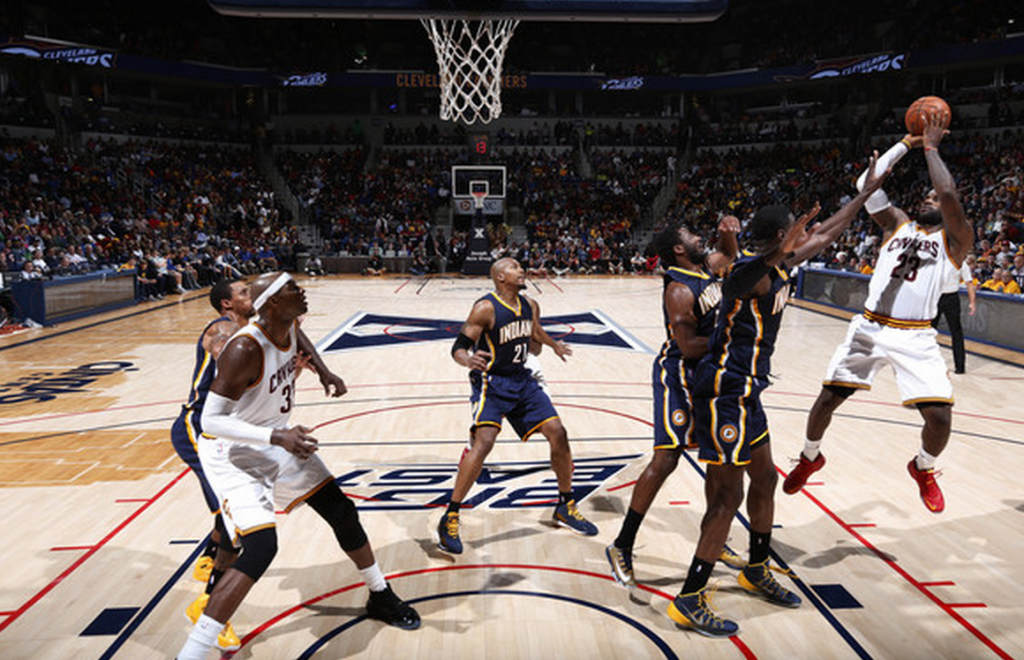 I hate click-bait article titles. As such, before we get into this post, I want to answer the question I posed.
Q: "What's in the Cards?" -- Aaron McGuire, minutes ago.
A: Nothing. They are a baseball team, not a storage receptacle.
Glad to get that cleared up. Now, since we've reached the absolute final day of the offseason, let's quickly run down a season-preview type post where I emerge from the murky depths to share the precognitive ramblings of a dying goat (EDITOR'S NOTE: Me) relayed through ticker tape by a starving artist (EDITOR'S NOTE: Also me) whose exploits are relayed humbly through a website built on the exploits of giant anthropomorphic ants (EDITOR'S NOTE: That's also m--wait, that's not me, who let an anthropomorphic ant into my blog's masthead? Dewey, I'm disappointed in you.) I will award the season-ending awards of the 2015 season before a single game has been played, and as an added bonus, I'll tack on some alternate reality awards. You know, just in case the NBA gets a lot weirder before the 2015 season ends.
• • •
MOST VALUABLE PLAYER: LeBron James (CLE)
For LeBron James to avoid winning an MVP award this season, things are going to need to go awfully wrong for the Cavaliers. His primary opponents in the MVP chase include a superstar who's going to miss 15-20 games of the season, a two-headed star combo where nobody can agree on the superior player, a defense-challenged point guard whose team generally wins on the defensive end of the floor, a 36-year-old German whose role will be chopped back as the year goes on, and a guy who shot 15/59 in FIBA play this summer. So... yeah. I think LeBron's probably got this.
ALTERNATE AWARD: Moist Valuable Player, awarded to the sweatiest player in the NBA. I'm going with Zach Randolph.
ROOKIE OF THE YEAR: Nerlens Noel (PHI)
There's a lot more uncertainty than usual in the predictions for this one. Noel is my pick, simply because I don't see Wiggins, Parker, or Exum putting up world-beating stats for any of their teams. Wiggins is going to spend most of the season learning NBA speed, and Parker might end up marginally rotation-buried on a dismal Bucks team. Exum looks like a quality player, but he'll be defended by the other team's best defender on a nightly basis and will be prying his trade in the defensively pesky West. On the other hand, Noel exists in a position of scarcity in a conference generally lacking premier big-man defenders. He'll get ample minutes and he'll be playing for a team that plays fast-paced stat-padding basketball. I wouldn't be shocked if he put up a shimmering 13-9-3 type line with reasonable percentages and decent defense, and I have a feeling a line like that could eke out the award this year.
ALTERNATE AWARD: Wookie of the Year, awarded to the most luxurious body hair in the NBA. I'm taking the long view and assuming that this will be the year that Nikola Pekovic tries growing a playoff beard. His body hair will then gain sentience. When detached, it will serve double-time as the antagonist in The Avengers: Age of Ultron. It will also wear stupid hats and star in a crummy NBC drama. It's gonna be a really weird year for Nikola Pekovic's sentient body hair.
COACH OF THE YEAR: Rick Carlisle (DAL)
Dallas is going to be really, really good this year. They won 49 games last season in a brutal Western gauntlet and upgraded just about every position on the floor. Their bench looks better, their starters look better (...outside of PG), and their army of options meshes really well with Carlisle's coaching style. He likes giving opponents different looks and different defensive flows depending on the needs of the game -- with his versatile multi-punch roster, he should be able to keep opponents on their toes for most of the season. Don't be surprised if Dallas schemes their way into a few crazy wins on strategy and gamesmanship alone. I mean, alright, you should be a LITTLE surprised if they win the game entirely without playing the game of basketball, but that's not what I meant.
ALTERNATE AWARD: Paunch of the Year, awarded to the player who entered the year in decent shape and ends it with more chins than playoff wins. The problem with this award is that you need to find someone who started the season in good shape but is a strong candidate to completely fall apart physically due to disinterest and dismay. Let's go with Caron Butler!
MOST IMPROVED PLAYER: Anthony Bennett (MIN)
Generally, I have an issue naming incoming sophomores as the league's most improved player. It may be true, but almost every rookie improves by leaps and bounds after their first season in the league, and the sophomore jump can hardly be considered a revolutionizing charge. On the other hand, the MIP award is the most nebulous of the NBA's season-ending accoutrements, and it's hard to take it all that seriously regardless. And very few rookies have ever been as bad as Anthony Bennett was in 2014. If Bennett puts up a season that's legitimately deserving of a spot on all-star weekend's all-sophomore team, he'll have a strong case for deserving this award.
ALTERNATE AWARD: Most Improved Playa, awarded to the beach that undergoes the most improvement over the course of the 2015 season. Congratulations to Mylopotas Beach in Ios, you are Gothic Ginobili's pick for MIP!
DEFENSIVE PLAYER OF THE YEAR: Andrew Bogut (GSW)
Call it a hunch. Call it a guess. Call it crazy. But don't call it a comeback. Bogut has been one of the finest defensive centers in the league for much of his career, and Golden State has given him one of the most unlikely jumping-off points for showing it to the world. Last year's Golden State team made its bread on defense, a surprise to any casual NBA fan who's primary exposure to Oakland's fast-paced history came at the hands of Run TMC, Don Nelson, or the Curry/Monta/Lee incarnation of the current team that aimed for the playoffs before Bogut's arrival. Marc Jackson got a lot of credit for their revolutionized schemes, and he deserved a decent bit. So too did Draymond Green, whose underrated defensive strength allows Bogut to stay within a smaller range of the court during active defensive possessions and save his legs for the playoffs. If Bogut can stay healthy this year, his efforts are likely to lead the Warriors to a top-5 defensive unit. That'll deserve a DPoY nod.
ALTERNATE AWARD: Pensive Player of the Year, for the most thoughtful NBA player of the year. Jaden Smith wins this award. I mean, come on. Will Smith has an ownership stake in the Sixers, and the Sixers would EASILY be a more entertaining team if Jaden Smith was on the court. I'm just going to pick this award aspirationally and hope with all my heart that Jaden laces it up this season. As a wise man once said, "Once All 100% Is Neglected You Have A Citizen. A Walking Zombie Who Criticizes Every Thing They See. Have Fun Its A Really Awesome Place."
SIXTH MAN OF THE YEAR: Richard Jefferson (DAL)
Aaron, don't delete this. I wrote something about RJ. It's really awesome and I want to share it. Okay, so in honor of NaNoWriMo (uh... crap it's only the 28th, uh... let's roll with it), I have written a novelization of Richard Jefferson's upcoming season with the Mavericks. Unfortunately, all but the first and last paragraphs were destroyed in an oddly-specific fire that I may have started, in a momentary fugue of mercy and compassion. Following are those paragraphs.
Call me Richard. Well, I suppose you'd already planned to, here in Dallas. My childish nickname being RJ, and my given name Richard Jefferson, my veteran tongue would make of both names nothing longer or more absurd than Richard. So I called myself Richard, you know, and came to be called Richard. We were somewhere in Golden State when the small forward rotation began to take hold. I would be, you know, the back-up to Chandler Parsons. Every starter is happy; every backup is unhappy with his minutes in a different way. I had high hopes for this season; the Galactic Empire was dying in San Antonio. The most merciful thing in the world, you know, is the inability of the basketball veteran's mind to simultaneously take stock of all his injuries. It is a truth universally acknowledged, you know, that a veteran in possession of a good fortune and free agency must be in want of a contender. Now is the winter of our discontent made glorious summer by this baller Dirk.

[...]

Don't ever tell anybody you're retiring. If you do, you start missing everybody. Heh. After a while I went out and left the ring ceremony and walked to the hotel in the sun. Tomorrow is, you know, another day. Dirk believed in the green light on the break, the orgastic crowd that year by year increases among us. Rings eluded us then, but that's no matter -- tomorrow we will run faster, stretch out our arms farther... And one fine June evening--

So we beat on, shots against the backboard, bounced back ceaselessly into the net.
So, this is actually just the start of what I wanted to write about Richard Jefferson today, Aaron. I have at least 1500 more words of equal caliber that I wish to share with
STOP THIS, ALEX. HERE'S THE REAL AWARD:
SIXTH MAN OF THE YEAR: Isaiah Thomas (PHX)
Most of the usual suspects for this award are conspicuously absent or hobbled this season. Quietly, the quickly-aging Jamal Crawford has been getting a bit worse over the last few years with Los Angeles, and his poor performance against Oklahoma City was one of the tipping points that cost L.A. the series. He'd have to have a pretty incredible regular season to offset the poor taste left from his uninspiring playoff woes last year. There's also a distinct possibility that L.A.'s gaping roster wound at the three-spot forces Doc Rivers to experiment with a three-guard starting lineup that features Crawford as a starter for large portions of the season. Manu Ginobili is coming back from a fracture, and chances are slim he'll stay healthy long enough to put up a serious challenge for the hardware. Taj Gibson is likely to start for much of the season, Markieff Morris is likely to step into Channing Frye's starting spot, and Reggie Jackson's offense might be needed in the first unit as well. So why not Isaiah Thomas, the obvious odd man out in Phoenix's curious three-headed-hydra at the point? He's a burst scorer, he's unlikely to start, and he's going to have to prove he deserves the playing time he gets.
ALTERNATE AWARD: Simple Plan of the Year, awarded to the NBA player most likely to play Simple Plan's rendition of the Scooby Doo theme song for their first dance on their wedding day. Let's go with Matt Bonner. Sure, he's already married. But people can reaffirm their vows any time they want to. And I have no doubt that if Matt Bonner REALLY thought about it, he'd realize that his best course of action is to reaffirm his vows to the dulcet tunes of Simple Plan's Scooby Doo theme song. His new wedding cake can be in the shape of a giant hoagie. He can dress up as a perfect Shaggy. The question isn't when, it's "why hasn't it happened already?"
• • •
Hey, all! Glad to be back. I'm going to try and pull out one to two posts a week now that the season is back. Enjoy tonight's slate.