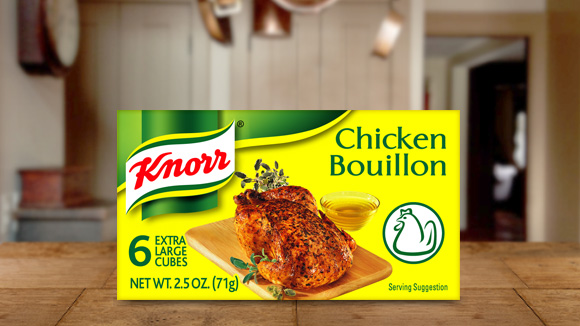 NOTE: Technically, broth and stock are different things. I realize this. For the purposes of this post, I am also totally ignoring this important fact. Sorry, foodies.
Boullion is one of my favorite things. Nah, not the boxed stuff -- the real deal. The kinds of stay-at-home stocks that take a ton of hands-on effort, where you buy a ton of aromatics and simmer off a beautiful homemade stock that brightens every soup or reduction you make in subsequent weeks. (Or, if you're not a vegetarian, the kind where you buy a bunch of unloved chicken pieces and some gelatin and turn it into God's gift to liquids.) That's my jam. You can't always have a stay-at-home stock, of course -- sometimes you need to resort to boxed stocks. Oftentimes you have to resort to bouillon cubes, those overly salty flavor bases without texture or complexity. Sometimes, in darker hours still, you find yourself in a kitchen bereft of any of better option and need to resort to canned stock. Those are the hard times. The painful hours.
Similarly, the NBA is one of my favorite things. If you look hard enough, you can find a similar hierarchy among the NBA's landscape. You have the teams spinning full-force brilliance on a nightly basis, putting up best-in-class entertainment with unmistakable style. You have the imitations, too -- the teams that are ALMOST there, but lack the creativity and pizzazz to make that last leap. You have the workaday teams that are a bit too salty and a bit too drab but good enough for a simple soup. You have the teams whose inspiration and guile seem to come from the world's worst can of Campbell's soup. And you have the teams who are, for all intents and purposes, not stock at all. (Looking at you, Philly.)
In this post, I will isolate one man's opinion about the varied classes of stock in our noble league. Who's home-made? Who's a suitable workaday stock from a box? Who's a salty over-seasoned mess? I'll highlight one representative example from each class and split the rest of the league between these slightly confusing tiers of watchability and talent. The league's stock is coming to a boil, and it's time to take its temperature... because it depends on your altitude, since boiling point changes with altitude. This is the stock report everyone wants to read in the winter. Jim Cramer, eat your heart out.
• • •
THE NBA'S HOME-MADE STOCK
STOCK DEFINITION: The crème de la crème of stock. Lightly simmered and carefully constructed, the perfect home-made stock is rich without the overpowering saltiness of its lesser iterations. Perfect for virtually every cooking application you can imagine using broth in, and perfect for a few things you can't. This is the stock you can't miss.
If I'm looking for the 2015 season's best overall experience, I'd have to start with the Golden State Warriors. They've got it it all. They've got the fundamentals at their back, with a compelling west-heavy schedule and a competitive division race against the Los Angeles Clippers. They play fun basketball, pushing the tempo at the NBA's fastest pace and featuring (in this man's opinion) the most entertaining player in the NBA's top five with Stephen Curry. His three point accuracy is legendary, and even his dumbest game-by-game mistakes (his often inane turnovers) are fun to watch in a slapstick comedy sort of way. They feature two of the NBA's best defensive players (Bogut/Iguodala), both of whom are fun to watch even when their offense is flailing. They feature Klay Thompson, who's been the NBA's best shooting guard in the early reaches of the season. And they feature one of the best uniforms in the league. As a full package, the Warriors are almost unbeatable. So they'd head up this category. As with real life, home-made stock is hard to come by. There aren't that many other teams that deserve this lofty designation.
The only other two that come to mind: The Portland Trail Blazers and the Dallas Mavericks. Neither of them are quite as good of a team as the Warriors, at least in the early season, but they're very nearly as entertaining. The Warriors generally win on the strength of their defense -- Portland and Dallas both claim a blitzing offensive attack as a mark of their triumph, and it's been a lot of fun to watch. Portland's offense is roughly the same as last year, bolstered slightly by an improved bench and some inspired play from the fill-ins for their stars. (Really, Stotts was able to fill Allen Crabbe and Meyers Leonard for Batum and Aldridge off a few recent injuries. Everyone's getting better!) As with the Warriors, they're a full package -- contention, watchability, and interesting (if not perfect) play on both ends of the floor. The Blazers don't have nearly the defensive chops that Golden State sports, but this year they've upped the help defense and shored up some of their larger-scale defensive problems that torpedoed them against the Spurs last year, and they're a tiny bit more balanced. They're a team to watch.
The Mavericks are a special case. Part of what makes them so interesting is their utterly horrible defense -- I'd consider Dallas one of the league's best bouillon teams regardless. Their offense is that good. The distance between Dallas' top offense and the #2 offense in the league (Toronto) is equivalent to the distance between Toronto and league average (Memphis). They're playing offense on an entirely different level than anyone else right now, and exceptional edge cases like that can override a few serious flaws. Also, as noted above, fulfillment and failure are never completely separate. It's not simply THAT you fail, it's HOW you fail. From that perspective, Dallas fails in a way that's fun to watch -- you're almost always looking at the opposing team's best foot forward on offense, and their defense is so bad that it circles around and becomes fun. A must-watch.
• • •
THE NBA'S BOXED STOCK
STOCK DEFINITION: When you're looking for stock, boxed stock is usually your second best bet. Absent the tinny flavor of canned stock, boxed stock generally doesn't last quite as long (not as many preservatives) but the grotesque aftertaste fades. Hardly perfect, but good in a pinch. For this definition, we're going with the best possible boxed stocks, the ones where you can taste the different ingredients that went into the stock and reduce it a bit without turning your food into a salty mess.
When you're trying to analyze a league or a group through weird analogies, it's usually pretty easy to identify a league's best-of-the-best and the worst-of-the-worst. It's much tougher to look at the landscape and figure out the gradations between those two designations, especially since the best and the worst encompass only 4-5 teams. Never fear, however -- in the early season, there are a few distinct classes of teams within the "not quite home-made stock, but certainly not bad" designation. To wit:
The Title Chasers -- These are the ones that aren't quite the must-watch, must-digest teams as the perfect three above, but they're title-chasing teams with serious aspirations and serious talent. The Houston Rockets aren't nearly as watchable as the above teams, but they've been downright excellent on the defensive end this year with Ariza spotting Parsons' old minutes and a rejuvenated Dwight Howard. They're not a must-watch (no contender that depends on foul shots and James Harden is), but they're a strong team and a great choice for a random night game. Memphis is very nearly in the above bucket, as their defense/offense mix has been about as close to my platonic ideal of a defensive juggernaut as it could possibly be. I love Gasol, I love Z-Bo, I love Conley. They're great. Maybe they belong in the above category, actually.

The Young Upstarts -- This list is highlighted by Anthony Davis' New Orleans Pelicans, who serve as one of the league's most entertaining teams with Davis on the court and one of the league's most mediocre with Davis on the bench. The entertainment they provide is almost entirely related to the amount of Anthony Davis on your TV screen. Nature of the beast. You also have the Raptors, a hard-to-believe-in yet delightfully tame group of players that look likely to snag a top-4 seed and a better playoff run than last year's disappointing bow-out. The Kings are much like the Pelicans -- terrible without DeMarcus Cousins on the court, a must-watch with Boogie at the helm. (NOTE: There will be more on the Kings. I love these Kings.)

The Hopeless Scamps -- These teams kind of suck, but they're really entertaining and interesting regardless. Start with the Boston Celtics, who've been a surprisingly fun watch. They go heavy on the passing (as you'd expect from a Rondo team) and have several delightful pet plays for well-designed layup conversions. Very fun. The Pacers are in this box too, although I get the feeling I'm alone on the "Indiana is fun!" train. Watching Solomon Hill do work as a team's leading light is one of the weirdest things going in the NBA this season, and Roy Hibbert has been absolutely amazing for them. No, really. Look at his statlines, and watch a few Pacers game. He's absolutely carrying their defense on his shoulders right now. It's impressive. And he's doing it without most of his best running mates. He deserves an all-star spot (or DPoY) even more right now than he did last season. The Charlotte Hornets have been really atrocious this season, but as expected, their confluence of talent is solid and the overall product is intriguing. Cody Zeller is quietly developing into an actual NBA talent (his two-man game with Lance Stephenson is one of the neater things about these Hornets) and even though they look like a pretty awful team they play with an odd style that makes them fun and engaging. Finally? The Utah Jazz. They've been bad-but-entertaining, with Quin Snyder's rotations a refreshing exultation of Utah's best players instead of the constant veteran-emphasized lineups Tyrone Corbin tortured Jazz fans with for years. Hayward has been surprisingly good, Dante Exum is fun, and... let's just not talk about Trey Burke, thanks.
The world of boxed stocks is dangerous. It's hardly as can't-lose as a well-crafted homemade blend, and although there are good ones, there are some real problem children among them. But you can find some beauty if you look hard enough, and there's usually one or two delightful notes in any boxed stock worth its salt. Drink these teams, readers. Drink without regret.
• • •
THE NBA'S BOUILLON CUBES
STOCK DEFINITION: The nice thing about bouillon cubes? They last. You can keep a box of bouillon cubes in the cabinet for months or even years at a time. The highly concentrated vegetable/chicken/beef dust of a bouillon cube reconstitutes into a salty stock when you add boiling water. It's almost magic. Only ALMOST, though. The final result almost invariably tastes like it came from a cube, and it's worse off for it. Good in a pinch, but bad to rely on.
This section is much smaller than the above section, because the main identifying feature of a bouillon cube as compared to a boxed stock or canned stock is the delightfully long storage period. Liquid stock simply doesn't last as long -- even if canned stock is usable after its expiration, it takes on a progressively more metal taste as time goes on and it absorbs flavor from its packaging. And boxed stock necessarily can't last quite as long as either of them. Ergo, cubes represent the intersection of canned stock and boxed stock, not quite good enough to make out the different flavors but a fair step above the worst of your stock options. Before the fans kill me, I'M NOT SAYING ANY OF THESE TEAMS SUCK. They're good teams. But as of yet, they're unfinished products whose results will make much more sense in retrospect than they do in-the-now. And for various reasons, they're all kind of crappy teams to watch at the moment, even if we all expect they'll have more lasting flavor than some of the above teams. Hence, the NBA's three bouillon cubes:
SAN ANTONIO SPURS -- The Spurs entered the 2015 season incredibly banged up and sloppy. Eleven games later, they remain... well, incredibly banged up and sloppy. The Spurs offense has been effectively broken to date in the 2015 season. They run the same actions that got them open shots during the 2015 run, but without Patty/Marco/Tiago, the finishers on the end of those actions can't drain the open shots the system generates. As the team's offense grows more and more frustrated with the clanked open shots, the offense breaks into isolations and the same idiotic one-on-one play that Spurs fans chide Kobe for. Defensively, San Antonio has been fantastic. But truly judging San Antonio's play (and, frankly, enjoying what they've done) is going to have to wait for the Spurs to get healthy. And the playoffs, if we're honest. The true measure of San Antonio's season comes in the title defense, and that hardly starts until the ides of April.

LOS ANGELES CLIPPERS -- The Spurs have a really good excuse for looking lethargic. They entered the season banged up and dealing with the after-effects of a title-winning season. The Clippers have no such excuse. Count me as one of the dozens of people who felt the Clippers would run away with a top-3 seed in the West this year -- with Paul, Griffin, Doc, and another year of continuity, it was tough to see a universe where the Clippers didn't start the season off like world-beaters. Theory, meet reality. Griffin looks worse than last year, with his shot more than a little bit busted and his energy level on the boards virtually absent. And Chris Paul's aggression level is lower than it's been in years -- he's driving less, shooting less, and making more conservative passes than last year. Unlike 2012, though, he doesn't have Eric Bledsoe to rely on when he's feeling tepid. The overall picture is fine for L.A. -- they have all the fundamental pieces of a contender, and there's little reason to think they won't right the ship at some point. They've got a top-10 SRS rating despite their mediocre start, and as the schedule eases up it's easy to imagine them going on a run. They just need to do it.

CLEVELAND CAVALIERS -- I could imagine this Cavs team being one of the best watches in the league for any NBA beatnik who's a big fan of schadenfreude. After all, few teams in history have been quite as highly hyped as this year's Cavs team, and they've started out as a surprisingly mediocre unit. Their defense is pathetic and their offense -- while good -- isn't anything world-beating like this year's Dallas team. As everyone states ad infinitum, "the talent is there." Love, LeBron, Irving, Varejao, and Waiters should combine to make a better top 5 than they've shown to date. Thompson, Dellavedova, Marion, Miller, Harris, Haywood -- that depth is decent, and the fact that Blatt hasn't been able to put together a coherent rotation with that much offensive talent is somewhat disappointing. Still, I don't think Cleveland's incoherence will last the whole year. Their talent and potential is too damn high, just like the rent. They'll be there in the playoffs, even if they aren't good enough to win a title. (Because, let's be honest here, they aren't -- they're going to need a massive shot in the arm on defense if they want to be a title-winning team. They simply aren't there yet.)
• • •
THE NBA'S CANNED STOCK
STOCK DEFINITION: The bottom of the barrel. Canned stock is gross. It's overly salty to help it preserve longer, and it has no real inherent flavor of its own. As Ms. Humes discovered in her exposè on the different types of chicken broth, canned broth can have a deceptively rich first sip before the aftertaste mellows on your tongue and you realize MSG is the #1 ingredient. And take it from a vegetarian -- the story is even worse with vegetable broth, with the canned stuff tasting like liquified burnt rubber. Just disgusting stuff.
You know how you could theoretically create a serviceable homemade soup with 1 or 2 boiled vegetable or meat elements in any of the above stocks? You can't really do that with canned stock. If I'm forced to use canned stock in my cooking, I try and douse it with herbs and spices, and generally use only a few drops of it as I rely on my aromatics to seize the day and carry me to the promised land. The teams in this designation (... a lot of them, let's be honest) can't hope to carry your TV night by themselves. They've played truly uninspired basketball to date in the 2015 season. You can make a dish with these teams, but you have to add some other things too.
Like... copious amounts of alcohol. Gambling. All-encompassing fandom for any of these 14 teams. You need to do SOMETHING else. Because as a non-fan, watching games between these teams is sort of like pulling teeth, at least so far. And I have to emphasize this -- uninspired is not simply a synonym for "bad." There are good teams here too. But they've all been uninteresting above all things, at least to these eyes, and their performance has been (in most cases) disappointing and drab. To wit, the teams in this designation (ordered by SRS):
Chicago Bulls. Offense is better with Pau in the fold, but their defense has fallen to mediocrity with Pau on the court and their offense simply isn't better enough to make up for it. They're a decent team, but they're a thoroughly uninteresting one to date.

Phoenix Suns. Part of this is last year's impressive performance making this year seem worse, yeah. But without Channing Frye this team is simply not as fun as they used to be. The slash brothers are still fun to watch, and Isaiah Thomas is a nice addition. But their schemes are much more traditional and they aren't taking anyone by surprise anymore. Sorry, Phoenix. The Kings replaced you.

Washington Wizards. With Beal back, I think the Wizards are going to jump up to the boxed broth. They're gonna evolve. They just haven't quite yet -- Wizards games have been fun if you're a Wizards fan but droll if you're anyone else, as Washington has become surprisingly over-reliant on throwback seasons from Paul Pierce, Rasual Butler, and Kris Humphries (as well as, obviously, relying on John Wall to be the brilliant star he is.) They're a good team, for sure, and I'd say they're probably better than the Raptors. But they aren't particularly entertaining yet.

Miami Heat. The Heat are a little odd -- when they're fully healthy and rolling, they're a fantastic team. Fun to watch, and their offense is a good approximation of their dynastic spoils. Their problem is the same reason LeBron may have been better off leaving for Cleveland -- they simply have no depth. They have 3-4 legitimate NBA players and the rest of the roster is liquid garbage, which leads to large swaths of each game where the Heat look like absolute crap. If they make the playoffs and everyone's healthy, I could imagine the Heat going on a tiny run in the East and possibly making the second round. But a roster this thin is going to have trouble going over 0.500 in a full season. They simply can't take injury.

Brooklyn Nets. Lionel Hollins isn't my favorite coach, and I don't like their roster. My most enjoyable Brooklyn moment this season was when Joe Johnson went nuclear over the Pistons. That's pretty much it. J.J. is pretty good, Deron is pretty meh, and the entire roster is older than Samson's toenail. That's about the size of it.

Atlanta Hawks. The Hawks aren't bad at all, and I wouldn't be particularly shocked if they ended up with a top-5 seed in the East. Millsap and Horford fit together as well as they were projected to last season, Teague is having a down year that isn't that bad, and Korver is as game-changing as always. All that said? Until San Antonio's inevitable fall from grace, if I want to watch the Spurs, I'll watch the Spurs. Budenholzer's mini-me system works really well, but it's still an imitation of something I'd rather watch instead.

Milwaukee Bucks. The Bucks aren't nearly as good as their record, and when their schedule coagulates they're going to fall off hard. But they're fun. Giannis is really good, Jabari is a decent rook, and the overall roster is finally starting to make sense with Larry Sanders back in full form. They're a team to watch for the future, but that future isn't quite here yet.

Denver Nuggets. The Nuggets are 2-0 since Kevin Arnovitz posted his excellent summary of the franchise. Don't let the 2-0 fool you -- these Nuggets are bad news, and Kevin's summary is a must-read that effectively summarizes their season to date. Just read that.

Los Angeles Lakers. No big fan, but... I really wish Kobe didn't have to end like this.

Orlando Magic. COME BACK, HOME DIPO!

Oklahoma City Thunder. My tears are made of blood.

Minnesota Timberwolves. I wish Thaddeus Young was more enjoyable to watch as his team's only star.

Detroit Pistons. Stan Van Gundy (the coach) should probably fire Stan Van Gundy (the GM).

New York Knicks. The Knicks would have one of the league's most entertaining teams if the NBA was played as a one-on-one league against each team's best player. The Knicks would also have one of the league's most entertaining teams if basketball was a competition of who has the best hair in the league. Unfortunately, basketball is neither of these things.
• • •
THE NBA'S HOT WATER WITH NO ACTUAL STOCK ELEMENTS
STOCK DEFINITION: This is not a stock.
No, boiling water isn't stock. It really, really isn't. If you go to a restaurant and are served a plate with naught but boiling water, you will complain. Because it's not stock, it's not soup, it's not... anything, really. It's just boiling water. It's fundamentally separated from our idea of a flavor base because it is inherently lacking in flavor. Hot water thrives off the absence of flavor, not an abundance of it.
So, obviously, that's your Sixers. Welcome to the 2015 season, Philadelphia!