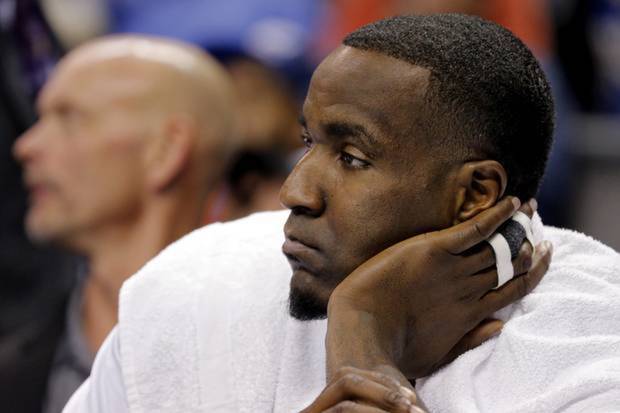 Jacob Harmon is a devoted fan of the Oklahoma City Thunder. Aaron McGuire is a devoted fan of the trade deadline. Today, Harmon and McGuire's dueling loves came together to form a shockwave that dramatically changed Oklahoma City's stretch run team and grind Twitter to a crumbling halt. Our two analysts will now share their views on the quality of Oklahoma City's acquisitions in a loosely structured back-and-forth.
• • •
Let's start out with what was lost. The Thunder traded away oft-derided big man Kendrick Perkins as well as the disgruntled shoot-first-ask-questions-never Reggie Jackson. In losing these two players, what did OKC give up?
AARON: Simultaneously more and less than you'd think. On its face, it's not that much. Perkins has long been one of the most ragged-on players in the NBA, moreso than almost any rotation player in the league. Less than one year ago, I was slamming his play in an account of the NBA's least-played starters. Reggie Jackson was moderately decent to start the season, but he's fallen off the proverbial cliff in the months since his excellent start and he's been a nonfactor for months. But that's not quite the whole story. Perkins has had one of his best seasons in years with his demotion to the bench. His defense has been better than usual (OKC's defense has been almost 5 points per 100 possessions better with him on the court! He's having his best rebounding season in years! OKC GAMES DON'T START WITH A PERKINS POST-UP!!!), and his presence was essential during Durant and Westbrook's absence in the early season when Adams wasn't developing as fast as expected. Jackson has been bad lately, but he's had significant playoff experience in OKC's scheme. It's hard to imagine them having done much better than what they did for Jackson, but I'm much more wary about losing Perkins than I would've been before his bench demotion. Am I off base, Jacob?
JACOB: I don't think so. Reggie's experience and obvious talent aside, he was an unavoidable loss. His relationship with KD and crew has always appeared rocky, but things seemed to have taken a turn towards the toxic this season. It's not hard to see why, and I won't rehash all the details (that we know) of the whole ugly saga. Basically, if Sam Presti sits in a press conference and conspicuously and curtly addresses your departure in all of one sentence, you did not leave a positive legacy. For how he'd been playing and how bad the vibes got, it's hard for me to see Reggie's departure as anything but a gain.
Perkins is another story. It's been all good fun to mock him for his foibles throughout his time in OKC, but everything you said about his role there is absolutely true. He's been legitimately good off the bench this season, handling his diminished role like a true professional and making timely offensive contributions throughout the season. Steven Adams is still developing as a defensive force on the P&R, and he's sidelined for 2-3 more weeks minimum with his broken hand. The Thunder are left fielding a center rotation of Collison, McGary, and Kanter. That doesn't inspire a lot of confidence defensively-speaking.
• • •
Speaking of those acquisitions, let's start going through the players Oklahoma City acquired. We'll begin with the biggest addition. What's Enes Kanter's role on this year's Thunder team? How does he fit going forward?
AARON: Let's start with what Kanter can do. He's a bruiser, offensively. He's a big body. He's great at offensive rebounding. He's got a good post-up game. He doesn't draw fouls particularly often. His passing is, well, passable. Nothing special, but nothing that's going to blow up the world. Those are the positive sides. Unfortunately, he has absolutely no range game -- he shoots 34% beyond 10 feet on shots where defenders are more than a yard away from him. He often gets distracted when he's tasked with defending a play instead of a player, and he gets caught ball-watching badly. His instincts simply aren't very good. He's been improving this season, but that may just drive his price to an untenable high -- there are numerous tales in NBA annals of big men who got it together for a few shining months before a contract only to regress badly when the ink dries.
So... how does he fit with this year's Thunder team? I'm not positive. He might be able to play next to Ibaka if Coach Brooks can bash timing into his brain. But his defense is such a project right now that it's tough to imagine Ibaka fixing all of that. And offensively, he'll force Ibaka to drift farther from the rim to account for Kanter's inability to operate anywhere outside of the rim area. In a vacuum, Kanter is a talent upgrade for this year's team. But swapping out a big man who can't defend for one of OKC's better bench defenders this season is a risky proposition. And it's made more risky when you realize that Kanter's in a contract year. If he plays poorly, they haven't moved the needle on their title chances. If he plays well, they'll probably have to pay him a monstrous amount of money in the offseason just to keep him around. That's rough going.
JACOB: The popular notion has always been that the Thunder need a post-up threat. Kanter is that, and I guess that's why everybody likes this move so much. I'm just... skeptical. You pretty much covered the fit concerns and the limitations with his game. I worry about how Kanter fits in the rotation with a healthy Adams. OKC already has one young developing center with an evolving offensive game, and now they've added another. Adams is a better passer and defender than Kanter, so you'd hope they could co-exist, but since neither of them can function outside of the paint, you can't really play them together. Assuming Brooks sticks with Adams as the starter (as he should), how does Kanter respond? While his complaints with Utah weren't exactly the same as Reggie Jackson's in OKC, there are some concerning similarities, and bold claims from Kanter's agent are enough to give you pause. If he moonlights as the starter for a couple of weeks, then gets relegated back to a bench role for a younger, rawer player, how does he react? I can't pretend to have any close familiarity with the dynamic in Utah, or with Enes as player. But the situation feels a little too familiar for me. If Kanter is happy in OKC, I'm confident in the coaching staff's ability to develop him on the defensive end. I'm just not sure how happy Scott Brooks can make him.
• • •
Moving on to the next most important acquisition -- what can Augustin do for the Thunder?
JACOB: Play his role. I don't really like Augustin's game, but I like the acquisition for the Thunder. Reggie's problem in the back-up point guard role is that he isn't actually a point guard, and when your name isn't Russell Westbrook that's a legitimate criticism. DJ played with KD at Texas, and to the best of my knowledge they're still good friends. You could do worse bringing in friend-of-the-superstar role-players (Royal Ivey). I think some fans are getting a little carried away with their assessment of Augustin's value based on his recent play in Detroit, though. For whatever reason, he seems to have a Kendall Marshall quality to him where he just plays better in a starting role than he does off the bench. His best moments have come in times of increased responsibility, whether it be in Charlotte, Chicago, or Detroit, and now he's going to have to find a way to adjust to a more limited role. But he does fill a necessary role with Reggie gone, and by my estimation still probably gives OKC its best backup floor general since Maynor in 2011, and a marked improvement over Ish Smith (who would've been the alternative). The concern comes in the playoffs, where his size makes him a massive defensive liability. But at 6'3, so was Reggie.
AARON: As you said, I think he'll be a regular season upgrade -- the inherent chemistry he has with KD as former teammates should help him fit in better than any of their other acquisitions. It's sort of like 2012's Diaw acquisition for the Spurs. Diaw played a lot of basketball with Tony Parker in France, and it showed whenever they shared the court. It turned Diaw's acclimation period -- generally a season or so -- into just a few months of regular season hacking. The benefit of shared chemistry is often underrated, and it's going to help Augustin acclimate earlier. The problem comes in the playoffs -- Augustin's playoff record is much worse than most comparable guards, and I don't think it's based on nothing. Augustin is 6'0" -- much shorter than Reggie, even -- with the wingspan of a tyrannosaurus rex. A lot of people point to Augustin's incredible performance in Game 2 of last year's first round series between Chicago and Washington as an example of how Augustin can be effective in the playoffs. Indeed, it was a good night -- he scored 25 points and dished 7 dimes in a 40 minute gem.
One tiny problem: he bageled the last 6 minutes of the game, as Trevor Ariza was able to utterly shut him down and win the game for Washington. Another tiny problem: that game is by far the best playoff game of Augustin's career, and the only particularly good game among them to boot. Augustin shot 11-for-50 from the floor in the other four games of last year's CHI/WAS series, and had 17 assists in the other four games combined. In his best playoff run ever (IND, 2013) Indiana played monstrously worse with Augustin on the court, he shot a TS% of 57%, and his only good series came against a New York Knicks team that had collapsed into itself like an ouroboros one round prior. His 2010 playoff performance in Charlotte is too ghastly to discuss heavily -- he shot 33% from three and 27% from two, and that's about all we need to say about that. If the player is tenacious enough with good enough instincts and a quick enough release (see: Avery Bradley), an undersized player can have a big impact in playoff basketball. But Augustin's prior performance (and lack of mitigating factors for his ills) worries me. It's just markedly easier for defenders to guard players like Augustin in the playoffs, and it's shown in his results. Compound that with his careless defense? If Augustin is playing serious rotation minutes in the playoffs, the Thunder may be in a bit of a pickle.
• • •
And finally, the three point shooters, Singler and Novak.
AARON: Honestly, out of all their acquisitions, these two are the most likable to me. While I readily admit that neither will move the needle in the playoffs, Novak and Singler are the kind of warm body three point marksmen that can inflate regular season win totals. Singler in particular is a decent pickup, an NBA player that can make threes and... well... OK, that's pretty much it. When trying to describe the deadline moves to a casual NBA fan around the water cooler, the only description I could come up with for Singler was "well, Kyle Singler is an NBA player." His status as an NBA player is perhaps the only real distinguishing feature about his game -- his passing is mediocre and his rebounding is relatively anemic. And try not to focus too much on the defense. But he'll shoot open threes and that's about all you need alongside players like Durant and Westbrook in the regular season. As for Novak, he's like Matt Bonner -- he'll win you a game or two when the pace is quick and the opposing teams aren't fully invested, but his shot release is slower than molasses compared to most of the quick-trigger playoff-ready floor spacers. He's not going to make any impact in the playoffs, if he plays at all. But OKC needs to get to the playoffs before they worry about their impact, so I suppose I'm OK with this one -- he'll help them pad the score on bad teams and avoid bad losses.
JACOB: Novak isn't going to play a meaningful minute in the playoffs, and not many more than that in the regular season. Anthony Morrow doesn't get nearly enough minutes as it is, and he's actually a well-rounded NBA player on top of being an elite shooter. If Novak sees a single meaningful minute when Morrow could justifiably be on the floor instead, I'll eat my hat. Singler is a little more interesting. He can't guard anybody, but he's got decent size and he can play the 3 while contributing a measurable NBA skill, which is more than OKC had previously to back up KD. Like Aaron said, he's not going to move the needle in the playoffs. But I'm becoming more and more concerned over the status of Durant's foot, and I get the feeling it's going to be more and more important to have these guys who can spell him time while not being complete non-contributors on the floor. Right now it's Waiters (too small, but for the record, someone I've liked in his time as a Thunder) and Jones (too vague), so Singler will be of some help there.
• • •
Starting to get the sense neither of you liked their pickups that much. Having said all that, what are the positives of today's trade? Try really hard, guys!
JACOB: I've softened on it some as the day has gone on. It now seems that Lopez's representatives had indicated to Presti he had no intent to resign in OKC, so if that's true, I can't bemoan the choice of Kanter over the Nets' offer. The major positive for OKC is that Reggie Jackson has left the building, and the difference was immediately apparent in the Thunder's chemistry against the Mavs. I can't recall Russell and KD ever being so vocal about their distaste for a (now former) teammate, and it seems likely that a weight has been lifted off the locker room's collective shoulders. So the major positive is Reggie Jackson is no longer haunting Chesapeake Arena like some dire spectre of Iago.
It's less that there's a laundry list of complaints for me to voice over the pickups, and more that I'm not sure there's a ton more surefire positives than that. Augustin is likely to be a liability in the playoffs, but probably not worse than the alternative (Ish Smith). Singler will spot KD some minutes, but his defense (and KD's likely increase in minutes) will likely also limit his usefulness in meaningful games. Enes Kanter is a big man whose offense is chained to the paint and who can't play defense in a Western conference filled with bruising offensive big men. He's replacing the team's most effective weapon against those big men. To top it off, his role, and his happiness with it, is a huge question mark going forward. Like I said, it's not that I think this was a bad trade overall, or even that it wasn't a very good haul for a guy who was out the door anyway. I'm just not sure I agree with the popular assessment that this is some huge coup for Oklahoma City. The popular assertion that the Thunder have finally added depth is technically true, I'm just not sure it's going to be meaningful depth.
AARON: You pretty much nailed it. In terms of a simple asset-for-asset swap, this was a really good set of trades for Oklahoma City. Kanter is more talented than Perk in a vacuum. Augustin/Singler/Novak is more useful than Reggie in a vacuum. I'm worried about the non-vacuum portion of the equation, here, but it can't be denied that this is a talent upgrade. They're essentially making a bet that Scott Brooks and his coaching staff can mold Enes Kanter's defense better than Tyrone Corbin and Quin Snyder did. That's not a terrible bet -- Corbin's player development has been notably deficient and Quin Snyder didn't have much time. They also finally added the three point marksmen they've been aiming for -- OKC's in a place where they can regularly put out lineups where 4/5 players on the floor can drain threes. That's going to improve the looks Adams and Kanter get, which should help their offense develop better. And if Lopez wasn't going to re-sign, this may end up a much better trade than the proposed Lopez trade.
• • •
FINAL GRADE
JACOB: A cautious, non-committal B+.
AARON: Honestly? I give it a C+. Asset-wise, it was a great get. I can see why Twitter went nuts over it. But Presti has always taken special care to build his teams with well-aligned character, talents, and fit. I don't know if any of the pieces he acquired will move the needle from a playoff perspective, and I fear that Kanter's acquisition represents a no-win move for Oklahoma City. The point I made earlier bears repeating. If Kanter plays well, they have to max him out and pay him more than they paid Jackson, crippling their opportunity to improve the team in the 2015 offseason. If he doesn't play well, they traded away defense for ill-fitting offense and may be forced Adams to play 36 minutes a night to maintain a playoff caliber defense. Compound that with Augustin's huge playoff struggles and the paucity of minutes available for Singler/Novak, and I'm just not sure what the endgame is here. I'd be much happier with it if they'd kept Perkins, and that's something I literally never thought I'd ever say.
• • •
What do you think about yesterday's huge trades? Leave your thoughts in the comments below!