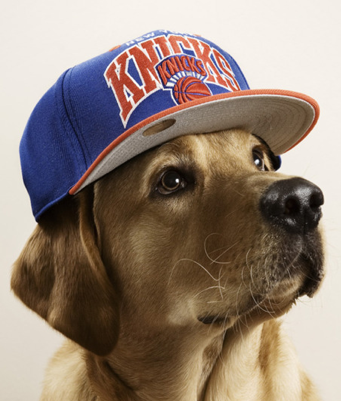 The lockout is over! As part of our coverage of the rapidly incoming season, Aaron is doing three-point previews (pre free agency) on every team in the NBA. We're splitting it up by divisions, in what will be the first and last time we look at NBA divisions this season. Seriously. Nobody really cares about divisions. Regardless, today's division is home to (if you don't remember, it's been a while) the Boston Celtics, the Philadelphia 76ers, the New Jersey Nets, the New York Knicks, and the Toronto Raptors.
Programming note, here -- all this week (and most likely for the next few weeks), I'm going to be at Fear the Sword working with Conrad Kaczmarek on a new series profiling all the Cavs players on this year's team. Monday we did Daniel Gibson, yesterday we did Ramon Sessions, and today we did Antawn Jamison. Tomorrow? A mystery, one worth checking out! Anyway. As a further programming note, my Kawhi Leonard post was linked in Truehoop's Wednesday bullets this week. If you're one of the new readers who stumbled upon us from the Truehoop post, welcome! We have a peculiar way of doing things, around here, but we hope you'll like what you see. There's going to be a lot of ridiculous stuff coming from Alex and I in the coming weeks, and it's our hope you'll stick around for it. And enjoy it. It'd hardly be worth sticking around for if you didn't enjoy it, you know? Regardless. Let's get thee to this preview.
• • •

TORONTO RAPTORS
1: Key additions, subtractions, and amnesty targets.
The Raptors are one of the few teams with no strong impact targets for the use of the amnesty clause. Their two worst contracts are Calderon and Bargnani, but they're the two of best players on this current incarnation of the Raptors, and it's quite possible they decide to keep them together. After all, with a new coach in Dwane Casey, the organization is most likely going to aim for the playoffs. Not a particularly strong chance they make it there, but the Raptors have always been a "hope springs eternal" type franchise. If they don't amnesty Bargnani or Calderon, they'll most likely consider applying it to Linas Kleiza, their embarrassingly bad "impact" free agent signing from 2010 that turned out to be a massively overpaid bust. In terms of additions, the Raptors have only so far added the #5 pick in the 2011 NBA draft, Jonas Valanciunas. He's going to be good, most likely, but he's also not going to be around this season. Which isn't quite so hot. Still, they're on a crash course for another high lottery pick, so whenever they have the ability to add Valanciunas, they should have a decent young core waiting for him.
2: Lockout impacts, bad or good?
I'm not really sure how the lockout is going to impact Toronto. On the CBA side, it could be a negative. While the details haven't leaked on revenue sharing yet, if it's based solely on market size, the Raptors are going to be at a severe disadvantage and may get none of the money they put in the sharing pot -- Toronto is a huge market, even if it's a middling NBA-type locale. Teams like the Raptors that underperform relative to their market size could get screwed in the revenue sharing deal, so we'll have to wait and see how that goes. On the basketball side, the numbers don't look very good for the Raptors. In the last lockout-shortened season, teams that played at a fast pace and had poor defense in 1998 fared somewhat poorly relative to expectations in 1999, as you might see in more detail in a followup and clarification post to Zach Lowe's recent lockout piece that I'll be sharing soon. I did some stats for that piece, and I think it'd be cool to share them. But that's for another day.
3: Overall season outlook.
Exceedingly poor. For Raps fans, they can expect more of the same from last year, which was a pretty poor time to be a Raps fan. They have the young guns in DeRozan and Davis to eventually make some noise, but I'm not very high on DeRozan as an NBA star (guards with games as scoring-limited as him aren't usually championship starters). Davis has been really good so far, though, and with any luck Casey will stop trying to play Bargnani out of position where he can't operate. I'm going to go with 12 to 18 wins in a 66 game season, equivalent to a 15-22 win season in a full 82 games. In other words, marginally worse than last year. Long-term outlook? Dim, but getting brighter. Getting Triano the hell out of there is a great start, and bringing in Casey should be a great hire. We'll have to see, though -- I thought Kuester was really going to tear things up in Detroit.
• • •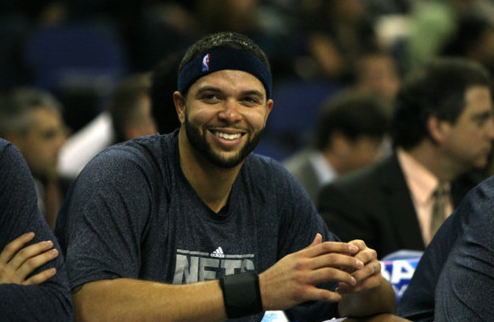 NEW JERSEY NETS
1: Key additions, subtractions, and amnesty targets.
No key additions -- yet. Quite a few key POTENTIAL additions, though, and they're going to need to exhaust every single possibility if they intend to keep Deron Williams. When you trade for a fringe top-10 player in the league and rid your cupboard of every quality young asset to do it, you don't usually do it for the player to up and leave less than 82 games later. That's a very possible fate for these Nets, if Deron doesn't get surrounded by a team that can actually contend. They may have more time than you'd initially think, though -- the new CBA makes it most profitable, if I'm reading it right, for Deron to take his player option for 2013 and have his future salary/raises based on his over $17.8 mil 2013 salary rather than his $16.3 mil 2012 salary. That would give the Nets a good two years to build. It could help. In terms of subtractions and amnesty targets, it's basically "pin the tail on the summer 2010 contract" over in Newark. They'd probably like to get back all three of the contracts they signed -- Morrow has been atrocious, Petro's been worse, and there's not a single player in the league who was more disappointing than Travis Outlaw last season. The first digit of his salary ($7 million) was very nearly larger than his PER (8.80), and while I don't like using a metric as a catch all, a PER of 8.80 with awful defense is barely deserving of a contract in the league at all, let alone a $7 million dollar one. One of the few teams that will probably use their amnesty in the first few days of free agency.
2: Lockout impacts, bad or good?
It was reported in whispers throughout the lockout that Prokhorov was one of the hardline owners. Not because he wanted competitive balance or revenue sharing (after the Brooklyn move, the Nets will be putting a ton of money into the system), but because a lost season would eliminate the Nets last season in Newark and give the Nets a unique chance to do a full-scale rebrand in 2013. Honestly, though? That was always a very risky strategy. While I'm working off the assumption I just laid out that Deron is going to want to take his player option, there's a non-negligible chance he doesn't. If that happened, and they lost the 2012 season, Deron could've opted out of his player option once the 2013 season began. He would've gone directly to free agency, and left the Nets nothing but 20 games of an injured Deron Williams for the investment of Derrick Favors, Devin Harris, an unrestricted lottery pick and a lightly restricted late lottery pick, and cash. That would be a catastrophic setback for a franchise desperately needing to take a step forward, and a 2012 season ensures that Deron is going to have at least one full year in Newark. I don't see any way that's a bad thing for New Jersey. The other CBA aspects -- revenue sharing, hurting luxury tax teams, etc -- are going to hurt the Nets in the future, but they're so moribund as a franchise right now it's doubtful to have a big impact for 2 or 3 seasons at the least. By the time the Nets are starting to really feel the impact of the CBA, a new CBA will be 2 or 3 years down the road. So, not too huge.
3: Overall season outlook.
Not as bad as the Raptors (by a long shot), but not all that great either. The Nets enter free agency with three players who played league average or better ball last year -- Deron Williams, Brook Lopez, and Kris Humphries. Humphries is a free agent who's likely to leave the team, leaving Lopez and Deron as the only two pieces worth starting on any other team in the league. And Deron was injured late last season. While he's been great overseas, we have to temper enthusiasm a little -- this isn't Deron coming off the height of his powers, this is Deron coming from a bad finish and trying to recoup. Lopez was atrocious defensively last year, rating among the worst centers in the league on defending the pick and roll. He stays back on his heels when he needs to contest, and he has a marked hesitation atop his generally lacking lateral quickness. He completely loses defenders when they get close enough to the basket, and he doesn't have the ability to stay on rotations. And his rebounding? Don't get me started -- despite playing a ton of minutes per game, Brook somehow managed to have more games with five or fewer rebounds than games with six or more. Abhorrent. Out of any other player in the league, the Nets most need Dwight Howard. A Dwight-Lopez-Deron core could potentially be decent enough to contend in the East, with the added bonus of experimenting with Brook as a power forward. I don't know if they get Dwight, but they really need him. Without him, their season is going to be a massively underwhelming disappointment unless they pick up the right bunch of bargain free agents to improve the team. If they keep last year's roster with minor additions? I honestly don't see them making the playoffs or even sniffing them. Their outlook is a wait-and-see prospect right now. So, we wait.
• • •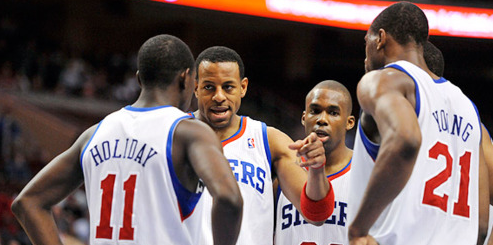 PHILADELPHIA 76ERS
1: Key additions, subtractions, and amnesty targets.
Amnesty and the Sixers is a funny combination. Word has gotten out that they don't intend to amnesty Elton Brand, given that he's only got a few seasons left and he's their only big man that's even remotely close to "quality" right now. That makes sense, and starts to get at why there probably won't be more than 4 or 5 amnesties this year. They don't want to waste amnesty on Nocioni when they don't have any free agent targets, so they're sitting on it until a better opportunity arises. In the draft, the Sixers picked up Nicolas Vucevic, who may in the long term be the most important big man of the future in Philly -- he was the tallest player taken this year and projects out to be a quality NBA big man. He has a well defined post game, and is underrated in his ability to affect a game with one-on-one offense. He gives most of that back with his infuriating obsession with proving himself as a shooter (he's simply not a good pick and pop player, and he lessens his gifts when he spends half the game trying to be Pau Gasol) and turning the ball over like it's nobody's business. But he's a solid prospect who's easily going to be their 2nd best big man from day one, and may end the season as their best. That's a good pick, and even if it doesn't bring them back to the playoffs this season, it should help immeasurably in the years to come.
2: Lockout impacts, bad or good?
Probably a net positive, overall. One of the very few teams that can say that. The Sixers may be the single most positively affected team by the supposition that amnesty won't be of the vintage 2005 "use it or lose it" type. Because they can wait and see. If Vucevic gets better and Elton Brand is poor this year, they can amnesty him right before next summer and enter the 2012 free agency period with quite a lot of cap room (well over $20 million), enough to potentially entice a max free agent to call Philly home and fill in the team with a few decent guys around them. The contract sizes mean they're less likely to get roped into another Elton Brand type contract, and they're just on the cusp where they won't be required to forfeit much to the revenue sharing but they aren't in bad enough shape that they explicitly needed a stronger system. Given Iggy, Brand, and their litany of not-great contracts, they aren't going to be scrambling to get to the minimum any time soon either. A good situation for them going forward.
3: Overall season outlook.
While they're one of the better positioned teams to navigate the post-lockout CBA, one can't really say the same about their team on a basketball level. Not for next season. Last season's Sixers were an overachieving bunch that were able to succeed on their general grit, Iggy's defense, and the most inconceivable of bounce-back seasons for one Elton Brand. I don't see that carrying over to this season, as Brand's season was (in all possible respects) incredibly flukish. Lou Williams and Thad Young will continue to be straight decent, Jrue Holiday will continue to improve, and perhaps Evan Turner can stop being useless. But unless Vucevic is an instant star and Brand avoids the dropoff that usually comes after a fluke season late in a player's career? They have no big man rotation whatsoever. Spencer Hawes may see serious minutes. That's their situation. And because of that, they probably won't quite make it into the playoffs again, barring injury to the myriad of lower-tier east teams (namely the Bucks, Pistons, New Jersey) that stand to get a lot better this season. Then again, this is a team that may look totally different after free agency. Check back with us after that goes down.
• • •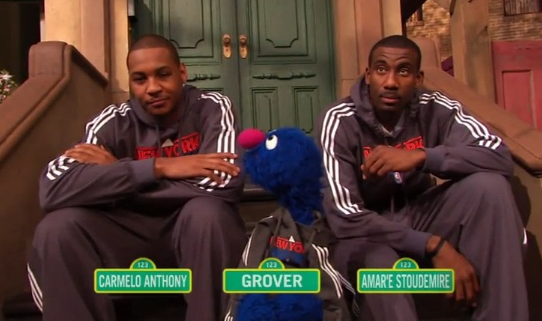 NEW YORK KNICKS
1: Key additions, subtractions, and amnesty targets.
Amnesty came just slightly too late for the Knicks to get value out of it -- they have no strong candidates for the clause, for the first time in almost 10 years. Really. I'm not going to go into it, but go onto Basketball Reference and look at all the Knicks rosters from 2000-2010. Pretty much at least one player per season who would be a good candidate for amnesty. Now, though, the closest is Roger Mason Jr. Who makes virtually nothing, cap-wise. The key for them is really in Amare's contract -- amnesty gives them a get-out-of-cap-hell-free card to play if his knees blow up sometime in the next four years. Always a good card to have in your bag. Additions are headlined by Iman Shumpert, the physically gifted standout from Georgia Tech whose somewhat unsatisfying college career can be virtually ignored because, after all, he went to Georgia Tech. Paul Hewitt is notorious for completely masking the draft potential of his players by running the worst systems in the history of the human race. Shumpert may be no exception. Regardless, I thought it was something of a misguided choice. The Knicks have Fields, Douglas, Rautins, and Billups manning the guard slots right now, and fill-in stopgap guards aren't hard to find. They're depressing the playing time of those three while ignoring their gaping holes in the middle. Kenneth Faried would've been a better pick, I think. Shumpert should be a good rookie, probably top 10, and a decent workaday player in the league. But they needed a big, and a great one was sitting at their fingertips. Poor decisions all around.
2: Lockout impacts, bad or good?
Bad. Very, actually. As I mentioned earlier, the only use amnesty really holds for the Knicks is as an insurance policy for Amare's knees. The general consensus among the hysterical New York media gaggle is that the lockout had no effect on free agency and the Knicks remain in perfect shape to land Dwight or Chris Paul. This is about as untrue as possible. The Knicks have left themselves with no assets whatsoever from the deck-clearing they went through for the Carmelo trade, and as I discussed in my discussion of the previous CBA proposal, the CBA generally will cut down on free agent acquisition in favor of Deron-type superstar trades. The best way to get CP3 or Dwight in this CBA's environment? Trade for them and entice them to stay. The Knicks have no assets whatsoever to offer -- every player they have of any value is either on a one year contract at this point (Fields, Douglas, Rautins), too old to contribute (Billups), or is one of their core two (Melo/Amare). They NEED to acquire CP3 or Dwight in free agency, and there's no particularly good way to see that happening short of either choosing to take an insanely large paycut (and, more importantly, a 4 year contract compared to a 5 year contract) to play in New York. Impossible? Not at all. But I'd put the odds well under 10% that it goes through, far lower than they would be if we were still under the last CBA. And top that off with the strengthened luxury tax that makes it harder than ever to simply outspend your competitors? The lockout hurt the Knicks. Don't think otherwise.
3: Overall season outlook.
I'm relatively down on them this season, pre free agency. You have a rather incredible one-two scoring punch with Melo and Amare, a decent starting-quality talent in Fields, and an aging chucker in Chauncey. Beyond that? Virtually nothing. As good as Turiaf makes them when he's on the court, he's exactly the sort of player who crumbles on back to backs and exactly the sort who's more susceptible to injury in a compressed season. Not to mention pace -- in the 1999 season, pace took a steep nosedive from 1998, and of the teams with extremely high pace in 1998 only one of them actually improved -- the Sacramento Kings, midway through a renaissance led by a young Chris Webber. I don't think the lockout shortened season is going to force the Knicks into being an awful team. But I do think the lack of training camp, lack of defense, and the general lack of depth to absorb injuries is going to lead them to be essentially the same team they were at the end of last year. Around 0.500, consistently described as "a threat", falls toothlessly in the night to a better team when the playoffs begin. Sorry, Knicks fans. Maybe if you signed Grover. Hey, speaking of the playoffs...
• • •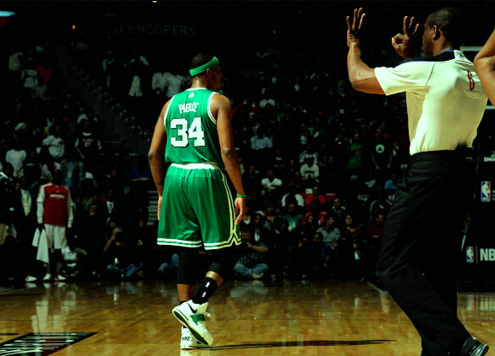 BOSTON CELTICS
1: Key additions, subtractions, and amnesty targets.
Frankly, there's no way to know what's what with the Celtics for additions and subtractions. If they decide to resign Jeff Green (a good bet, given that refusing to sign him means you traded Kendrick Perkins away for Nenad Kristic alone), they aren't going to have the space for any free agents that aren't acquired through trade. There are many potential avenues for improvement on their bench (Delonte West getting back to his natural position, Troy Murphy shaping up, et cetera) but in terms of new player additions the Celtics are going to be relegated to the Telfairs and Gadzurics of the world if they want to add new faces. As for rookies, last year the Celts drafted JaJuan Johnson and E'Twaun Moore, both out of Purdue -- I'm not very familiar with them, but if JaJuan is even remotely servicable it'll be an improvement over the Shelden Williams experiment they used to be rolling with. Glen Davis realistically isn't a good player and isn't a player they want to pay, but they're lacking in other options so they'll probably try the college try to resign him.
2: Lockout impacts, bad or good?
Well, they probably won't be building a star team on the fly like they did in 2008 anytime soon. The restrictions on trading would have most likely prevented the Celtics from picking up Ray Allen for the 2008 title run, thus making the 2008 Celtics merely a big two with a puncher's chance at a title but not an overwhelming favorite. But that all happened in the past, and going forward, they're not well off. Could be worse, but still not good. While it's true that the Celtics will be putting money into the revenue sharing pot, they'll be in full-rebuild mode in two years when the tax provisions really start kicking in and destroying the lives of GMs everywhere. The only real amnesty candidate, ironically, is Paul Pierce. Hardly a player the Celtics are ever going to consider using the clause on. It is worth noting that it looks like they're somewhat cursed in that they simply can't add pieces without flipping Rondo at this point -- resigning Green alone may very well take them over the MLE level, leaving them with min contracts and the mini-MLE for roster-building purposes. That's going to hurt a team already severely lacking in bench depth. So overall? Future-looking bad, present-looking bad. Not a great CBA for the Boston Celtics.
3: Overall season outlook.
As with this entire division, really, I'm not very up on them. This is a very weak division this year, barring some major explosions from young players on the teams in it. The Celtics are an aging team whose primary stars are all on the dark side of 33 -- by the time next year's playoffs start, KG will be well over 35 years old. I'm not one to doubt that KG won't be as batshit insane when next year's playoffs start, but you'd be a fool to honestly expect them to maintain the level of play they had last season. And with the CBA harming their ability to augment their depth... how do they improve? I don't really see it. Their best chance for any improvement lies in their bench shaping up behind Delonte West and Jeff Green reinventing himself as a useful basketball player. I'm dubious on both. And you may call me a homer all you want, but I'd take a 29 year old Tony, 34 year old Manu, and a 35 year old Duncan entering next year's playoffs over a 34 year old Pierce, 35 year old KG, and a 37 year old Ray. Especially considering the potential of the Spurs supporting cast over the Celtics supporting cast. No, I don't think it's too much of a stretch to say that although the Celtics do have a title shot this year, it's the smallest and least realistic among any of the KG years -- a strong second round performance would be a blessing, with this crew. But in this division? Weak on a broader scale or not, they'll win the division handily, and probably get a top 3 seed in the East. But even if all goes right, I just can't see them stepping beyond the ECF, I don't think -- this team is going to have to scrap and fight and overcome the process of aging simply to contend at all, and imagining a team like that winning four series in a row takes a lot of stretching.
• • •