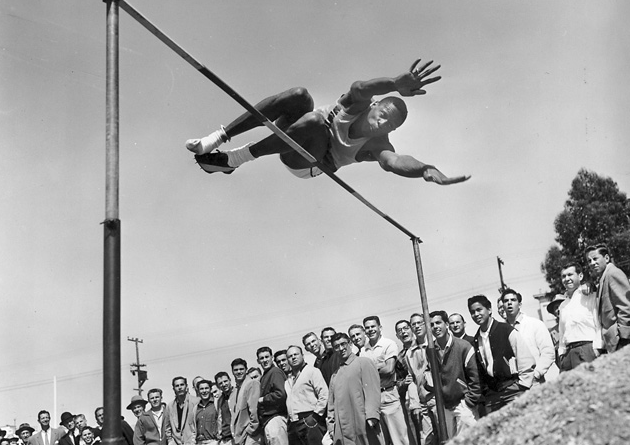 "In the souls of the people the grapes of wrath are filling and growing heavy, growing heavy for the vintage."
--John Steinbeck, The Grapes of Wrath
"I think he was talking about basketball and birth years."
--Anonymous
The venerable Joe Posnanski has once again come out with a masterpiece of readable sports trivia. What's his angle? Well, he takes every baseball birth year since 1931 (when Mantle, Mathews, Banks, and Mays were born), and grades that birth year's "vintage". It's a cute idea which immediately inspires a 58-bullet-point-list, each bullet point with multiple sections. Now, of course it's Pos' massive knowledge of the figures involved that really glues this together, but once he found the premise, the rest of the piece kind of wrote itself. So we're going to do the same for basketball - eventually. This is going to take a several part series, but we think the end result will be worth it, albeit absolutely trivial at its core. We'll start at 1934.
1934
Best Player: Bill Russell
Other Nominees: Elgin Baylor, Jack Twyman, Tom Heinsohn
Vintage Grade: A+
Comment: Suitably we're starting with the first really great year. You have a GOAT candidate and his 11 titles in Russell, which automatically makes this a great year. Then you have Russell's incredibly depressing also-ran counterpart that is also a historical great in Baylor. Finally you have Russell's comic foil and GOAT announcer Tom Heinsohn. Oh, and marginal HOFer Jack Twyman, who really has one of the great stories in the history of basketball to his credit.
1935
Best Player: Guy Rodgers (yes, really)
Other Nominees: Jim Krebs, Charlie Tyra, Barney Cable
Vintage Grade: F
Comment: No, I haven't heard of them either. Guy Rodgers has more than double the minutes of anyone else from this birth year. He's...a starter that got 12-4-8 from 1959 to 1970. It's a good thing we started with 1934, isn't it?
1936
Best Player: Wilt Chamberlain
Other Nominees: Hal Greer, Dick Barnett, Don Ohl
Vintage Grade: B+
Comment: I have trouble giving this lower than a "B" with one of the great forces in the history of the game. Wilt carries this class to an above-average year by himself. A starter from the beloved 1970s Knicks (Barnett), a 5-time All-Star (Ohl), and a HOF teammate on Wilt's famed 1967 Sixers? Yeah, pretty good vintage.
1937
Best Player: Lenny Wilkens
Other Nominees: Bailey Howell, Wayne Embry
Vintage Grade: B-
Comment: Lenny Wilkens actually finished second in the 1968 MVP vote. That's pretty damn impressive, all considering (though it would have been a travesty if he had won)...plus he was a 9-time All-Star, an ASG MVP, and that coach that coached a lot. He also served in the military at one point and gave us a sad, frank look into American racism from that period. Howell (HOF; late Russell Celtics) and Embry (Oscar Robertson teammate, late Russell Celtics) both had solid careers. A low B, in other words.
1938
Best Player: Oscar Robertson or Jerry West, take your pick
Other Nominees: Tom Sanders, Gus Johnson
Vintage Grade: A+
Comment: "A" is for "An especially great class with two first-ballot HOFers of the highest order that didn't get their rings until well after their primes." Tom Sanders has 8 rings with the Boston Celtics, leading to his famous nickname "Big Shot Tom". Also, check out Gus Johnson's Wikipedia page for a really cool bit of history. It's story time, kids. This Wikipedia article really "Nails" it. Hop on the bus, Gus; we need to discuss much. Later Edit: Wait, Oscar Robertson and Jerry West together not an A+? Yeah, that's a terrible choice on my part.
1939
Best Player: Walt Bellamy
Other Nominees: Bill Bridges, Zelmo Beaty
Vintage Grade: C
Comment: This article seems pretty damning of Bellamy, though all accounts also point to a supremely talented seven-footer. This damning article itself says that Bellamy would give a team a fighting chance against Wilt or Russell in their primes. But, I mean, Bellamy never made it to the ASG after 26, never once (in 14 seasons) cracked an All-NBA team, and overall gives you the sense that he had put antifreeze in the basketball wine for this year.
1940
Best Player: John Havlicek
Other Nominees: Chet Walker, Jerry Lucas, Don Nelson, Dave DeBusschere
Vintage Grade: A-
Comment: Though Havlicek is by far the best player of the five here, the other four would have gotten a B by themselves. Don Nelson had a decent career with the late-dynasty Celtics and then went on to coach a million games and win 53% of them. Lucas is an Ohio Basketball Legend who can remember anything and can teach you to do the same. Lucas once pulled down 40 rebounds in a game, as a forward (as he said himself on a recent Cavs' broadcast), and on the 70s Knicks Lucas' teammate Debusschere was a crucial all-world defensive player.
1941
Best Player: Nate Thurmond
Other Nominees: None
Vintage Grade: B
Comment: Historically great defender? Check. Historically great rebounder? True. Did he get a quadruple-double this one time? Fact. Was he from Akron and make the Miracle of Richfield possible for the Cavs? Yup. _1941 gets a B. _
1942
Best Player: Willis Reed or Connie Hawkins
Other Nominees: Jerry Sloan, Bob Love
Vintage Grade: A
Comments: Solid A. Reed/Hawkins was a tough decision and I decided not to make it: Willis Reed definitely has the more impressive NBA resume, racking up every imaginable individual and team honor in 1969-70 and having his name be synonymous with toughness. His name is on a feature on this blog. And we like to reward achievement instead of idle speculation. But sometimes - as the lockout and its threat to legacies should have shown us - the NBA is susceptible enough to contemporary forces not to have the absolute last word on legacies, and we have to stand up for folks like Connie Hawkins sometimes. See, Hawkins had a completely bullshit block placed on his NBA career (thanks, everyone involved in point-shaving and the resulting arbitrary backlash). One of the most legendary and exciting streetballers ever to lace up, Connie Hawkins came to the league only after long stays with the Globetrotters and the ABA. "If he hadn't got such a bad deal, you would mention Connie Hawkins with Baylor and Pettit," Russell said. We can roll with that, especially considering he did pretty great in the ABA to back up Bill Russell's sentiment.
1943
Best Player: Billy Cunningham or Dave Bing
Other Nominees: Bill Bradley, Gail Goodrich
Vintage Grade: C
Comments: Okay, so you want a dilemma? Scroll down to "Appearances on Leaderboards, Awards, and Honors" on both Cunningham and Bing. It's a pretty even matchup, right? Well, I'm glad we've established that. Aaron, like, met Bill Bradley this one time, I think. Editor's Note: Yes, Alex, I did. He's a really nice guy, and his wife is very sweet.
1944
Best Player: Rick Barry
Other Nominees: Earl Monroe, Lou Hudson, Louie Dampier
Vintage Grade: A-
Comments: Underhanded free throws, hilariously awkward media gaffes with the GOAT, the thousands of people he has personally upset. These are the the things we associate with Rick Barry. But he is also easily the best player born in 1944. Bigger than Jesus.
1945
Best Player: Elvin Hayes or Walt Frazier
Other Nominees: None
Vintage Grade: B+
Comments: Every firsthand account of Elvin Hayes is kind of bad and every firsthand account of Walt Frazier is pretty good. But Hayes played 50000 quality minutes (literally exactly; kind of a weird situation there with the tanking pre-Hakeem Rockets). Clyde was a decent, stylish, creative person who wrote a book about catching flies and anticipating steals and about coming correct in all manners of life. Hayes was "the most despicable person I've ever met in sports" (coach Alex Hannum). I'm sure I know who you'd pick. But 50000 minutes is a friggin ton. And we have to be objective on this blog. Plus, imagine how good Hayes would have to be if they still played him that much despite hating him and believing he shrunk in the clutch. Anyway, whatever the case, check this out: _Nearly every single contemporary account of Hayes is hilariously negative; even the positive things are taken as exceptions. _
1946
Best Player: Wes Unseld
Other Nominees: Bingo Smith, Don Chaney, Jo Jo White
Vintage Grade: C+
The best player on one of the weakest contending teams in the shot clock era, Unseld is a walking trivia machine: He was named Finals MVP in 1978 nine years after his only MVP, which was also his only All-NBA season and his rookie year. There are like 10 trivia questions in that sentence, seriously. Thanks, Wes. Don Chaney is the answer to (I think) Bill Simmons' great trivia question: Who played with both Bill Russell and Larry Bird? (Don Chaney) Finally, I only included Bingo Smith so that I could link to the scrappiest article in the history of professional sports, which involves Bingo Smith quite a bit. Also, Bingo has had a lot of health issues (major strokes), and that's pretty unfortunate: Dude is classy and solid as hell.
1947
Best Player: Kareem Abdul-Jabbar
Other Nominees: Pete Maravich, Norm Van Lier, Bob Dandridge
Vintage Grade: A
Comment: It's not quite 1934 with Russell and Baylor, but it's pretty close. Obviously Kareem is right up there as a GOAT candidate; he really mattered - like, seriously, made a difference in the outcomes of college and pro basketball - from about 1965 to 1990, and he was a top 3 player (at least) for 50% of that era. Can anyone else say anything to that? Well, Russell and Jordan can, for about 20 years apiece. But that's about the beginning and the end of the matter. Pistol Pete was an ungodly scorer and an ungodly passer. I'm rolling with a high A here.
1948
Best Player: Dave Cowens
Other Nominees: Tiny Archibald, Dan Issel, Bob Lanier, Calvin Murphy
Vintage Grade: A
Comment: Two of the tiniest HOFers out there (Tiny, Calvin), the former inspiring a cool SI portrait, the latter inspiring a Red on Roundball in which Calvin Murphy twirls a baton at a world-class level while Red Auerbach explains that you should never use size as an excuse. Cowens, on the other hand? He only inspired the greatest "absurd GM-period Auerbach" article. Oh, and he won some basketball games. All of them won many a basketball game.
"I had never for a minute thought of Cowens as a coach," Auerbach said later. "He was the last guy. I always thought when his playing days were over he'd get in his truck and go cut down Christmas trees. But then I started thinking about his personality. He doesn't like losing one bit more than I do."

--From John Papanek's "Call it the Redheaded League," SI, Nov. 27, 1978
1949
Best Player: Artis Gilmore
Other Nominees: Sidney Wicks, Spencer Haywood
Vintage Grade: B-
Comment: Artis Gilmore put up an 18.8-12.3-2.3-0.6-2.3 line in 1300 games on .582 shooting. _ Sure, some of it was in the ABA, and his raw stats do get a little worse from his slightly older NBA days. Weirdly, though, his efficiency stats actually _get better from his 12 years in the NBA: His NBA shooting percentage was (a historically great considering sample size) .599! In 12 years! His is one of those strange cases where he got every award imaginable in the ABA and his productivity actually carried over to the NBA. But despite the highest respect of his contemporaries like Bill Walton and Kareem and the clear statistical evidence to back it up, Gilmore really didn't receive the All-NBA and All-Star accolades for his production, only now in 2011 being awarded to the Hall of Fame. It's quite strange.
1950
Best Player: Julius Erving
Other Nominees: George McGinnis
Vintage Grade: B+
Comment: Okay, Julius Erving is a remarkable player, the spiritual enigma of improvisational creativity on one hand and the work-a-day prototype for every legendary wing to follow. He dunked two balls this one time and he dunked from the free throw line. Literally in the same contest. He is the face of the ABA's memory. Dr. J made the dunk what it is - an event. Not only that, but he was an underratedly efficient player defensively and on the boards. Dr. J won 2 ABA titles and 1 NBA title, he won 3 ABA MVPs and 1 in the NBA, and while it's technically true that he wasn't the "alpha dog" in 1983 and that, okay, his last ASG (of 16 consecutive) was more of a victory lap, let's be real: he was the second best player on a historically great team (83 Sixers) and won every imaginable accolade besides Finals MVP. I've talked myself into bringing this class (made almost solely of Erving and a decent-but-unspectacular McGinnis) up to a B+ from a B- in the course of writing this paragraph, put it that way.
1951
Best Player: Bob McAdoo
Other Nominees: Bobby Jones
Vintage Grade: B-
Comment: McAdoo's a first-ballot HOFer and an MVP. Bobby Jones was the well-regarded sixth man on the famous 83 Sixers. It's decent wine. It's a decent year.
1952
Best Player: George Gervin or Bill Walton
Other Nominees: Maurice Lucas
Vintage Grade: A-
Comment: Do you like productivity? What kind of productivity? Be more specific. If you like historical-level greatness that can carry your team to a title or be an ideal sixth man while spouting hippie slogans and hyperbole from a seven-foot redheaded frame and getting constantly horribly injured, then Bill Walton is your guy.
If you're looking for someone that plays nearly 3 times as many minutes as Walton in his career (no lie; 35597 to 13250), and is a clever, efficient, fun scorer that never quite got onto a contender and manages a level of infinite cool that transcends established concepts of hipness*, then you're probably looking for George "The Iceman" Gervin.
*"Whereas I never went fly like some of the boys," says Gervin. "I'm conservative. I got the short hair, the pencil 'stache, the simple clothes. Plus I'm 6'8", 183—no, make that 185—and when you look at me all you see is bone. Otherwise in Detroit I'm known as Twig according to my physique. I just do my thing and stay consistent. I figure the people be recognizing the Iceman pretty soon now. Whereas I be up there in a minute."
My mind is breaking.
Oh, and if you're looking for a really great power forward that could keep the 77 Blazers from floating up into the clouds by just getting up in everyone's faces and winning everyone's respect as an enforcer with a spirit, you're looking for Mo Lucas.
In any case, you're a very particular person.
1953
Best Player: Robert Parish
Other Nominees: Jamaal Wilkes, World B. Free
Vintage Grade: B
Comment: Parish the thought that you'll have a longer or more accomplished career than Robert Parish. This class would have been a B- or a C+ but 00 kept plugging away at his work for so many years and I decided I'd give his entire class a B.
1954
Best Player: None...
Other Nominees: Alex English, Dennis Johnson, David Thompson
Vintage Grade: C+
Comment: All HOFers, all historically great. None of them were that great, though. DJ was involved in one of the most famous plays in all of basketball history in the 87 ECF. You probably know the call by heart even without a link. Oh, well, here it is: "That's a set play, off the backboard." Less famously from the same series, DJ cut towards the basket after Bird stole Isiah's inbounds pass. Thompson of course had immense potential (and a great college career) that was derailed too soon by substance abuse problems and injury.
1955
Best Player: Moses Malone
Other Nominees: Jack Sikma
Vintage Grade: A-
Comment: "They tried to make us go the distance, I said "Fo', Fo', Fo'". Yes we got beat (by Sidney Moncrief), I say: "Fo' Fi' Fo'"." -Amy Winehouse, "Moses Malone Autobiography"
• • •
We'll have more tomorrow! We'll cover the Dream Team and work our way up to just about Gary Payton. In case you haven't seen it, Aaron was featured (and will be featured for the next few weeks) on Fear the Sword for some quality player previews with Conrad Kaczmarek. Not that it'll affect his posts here -- dude is a warhorse, he's probably got a camel in his back or something. I don't actually know what that means, but then again, neither do you.
Editor's Note: Aaron may be responsible for that last sentence, there.
Editor's Note #2: And these editor's notes, as well. Maybe.