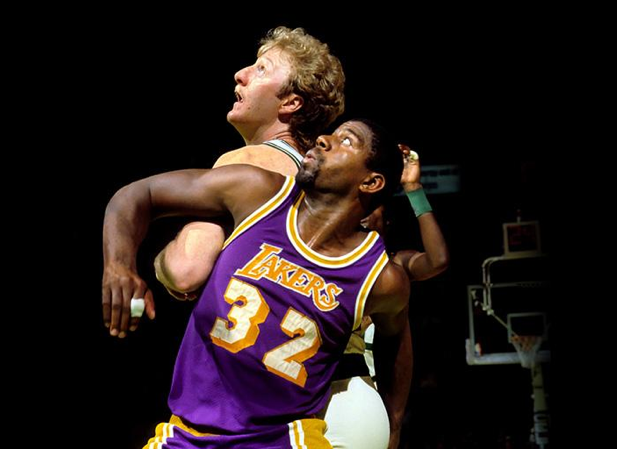 Continuing our ongoing series with our own basketball-centric take on Joe Posnanski's brilliant trivial concept, we bring you today the second part of the series. While the first part covered players from the 60s and 70s, this part covers the majority of the Olympic Dream Team, that motley crew headlined by the most unlikely Olympic three point champion of all time (really, honest question: who led the Dream Team in 3-point percentage? Bet quite a lot you'll get the answer wrong -- check the end of this post for the big reveal) and other various stars of the mid 80s, born from 1956 to 1968. Get the popcorn -- we're in for a long haul, here.
1956
Best Player: Larry Bird
Other Nominees: Adrian Dantley, Maurice Cheeks, Bernard King
Vintage Grade: A
Comment: There's one odd and pathological exception in the later years, but Larry Bird came very close to never having a losing month in the regular season. In November 1988, Bird played his only six games of the season and the Celtics went 2-4. And that's it. That's Larry Bird's losing month en route to three championships and becoming the leader of one of the GOAT teams, the 1986 Celtics. Dantley scored a HOF worthy 23177 points on a career 54% shooting, King was similarly efficient and...volumetric, but had his career cut short by injury, and Mo Cheeks was a good defender point for the 83 Sixers. It's not a team, but it's a great class.
1957
Best Player: Kevin McHale
Other Nominees: Sidney Moncrief, Bill Laimbeer, Mark Eaton
Vintage Grade: B+
Comment: If you put these four players together on one lineup with a replacement-level PG, your team would simply be too hardnosed and they'd be kicked out of the league, but not before reinventing defense, caroms and grit. And, on occasion, getting lit up for 75 points by, like, Muggsy Bogues.
1958
Best Player: Paul Pressey
Other Nominees: None.
Vintage Grade: D
Comment: Apparently (Wikipedia; he's actually rather obscure) Pressey is the originator of the "point forward" position. Pressey did legitimately have a stretch of five years where he got between 6.6 and 7.8 apg and between 3.9-5.4 rpg, while scoring a decent 12-16 ppg. I mean, not bad, not a lot of turnovers, pretty efficient, lot of All-Defense teams... And Bucks fans from 1986 seemed to love him, seeing him as one of the difference-makers along with Moncrief in beating the Barkley Sixers. Still, Pressey's 3 All-Defense selections give him some of the only individual accolades in the NBA for this birth year. Lots of All-Rookie selections, a Wooden Award (Darrell Griffith aka Dr. Dunkenstein), etc. A lot of title contenders too, hence:
There was an influx of players that eventually become coaches: Kiki Vandeweghe, Rick Mahorn, Mike Woodson, Larry Drew, and Kurt Rambis. And...that's it. That's the influx. D.
1959
Best Player: Magic Johnson
Other Nominees: Mark Aguirre, Danny Ainge, Rolando Blackman, Larry Nance
Vintage Grade: A+
Comment: Pretty good year for sixth men, All-Defense, Wooden Award winners...and...uh, that guy that averaged a 19.5-7.7-12.3 in 190 playoff games with five rings, three MVPs and three Finals MVPs, and has the highest apg in the history of the game.
1960
Best Player: Dominique Wilkins or Ralph Sampson
Other Nominees: Sleepy Floyd, Fat Lever
Vintage Grade: A-
Comment: While Sampson didn't really pan out in the NBA thanks to injuries, and Wilkins deserves his nickname "The Human Highlight Film" as a great, great offensive player, I have trouble throwing out the 3-time Naismith/AP and 2-time Wooden award winner like that considering he did have a Finals appearance and 4-5 quality years in the league. Anyway, Sleepy Floyd - despite a 12.8 ppg career average, hit up the '87 Lakers for 29 points in the fourth quarter (12 consecutive FGs) in the playoffs. Charles Barkley was a bit short of Floyd in a recent Eye on the Classics, and it felt for stretches like he was hitting his every shot. That's strange, but not quite as strange as Fat Lever, the single most enigmatic statistical figure in the history of the league.
1961
Best Player: Isiah Thomas or Dennis Rodman
Other Nominees: James Worthy, Byron Scott, Doc Rivers
Vintage Grade: A
Comment: Rodman or Isiah? It's a toss-up. I have to say it's really awesome what Isiah could do for a backcourt and a culture and what Dennis Rodman could do defensively and as a rebounding presence. I've seen the second-dynasty Bulls without Rodman (he was injured quite often and old, notice that Isiah and Dennis "peaked" about 8 years apart despite being born in the same year), and it's really amazing how perfectly the Bulls fit with Rodman's defensive style, a versatile big man enforcer to complement a versatile tweener to complement a versatile wing, all of whom could defend and rebound substantially above average for their positions. Really, could you have made the 1996 Bulls much better using real players, especially for the grind of the Van Gundy/Riley years? I don't think so.
Okay, Doc Rivers wasn't really a nominee, but he was a solid, work-a-day player, and I read his special (and rather short) book "Those Who Love the Game," written with a co-writer around 1995, just as Doc was nearing his end. It's a great book because it shows you how intelligent, outspoken, and visionary Doc was at a relatively young age. He says explicitly that his goal is to coach and then to GM, in the three stages of his basketball life. He posits that race plays a part in Bill Walton being in the HOF while his semi-mentor (and then-infant son's namesake) Austin Carr is excluded from the Hall. Doc also talks about an unfortunate incident with Mike Fratello, the hidden humor and wisdom of Moses Malone, and what Pat Riley is like as a role model and as a coach. Just a wonderful firsthand account from one of the best coaches in the business, before he became one. Highly recommended, especially if you're a Hawks, Knicks, or Celts fan.
1962
Best Player: John Stockton
Other Nominees: Patrick Ewing, Clyde Drexler
Vintage Grade: A+
Comment: We're getting into the prime Dream Team years now. Heavy, heavy for the vintage. Not much to say here, three two-way legends with a lot of Finals appearances between them and serious legacy questions to answer for. A few interesting quotes from SI on their late careers:
"John Stockton
NBA guards are like Hollywood actresses—their bankability as stars seems to expire when they hit 35. However, at 38, an age by which Oscar Robertson, Jerry West, Magic Johnson and Michael Jordan had all retired, Stocktonremains at the top of his game. Through Sunday he was second in the league in three-point shooting (50.7%) and in assists (9.3 per game). He needs more help on defense than he once did, but no other guard in league history has been so effective at such an advanced age."

Phil Taylor, Booms...and Busts, February 19, 2001
This is a fascinating comment to me, considering Steve Nash will be 38 on February 7, about two months away. Don't those sound like plausible Steve Nash numbers (actually looking at per-36 numbers, late-period Nash comes out at or better than eerily consistent late-period Stockton in almost every category)? Stock ended up playing 2+ years after this comment. How long will Nash last?
As for Ewing:
It helps their relationship that Camby doesn't demand shots, which Van Gundy must delicately distribute among Ewing,Houston and Latrell Sprewell. The Knicks are a collection of complex factions. Camby's boys are Sprewell, forward John Wallace and guard Rick Brunson. The clean-living Houston and point guard Charlie Ward have been nicknamed the Christian Coalition, while Ewing, the proud old warrior, stands alone, his friends having been traded, his skills eroding, his stature on the team diminished. He doesn't talk much these days, and team officials wonder how it will end.

"Pat's used to being the Guy in this city says Camby, who has taken some of Ewing's minutes. "But I can't worry too much about him. He's still going to come in and get his number called. Hey, I don't get any plays called for me. I get my baskets off hustle plays. The one thing I do feel bad about is the injuries Pat's had. The Achilles [tendon tear] has set him back two to three years. His wrist is still messed up. He's playing through a lot of pain."

Jackie MacMullan, "The Nba," February 7, 2000 (Steve Nash's 26th birthday!)

Rivers, whom Ewing reportedly doesn't speak with much anymore, gave Ewing his first "DNP-CD" (did not play-coach's decision) on the scoresheet last week after almost 1,200 games.

"[Retirement is] a decision he's going to have to come to," Rivers said. "I don't think any of us can help him. If he asks my opinion, I'll give it to him."
Kind of self-explanatory. Sad after sad after sad.
1963
Best Player: Michael Jordan
Other Nominees: Karl Malone, Hakeem Olajuwon, Charles Barkley, Joe Dumars, Chris Mullin
Vintage Grade: A++++ (no, wait, that last plus is just Drambuie!)
Comment: Alright, so this year is not a typo. The only way to understand this is to just...tally up what we're looking at for this birth year. Between the six they achieved:
62 All-Star selections
6 ASG MVPs
9 regular season MVPs
9 Finals MVPs
35 Players of the Month
27 All-Defense selections
33 All-NBA 1sts
14 All-NBA 2nds
8 All-NBA 3rds
3 DPOYs
10 Rings
16 Finals appearances
Yeah. None of those rings or Finals appearances were together, either. I'm not counting Mullin's 12 total Finals minutes for the 2000 Pacers.
But none of this compares to 1964. No, really...
1964
Best Player: None
Other Nominees: Aging Arvydas Sabonis, tragically short-lived Drazen Petrovic, injured Ron Harper, uh...Mark Price, Chuck Person, Otis Smith, Scott Skiles, Dell Curry, John Salley, Nate McMillan
Vintage Grade: C-, considering the players listed are all at least D-cent, but for the modern era? After that whole 1963 thing? Yeah.
Comment: N/A, though it is kind of weird how many coaches we get in some of these atrocious down-years. If we're using all facets of basketball achievement, instead of just NBA accomplishments, this class gets much better with Sabonis and Petrovic and all the coaches, and for 1963, the non-NBA achievements would include Nike, the Dream Team, Inside the NBA, and...the Bobcats ownership group?
1965
Best Player: Scottie Pippen or David Robinson
Other Nominees: Reggie Miller, Mark Jackson, Horace Grant, Muggsy Bogues
Vintage Grade: A
Comment: We've been spoiled by 1963. Two players that couldn't singlehandedly deliver their teams to a title, but that legitimately carried their teams to contention for a few transcendent years on both ends. We also have the second-leading assist leader (Jackson), the second-leading three-point shooter (Miller), an incredibly successful journeyman and apparently the main source for Sam Smith's classic The Jordan Rules (Grant), and the tiniest player of all (Bogues). I switched an A and A+ between this and 1938, because I think Oscar-West is a few notches above Pippen-Robinson. No, not a perfect grade, but still a great class. I mean, the list of players was so concentrated with talent that, in a last minute decision, to top it all off, Starks got ejected.
1966
Best Player: Dikembe Mutombo
Other Nominees: Tim Hardaway, Kevin Johnson, Danny Manning
Vintage Grade: B-
Mutombo had a pretty darn successful career and I see no reason why a likable, awesome, defensive/rebounding superstar with two crucial roles on contenders (okay, they were the Nets and Sixers, and he was a roleplayer in NJ, but still) who loved the game wouldn't go into the HOF on his first chance. Then again, what happened to Rodman that it took him until 2011?
Including Hardaway and Johnson was easy. As for Danny Manning? Well, he posted a 31-18-2-5-2 in a National Championship game and was named the Big Eight player of the decade. That means he was the best player drawn from an eighty-team sample. I don't feel bad putting Danny Manning as a nominee, plus I'm sure Joe Posnanski saw this game, so that's a plus.
1967
Best Player: Glen Rice
Other Nominees: Mookie Blaylock, Derrick Coleman
Vintage Grade: D+
Comment: As a convenience, I've been using basketball-reference.com's Birth Years Frivolity. For each year I sort by minutes played, because there's usually a fairly clear line below which is "don't even bother" and above which is "you should probably look them up" (Note: This stops working around 1983-4). In 1966 - a year I gave a B- to - 13 players have more than 20000 minutes played, and 9 have more than 25000. In 1967, only 3 players (Rice, Blaylock, Coleman) have more than 20000 minutes. Neatly, all three have more than 25000, too. Neatly, they are the only players that you'd think to mention from this class as even decent starters. I went with Glen Rice as the best because he got a substantial MVP vote in 1997, he actually was part of a great team (2000 Lakers), and he's the closest to perennial All-Star in this class.
1968
Best Player: Gary Payton
Other Nominees: Sean Elliott, Vlade Divac
Vintage Grade: B+
Comment:
The 1996 Bulls ended up 87-13 and 15-3 in the playoffs. That's pretty unreal, but the Payton-Kemp-Schrempf Sonics had firmly earned their own place in history: Two of those 3 playoff losses came from Seattle crawling out of an 0-3 hole. (The commentariat actually went a little bananas with these two losses as they happened, saying that the 1996 Bulls might not even be the best Bulls team of the 1990s. Yeah, really.). So the Sonics getting to Game 6 was a little insane, and Ron Harper's injury and the Bulls' age actually put a little fear in the hearts of Chicagoans that the greatest team of all time might very well suffer the greatest choke in the history of professional basketball. And a lot of the credit for the possibility of the Sonics' ultimate upset and comeback goes to Sonics PG Gary Payton. Standing just 6'4'', Payton earned and deserved the 1996 DPOY in an era of brilliant defensive big men, finding 2.9 takeaways per game.
Once Sonics coach George Karl decided to use Payton on Jordan instead of "a random sequence of non-DPOY guards" in Game 4 (really), the whole tenor of the series changed: Payton played near-perfect defense on Jordan and (aside from various switches) the two were constantly vying for position, with Jordan usually far from an ideal place even when he won. Though the commentators only rarely mentioned it (usually only to note that Jordan was shooting a low percentage), Payton dominated Jordan defensively. By Game 6, all Jordan could do to get some workaday baskets was to take advantage of a couple facts:
Payton isn't Michael Jordan, and Michael Jordan had a reputation as the GOAT, even in 1996. He could trip over his own feet and run into people and a lot of times he wouldn't get called for a foul but his man (in this case Payton) would, especially in the United Center.
Payton is one person. He isn't two people, and people that aren't two people can't be two places at once, and they have a nasty susceptibility to screens and switches and rotations, no matter how tenacious and intelligent they are.
Sonics not named Gary Payton had a tough time dealing with Jordan. (the obscure Vincent Askew was possibly the only other Sonic that truly contained Jordan on a possession, and he was [according to the commentators] in Karl's doghouse and logged just 5:00).
Payton wasn't great on offense, and my impression is that the Sonics much preferred to use Detlef Schrempf and Shawn Kemp on isos (and Payton on efficient spot-up threes and decent passing) instead of running the ball through The Glove. But Payton contained one of basketball's greatest and most unstoppable competitors at his peak, and that says a lot. He's going to Springfield soon, and he should. As for Divac and Elliott? Decent, decent players. Divac's troubled friendship with Drazen Petrovic was the subject of the best 30 for 30 film, "Once Brothers." Great film. Sean Elliott got a kidney transplant and returned to the game afterwards, a heroic act. Then he became a knowledgeable, insufferably-voiced, shameless homer as a commentator, like ESPN's Mark Jackson crossed with Tom Heinsohn crossed with a beached whale, still alive, heard from miles away, crying in whale song about how Gary Neal should have won a block-charge call.
• • •
Part Two's a wrap! We've covered birds, gloves, whales, Airs, and Admirals, and we're just getting started! Tune in next time (probably tomorrow) as we complete the assessment of matured vintages and speculate wildly about some of the others. Should be a good time. Also: the Dream Team's three point leader? None other than Sir Charles Barkley, who shot 7-8 from three during the Olympics. Go shock your friends with that one.