Hey. My name is Cesar, I'm a friend of Aaron's, and the same guy he was talking about in the Andrew Bynum player capsule. Short version: I'm a Hispanic Lakers fan, I made a religion based off of Bynum's elbow, and I carry with me a sincere hope that a fight breaks out in every sports game I watch. I was unironically opposed to trading Bynum for Melo last season (and not just for the sake of my religion). Aaron is letting me write an article, which is very nice of him. Classy stuff: just the type of behavior you'd expect from a fan of the most boring team in sports. I don't know if I'll stick around, but it's always nice to try new things, so let's get started.
As you all know, the lockout sucked. Crazy as it may sound, though, there were actually people who thrived in the absence of basketball. These folks engaged in acts of schadenfreude over the season that wasn't, due to their irrational hatred of basketball and/or the NBA. Others, too, thrived -- people who enjoyed the game didn't quite approve of a cancelled season, but still managed to display an incredible, inexcusable degree of ignorance about the lockout. There's no way around it: These people deserve to be scorned and ridiculed for their terrible opinions. So, who are they? Really very easy to find, just go to your favorite sports site, and then find any article about the lockout! Then you can scroll down to the dark soulless abyss known colloquially as the comments section. To save you some time, I've undertaken this dark work myself and made a record of it. Click the jump as I take you on a tour through the worst of sports fandom at one of the lowest points of the lockout. Make yourselves comfortable.
• • •
First up we have a CBS Sports article. Let's see what we can find. Pictures of the comment, then my response:

Eternal defending champs? Can't argue with that! Mavs: 2011-2032 NBA champs.

The owners also have to worry about willingly giving shitty players huge contracts and finding a way to blame it on the players. Don't forget that part.
• • •
Essentially nobody goes to CBS Sports for sports news, though, since there were only like 15 comments. Most of them were boring, so let's move on to a more high traffic site like ESPN.com:

We're paying Derek Fisher HOW MUCH per hour again? ... maybe there WAS some merit to this lockout after all.

I have no sympathy for the thousands of workers who would be struggling to pay their bills after the lack of a season cost them their jobs either, Greg. Or the 400 people laid off from the lockout. High five man!

Hmm, pushing the player's buttons more? Yes, this is a good idea. Has definitely worked well before.

Ahh, there it is. The "overpaid/unintelligent thugs" comment that you see so often when anything NBA related comes up. Say, Dave20190, when you say "thug" do you actually mean... (Editor's note: Redacted)

Now this is one Dave that really does know best.

Even the Celtics organization's own fans were willing to skip a season. Ayo, 17titlesncounting, KEVIN GARNETT ISN'T GONNA GET ANY YOUNGER!

Yeah those kids really have a passion to jack up bad threes after wasting 33 seconds of shot clock and they NEVER dream of one day getting drafted by an organization that pays them for their work instead of exploiting them like the child slaves they are under the NCAA. Because that would be crazy. They'd rather be NCAA for life. Screw "fraudville."

A poverty sport? Does he think the players are on food stamps or something? Don't even know how to approach this one.
• • •
Fact: ESPN commenters are dumb. (Their columnists who link to this blog are the best though! And DDL is pretty ballin too.) Next on our tour of horrors is fark.com, these dudes REALLY love sports, so much that they have a dedicated section filled with only sports news links, surely the civil discourse here is better right?

These damn gangsters! All they care about is money! I won't stand for it! I hope they never play again! By the way, here's the exact negotiating position I feel they should stake out in order to maximize their wealth and continue to play as soon as possible!

Welp, there goes the economy…

Spoiler alert: buckeyebrain is racist.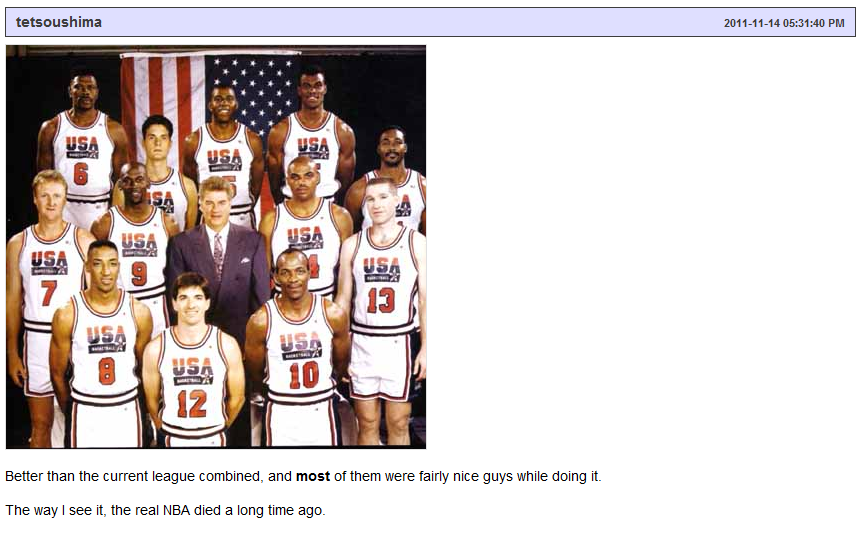 AHAHAHAHA. Bird and Jordan being "fairly nice" guys? Good one tetsoushima, tell me another knee slapper!
• • •
What's that? Can't take it anymore? You'd like to get off this planet to live in isolation for the rest of your days on Mars, secluded from the human race? You know, you could just... close this article. I wouldn't blame you. But if you're sticking with me, thanks. I'll let you get the paperwork ready for your move to Mars soon, but we still have one more stop. This is the big time right here folks, feast your eyes on the black hole of human decency known as the Yahoo! Sports comment page! NO HOPE, FINAL DESTINATION, LET GO YOUR NOTIONS OF HUMAN DECENCY AND SUCCUMB TO ABJECT CYNICISM.

Heh, LeBron 4th quarters…THAT'S COMEDY GOLD LOUIE! GOLD! GIVE ME SOME SCRUBS PLAYING GOOD OL' FUNDAMENTALS INSTEAD! And yeah those overpaid gangster MTV hip hop blingee rappers sure do hate playing for the love of the game that's why they played all those exhibition games frequently during the lockout.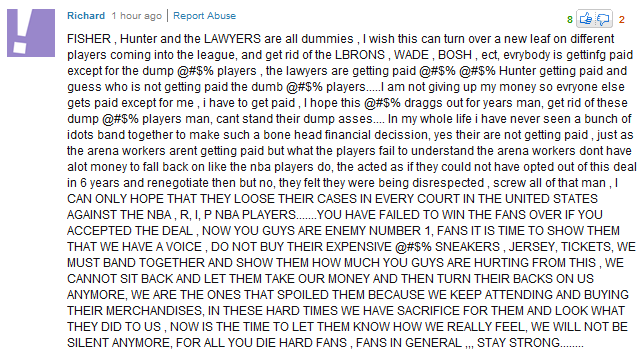 Almost every "sentence" in this comment contains a reasonably coherent thought. But I've been starting at it for an hour and it doesn't make any sense when you put it all together. It's like everyone in Richard's hometown got together around a big round table at a town meeting to write a good old-fashioned collaborative angry letter, only they never stopped to differentiate where one person starts and the other stops.

"Off with their heads!"- Eternal Emperor-Dictator Obama circa 2020, giving his blessing to execute the Miami Big 3 for giving the gentlemen's sweep to his beloved Bulls all those years ago.

Aaron is going to cry when he sees this one.

Next year's story line will have Stone Cold Steve Austin kick David Stern's candy ass and take over the NBA.

WHY AM I WRITING THIS ARTICLE I WANT TO DIE.

Seven people who claim to be sports fans liked this post and only one disliked it. That's very depressing.

Yeah you know what fuck this I'm done good riddance to you, Joseph.
• • •
So yeah, how about them sports "fans"? Between the apathy, irrational hate for pro basketball, criminally misinformed opinions and outright racism it's pretty hard to feel good, right? I haven't even dug through the basketball dedicated forums too, of course the most you get there are mildly bad opinions about the lockout and that isn't as interesting as what you get in the news sites. Should you hate life now and wish you were never born? Of course not, because you exist, I exist, and millions of people who wanted an NBA season exist out there. And we easily outnumber these assholes.
Before we move on to trash talking all our rival teams, we should revel in this -- no matter what we do, no matter how rude we get, we'll never trash talk a fellow fan nearly as harshly as these people deserve to be trash talk. And there's a truth, here: we may have hated everyone involved in this lockout right now for being dumb about a lot of things, but at the end of the day we'll never be like these guys above. Also, before I go, may I just suggest that the NBA give us League Pass for free this season as an attempt to win our loyalty back?
... No? Oh well, I tried. Until next time.