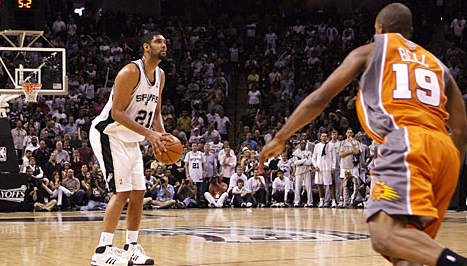 Hey, everyone. Welcome to the third and final installment of Basketball Vintages. BV is a mini-feature I've been working on. The idea is simple (and shamelessly appropriated from the great Joe Posnanski): For every year since 1934 (Russell's birth year), we grade the "vintage" of the NBA players born that year. It's a neat concept, and so far we've made it up to Gary Payton (born 1968). Today we're going to finish up and plow right through to Chris Paul and Dwight Howard (1985). You can check out the Dream Team in Part II, and the first couple decades of the shot clock era back at Part I. Hope you enjoy.
1969
Best Player: Shawn Kemp
Other Nominees: Larry Johnson, Christian Laettner, Sam Cassell
Vintage Grade: B
Comment: Sam Cassell was a part of four completely separate generations of contending franchises: the 1994-95 Rockets, the 2001 Bucks, the 2004 Wolves, and the 2008 Celtics. That's... pretty strange. I'm not going to try to explain it, though I'm sure I could figure it out if I threw enough numbers at the table. There are some things should remain a mystery to the world, and Sam Cassell is one of those things.
Shawn Kemp was the best player on the beloved 1990s Sonics, a short time after which his production began to seriously decline. Kemp (as you likely know) fathered several children and, in the decline, dealt with drug, legal, and weight issues. Kemp's public image largely centers around his infamous post-lockout training camp, in which he showed up a couple stones overweight (for you British readers). Of course, he was a starter on a team that fared well against the 1996 Bulls. Based on his stats, it's safe to presume Kemp's decline had less to do with the 1999 weight gain, and far more to do with the natural decline of a big man scorer's quickness on the wrong side of 30.
Seriously. Think you know Shawn Kemp? Look at his stats from 1998 and 1999. Try to find a single thing he did worse in 1999 than he did in 1998. You will quickly discover an odd and unheralded truth -- there's nothing worse. By all statistical measure, Shawn Kemp's 1999 edition was as good or better than the 1998 edition. Sure, this doesn't account for his defense, which took a tumble. And the team around him collapsed. But that isn't necessarily his fault. Kemp's falloff post-Sonics had less to do with his weight gain and more to do with the natural way things go for players with his kind of a game -- Kemp never had an especially polished post game, for all he did in iso situations. His athleticism and quickness was his money skill, and when that went, his ability to contribute left him as well. Perhaps he would've lasted longer if he had unimpeachable conditioning. But probably not.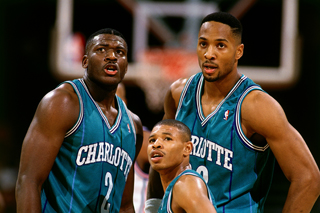 1970
Best Player: Alonzo Mourning
Other Nominees: Robert Horry, Latrell Sprewell
Vintage Grade: B+
Comment: Latrell Sprewell is a decent scorer mostly known (deservedly) for choking P.J. Carlesimo in 1997. But he was a great volume scorer on the 1999-00 Knicks and the 2004 T'Wolves. One of my favorite Duncan games is in Game 5 in the 1999 Finals. In that game, he and Sprewell got into a master-class shoot-out where the two players alone got roughly 25 points combined for a stretch where no one else on either team seemed to score. My most enduring image from that series is a shot taken from the corner of the backboard as Sprewell fiercely drove the ball from the opposite side, his fiercely-arched eyebrows holding pearls fixed right on the camera through the webbing of the net. It was the Knicks' defining moment of a finals defined mostly by Tim Duncan destroying all comers. And Zo's in this class, too? With Horry, whose game is consistently unfairly denigrated due to his clutch instincts? (Really. Watch him on the 90s Rockets. He's a good player in his own right, not just in the clutch.) That's a B+.
1971
Best Player: Bruce Bowen or Penny Hardaway
Other Nominees: Allan Houston, Nick Van Exel, Eddie Jones
Vintage Grade: B+
Comment: Tremendous upside in this class. You have three explosive players (Houston, Penny, Van Exel) that are encoded in a thousand of those seven-second slow-motion videos that made the rounds before Youtube. And yet - thanks largely to their injuries - the most "accomplished" of this class is probably Bowen, who won a slew of All-Defense 1st teams for his tenacious, frustrating, dirty perimeter defense in three Spurs titles. But it wasn't just injury that made the difference: Though Bowen wasn't a star, he played a role in the Spurs perfectly suited to his talents, a role that is practically archetypal now. In the wake of the Heat's somewhat underwhelming offense it's easy to go back and frame everything in terms of redundancy, but really, the Spurs didn't need a great finisher, they didn't need a dominating shot-creator: They needed someone that could play great defense on the opponent's best player, one through three, could make good rotations, and could learn to shoot a corner three. Bruce Bowen was exactly the skillset the Spurs needed, with no extra cost or baggage. Bruce didn't leave anyone to wonder if he could possibly be more efficient with his skillset (nope), if he had unexplored upside (nope), or if he would shrink or rise to the occasion on the biggest stage (rise). And then when his corner three stopped dropping, he got traded in the deal that brought Richard Jefferson to San Antonio, a more talented, more skilled player that would try desperately and futilely to recapture what Bruce had done with less, and the Spurs would despair.
1972
Best Player: Shaquille O'Neal
Other Nominees: Grant Hill, Kurt Thomas
Vintage Grade: A
Comment: Solid A. These are the first active players we're seen so far, Shaq having retired a few months ago.
For 13 consecutive years Shaq finished in the top 10 of the MVP vote. For a few of those he was a marginal candidate, yes, but it's still pretty insane. Shaq only ended up with one MVP, and while he probably should have gotten AI's in 2001, his career accomplishments speak for themselves. On blogs we always like to contextualize (and even to mitigate) greatness for no good reason except to show that we truly understand a situation, but I don't know that Shaq's physicality on the court and causal presence off it can be given a proper context or understanding. Shaq for a few years gave you the sense that he could score without much skill and defend without much effort simply by being so large and developing a basic but effective skillset to go along with it. And in the end that's exactly what he did. Sure, Shaq could have done more, he could have hit more free throws*, he could have had better help defense, and so on. But this misses the point: Shaq in his prime was an inherent flaw in the logic of the sport of basketball until finally his body wore down and his opponents found ways to respond and mitigate (most infamously the Hack-a-Shaq, now a standard part of strategy). And in the importance of his presence and the competitive response, Shaq became part of the now-slightly-broader logic of basketball, like Eddie Gaedel given 20 years in the big-leagues or like the Liar's Paradox becoming central to our understanding of the limitations of formal systems.
*I kind of doubt that Shaq could have done much better with free throws whenever I see fierce, far more well-regarded competitors like Tim Duncan or Ben Wallace or Bill Russell shooting the same mediocre percentages. It's more plausible to me that the same size which allows them such greatness in other areas also gives them especially tired legs at the ends of games, big hands to botch apparently simple motions, and trouble getting into the self-starting, unnatural rhythm of a free throw. Seems a lot more likely than the tired "Shaq is too lazy/busy with other ventures to care" narrative (even for an infamous sandbagger).
1973
Best Player: Chris Webber or Jason Kidd
Other Nominees: Michael Finley, Juwan Howard
Vintage Grade: A+
Comment: Very solid class. Four of the Fab Five (Howard, Webber, Jimmy King and Jalen Rose), two first-ballot HOFers (Kidd and Webber), an insane and unstoppable force at one point that basically ended the Stockton-Malone Jazz's run singlehandedly in 2001 (Finley), a totally ubiquitous and ridiculous player that shows up in every important regular-season game from 1998 to 2008 (Howard), an hellacious point guard that seems to control the flow, structure, and tempo of every single possession he encounters on both ends (Kidd), a bunch of players that played for the Mavericks at random times or otherwise might have, and Eric Snow (that guy that inexplicably played on three different overmatched Finals teams -- the 96 Sonics, 01 Sixers, and 07 Cavs). Shock the world.
1974
Best Player: Steve Nash
Other Nominees: Ben Wallace, Rasheed Wallace, Jerry Stackhouse, Derek Fisher, Antonio McDyess, Marcus Camby
Vintage Grade: A++
Comment: Okay, so my eyes are basically sparkling right now, guys, I'm not going to lie. This is the single most likable class in basketball history. Steve Nash, Ben Wallace, Antonio McDyess, Marcus Camby? That's fantastic. A treat. It's no coincidence my first attempt at writing this class devolved into feverish chuckles and imagining what it would be like to meet them. Hey, Steve Nash, how are you? Care to show off a pull-up jumper, today? Do you have any amusing opinions about the events of today that you would like to share?
Seriously, Steve Nash has always been somewhat politically active, spearheading the virtuous "Los Suns" jersey campaign in the 2010 playoffs in the wake of an Arizona immigration debate. Derek Fisher, for all you can critique his handling of this dispute, by all accounts is a tremendous, hard-working person. McDyess (along with Nick Van Exel) literally spent a year in the Nuggets uniform helping the troubled young player Chris Herren stay out of drugs, eating dinner with him every night just so that he wouldn't relapse into his many addictions (Herren wouldn't relapse until traded to the Celtics). McDyess (like Nash and Big Ben) is known as a great teammate. "If you don't like Dice, then I got a problem with you," Ben Wallace once said. I think that about says it all for this class. Great class. Very... classy.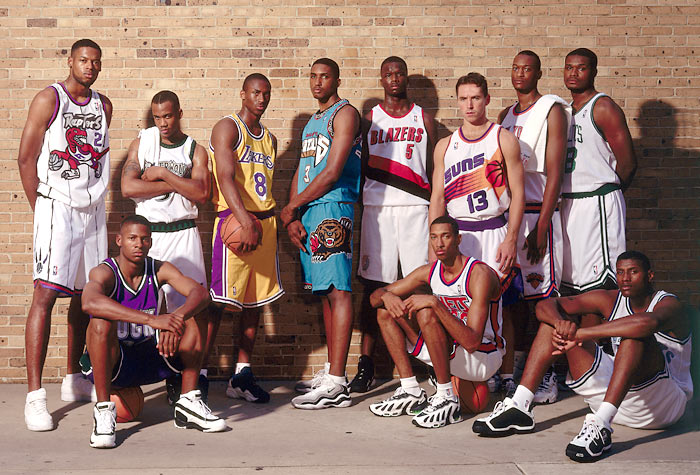 "These new rooks... don't have any respect for the history of the game."
1975
Best Player: Sugar Ray Allen Iverson
Other Nominees: Zydrunas Ilgauskas, Jason Williams
Vintage Grade: B+
Comment: I'm starting to realize that this is what a very decent, above-average class of players looks like, a couple HOFers, a couple likable players with high upsides and good stories, and 10 or 15 good rotation players. Pro Basketball is really strange that way: There are only about 8 players that really matter on a team, and only about 30 teams, and the best careers are fairly long, and you only need three very good players or one great player to make a team worth watching and caring about. It's a simple queuing problem with a simple solution. Put simply you don't have to have a lot of exceptional classes, either in birth year or in the draft: You just have to have a few great players on average in every class and you'll wind up with a fairly rich league, but basketball is also well-structured enough to accommodate even richer classes in the future. Maybe this is why it's such a great sport: It's so scalable and malleable to the talent available. As long as you have a ball and a hoop, you can play.
1976
Best Player: Tim Duncan or Kevin Garnett
Other Nominees: Andre Miller, Chauncey Billups, Antawn Jamison, Brad Miller, Antoine Walker
Vintage Grade: A++
Comment: Yes, those extra pluses are becoming gimmicky. I apologize. More glaringly, I apologize for putting Duncan and KG on the same level. My justification for this is only that KG is not one of the "other nominees," he is a clear 1b, obviously a HOFer himself, a champion, an intense and an indelible image, an archetypal character, a raw and complex personality, and someone that is just plain fun to make fun of and use as a hypothetical. What's more, in terms of physical command and intellectual understanding of the game he is frighteningly on the ball, and has been for 15 years. If he had been on a better team earlier, who knows what he could have accomplished? Of course, he made his bed, and given how much of a prick he's been as a contender in Boston it's not so tragic that he didn't accomplish more in the playoffs. But KG signed a $100 million dollar, decade-long contract with the expansion Timberwolves, who proved over this decade that it is in fact possible to mismanage a franchise as skillfully as R.C. Buford managed the Spurs. GM Kevin McHale scorched the earth quite thoroughly, even attempting a hilariously inept underhand deal for Joe Smith that cost KG's team like four first-rounders. This would have been a lot funnier if it hadn't come right around the time of teammate and friend Malik Sealy's absolutely tragic, horrifying death at the hands of a drunk driver (on KG's 25th birthday, after his party. Damn.). With his ineptness, McHale turned KG's fierce loyalty into a dark tragedy, as if the Wolves were trying to prove Jerry Krause's (infamous and possibly misquoted) "organizations win championships" statement right by counterexample. Ugh. No, KG, love him or hate him, is not an "other nominee". Call it a lifetime achievement award.
Tim Duncan, though, is easily my favorite player in the league today, great and without any of the qualifications I gave to Garnett. Taking just his career at the elbow (on both ends), he would still be a first-ballot for Springfield. Taking either his defensive or his offensive contributions, he would still be a first-ballot for Springfield. Taking just his clutch, his poise, and his fierce, understated competitiveness, he would still be a first-ballot for Springfield. But put it all together and you have someone, something new that nevertheless fits into history like a glove. We're going to probably have millions of Duncan posts before we tie our laces. I'll refrain from over-coverage and move forward. Extra plus is for Andre Miller, a friggin class act, quiet and understated. Fast and effective. A point guard's point guard. His longevity and his dependability take him up about 20 notches from where his talent would place him. Great player, decent dude.
1977
Best Player: Manu Ginobili or Paul Pierce
Other Nominees: Vince Carter, Jason Terry, Stephon Marbury, Peja Stojakovic
Vintage Grade: A-
Comment: Another great class. This might be over-familiarity biasing the results upwards, but it seems like the classes are getting better, on average. Am I crazy? League Politics Alert: Manu is a HOFer. I'm biased as hell towards Manu, but seriously, every solid advanced metric I've ever seen puts Manu well above even the most favorable "decent, exciting, above-average" reputation he has among casual fans, and the eye test really bears this out. He's considerably above-average, he has been the Spurs' best player for a few years, and is constantly a threat to dominate any given game or series (and has been since about 2002, before he even entered the league). You're hard pressed to find 10 SGs in the history of the league that are better than him, and you're even more hard-pressed to find any player like him. Paul Pierce may have an equally crafty, solid resume, but I'm a Spurs fan and Manu is my horse in this... wine race.
On a sidenote: It's kind of cool that KG/TD directly precedes the Manu/Pierce year, and Ray Allen is one year before. Maybe my biggest disappointment of last season is that we didn't get to see a Spurs/Celtics Finals. If any two teams embody some sort of Platonic ideal for great all-around, solid, professional, well-constructed teams with a few dirty players sprinkled in... in the modern era, it's these two. (Thanks a lot, Danny Ainge. I hope Jeff Green works out for you.) Plus, they have very similar strengths and the matchups would have been legendary. Ah, well, them's the breaks of the game. Also, if you want a fun read, try Darcy Frey's "The Last Shot" from your local library, about Coney Island high school basketball, featuring a 14-year-old (!) Stephon Marbury riding a big wheel, all like, through a chain-link fence or something (90% of this sentence is true).
1978
Best Player: Kobe Bryant
Other Nominees: Dirk Nowitzki, Shawn Marion, Shane Battier, Jermaine O'Neal, Rip Hamilton
Vintage Grade: A+
Comment: Dirk absolutely dominated the playoffs this season, showing such insane clutch and tenacity in the face of a poor reputation that you really couldn't have scripted a better turnaround in perception. He also inspired this, the spirit animal for everything I've ever written. Kobe scored 81 points in a single game and while he will never reach the heights of Jordan (not even bringing up Kobe's league-average defense against Jordan's well-above-average D), Kobe has taken certain elements of MJ and distilled them even more thoroughly in himself, and has one of the highest ceilings for a game in NBA history, on any given night. Marion is a statistical freak, the ultimate grounding of the SSOL Suns in something remotely (but not totally) tangible. Battier is his own brand of statistical freak.
1979
Best Player: Tracy McGrady or Elton Brand
Other Nominees: Baron Davis, Ron Artest, Rashard Lewis, Lamar Odom, Hedo Turkoglu
Vintage Grade: B+
Comment: A lot of weird public perceptions here. McGrady is heralded for his scoring prowess but is widely seen as having missed much of his potential, even inspiring his Rockets coach Jeff Van Gundy and his GM Daryl Morey to publicly diss him at the MIT Sloan conference earlier this year. I absolutely agree with Dan Devine's skepticism of this narrative here, and the "what can't superheroes do, right?" and the killer, perfectly-on-point:
"Still, I can't help feeling like selecting McGrady as the poster boy for wasted chances is at least partially a function of our own propensity as writers, observers, executives and fans to jam talented players into a hyperbolic chamber, imbue them with whatever dreams may come and then get all pissy when they don't pop out, pure and perfect, exactly the way our imaginations envisioned."
Ouch. I bring this up because, to some lesser or greater extent, almost everyone on this list has suffered from disappointed (or even exceeded without notice) expectations. Artest with the melee, Baron Davis and Odom with their inconsistent production, Hedo with his frustrating sequence of trades and his...highly contextual success, and Rashard and Brand with their...perfectly-well-deserved-but-ill-fated contracts. On the other hand, all of these players have contributed a lot to their teams, and with all the expectations we place on these players, it's easy to overlook that.
1980
Best Player: Pau Gasol
Other Nominees: Yao Ming, Richard Jefferson, Matt Bonner, Roger Mason, Matt Barnes, Luis Scola, Nick Collison, Mike Miller, Luke Walton, Jamario Moon (Warning: All but Yao and Gasol may have been chosen partially for comedy value).
Vintage Grade: B
Comment: Pau was the linchpin for this latest Lakers dynasty. Bynum deserves... ... Hi, Alex. How are you today? Well, I finally latched on to a host. That means I'm 1 for 4 today. Guess I've earned myself the Finals MVP. Don't you think so? Well, a lot of Kobe fans would agree. ... HELP ME. GOD, I'M BEING OVERTAKEN BY THE SPIRIT OF BILL SIMMONS. NOOO ... Hi, Alex. ... NOOO, MUST NOT MAKE POP CULTURE REFERENCES THAT OTHERS CAN POSSIBLY RELATE TO, NOOO, MUST RETAIN UNDERGROUND CREDIBILITY, NOOO, I'M LOSING CONTROOOL... So, Aaron. Screw this post. Let's pitch a sitcom called "The Association" about the 1980 birth year in basketball. You know. Like The Wire. We can have, say, Christian Bale as Richard Jefferson, Tracy Morgan as Jamario Moon,... GET OUT OF MY HEAD, SPIRIT OF BILL SIMMONS, THAT DOESN'T EVEN WORRRKK. IT'S AN EMBARRASSING MISAPPROPRIATION... Fine, I'll go, but don't blame me when you don't get any readers and you die a cold and lonely man.
Anyway, like I was saying, Pau was the linchpin for this latest Lakers dynasty. Bynum deserves a lot of credit, and speaking in terms of pure basketball, Kobe played incredibly well, finally getting an MVP at the dawn of the dynasty. But I think Pau did more to determine the success of the Lakers when they won and the failure of the Lakers when they lost. Simple as that. I can't give his class lower than a B, especially when you include an important player with immense skills (Yao), my favorite hapless player (RJ), the Medium Fundamental (Matt Bonner), and... that guy that could have ruined the season (Roger Mason Jr.)? How u.
1981
Best Player: Zach Randolph or Carlos Boozer
Other Nominees: Joe Johnson, Jason Richardson, Kirk Hinrich
Vintage Grade: C+
Comment: All Spurs fans are biased against Z-Bo, but really, everyone should be. The Jailblazers era is on him, for better or for worse, and just as Indiana fans will never forgive Artest for the melee, the average NBA fan shouldn't forgive Z-Bo for his indiscretions. Though that might just be my Spurs bias flowing through. Really, I don't like him, I don't like Carlos Boozer, and I don't like Joe Johnson, and it's not like any of them have been overwhelmingly good too often. Have they had their moments? Of course. And Boozer gets a lot of extra credit for his 2001 title and his play with the Jazz (21-12-3-1 on 56% shooting in 2007 is pretty damn good, and he actually ratcheted it up another notch in the playoffs, getting to the WCF. Not bad at all.), and Randolph of course was the main reason the Grizz beat the Spurs in 6 games. Replace him with even an above-avg PF and the Spurs are on the right side of the tracks in that series. But overall, dominating one playoff series and doing quite well in the second round is hardly grounds for the HOF, or anywhere close. This isn't about disappointed expectations, it's about results, and I don't really see it, at least compared to the last several classes. Solid, decent class, just not so great. Boozer has a great post game, though. This is the political risk of siding with Duncan's style: you have to side - at least a little - with the players that embrace it, even if they're Carlos Boozer.
"Okay, guys, we'll run the May Pole play on 3. Ready? Hands up? Let's start spinnin'."
1982
Best Player: Dwyane Wade
Other Nominees: Amar'e Stoudemire, Tony Parker, Gilbert Arenas, Boris Diaw (and Leandro!), Gerald Wallace, Tyson Chandler
Vintage Grade: A+
Comment: Ooh, nice. We have three crucial SSOL players, "Flash" (hey, it's better than the dyslexic hell of "Dwyane"), Crash, Tony Parker, Agent Zero, and crucial Maverick champion Tyson Chandler. This class has it all: Crash and Flash, Run and Gun. I'm sorry. But seriously, look at all those great finishers, shooters, and great defensive workers, all brought together by the all-around superhuman Dwyane Wade. Sneakily, it's a hell of a class. Also, weird that the bulk of the SSOL Suns seems about 8 years younger than Nash.
1983
Best Player: None
Other Nominees: Let me just list the top 10 in minutes played now
Ben Gordon, Danny Granger, David Lee, Kevin Martin, Devin Harris, Jarrett Jack, T.J. Ford, Delonte West, Nenad Krstic, Channing Frye
Vintage Grade: D+
Comment: I don't see anyone that looks like a star. I see a lot of likable players, a lot of players with upside, players with decent seasons (Harris and Lee come to mind), but they're 28 going on 29. I don't feel too bad about going with a D+, but I hardly see my arbitrary stance bringing them up to even a C- over time. Now we're really into the "legacies still being molded" section. Devin Harris for all we know might be the Finals MVP one year, God forbid. It's a bit too early to tell, you know?
1984
Best Player: LeBron James
Other Nominees: Chris Bosh, Carmelo Anthony, Brandon Roy, Andre Iguodala, Deron Williams, Andrew Bogut
Vintage Grade: A++
Comment: You have considerable depth at every single position. You even have Nate Robinson, Gary Neal, JJ Barea, and Kendrick Perkins to draw from. It's ironic (at least working from the assumption that that one Apple commercial is the main cultural staple of the year 1984), but you hardly have to "think different" in order to appreciate how to make a lineup from this team.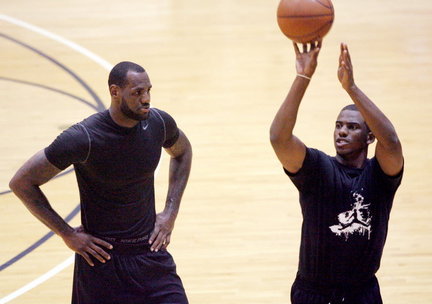 "Yeah, I hadn't thought about it that way, but you're right:
I totally should have an MVP by now."
1985
Best Player: Chris Paul or Dwight Howard
Other Nominees: Josh Smith, Luol Deng, Al Jefferson, LaMarcus Aldridge, J.R. Smith, Darko (!), Marc Gasol
Vintage Grade: A++
Comment: I'm pretty high on both CP3 and D12 and I think it's rather odd that LeBron has 2 MVPs, Derrick Rose has 1, and these two combined have 0. They are both spectacular, emblematic examples of their position, and as far as I'm concerned, they're easily the best (though I suppose CP3's injuries are a real concern for the MVP voter). Hopefully this is the year. Dwight in the regular season and Paul in the play-offs had absolutely vintage breakout seasons, with Dwight running roughshod on the league and CP3 doing the same to the Lakers. The A++ is a projection that one or both of them will put together such dominant seasons in the next few years that Springfield will be an afterthought. Might be off base, but I doubt it.
• • •
When you're making projections about a class of ten players whose two best players very possibly haven't peaked yet, it's time to stop and conclude. We're running around 9000 words, most of them my own, and so it's been a long journey by blog standards. But I hope you enjoyed this look into basketball history sorted by the rather arbitrary classes of birth year, and I hope you learned something, had light shed on your own questions, or had a laugh at my embarrassing ignorance of the sport of basketball. This is Alex (1989) signing out.
One more shout-out to 1974. Heh. Heh.