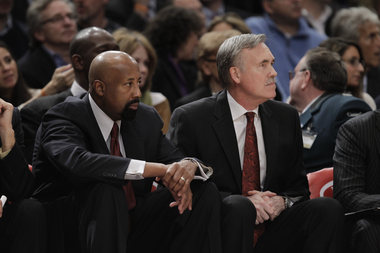 To be a lifelong Knicks fan is to know failure. And we're not talking about your ordinary run-of-the-mill failure, but a deep, overarching failure that is so prevalent throughout your life that you begin to question all sorts of things.
You begin to become a bit of a solipsist – perhaps you are the only real person in the world and it is impossible for you to ever know hoops happiness. Perhaps you are the subject of a grand experiment in which some deity wants to give you a Job-like tribulation to see if your dedication to the great sport of basketball never wavers in the face of adversity. It's as if some sort of malevolent god has singled you out for punishment in an eternal Basketball Hell.
Maybe the city of New York struck a deal with the sporting Devil since it seems as if the Giants and Yankees will be extremely successful as long as the Knicks never are – from the beginning of the 2000/2001 NBA season, the Yankees and Giants have combined to win more championships than the Knicks have won playoff games. Hell, the Knicks have made as many playoff appearances as their city counterparts have won titles in that timeframe. This makes the ineptitude of the Knicks that much worse for a New York sports fan - in the face of the sporting success of New York's other two most popular teams, the Knicks' constant failure is so bad that it doesn't feel like it could be real.
And it's exactly that sense of surrealism that has permeated this Knicks season and Mike D'Antoni's firing for me.
I like to consider myself plugged in to the NBA Matrix and if you're reading this you can probably relate: we follow all the right people on Twitter, read the right blogs, and certainly know our way around Basketball Reference. Due to my love for the game and the constant checking of Twitter on my smart phone, I'm used to being "that guy" who replies to everyone who gives me NBA news in the real world with some variation of "yep, already saw it." The only time I'm not religiously perusing the latest on Twitter is when I'm busy at work or asleep and dreaming of leading my beloved Knicks to glory.
So imagine my surprise when I came back from a work meeting Wednesday morning to a co-worker, a die-hard hockey fan who couldn't care less about the NBA, inform me that Mike D'Antoni had resigned out of the blue.
"No way," I thought, "that can't possibly be true. I would've either heard something earlier or seen it already, there's no way this is real." As he attempted to reassure me that it was indeed true as he'd seen Vinny from the Jersey Shore tweet about it, I went to check my own Twitter, which was last updated two hours previous. And that's when I realized that it was true, and it dawned on me: I had convolutedly learned about the firing of the New York Knicks' head coach from one of the stars of the Jersey Shore. As if this year's annual Knicks circus couldn't get any weirder: the completely unexpected acquisition of Tyson Chandler bringing us to a top-10 defensive efficiency, the ghost of the departed Amar'e Stoudemire, the emergence of Jeremy Lin turning our season around, and finally Melo just being Melo. Take it all together and you'll see that absolutely nothing has made sense. Why should it start making sense now? But learning about D'Antoni's resignation from Jersey Shore's Vinny and having this latest strangeness seem completely normal to me made me realize just how surreal these Knicks truly are.
Granted, if the Knicks were this surreal and good, like the Bulls circa the Rodman days, I wouldn't care one bit. But, as long as I can remember, they haven't been. Sure, I own a 1974 Knicks world champions t-shirt, but who knows if that actually happened? After all, maybe this reality is just an artificial construct created upon my birth, to keep the door of hope ajar. Who knows? Yes, yes, it's implausible and arrogant for me to think that the world has me as its focal point. But that's exactly my point – these are the kinds of delusions that being a lifelong Knicks fan gives you.
For my entire lifetime, the Knicks have either been heartachingly bad – missing the play-offs in a dilapidated Eastern conference 6 years in a row - or heartbreakingly good – making it to game 7 of the 1994 finals against Olajuwon's Rockets, only to lose by 6 because John Starks shot 2/18 (including 0/11 from three point land). There's also the lockout-shortened 1998/1999 season in which they barely edged out the Charlotte Hornets for the 8th seed by one game, became the first – and only, thus far – 8th seed to make it to the finals, and ended up getting embarrassed by the San Antonio Spurs in 5 games.
This pattern repeated itself last year after Carmelo Anthony got traded to the Knicks for a king's ransom, helped the Knicks make the play-offs for the first time in a New York eternity, and were subsequently swept by their most bitter rivals, the Boston Celtics. Was it worth it to give the Nuggets the aforementioned ransom at a record of 28-26 in order to finish the remainder of the season 14-14 and get swept in the play-offs? Donnie Walsh, the Knicks GM at the time, said no, but he was overruled by Knicks owner James Dolan. And it's this same James Dolan who seems always at the source of so many "this can't be real" thoughts in regards to Knicks moves and who is the only common thread in the past 13 or so years of surrealism. While everyone else in the organization has come and gone from coaches to GMs to players, Dolan has been the one person who has always been there through thin and thinner. What's that, you ask? Why is James Dolan the one ever-present person? Oh, well, it's because he's his father's son. That's it. Like I said, this can't be real, right?
• • •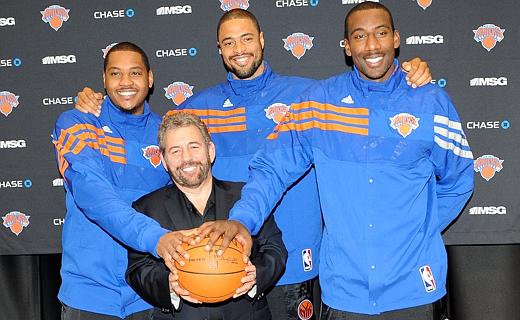 Let's run down the surreal ineptitude of James Dolan. Upon taking over the Knickerbockers in 1999, he has made an inordinate amount of common-sense-defying moves, the first of which was giving Allan Houston a 6-year contract worth $100 million… when no one else had even come close to offering him more than $75 million. The result? Houston retired after just four seasons in 2005 due to a chronic knee injury with $40 million remaining on his contract that still counted against the salary cap. Houston currently serves as assistant general manager for the Knicks. The next move Dolan made was to appoint Isiah Thomas team president of basketball operations and general manager. You probably know the next part: Isiah's decision-making ended up being so bad that the Knicks ended the 2005/2006 season with the highest payroll in the league… along with the second worst record. Just think about that. It shouldn't even be possible. It still doesn't feel real. To make matters worse, at the conclusion of that season, Dolan fired head coach Larry Brown who had been signed to a 5-year $50 million contract the previous year. After the Knicks had to buy him out, Larry Brown ended up with $28 million for coaching the Knicks for one year. And this wasn't an isolated incident either: the two coaches preceding Larry Brown - Don Chaney and Lenny Wilkens, to wit - were both bought out and remained on the Knicks' payroll for years after their firing.
The team with the largest payroll and the largest fan base (based on media market) posted nine consecutive losing seasons from 2001/2002 through 2009/2010 under the leadership of James Dolan. It's not just the Knicks either – the New York Rangers, a team also owned by James Dolan's Madison Square Garden company, hadn't made the play-offs from 1998 through 2005 despite also having one of the NHL's highest payrolls. It's hard for me to believe that such an astounding level of incompetence is possible but in the case of James Dolan I've started to become convinced that nothing is beyond his incapability.
Remember the malevolent God I referenced earlier who presides over Basketball Hell? In my nightmares, that man is James Dolan. In my reality, that man is still James Dolan. I have a hard time accepting this plane of reality as actual reality. Apparently Mike D'Antoni had a hard time accepting James Dolan in his reality as well and chose to resign.
You see, Mike D'Antoni is oft described as being an incredibly stubborn man. What many people don't realize, however, is that there's two sides to stubbornness – isn't being stubborn truly just fighting for what you believe in? D'Antoni believes in a sort of basketball nirvana, a system dominated by spacing and ball movement, a system directly at odds with the way Carmelo Anthony likes to play basketball. And so when D'Antoni approached Dolan with a proposition to trade Carmelo for Deron Williams and was rejected, he chose to resign rather than put up with an owner too enamored with a selfish me-first superstar to realize that his lack of effort is getting in the way of winning.
I still don't know how I feel about this – on one hand, it makes way too much sense for the Knicks to have Deron to run D'Antoni's system with Amar'e and Tyson Chandler as it'd be just too perfect for us. Yet on the other hand, Melo, Amar'e, and Tyson seem to be an indomitable frontcourt on paper… if Melo (and, to a lesser extent, Amar'e) tried. But they didn't try, and offensive genius Mike D'Antoni was replaced by defensive stalwart Mike Woodson much too abruptly. In a 24/7 sports media where the narrative is always some form of "who is responsible for this?", I don't know whether to blame Melo for playing without any form of enthusiasm and forcing the coach out, blame D'Antoni for not getting the most out of this group, or blame Dolan for, well, just being Dolan.
What I do know is that as of this writing, the Knicks have rattled off a four game winning streak in Mike Woodson's first four games as head coach, all the while defeating their opponents by an average of slightly over 22 points a game and never scoring under triple digits. Honestly, this doesn't surprise me in the least even through it defies what you'd expect to happen (in my case, I thought we'd have to grind out 84-80 games for a while). It is, after all, the New York Knickerbockers, the team that breaks your heart over and over again until you think you can't take it anymore only for them to do their damnedest to reel you back in for a prime heart-crushing moment.
But this time, I know this. I've learned from my mistakes and I know that the Knicks under James Dolan exist only as a vehicle that runs off the fuel of shattered hopes. I've learned that nothing will ever make sense with this Knicks team, that the pieces will never fit perfectly together, and that no matter who is on the floor, the Knicks logo emblazoned on the front of their uniform will always have a way of making them come up short while making me question what I did to deserve it. We all know that I did nothing to provoke this of course, that there's no such deity that exists to torment you in your own special basketball reality. James Dolan doesn't actually preside over Basketball Hell, a mystical place where little demons with little Isiah Thomas masks torture you with a three-pronged pitchfork built from the heads of Eddy Curry, Renaldo Balkman, and Allan Houston. It's all a figment of my imagination gone wild, a result of my brain trying to cope with heartbreak after heartbreak.
But, logical or not, the questions will always be in the back of my head: what if this life isn't real? What transgressions did I make against the basketball Gods in a past life to be punished like this? Is this Basketball Hell – a place where no matter how good your team is they'll never fail to disappoint you?
"Nah, that'd be crazy," I'll think in an effort to keep myself grounded, "There's no such thing as Basketball Hell. And plus, if there was, we all know that it'd be saved for the Cavs fans."