The Outlet 2.03: As the Clock Tolls, it Tolls for McGee
Posted on Sat 05 May 2012 in The Outlet by Alex Dewey
As advertised in our Prognosti-ranking series, we're bringing our formerly retired series of daily vignettes — titled "The Outlet" — back for the playoffs. "Don't call it a comeback." Though, you can call it series 2, as we are in the title. Every day (or, rather, every day we aren't doing a larger and grander piece), we'll try to share two or three short vignettes from our collective of writers ruminating on the previous day's events. In this case, the previous few days. Should be a fun time. Today's Outlet covers the depressing blowout of the Dallas Mavericks on Thursday as well as JaVale McGee's brilliant game against the Lakers on Friday.
"Only at Nightfall: a Dirge for the Dallas Mavericks." by Alex Dewey.
"JaVale McGee and the Imagination of the Imperfect." by Aaron McGuire.
Click the jump for the two pieces.
• • •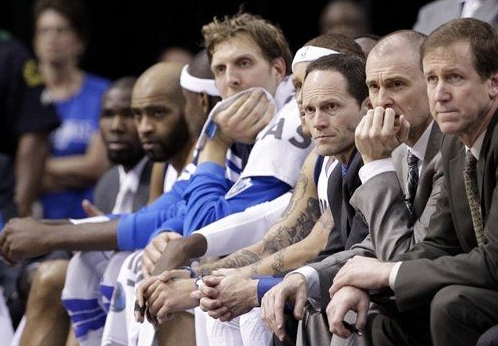 Only at Nightfall: a Dirge for the Dallas Mavericks

Alex Dewey
Only at nightfall, aethereal rumours
Revive for a moment a broken Coriolanus
--T.S. Eliot, The Waste Land
Last night their room-temperature pagoda of the Mavericks' weird, asymptotically aging superstars had its paper walls defaced and torn and its foundations set to flame. What remained was a distinctly depressing funeral pyre.
It wasn't sudden. The walls had bent and the supports had splintered before the walls fell totally. They tried, yes, but during the season, you could see the utter dependence of their offense on Dirk. Rick Carlisle lacked Barea or a functioning Odom or Chandler to go to, so the easy baskets, the garbage baskets, the restful baskets, were simply missing most nights. Their backcourt of Delonte and Beaubois and Terry and Kidd and Carter sounded great (all players you can respect if not necessarily love), but take energy, consistency, defense, and pick at most two for each player, and consider that you can only have two players or so at a time from the five. Yeah.
So the Mavs had a very good backcourt that nevertheless left a burden to the frontcourt (a burden of both energy and play-making). And unlike last season, the frontcourt couldn't deliver. Despite having legitimately fine personnel, the Mavericks found that without the dominant interior presence of the DPoY, their otherwise stout defense couldn't handle an all-out assault by a team like the Thunder with three penetrators with range and a physical frontcourt that wears you out, if nothing else. You could see the dependence of the Mavs' defense on crafty Shawn Marion holding down the perimeter (much credit to him), but this time it was one against three, and three won.The next line of defense couldn't handle the two inevitable leaks.
You could see Jason Kidd giving us shades of his prime this season (seriously, he could probably get a 9-10-10-10 line in the right circumstances) and Delonte West (of course) doing his straight-up-baller act, but it just wasn't enough and the frustrations - there from the beginning of the game - only mounted to a palpable sense of anger over a lost season. I was, truth be told, a little bit happy about it as it happened. I am a Spurs fan. I should celebrate, right? Jason Terry infuriated me for some reason - as he often does - by cutting the lead to 13 with a signature awful 3. But it stopped soon enough, and I can't say that I feel like gloating or even celebrating.
It was a simple equation: There just wasn't enough firepower and there wasn't enough extinguisher. And as for Dirk? Wanting; pyre, ensue. Durant's game-winner in Game 1 was a fluke, but Game 1 as a whole was the larger fluke, and I feel legitimately sad to say that the Mavericks in retrospect didn't stand much of a chance in this series, and that they were about as good as their record. I thought they had more in the tank, but there it is. I have some nostalgia, now - which is to say, in the adage, mild depression - over the once-great Mavericks now fallen. And though I tried to talk myself into celebrating their demise, I couldn't do it. I now hope they have a decent offseason for their troubles. It'd be worth it, just to continue this wonderful, maddening rivalry whose days are clearly numbered.
• • •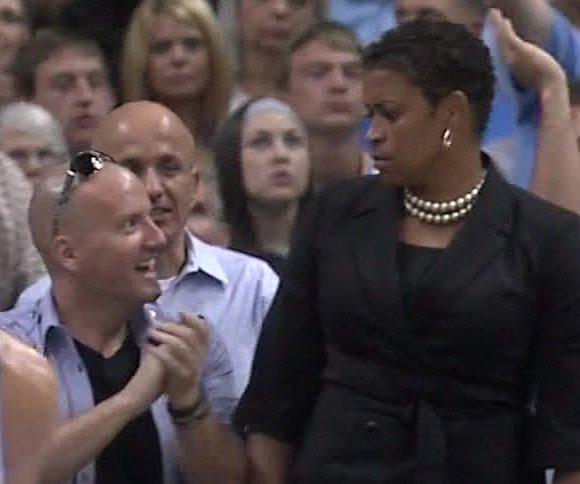 JaVale McGee and the Imagination of the Imperfect
Aaron McGuire
It's officially the postseason without reason. On Friday night, JaVale McGee outplayed Andrew Bynum and led a not-at-all hot shooting Denver Nuggets team to a big win over a lackluster Laker effort. Did anyone expect JaVale to do what he did? Anybody? As we all are aware, JaVale McGee is far more well-known for childish mistakes than any success he's ever had in his career. The boorish pursuit of a hilarious triple double, the blooper-reel mistakes, and the customary boneheaded decisions that make virtually everyone watching him wonder if he's got a full set of marbles. Last night, though, was quite possibly the best game of JaVale's career. Given the circumstances. Sure, he's had his fair share of big nights before -- a 28-18-5 game against the Warriors, a 21-15 against this year's Spurs, among others. But tonight? He was just so amazingly effective. Fun to watch. And more importantly? Fun to root for. He put up 16-15-2-2-4, injust 28 minutes. Such a ridiculous line.
Which is an underrated part of this game -- JaVale killed the Lakers when he was on the court, but Karl almost gave away the game by benching JaVale for extended Mozgov minutes. As an aside, I regret taking the Nuggets over the Lakers in our Prognosti-Rank series. I thought it was 50-50, but forgot the golden rule with George Karl. Unless his team has a distinct talent advantage, NEVER pick him to win the series. You'll be disappointed. Karl is a fun coach, but in a close series... his adjustments befuddle, he'll lean on crummy veterans too much, and he'll simply stop using his brilliant playcalling talent that led him to write several excellent books on the subject. Karl is the single most frustrating of the great coaches in the league today. I find him personally very engaging, and he clearly has all the coaching talent and know-how one needs to lead a team to an underdog win. But ever since the early 2000s, he just... freezes up, come playoff time. Stops calling plays in close games. Benches players when they start building confidence. It's aggravating beyond reason.
But I digress. What really struck me about tonight's game was not simply the level to which JaVale played but the way he recontextualized all his faults into things that actually helped the Nuggets. That, more than anything, is what made this game such a joy to me. He didn't box out particularly well (a very JaVale move), but he still skied for rebounds and ripped them out of the hands of Bynum, Gasol, and any Laker wing who happened to catch the ball. He didn't go for the halfway difficult (but customary) layups -- he used his athleticism to acrobatically spiral around the defender to the other side of the basket and finish an absolutely brilliant (and devastatingly unguardable, when he's making it) lefty hook. And he still had -- as expected -- a completely unnecessary boneheaded move that, at the wrong time, could've cost the Nuggets the game (referring, of course, to his attempts to be a point guard running the break that resulted in a turnover). Even with that, though. It was hilarious, it was off a steal anyway, and if that's his only turnover of the game... you really have to live with that. And again. IT WAS HILARIOUS.
JaVale's success here never seemed like something he can't do on a regular basis. I don't know if he'll follow through, but this game set the bar for what a helpful JaVale can look like. And that's what it boils down to. I don't know how consistently he can give a team this kind of a workhorse effort. But for one night (at the least) JaVale McGee has taken the myriad of things that make him such an irascible, imperfect player and turned them into strengths. He has taken the legendarily scatterbrained growing pains he spent years frustrating Wizards fans with and recontextualized it -- his bonehead moves, his constant turnovers, his over-exuberance blocking the ball may not have been the struggles of a player who'd never put it together.
Perhaps it was just the overflowing imagination of an imperfect, growing player trying to do things that -- at the time -- we could make little sense of. Perhaps the problem with JaVale has never really been JaVale himself, but the way we understood his trials. Or maybe he's just a hilarious, flawed player whose overlapping strengths and weaknesses will forever perplex even the cleverest of analysts. Whatever the case may be, I'm excited for this series to play itself out. And I can't wait to see the next chapter in the baffling playoff debut of the incomparable, indescribable, and utterly inscrutable Pierre McGee.
• • •
Until next time, folks. Arrivederci.