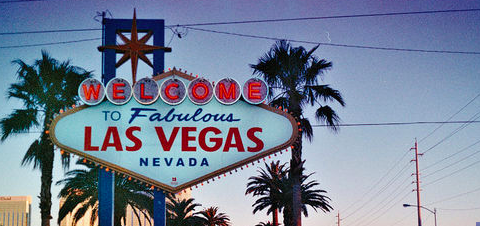 In our first attempt at offbeat, on-location reporting, we have our valued correspondant Alex Arnon with boots-on-the-ground in Las Vegas to cover the Summer League. This is his introduction to the coverage. The second comes tomorrow.
I never thought this would happen to me. You never do, really. I'm having a mid-midlife crisis (or, well... a quarter-life crisis, I guess). Mentally I don't feel a day over 16 – sometimes I don't even really act like it. But physically, measured in the number of times the Earth has circled the sun with my awkwardly proportioned body along for the ride, I've been onboard just shy of 22 years. I've reached the point in my life where, officially, the majority of the players coming into the league I love so dearly (even if it's a sometimes unrequited love… THANKS A LOT, LOCKOUT) have been on this Earth for a shorter period of time than I have. They are, by all financial intents and purposes, more successful in life than I've been – they're out there on the court doing what they were born to do while I'm sitting at home writing about their various on-court escapades. Hopefully sometime in the near future, I'll be able to write about their Ice Capades as well. But that's beside the point. The biggest difference isn't how successful we are relative to each other but how obscenely different our worlds are.
I couldn't tell you exactly what the world of an NBA player is currently like as I'm not of the vaunted 450 players who experience the ins and outs of being in an NBA roster and living the proverbial dream. A dream chased by so many, most of whom come tremendously short (present!) – but some of whom come just inches shy of living their dreams. The Las Vegas Summer League is exactly the place those players can see their first and perhaps only glimpse of NBA life. The players at the LVSL bridge the gap between the everyman and the ubermensch which is precisely what makes the LVSL is so interesting – this is their single greatest shot to go from whichever obscure league they play in to the big leagues, their livelihoods balancing on the tenuous seesaw we call fate. Half of the guys playing here are just trying to get onto a training camp roster at the beginning of the season to collect those juicy NBA paychecks. A quarter of them just want to get their name out there to get scouted by European teams. And the rest of them are those guys that were drafted high or already have a guaranteed NBA spot.
And so, being a resident of fabulous Las Vegas and an occasional writer here at The Gothic Ginobili, I'll be covering the Las Vegas Summer League throughout its duration. The thing is, and don't tell Aaron or other Alex this, I'm totally unqualified to be doing this. I've never covered an event like this, or any other event for that matter. But that's what's going to make it fun right? I don't know what you guys and gals are going to get from this whether it be coverage of the games, player interviews, what it's like to attend an event like this from the "press" side of it, or what have you. The only thing I do know is that the single thing I'd planned turned out to be totally impossible – I was hoping that Brandon Knight, point guard for the much maligned Detroit Pistons, would go supernova for one beautiful night so I could title a piece "The Dark Knight Rises." Would've been great, but alas, the Pistons had the audacity to decline attending the event.
Here I go, quarter-life crisis and all, covering would-be and will-be NBA players. They'll be around the same age as me or (please God don't remind me of this) younger. Hopefully you'll get to see what it's like covering these events, learn about players through some offbeat-but-insightful interviews, and be able to get a sense of a player's incoming fortunes in the National Basketball Association through my coverage. Realistically, you'll just get tired of Linsanity-esque puns (Terrell Stoglinsanity!) of every undrafted player's name that does somewhat well. JaMychal Green does what Machadon't! I'm Kevin Jonesin' for more! This is Henry Sims City!
... Anyone? No? Alrighty then, I'll see you on the other side.
The first of several dispatches from the summer league comes tomorrow evening.