Gothic Ginobili turns one today. As part of our celebration of this somewhat unexpected milestone, our writers are producing a variety of content reflecting and appreciating the journey that got us here. This doesn't actually have all that much relevance to any of our anniversary stuff, but given the event and our current proximity to the first day of the new season, it felt like a good time to bring this back. Once again: a Q&A!
Hey! Season's almost here, the site just turned one, and we're getting back the old business in a new way. We're going a slightly different route to preview the season than most sites. Instead of doing a preview-by-fiat and presenting mounds and mounds of data, I'm going to open the floor with a return of our previously successful impromptu Q&A sessions. We held one during the postseason and one during the offseason, and both were (in my view) immensely fun exercises. A lot of great questions.
For today's preview activities, alongside our quixotic and odd roundtable from our fine correspondants, we're bringing the Q&A structure back to the table, and providing yet another session. Have a question about data you read in another site's preview? Some nagging statistical oddity you've been dying to have someone look into, if only glancingly? Questions about me, the blog, or the universe? Well, I'll be here all day, so it's a good time to ask. Questions can be statistical, aesthetic, personal, humorous, serious, or greasy. Depends on what you want to hear, I guess.
10:00 P.M. UPDATE: In the end, I answered 24 questions this time. Let's start at the top.
QUESTION #1: What are your thoughts on Dion Waiters and rookie performance in general? As I've discussed with Conrad for Fear the Sword, I'm somewhat spoiled when it comes to watching rookies as a Cavs fan, as the two I've paid the most attention to (LeBron and Kyrie) have been two of the best ever. What are some realistic expectations for Mr. Waiters? What should I consider to be an encouraging rookie year, assuming he doesn't suddenly break out and start turning heads like Kyrie did last year? In an unrelated note: what are your favorite omelet toppings, and what are you going as for Halloween? (Asked by Angelo Benedetti)
Excellent first question. Although it's more like a first five questions. Good try, Tangelo B.
To address the idea of rookie expectations, I did a pull of every rookie guard in the last decade that qualified for that season's MP/G leaderboard. These rookies didn't all turn out extremely well, but the fact is, you need to be comparing rookie performance to past rookie performance to get a good sense of whether a player's ahead of the curve or far behind it. And you know what? Your expectations need to be relatively low. In the past decade, rookie guards who qualified for the MP/G leaderboard have averaged 9-3-3 on 42-33-77 shooting. "So, Aaron, if he averages less than that, his year was an unqualified failure, right?" Well, no. Here are a selection of three players who averaged below or at those totals and still turned out quite alright.
Andre Iguodala averaged 9-6-3 on 49-33-74 shooting.
Rajon Rondo averaged 6-4-4 on 41-20-60 shooting.
George Hill averaged 5-2-2 on 40-32-78 shooting.
So, it really isn't the end of the world if Waiters struggles and has a bad year -- as long as there's something to build on, a bad year on scant minutes isn't the end of the world. I've been outright dismissive of Waiters' potential at times, but this is a good moment to remind people of the somewhat obvious -- rookies are generally pretty awful, at least at first. If Dion Waiters averages around 12-13 points on halfway-decent percentages with a few boards and a few assists, that's actually a pretty phenomenal rookie season. He does have the potential to do that, and while it probably wouldn't win him any rookie of the year hardware, it would be a good sign for the future and indicate a potential for quite a bit more.
As for the last two questions? As a vegetarian, I'm big on eggs -- tons of protein, tasty, and versatile. I'm not the biggest omelette guy, as I prefer the frittata and the scramble to the omelette medium. But nobody can turn down a good omelette. My go-to toppings are mushrooms and onions with swiss cheese -- simple, traditional, solid. When I get the chance, I'll add some asparagus too. Cooks pretty evenly and adds a nice bite to the omelette. That's rare, though. One topping I can't stand whatsoever is the tomato -- it makes your omelette soggy, wet, and often inedible. Gross. As for Halloween, my girlfriend is sewing a costume to dress as Princess Daisy from the Mario franchise, so if we do anything, I'll be throwing together a last-minute Luigi. Seems unlikely that I actually do it, as we currently have no plans, but if the opportunity arises, that's my plan.
QUESTION #2: How many words have you written on Gothic Ginobili? How many words per day does it average out to? How much sleep do you get in an average night? (Asked by Wes Schierenbeck)
Without a lot of backtracking and work, I wouldn't be able to get you exact numbers for this -- I don't have word documents with my posts, as I tend to post within-the-site framework and just backup the site weekly. But here's the rough story. For the player capsules, I tend to go for ~ 1000 words a capsule. At three capsules per post and fifteen capsules per week, that puts me at writing roughly 3000 words a day during the capsule season, not including double duty on days where I do a capsule (plus) or days like today where I'm writing a ton more. So there's that. Pre-capsules, I tended to write three 1500-2500 word posts a week. So during that time, my writing production was more like 1300 a day, or thereabouts. As for sleep, I tend to get to sleep around midnight to one AM and wake up around 6:30 AM on weekdays. So, 5-6 hours, usually. (I also run on clean coal.)
QUESTION #3: If Gothic Ginobili was an NBA player, who would it be? If Gothic Ginobili was an NBA coach, who would it be? Explain both choices. (Asked by Wes Schierenbeck)
Interesting. First thoughts that come to mind:
Anderson Varejao. Sure, people aren't necessarily huge fans of ol' Flopsy. He's injured a lot, he has a bit of an undeserved reputation for flopping, and he's generally forgotten in discussions of the league's best big men. But Varejao's defensive game is aesthetically beyond his hype, and he's the kind of pesky defender that most desperately wish their team had. He's solid, stable, and he's got fantastic hair. Gothic Ginobili is not a Manu (or a Spurs) blog, despite most people thinking it is. Sometimes we're too busy to post a lot. It's not the first place that comes to mind, ever. But we work hard and we've carved a nice little niche for ourselves. Also, our hair is collectively fabulous and Dewey is the greatest flopper in the history of existence.

Monty Williams. Few people know much about him, but when you learn about him, you usually come to appreciate the man. He excels in the little things -- picture perfect defensive rotations, a fantastic player coach, and a great crossover despite being years from his last game. Also: he's my absolute favorite non-Pop coach, although few people agree with me on this. And, understandably (I think), I am very proud of this site and feel it's always getting better. So the analogy works for me.
What do you think, readers? Comment if you've got better ideas. Would love to hear them.
QUESTION 4: What's your sleeper team for this year; that is, one who will outperform expectations by the media and fans? (Asked by Wes Schierenbeck)
Honestly? The Memphis Grizzlies.
I can see the compulsion to simply write them off, and to think that they can't hack it against the top-3 teams in the West. The Spurs, Thunder, and Lakers are all pretty phenomenal units, and it's going to take a miracle for any team to break through any of those three in the playoffs. And no team in the East really has more than a token shot at taking out Miami. But the Grizzlies are about as frightening as they ever were, and very quietly, they've improved in most of the ways they needed to. Darrell Arthur is going to help the Grizzlies rest Marc Gasol quite a bit more, which will make them more dangerous when the playoffs roll around. He's a very good player whose absence hurt a ton last season. Bayless and Ellington are immediately the 2nd and 3rd best three point shooters on a team that was formerly dismal at it, and Tony Wroten could be helpful. They could still use a player like Gary Neal or James Jones, but the Grizzlies are deeper than they were last year and (theoretically) more healthy. They still won a pro-rated 51 games last year, despite having no real presence from Randolph all year, overplaying Marc Gasol to the point of exhaustion, and featuring one of the worst three point shooting offenses ever. With both of those improved, I think they're going to push the Spurs for the Division crown, get home court relatively comfortably, and stand a pretty good shot at making a Western Conference Finals. None of the top three teams match up with the Grizzlies particularly well, if they're healthy. I think -- at the end of the year -- they'll be one of the 5-7 best teams in the league, even if Randolph doesn't return to full form. So they're my pick.
QUESTION #5: What's your favorite team of all time? Not franchise but like a singular year, what team captured your love the most? Mine's definitely one of the 7SOL Suns teams. (Asked by Wes Schierenbeck)
The 2012 Spurs. Which is partly why the loss hit me so hard.
QUESTION #6: Why are you such a butt? Why is your butt so big? Who's the G-Man? (Asked by Kathryn Reardon)
This set of queries were sent in by my girlfriend. I will proceed to answer these in fragmented sentences.
I blame David $tern. Always.
"Because it's not the butt I need, but the butt I deserve right now."
Gordon Ramsay's new rapping alter-ego, who will be teaming up with G-Unit for a new album this winter.
Thanks for the patronage, hon.
QUESTION #7: Which of your cats would be a better basketball player? (Asked by Chris)
This is my favorite question ever. Back in May, I got two cats -- Bitsy and Scratchy. Had I not adopted them from a friend-of-a-friend, they would've been either put down or thrown to the pound. I could not abide such notions, so I adopted them instead. They are as any cats are -- alternatingly finicky and snippy, attention-seeking and bite-happy, food-desirous and... okay, well, they always want food. So that one doesn't alternate. But still. Scratchy is a large gray male cat, Bitsy is a thin small female cat. At first, I was thinking that Bitsy would be better -- she's a lot faster than Scratchy, and more active. She bites if she gets annoyed, moves you around when you're sleeping, and runs around the apartment like a chicken with her head cut off on the regular. So I was thinking she'd be pretty great as a change-of-pace defensive guard like Avery Bradley, getting into your grill and draining set-shot threes. But then I remembered.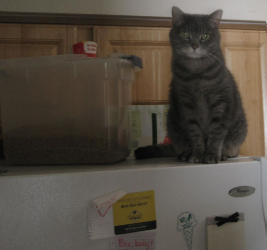 Scratchy has hops, son. No, seriously. Bitsy can jump pretty high when she wants to, but I've never come home from work only to find her standing on top of the refrigerator staring expectantly at me. That thing is 6-7 feet off the ground. To put that into perspective, Scratchy is about a foot tall. So, he can jump 7 times his height, despite having had no weight training whatsoever in his life. Translating this to human height, and assuming that an NBA training regimen would increase his strength exponentially... if Scratchy was basketball player sized (and he's a big cat, so he'd be a power forward at worst), and he maintained this relative jumping ability, I am going to estimate that Scratchy would be able to jump roughly 4,900 feet into the air (plus or minus 4850 feet). Could be about one mile. Not only could he dunk from the three point line, he could dunk from the Madison Square Garden three point line to the Barclays Center basket. So, given this breathtakingly complex and completely mathematical evidence, I must admit -- Scratchy would make the better basketball player. Sorry, Bitsy. Your frenetic energy would make you a good defender for a little while, but when you got tired, you wouldn't be able to sleep adorably like this in-game.
... Well, unless you're Carmelo Anthony.
QUESTION #8: Who is the most swagged out player in the NBA Basketball Association? (Asked by Adam Johnson)
Brandon "Swagger Double" Jennings, of course.
(Also, now that his shoes are actually worn by the president, he's going to go for a "Swagger Triple.")
QUESTION #9: Which team has the potential to make the biggest jump? Whether it's bottom feeder to 30 wins, or first round exit to CF? (Asked by Utsav Panchal)
I'd say the Timberwolves. Most advanced-stat projections have them winning 45-50 games solely on the back of their replacing "remarkably below average" players like Beasley and Johnson with "at least remotely average players" -- it will help their depth, and will help them stay in games when the starters aren't in it. The Love/Rubio injuries will hurt, undoubtedly, but this is still a team that could make the leap from a bottom-feeding team to a playoff contender. Despite the fact that they went 1-13 in the last 14 games of last season (look it up, it's astonishing), I think they've got a puncher's shot at being that team. Brooklyn is another, obviously -- should be a 4-5 seed in the East after being well out of playoff contention in 2012. As for that last one... well, I just said the Grizzlies had a title shot, didn't I?
QUESTION #10: By advanced stats, who's the most ridiculous player ever? (Asked by A Guy from Argentina)
I like this question, because I can go basically anywhere with it. I choose to put the spotlight on Trevor Winter. You may look at poor Trevor and wonder what he's done to deserve such acclaim -- his career averages of 0 points on 0 shots per game with 0 free throw attempts in a single game played do seem rather pedestrian, when you put it that way. But look deeper, my friends. Look deeper. Winter played a single game for the 1999 Minnesota Timberwolves, coming off a four-year college career at the University of Minnesota after going to a Minnesota high school in his Minnesota hometown. He... he liked Minnesota, okay? Anyways, Winter's statline in his one game looks very pedestrian until you get to the last line. In five minutes on the court, Winter -- somehow -- managed to accrue five personal fouls. That's good for a per-36 rate of... well... 36 fouls per 36 minutes. Come on, get it together. Heh. This is the "best" foul rate of all time. It's incredibly absurd. I really wish Winter had gotten the chance to play more minutes, if only because a maintained rate of this nature would make him -- statistically -- the best player a tanking team could ever _sign_. He's a superstar of teams that want to lose. Instead, Winter lives on only in our dreams. Our wildest, most ridiculous dreams. Alack.
QUESTION #11: Where do you expect to find Gothic Ginobili in a year? (Asked by Kathryn Reardon)
Same bat time, same bat channel.
Nah, honestly? I'm hoping that in a year we have a bit more on-location reporting, perhaps a new face or two, and the same brazen dedication to absurdities that we have now. I hope we're all a bit better at writing, a bit better at deadlines, perhaps a bit more well-known. But no humongous plans. Not yet.
QUESTION #12: If GG were a Pokemon, which one would it be & why? Original 151 only. (Asked by Angelo Benedetti)
After way more deliberation than I've given any other question ever asked of me for one of these Q&A sessions, I think I'm going with Slowbro. His vacant stare closely resembles me after a week's work on the capsules, and the giant toothed shell affixed to his tail closely resembles Dewey after a week's work on writing Lovecraftian horror stories I will proceed to read and file away, never to be viewed by human eyes again.
Also, everyone loves Slowbro. He's the dude.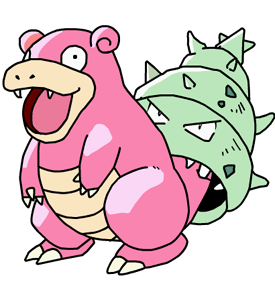 ADDENDUM: On request, contributing writer Alex Arnon answered this question as well. His exceptionally accurate answer: "A combination of Alakazam and Drowzee. Because while the articles are usually pretty smart, they're also long enough to make you fall asleep."
QUESTION #13: If Gothic Ginobili existed in the 70s, would it be called Swashbuckling Silas? Also, If GG were an ABAer, who would it be? (Asked by Josh's Pseudonym)
You are a beautiful person for thinking of that name. Yes. Yes it would.
I'd probably think it'd be George Gervin. Several reasons. First, his style -- wasn't an astonishing defender, but watching his highlight reels is always compelling and the several classic full-game downloads I've watched point to a player whose overall aesthetics are one of the more original to ever play the sport. An oddball stroke, a strange lurch to his drives, but an overall smoothness that's unparalleled. Very cool. Also, as Simmons reported in his excellent basket-book, Gervin has one of the strangest speaking styles of anyone to play the game -- just like Dewey!
Actual Gervin quote: "Whereas the Spurs' gig is havin' fun, otherwise the Spurs be comin' atcha." Seriously! Another actual Gervin quote: "Whereas I never went fly like some of the boys, I'm conservative. I got the short hair, the pencil 'stache, the simple clothes. Plus I'm 6'8", 183—no, make that 185—and when you look at me all you see is bone. Otherwise in Detroit I'm known as Twig according to my physique. I just do my thing and stay consistent. I figure the people be recognizing the Iceman pretty soon now. Whereas I be up there in a minute." Doesn't that read exactly like an Alex Dewey post? I think so too.
Finally, he's rockin' the double-G name. Whereas we don't even need to change the tags!
QUESTION #14: In their respective primes, who do you think was better: Steve Nash or Jason Kidd? (Asked by @EvilGrayFox)
Steve Nash. The thing with Kidd that always sort of bugged me was that while his numbers were dominant, he never really led elite offensive teams -- while maximizing one's talent to its fullest was always the goal, I always got this sense that Kidd's best teams (up until his late career joust with the Mavericks) were more dependent on the defenders behind him. Obviously, Kidd himself helped -- he was one of the better perimeter defenders, for a time. But in his prime, he helmed Nets teams that were in the bottom third of the league, offensively. He doesn't deserve all the blame for that, and he doesn't deserve to have his career belittled for it, necessarily. But you're comparing him to someone like Steve Nash, one of the very few players in the history of the league whose mere presence raises his partners' shooting percentages by 2-3%. He's among the best passing talents in the history of the game, and he's led 4 of the 5 best offenses in the history of the league. He's not a great defender, but he's one of the best shooters of all time. It's a lot closer than most think, but when you sift to the particulars, I think Nash comes out on top.
QUESTION #15: ¿Qué piensas de las posibilidades de manu de ingresar al muro de la fama? (Asked by A Guy from Argentina)
Dios mio. Quizas este fue un idea terrible. Mi espanol es horrible. Lo siento. Mi opinion es que Manu Ginobili va ingresar al muro de la fama rapidamente. Yo pienso que Manu es un de los mejores a su posicion en la historia del sport, y si Manu no es un primero boleta miembro, la mundo es loco. Pero... la mundo es loco. En realidad. Tan quizas yo sé nunca.
Posdata #1: Mi diccionario en espanol fue muy util para este respuesta. Gracias, diccionario!
Posdata #2: Todos los abogados encantan gatos.
Posdata #3: Gracias por leer mis garabatos. Yo aprecio sus efuerzos. Esto es dificil para mi!
QUESTION #16: When is Iman Shumpert's player capsule? Do you want to do it as a Capsule (Plus) for HP? Isn't he the best player in basketball? (Asked by Jared Dubin)
I can't tell you -- a watched Shum-pot never boils. I'd rather do it as a Capsule (Minus), to represent the offensive performances of players Shumpert covers. And while he is not the best player, I cannot deny that he has the best non-Bynum hair at the moment. (Bynum's hair is better, though. Sorry Jared.)
QUESTION #17: Cats or dogs? (Asked by Quixem Raimirez)
I believe the answer to question #7 tells you all you need to know, friend.
QUESTION #18: Uh, I would like to know your feelings on the NBA and its anti-flopping campaign. (Asked by Nick Flynt)
Honestly? I think they're pretty awful. One fact about them that's gone relatively underreported is that the current fine structure actually has the potential of completely taking out a player's earnings if a 10-day contract guy were to actually get warned and fined. In the NBA, 10-day contracts pay something around $30,000. The fine structure, as it stands, goes $5000, $10000, $15000. If a player were to make it to the NBA on a 10-day contract but be assessed to have flopped in each game, it's a remote possibility that the fines would wipe out the entirety of the salary they would've earned from the ten day contract. That, to me, seems like a pretty silly oversight, and points to the general issue with the fines as a whole. Big-name players make more money, enough so that $5000 is basically just a day at the Cheesecake Factory rather than a significant percentage of their income. By making the fines a raw total instead of a percentage-salary fee, it creates a disparity in the severity of the punishment relative to your place in the league, made even worse by the fact that as the rule stands it's likely to be enforced more harshly on the NBA's lesser lights. I don't mind the idea of legislating flopping as much as some people, but if you're going to do it, at least do it right. Just try to avoid institutionalizing that kind of a disparity.
QUESTION #19: Worst team in the West? (Asked by Mavs Raccoon)
Three teams have a case. The simple for/against case for each being the worst team in the west:
HOUSTON ROCKETS: The case for? They have a questionably fitting roster with virtually nobody who's played together before. They have little depth outside their Nutcracker army of tweener forwards. Also, their coach is awful. The case against? They have a very solid defensive center, a decent point guard, and a lot of high-upside rooks. At least one of them should pan out.

SACRAMENTO KINGS: The case for? A dreadful roster with little depth and an atrocious defense. Keith Smart isn't bad, but he's never been fantastic at realizing defensive potential. Perhaps the best case, though, is their ownership -- the Maloofs are penny-pinching Scroogelike phantasms, and they'll sabotage this team with poor trades and firings if they think it'll help them move it. The case against? Demarcus freaking Cousins is a beast, and although the Maloofs will do their best to sabotage it, I can't help but think that Thomas-Thornton-Tyreke-Robinson-Cousins is actually a really solid starting five. Can't defend worth a damn, but that's a lineup that can score til the cowbell comes home.

PHOENIX SUNS: The case for? There is exactly one player on this roster who's ever played all-star caliber ball, and his all-star flirtation lasted for half a season while Steve Nash played alongside him for over 75% of his minutes. Nash has been known throughout his career for raising the shooting marks of everyone he plays with, and Dragic's more a scorer than a passer -- seems like a recipe for a team that suddenly can't make a damn shot. And again. Those wings? Yikes. The case against? Scola and Dragic shouldn't be THAT bad, and there's always the possibility Beasley or Johnson figures it out. And Gortat is, admittedly, pretty good. Probably will never make an all-star team, but he's nice.
Me? I'm going with the Suns. I simply don't see where this roster is getting anything -- it was a gigantic mystery to me that Nash was able to drag this roster to a 0.500 record, and I'm going to bet that Dragic's results aren't quite as tidy as Nash's. I suppose when it comes right down to it, I believe in Asik/Cousins more than I do Gortat. Adam Koscielak will now brutally disembowel me. It's been fun, world.
QUESTION #20: Will Hedo ever learn to jump on two feet when he shoots? (Asked by Chris Barnewall)
The saying is wrong, Chris. You CAN teach an old dog new tricks, it's just very difficult.
... Too bad Hedo's a human being, rather than a dog.
Because there's no way in hell he ever actually learns how to do that.
QUESTION #21: Who is your favorite NBALinks poster? (Asked by Chris "LeBron" Bosh)
My pal Caleb, definitely. He's a bro for life and I really hope he feels better soon. Shout-out to my main man.
QUESTION #22: What year will aliens contact us? (Asked by @HoopPlusTheHarm)
They already did. What else would you call Rondo's pregame routines, smart guy?
QUESTION #23: How many future all-stars are on the Jazz right now? If you say less than 4, you are wrong. (Asked by Heath Mecham)
Gee, Mr. Mecham, I sure don't want to be wrong...
I guess I'll just have to skip this one!
QUESTION #24: Yes Aaron, I have a question. Will I ever find true love? Will I ever find out what my true calling in life is? (Asked by Jordan S. White)
Ah, Jordan. Love is sweet, but love is fickle. Truth is relative, especially in these waters, and things are always changing. Relationships grow and evolve and the person you are in a coming tomorrow bears scant resemblance to the person you are today! Look at what you've written, look at the bridges crossed. I've come to feel true love's more about finding a person you can find an overarching peace with rather than some eternal match made by God. A person with whom you can embark on life's journeys, knowing full well you both will change into unrecognizable shades of the people you once were, confident in nothing more than the overarching truth that you're a duo prepared to grow and learn together. You don't know what you'll learn, nor what the journey holds. But you're prepared to hold their hand and step forth blindly together in a world of unknowns and pitfalls. And personally? I don't think there's such a thing as a true calling. There's a softly ringing phone you put on hold as you funnel your actions to an endeavor you've conditioned yourself to love. The key is figuring out the right mix between enjoyment, profit, and enlightenment. And it's different for everyone. There's no one right answer.
Will you find these things? Good question. You tell me, Jordan.
• • •
And with that, I happily close the book on another interesting Q&A. Very few statistical questions this time. Never even got the chance to break out a graph! I'll try to hold another one of these in a few months, perhaps when we have a bit of a season to digest and our sense of wonder starts to wane. Good day, dear readers. Thanks for all the questions, and I hope you have an absolutely lovely weekend.