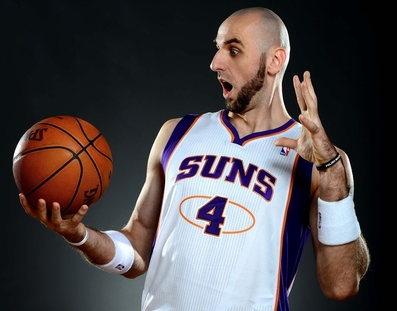 Gothic Ginobili turns one today. As part of our celebration of this somewhat unexpected milestone, our writers are producing a variety of content reflecting and appreciating the journey that got us here. Here, our first added member to our extended staff waxes about his history with the blog and succinctly explains what makes writing under the iron fists of jerks like McGuire and Dewey even remotely tolerable!
One year ago today, the world didn't know much about Gothic Ginobili. (This was not surprising, as it had existed for less than 24 hours.) I was the editor of Fansided's main Suns blog at the time, Sun-N-Gun. I was trying to finish my first month strong, with increasingly insane, strangely written posts about the lockout. I didn't think I'd be where I am today, at least at the time. In fact, a part of me believed that I wouldn't even get to watch basketball until right about this time, this year.
A month later, the lockout ended. Two months later, the Suns played their first game of a season that would end up being Steve Nash's last. It was right about the start of the regular season that I realized regular, recap-grinding writing was a far more pressing constraint than I anticipated. As it turned out, I was (and still am) a terrible recap writer. So, if you by any chance wanted to mail me about a beat writer job for a Polish team, don't do it. After a few failed stabs at coherency, I resorted to grading players and giving notes. Why? I didn't know at the time, and I'm still not sure. Maybe it's because I pay too much attention to Marcin Gortat and Steve Nash. Or maybe because I don't treat basketball as a series of events, but merely a framework for discovering the people playing it, a weird, competitive social experiment of sorts. Whatever the case, two months into the regular season, I felt I couldn't really express whatever I felt about basketball on Sun-N-Gun. And so, I posted a random question on twitter of the "Yo, I'm bored writing just about the Suns, any general NBA blog want me?" sort, and Aaron and Alex answered my call.
To be honest, I didn't really read much of Gothic Ginobili before this. Mostly just scattered pieces Aaron linked me directly when we discussed basketball in between long sessions of swooning over King Crimson's "Red." Once I started flipping through, though, I was elated. With Aaron's work ethic, Alex's (positive) craziness, and their combined transcendent writing skills, I felt I was in the right place to hone my skills. I may have not done much, but I've had the opportunity to tell the stories I wanted to tell. The story of my nocturnal, basketball watching life is one, the story of my private family daytime soap being the other big one. The personal stuff. For the first time, I was putting myself into the framework, ridding myself of the fake mask of an unbiased blogger, and taking my own experiences into a weird (albeit fitting) context. It has been cathartic, it has been wonderful, and I just wish I had more time during last season to do it.
(And yes, that is a promise that I will be writing more, as if you didn't have enough of me already.)
So... I guess I have to thank Aaron and Alex for tolerating my writing-related shortcomings, my incessant overuse of parentheses, and all that other stuff. You guys are amazing. I can honestly say that being able to vote on ESPN's NBARank and Summer Forecast was one of the greatest moments of my life, and I can't say that I would've done it without this site. Meanwhile, I'm caught in a cruel twist of fate -- nearly a year after the lockout, precisely on the 1st anniversary of the blog that gave me so much, due to various problems with my mom's business (most of which I can't disclose, I wish I could), I might end up in a really bad situation, once again, through no fault of my own or my mother's.
But, hey. Whatever happens in next year's extended installment of Gothic Ginobili's absurdist reign over the odd, the offbeat, the outright strange -- I know one thing. I'll be able to talk about my troubles and trials here, put it in an odd context, and (eventually) have a catharsis. And that's what makes this experience great, for better or for worse. And with this, I end my rant, once again promising to actually deliver some content on a regular basis.
Let's just hope I'll have some ideas this time.
EDIT: This post was written on Tuesday. The problems? They seem to be resolved positively. I couldn't really talk about them, but I'm sure y'all would've supported me if I could, so, hey, thanks. Cheers. – Adam.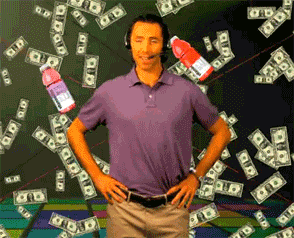 Continue reading
---