As our summer mainstay, Aaron's writing a 370-part series discussing almost every notable player who was -- as of last season -- getting minutes in the NBA. Intent is to get you talking, thinking, and appreciating the myriad of wonderful folks who play in our favorite sports league. Today we continue with Roger Mason Jr., Daniel "Booby" Gibson, and Josh Harrellson. Stay tuned over the rest of the day for lots of other Gothic Ginobili anniversary-related material -- and some unrelated stuff, too!

_Follow Roger Mason on Twitter at __@MoneyMase.___
I'm not really sure how much longer Mason is for the league. Most crusty old veterans with no real investment in broader league politics would've been long-gone at this point, lost to roster churn and the slow but sure drift of age. Mason, though, has managed to stick around. And it might be a good thing he has, too -- while he's been an exceedingly marginal player over his entire career, he's actually been a relatively active figure in the league's labor politics, serving as the union vice president through much of the last 5-10 years. And all things considered? With the exception of his hilarious "Looking like a season. How u" styled gaffe back in the thick of the lockout, he's been relatively effective at reaching out to players and forming the sorts of connections and knowledge that makes running a massive labor organization go (relatively) smoothly. He and others were key figures in the labor organizations and among the owners were absolutely essential in breaking the stalemate between Hunter, Stern, and the owners. And for that, to me, Mason can stay in the league however long he darn well wants. He's earned it, you know?
At least he earned it somehow. With the exception of his one beautiful Spurs season, Mason's been pretty marginal over the course of his career. Keep in mind that in his best season ever, he still played markedly worse basketball than virtually anyone the Spurs employ at the wing today, including Neal, Green, De Colo, Leonard, or Mills. He made a few game winners, which are far and away the most wonderful highlights of the guy's career, but outside of that the cupboard is rather bare. Fun with averages: he's shot around 38% from three in his entire career, but that's actually pretty hilariously misleading, as well over 50% of the three point shots he's ever taken in his career came from a two-year stretch that includes his highlight Spurs season and his decent season with the 2008 Wizards. Mason shot 32% from three before that stretch, and has shot 35% since -- in fact, he only has three individual seasons over his average, with five individual seasons clocking in at well below. His defense has never been fantastic, and his offensive repertoire beyond the three is ghastly beyond compare. You do not want Roger Mason Jr. taking any shot but a three for you, if you can prevent it. You simply don't want that.
He was on the rocks this past season, playing for a contract and coming off one of the worst years of his career. He caught the lockout fever, though, and acquitted himself pretty well in Washington. Enough to earn a single-year minimum contract with the Hornets. He should be pretty decent, I'd think -- he won't be phenomenal or anything, because he never really is, but at this point his entire value is rooted in his ability to make open threes no matter how crusty and old he gets. With Davis in the post and Anderson drawing double teams on the perimeter, there should be open threes for him to can if the Hornets can actually get him the ball. Given that the best point guard on their roster is noted scoring aficionado Grevis Vasquez, I'm hesitant to call that a lock. But we'll see. For now, I just entreat you to consider the role Mason had in ending the lockout, understand that he's a hilariously marginal player whose career highlight was most likely a Christmas Day game-winner in a season where the Spurs lost in the first round, and appreciate him for what he is. Leader, shooter, all-around-good-dude. "How u?"

_Follow Daniel Gibson on Twitter at __@BooBysWorld1.___
It's true. Daniel "Booby" Gibson has fallen upon hard times. His offense has advanced in virtually no respects since his rookie season, with his three point percentage staying right around his rookie highs (41.9%) and his two point percentage plummeting as teams began to realize that even a modicum of pressure would make him incomprehensibly bad at scoring from inside the arc. Although, to be fair, the pressure doesn't totally explain his positively absurd showing this past season -- as John Hollinger expertly pointed out, Daniel Gibson shot 29.4% on two pointers this past season. Twenty-nine percent. How did that happen? I'll break it out for you! He shot 60% at the rim, but took only 0.7 shots a game there, because he has a lot of trouble actually getting to the rim at his size and barely even tries. He then proceeded to take:
0.6 shots a game from3-9 feet -- of these, he made 23.8%.
0.2 shots a game from 10-15 feet -- of these, he made 14.3%.
1.6 shots a game from 16-23 feet -- of these, he made 19.6%.
So, yeah. That could've gone a bit better.
Most of Gibson's value comes in his ability to shoot the ball. If he can't make two pointers, he's little more than a spot-up three point gunner on offense who doesn't need to be guarded inside the arc. And that's a pretty bad omen for his NBA career going forward. That, and his general lack of a passing game -- he's only once in his career posted an assist percentage above 15%, which is usually the death knell for an NBA point guard. For good reason. He's an awful passer for his position, almost incomprehensibly so. His turnover rate also spiked, as he posted a higher turnover rate than over 75% of NBA point guards despite barely ever handling the ball. Which is... not very good. It's possible his shooting could recoup, which would make him a rotation player again -- as long as he's shooting well and you don't have to play him as your primary ballhandler, he's a guard you like to play. Unexpectedly solid defense, doesn't dominate the ball (although he DOES take some shots you wish you'd have back), doesn't really hurt you a ton. Solid rebounding, too. This all requires that his shooting comes back. If it doesn't, he's toast -- there is absolutely no way he's staying in the NBA if he continues to make under 20% of his midrange shots. No way whatsoever.
Now, before we move on, I'd like to focus on something that I've always found really funny. The Finals-bound 2007 Cavaliers were lacking in a lot of ways. They were well below-average, offensively, at virtually every position on the court that wasn't played by LeBron James. Some good defensive talent, but offensively, quite deficient. Except, well... here's the thing that most people don't realize. In the past decade, the bar for being a competent, average, and reasonably decent point guard in the NBA finals is set astonishingly low. So much so, in fact, that a rookie Daniel Gibson somehow actually rated out as a barely-below-average point guard in the NBA finals. Seriously! Look at this chart -- it includes every point guard that started in the NBA finals over the past decade, averaged across all finals starts.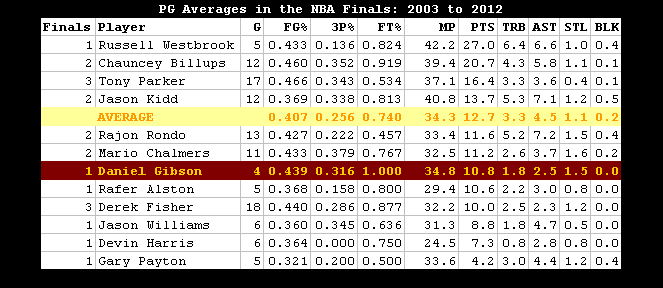 Be honest. How ridiculous is it that despite his maligned game, despite his general lack of value, despite his overall lacking skillset... as a rookie, Daniel Gibson seriously performed as a barely-below-average point guard in the NBA finals. He shot better than average, despite shooting FAR under his career averages. The Cavs had him taking a few less shots than most of these guys did, so his overall scoring total wasn't quite as good as normal, but he shot well above par and played about the average minutes-total. He stole the ball more than average (and, again, was solid defensively beyond the simple steals metric), and although he posted the worst assists total of any of the players, he overall rates out as a slightly-below-average Finals-caliber point guard. This is hilarious to me. When Daniel Gibson's agent is negotiating his next contract, he needs to make full use of this chart. "Hey, look. My client is tantalizingly close to the NBA Finals average for starting point guard. Don't you want to make a finals? Don't you need a veteran finals point guard? Booby's your guy! SIGN HIM!"
... Yep, exit's that way, I'll leave now.

_Follow Josh Harrellson on Twitter at __@BigJorts55.___
I actually like Josh Harrellson's game, at least as a prospect going forward. He makes a lot of sense as a stretch four, as he posted roughly average three point shooting in his very few tries at Kentucky and was able to quickly adapt to the NBA's three point line. If a player doesn't really pick up the shot their rookie year, it's actually relatively rare for the player to really recoup later in their career and learn how to shoot the three. So the fact that he was an average three point shooter his rookie year tends to indicate he's at least got a solid shot of being an average three point shooter for a long time going forward. He was also better defensively than most people realize -- he's a pest, in all the best ways. He gets up in a player's grill without actually fouling them, and when in the paint, he goes up straight to cut off angles and does an unexpectedly effective job of it. As teams scout his defense, he may need to adapt, but he was quite effective in a limited role his rookie year. His rebounding was pretty phenomenal, too -- Harrellson was in the top 25% of per-minute big-men rebounders on both defense and offense, and took the boards in about as viciously as a rookie ever does.
There were flaws, of course. Always are. His at-rim scoring was anemic at best, and his overall offensive game outside of the three point ball is relatively limited. Decent midrange, but he rarely uncorked it. Which is good, because the midrange shot sort of sucks. His defense was great overall, but (as expected), he struggles when matched up against gigantic post threats like Bynum or Howard. I mean... everyone does. But still. Despite all that, simply being able to be a three-point-shooting big man is valuable, and being able to do that while contributing on the defensive end of the court is a phenomenal plus. Add in his rebounding, if it holds up over his broader career, and he's the kind of super-effective role player that could actually make a mark on a good team. He might be the most important player the Heat picked up this summer, at least when it comes to keeping their talent around -- if Ray Allen's bone spurs finish their brutal forced aging and Rashard Lewis is as absurdly done as everyone seems to expect he is, the Heat will have a bunch of extremely old refuse lying around when Bosh and LeBron are facing their ETO decision, two summers from now. Harrellson is young, he's played very well, and his game appears to be the kind that can stand up to a few seasons of scouting. We'll see, I suppose.
• • •
At the end of each post, I'll be scribing riddles for the next group. Whoever gets the most right will get a shout out at the end of the next post. Tweet me your answers at @docrostov, or post them in the comments. Excellent guessing -- J got a 3/3, although I have to give a special shout-out to Sir Thursday as well for being the first to figure out the riddle I'd deemed impossible.
Player #241 was a borderline decent player at Duke, although very few people remember he went there at this point. Now, it's more just wondering when he'll actually get to show his talents at a leaguewide level. Not sure when that'll be.
Player #242 got caught in some hot water this summer after some incredibly lewd and ridiculous pictures made their way stateside from one of his parties in his home country. My guess? He's already made as many papers as he'll make over the course of the entire season.
Player #243 couldn't defend anyone worth a lick last season, and he's pretty undersized. But his coach absolutely needs to play him more minutes anyway -- he's young, his motor is incredible, and at some point the raw numbers become too overwhelming to keep him benched for long. He's reached that point.
TONS of stuff going up today. We will, quite literally, have 6 or 7 posts up today when all's said and done. A lot of work went into our stuff today. Hope you all enjoy it, and even if not, hope to see you next week for another week of capsules and the season's happy beginnings.
• • •