As our summer mainstay, Aaron was writing a 370-part series discussing almost every notable player who was -- as of last season -- getting minutes in the NBA. As the summer dies down and the leaves turn, this quixotic quest of a series has happily reached the last third. But it's certainly not done yet! Today we continue with LaMarcus Aldridge, Brad Miller, and Shelvin Mack.

Follow LaMarcus Aldridge on Twitter at @aldridge_12.

I'm generally pretty proud of this project. I've worked really inordinately hard on it, in ways that may not be exceedingly obvious if you just read a few of them every now and again. Each of these stupid things goes through an excess of increasingly ridiculous editing, an excess of scouting, and an excess of thought and consideration before I push them public. But here's the thing. Even with all that, even with the amount of effort I'm putting in here? Some of them kind of suck. Not many. I'd say out of the 345 I've written so far, about 10-15 could really use whole-scale rewrites. And only 3 or 4 come to mind immediately as ones that I wish I had back. There's one I emphatically regret, though, and one I've been considering rewriting for a while. That one? Kevin Garnett's.
The reason his capsule turned out badly -- at least in my view -- is relatively simple. His capsule came to task quite literally the day after Tim Duncan's, and with Duncan on the mind, I found it impossible to avoid talking about Tim Duncan for what amounted to the absolute entirety of Kevin Garnett's capsule. Not on purpose, but simply because it was on my mind and I didn't really have any idea what else to say. I think I finally figured out how to make amends to the spurned Garnett fans, though. Not another capsule, not a full-scale rewrite. Instead, I'm just going to sequester some analysis in here. I gotcha, Celtics fans. I decided to eschew the normally-obtuse metaphors and the efforts in recontextualization I usually put into my Capsule (Plus) posts. I'll abandon the odd ideas I was floating around for this one and go with something significantly more traditional. Today, I write about LaMarcus Aldridge. But I also write about Kevin Garnett, and pose a bit of a question: who here really needs to prove their greatness?
Here's the thing. On offense, you have a superstar player who produces blisteringly efficient offense on a silky-smooth classical style unlike anyone else in the league today. On defense, you have a stick of pick-and-roll dynamite whose slim frame is misleading to his actual defensive value, and whose defense is far and away the best out of all the rising star power forwards in the league. His contract is a laugher, paying him around $13 million annually for one of the few legitimate superstar players in the league. He's humble. He's smart. He's got a compelling personal story and a lovely family. He supports his teammates, loves Andre Miller, and stays generally absurdly healthy despite playing in one of the most health-luckless franchises in the league. Without adding a three to his game, it's almost beyond the realm of possibility for Aldridge to be more efficient or multifaceted offensively. Without a front office that's actually committed at surrounding him with talent, it's somewhat beyond the realm of possibility for anyone to put together a playoff-caliber team, with the possible exception of LeBron James.

I put the question to you. What more does he need to do to be appreciated?
For more on LaMarcus Aldridge, please read today's Player Capsule (Plus).

_Follow Brad Miller on Twitter at __@TreyKerby.___
Last season, Brad Miller retired.
This was met with an incredible amount of fanfare and sadness for a player who averaged -- over his career -- 11 points and 7 rebounds on 28 minutes a game with shaky defense and less-than-sterling tertiaries. There was never a team in history that said "oh, man, we really need Brad Miller, he's the best center in the league." There was never a team that said "without Brad Miller, we are misfit children with no jobs, no hope, and no cash." There was never a team that said "Brad Miller is really attractive and we shouldn't sign him because he'll steal all our wives." Actually, there was a team that said that. It was my work pickup team last year. But that's beside the point. Point is, he's not essential from a basketball perspective and he played 146 minutes last year -- 146! Why am I writing a capsule about him? Who cares, and why would anyone care about Brad Miller?
Here's the thing. You don't need to be an amazing player to be a memorable one. Look, I love basketball, and I love analyzing the NBA. But in 10 years, I'm not going to pretend like I'll remember who the 4th best point guard in the league was in 2012. I won't remember Raymond Felton destroying Portland. I won't remember what seed the Celtics got. But I WILL remember when legendary journeyman Roger Mason Jr. tweeted the "how u" botch on Twitter. I WILL remember Mike Miller's absurd season-ending game that should've been the capper on a sad career. I WILL remember this classic exchange from yesterday on Twitter.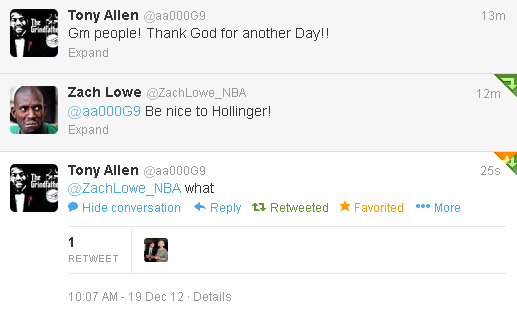 ... okay, no, there's absolutely no way I'll remember that. Need to stop getting carried away here.
Point is, basketball is about more than basketball, in the same way that anything we follow in life is about far more than just the outcomes or the philosophies that lie behind it. Sports fandom is a microcosm for examinations of the self. Examinations of society. Examinations of the beer you're drinking. Examinations of yelling at friends. Examinations of bros. The inherent meaningless undertone to sports and fandom makes the process and the way you choose to enjoy it that much more important -- everyone has a hobby or two that they enjoy despite knowing it's incredibly useless, an absurd waste of time, and ultimately completely tertiary to everything you wish to accomplish in life. Sports means whatever you want it to mean, when you get down to brass tacks. It can mean the search for truth, it can mean the search for hot wings. World's your oyster, all of that.
Which brings us back to Brad Miller. He was never a phenomenal player, although he was better than anyone had a right to expect -- per Basketball Prospectus, upon his retirement, Brad Miller had accumulated 72.6 Wins Above Replacement, which ranks him 111th all-time in the modern era. Which isn't bad for an undrafted player -- 3rd best undrafted guy ever, as a matter of fact. But what he gives fans isn't really the way he plays or the way he held up a team. It's the way he inspires brilliant scribes like Trey Kerby. Or, well. Me, kind of. The way I'd describe my enjoyment of Brad Miller is thus -- he awkwardly pump faked his way into my heart long ago, and he never left. His absurd hobbies and general doofiness made him as much of a must-watch player for me as Dwyane Wade or Kobe Bryant ever were. And I thought about it for a while, and ruminated on it, and wondered if -- perhaps -- I was missing some objective truth by enjoying Brad Miller's markedly inferior game more than the games of two generational greats. And I realized I wasn't. You enjoy what you enjoy. Same is true about politics, art, religion, et cetera -- the only difference with sports is that everything's so transient to begin with that there's no real reason to feel bad about it. As Kerby said -- "he's just a dude. He doesn't need a narrative."
And that, more than anything, is why you should care about Brad Miller.
KEVIN GARNETT: "This is it. It's for all the marbles. I'm sitting in the house loading up the pump, I'm loading up the Uzis, I've got a couple of M-16s, couple of nines, couple of joints with some silencers on them, couple of grenades, got a missile launcher. I'm ready for war."
BRAD MILLER, ASKED ABOUT... THAT: "Oh. Cool. I'm bringing my shotgun, my bow and arrow, my four-wheel drive truck and four wheelers and run over him. It's going to be the ultimate battle. He's a warrior, and that's how I like to play when I step between the lines."
This is the greatest media exchange any two competitors have ever had. In the history of sport. Ever.

_Follow Shelvin Mack on Twitter at __@ShelvinMack.___
I actually liked Shelvin Mack at Butler quite a bit. Ever since the 2010 title game, I've taken a weird interest in the Butler Bulldogs, for two reasons. One, I like their coach and think they're a good school with a good program. Two, I constantly call the school "President Butlerhands". That's really fun to say, and it gives me an excuse to discover increasingly strange reasons to feign interest in Butler's sporting prospects and watch their teams. That probably isn't the best reason to like a school, but it's as good as any reason and I don't like my alma mater. I don't see the problem! Anyway. I liked Mack at Butler. He was something of a bulldog defensively, and showed some serious shutdown chops at the NCAA level. Unfortunately for the universe, NBA players are larger than NCAA players, so his ability to act as a shutdown defender has been sincerely compromised. Part of his advantage in college was simply an athleticism advantage and a size advantage over most NCAA point guards -- he doesn't have that in the NBA, and as such, he can't really be a shutdown guy all game. He's a good defender, but not an exemplary one.
His NBA career has been... well, even worse than that, to say the least. He might be a backup point guard someday -- that's kind of his best-case-scenario. He struggled with just about everything last year, shooting the ball as poorly as humanly possible (well below the position average from every range on the floor) and posted a sky high turnover rate. His assist production was solid, and it wasn't all bad -- he had great rebounding for a guard and drew a surprising number of free throws. Not to mention his passable defense. But his shooting was so awful it overrode everything he did right, and shackled him to the bench on an awful team. To add insult to injury, after featuring him to end the year and trying him out as an eternal backup for John Wall going forward, the Wizards waived Mack before opening night this season. This was sad for two reasons.
It's always sad when neat dudes get waived.
John Wall is out and he actually was first on the depth chart.
The Wizards waiving Mack has led to the Wizards playing Jordan Crawford -- "he who shall not defer" -- at the point guard position and signing Shaun Livingston. Which I like. But it's sort of sad to see them give up on Mack before he even got a chance at a sophomore season -- point guards are notoriously low-production enterprises for their first few seasons, and they need a bit of polish and experience before they cut the turnovers and learn how to operate at an NBA level. He's currently with the Maine Red Claws, and I'm hoping he gets a call-up from a team at some point -- even if he never recovers as a shooter (which is unlikely -- he was a decent shooter in college and there's virtually no way he'll stay as bad as he was his rookie year), his defense and passing ability should let him play some meaningful minutes on a lottery team or as a perennial backup. Not glamorous, but still.
As for the main reason I want him back? I need an arena to play this during his first game back. Need it.
• • •
At the end of each post, I'll be scribing riddles for the next group. Whoever gets the most right will get a shout out at the end of the next post. Tweet me your answers at @docrostov, or post them in the comments. Tuesday's riddles were apparently the easiest thing ever, since they were answered correctly by... Sir Thursday, wul.f, J, A, and Mike L. Five people! FIVE PERFECT GUESSES! FIVE CHAMPIONSHIP RINGS. MAMBA OUT.
Player #346 looked pretty decent for the Lakers in stretches of last season, but all things considered, they're probably happy to have him gone. His new team isn't quite as happy to have him arrive.

Player #347 comes very early when you arrange players by their first names. Won't stop him from being gloomy and midtones, though.

Player #348 is America, and so can you.
Bless you, child.
• • •