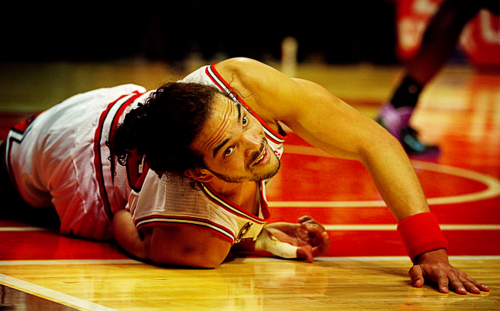 Coming off my 370-part player capsule series, I'm taking on a significantly less incredible task -- a 30-part frame examining the evolution of the individual teams in the NBA's 2013 season. Some in medias res, others as the season ends. Somewhat freeform, with a designated goal to bring you a few observations of note about the team's season, a view into the team's ups and downs, and a rough map of what to expect going forward. Today, we cover a team I recently deemed one of the league's biggest surprises, although certainly not in a good way -- we're covering the sordid, unhappy tales of the 2013 Chicago Bulls.
In the preseason, I notched Chicago for a record of 41-41. There were two main reasons. First, the obvious -- I'd gotten some information indicating that Rose was going to be out for all but 10-15 games of the season, and in Rose's absence, I had absolutely no idea how the Chicago offense was going to hold up. The defense would remain decent, but I was worried it too would experience a drop-off after the Bulls let bench mainstay Omer Asik go, let Ronnie Brewer go, and watched helplessly as Luol Deng suffered more injuries over the summer in London. Needless to say, I wasn't entirely apt -- the Bulls are hardly a great team, but a stay-puft early schedule combined with one of Joakim Noah's best years as a pro have kept the Bulls well above water. They're comfortably in the Eastern playoff picture, and if Rose is back into shape by the playoffs, they'll be as firmly ensconced in the eastern picture as any non-Miami team. How have they been so far, though?
• • •
TRENDSPOTTING: CHICAGO AT A GLANCE, IN TWO WEEK INTERVALS
A few comments on the format of the statbox. EFF DIFF indicates the average margin of victory per 100 possessions. OPP SRS indicates the opponent's strength using Basketball Reference's "Simple Rating System" -- high numbers indicate a hard stretch of schedule, low numbers indicate an easy one. W/L and H/A are straightforward, and ORTG/DRTG/POSS are calculated using the Basketball Reference formula. For more on the metrics in the bottom panel, see their page on Dean Oliver's four factors. Savvy?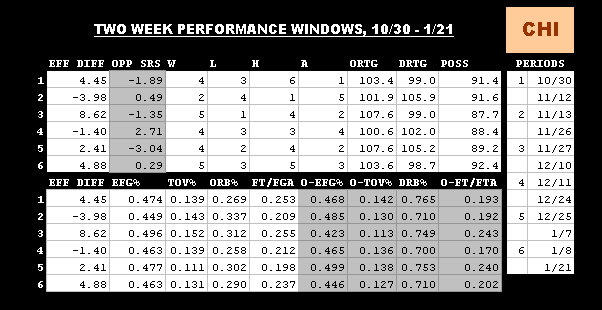 A few metrics and observations of note in this split:
BEST STRETCH: Although it wasn't their best stretch in terms of raw wins and losses, you'd be hard pressed to pick against their most recent two weeks if you're simply looking for their best general performance against decent competition. Home shellackings of the Hawks and the Lakers and a close overtime loss to a good Memphis team highlight the surprisingly-fast-paced stretch for the Bulls, although that blowout loss to the Suns (at home!) might end the season as one of Chicago's worst losses. Still, it's been a good stretch for Thibodeau's guys.


WORST STRETCH: They were playing against moderately decent teams, but that doesn't really excuse the general play -- the Bulls were at their worst back in a memorable mid-November schneid, a five-game road trip they went 2-3 on only to bookend it with a confusing home loss to the not-really-good but not-really-bad Milwaukee Bucks. During that stretch, they very nearly dropped a game to Phoenix (barely pulled it out in OT), got obliterated at Staples center against the Clippers, and scored 93 points two games in a row against the Bucks (once to win, once to lose). Pretty bad stretch. On the plus side? Since that stretch, the Bulls have gone 9-2 on the road, which is pretty phenomenal.
One interesting trend, coming from that home/road note -- the Bulls are currently 12-5 on the road and only 13-12 at home. There aren't many teams in the league that can say they've played better on the road then they have at home. In fact, of the current 16 playoff-bound teams, only the Milwaukee Bucks can say that, and they're only better by a half-game (11-9 road, 10-9 home). If they can keep the road warrior act going in the playoffs with some Rose-fueled home improvement, they'll be an extremely tough out whether they've got home court or not.
• • •
CHICAGO'S BIGGEST MYSTERY: Who's their best player, sans Rose?

Unlike most teams, there aren't a lot of huge mysteries about Chicago's play. We know how they defend, in a general sense -- after all, just about every team in the league has adopted Coach Thibodeau's flood-the-ball-side defensive strategy that tends to spread the scoring around and give bigger games to secondary scorers to the minimization of the primary scorer's raw numbers. Thibodeau teams seem to be better at it than anyone else, but that's more a function of effort, personnel, and the tickling intricacies of the strategy than a function of Thibodeau doing something nobody else is aware of. The offense isn't much of a mystery either -- it's pretty awful, for sure, but you could make a reasonable argument that his teams are offensively deficient on purpose. That is to say, Thibodeau sacrifices offensive creativity for defensive creativity, getting his players to put their best work in on the defensive end because it's simply more consistent and more his personal style. Such as they strive and all. All that said, there's still one curiosity I've always had about the Bulls.
Who's their best player? Obviously, if you look at the Bulls with Rose back, it's going to be their MVP. But we aren't. It's a funny question, because the obvious answer isn't quite as fitting as most people think. The easiest answer is to say Joakim Noah and call it a day. And I'll admit, it's tempting. Noah's pivot passing is a stone's throw from best-in-class, he has a rangy dominance of the defensive end that's easy to underrate, and he's a vocal leader on the floor. And all of that's great, but I tend to go back to the facts I outlined in Noah's player capsule -- he's regularly been an oddly preeminent drag on Chicago's statistical performance when he's on the court, and it's been a pronounced effect for long enough that I have trouble simply looking past it without any reasonable explanation. The trend has held up this year, by the way -- the Bulls have been about a point worse per 100 possessions with Noah on the court, despite no incredible backups a la Omer Asik.
So I'm not positive that Noah's their best player. But if not Noah, then who? Carlos Boozer would be a possible answer if we were watching the Magic School Bus, but we aren't, so he's not. Luol Deng is a great player, but I've got difficulty naming him Chicago's best. He's a great defensive player whose offensive statistics are a bit inflated due to his completely insane minutes haul. And his defense has suffered a bit over the past few years as he's racked up a heavy weight of untreated maladies and injuries. I maintain that Taj Gibson is their best defensive player, but Thibodeau gives the man 20 minutes per game and never seems to consider increasing his role on the team, so he certainly can't be called their best without calling Thibodeau incompetent. Kirk Hinrich is the cryptkeeper. Rip Hamilton is torn. Which leads one back to the obvious answer -- mystifying off-court numbers aside, Noah's their best player.
I just wish I could figure out those splits, you know?
• For more Bulls scouting, check out the 2012 Chicago Bulls player capsules. •
• • •
FORECASTING: WHERE THEY GO FROM HERE, AND WHAT DOES IT MEAN?
Trying to figure out how the Bulls are going to finish the season is essentially impossible. It's not that they've been an impossible team to figure out -- as I said, they're a classic Thibodeau unit. Great on defense, lacking creativity or vigor on offense. But without Rose around to carry them offensively, "lacking creativity" becomes "lacking quality", and "lacking quality" becomes a morass that nobody in the world wants to watch. One of the sad subplots of the 2013 season has been watching Bulls fans experience profound frustration on those games where the Bulls can't seem to get anything going. They come more often than they used to, now, and it's immensely irritating to anyone paying close attention. More irritating than that, though, is the sense that the Bulls -- as an organization -- don't care all that much.
This isn't the on-court product, mind you. The Bulls are a whirling dervish of effort and energy on the court, at least on the defensive end -- they hound teams to the breaking point. Chief among Thibodeau's assets as a coach is the way his teams come to play and throttle lesser teams. If a Bulls adversary takes them lightly, it doesn't take more than a quarter or two for the Bulls to go up by 20-30 and end the game early. But that on-court product masks a general disregard for the franchise fortune from their owner. Bulls owner Jerry Reinsdorf (his titles notwithstanding) is one of the NBA's least engaged owners. He doesn't seem to care much about his team, and he has more regard for blasting past the luxury tax than he has for building a product that can seriously contend for a title going forward. How else do you explain the franchise's lateral moves, letting promising pieces like Omer Asik go for a pittance and losing more and more depth as Thibodeau puts more and more heat on Chicago's best pieces? How do you justify wasting a year or two of Derrick Rose's prime with an aging supporting cast and few avenues for improvement?
That's the real thing, for me. What are the Bulls going to do when Rose gets back? They'll compete. They'll contend, perhaps -- I think they've got a good chance of pushing an immensely lazy Miami team to 6 or 7 games. And then, in that last game, they'll get blown out of the water. Exposed. Every team in the East will, and it won't really be Chicago's fault. But it'll happen. Reinsdorf will shrug his shoulders and give his old "what, me worry?" grin. "We'll be better next year," he'll say. "We'll keep building on what we've done," he'll say. "We'll get over the hump when Derrick gets better," he'll say. But if his track record's any indication, he won't really care all that much. He'll grin and bear it as he takes the abuse of a fanbase desperately aching for an owner that cares as much as they do, and he'll watch as the Bulls continue their old habits. Maximum effort, maximum energy, maximum grind. And when the chips are down? A wheezy crew of worn-down veterans who played too many minutes with depth that was sold to save a buck.
All that said? Prove me wrong, Jerry. Please. I like Rose. I don't want him to retire with nothing but "what ifs."
• • •
I told you all I'd try to come up with a riddle. But since I'm dealing with teams, now, riddles come cheap -- I'll be using a trio of random statistics or facts from a random subset of the next team's last season. If you can intuit what the next team is from these numbers, you're a scientist of the utmost brilliance. Today's facts about our next team are:
Team #3 has been one of the worst teams in the NBA over the past two weeks. Seriously atrocious play. This is despite going 3-6 in their last 9, too. They've sported the 25th worst offense in the period, shooting the ball relatively well but never getting second chance points and virtually never getting to the line. That's all a bit astonishing in the aftermath of their 9-3 stretch from mid-November to mid-December, but let's be honest -- we all knew they weren't that good, right? Right?
Best of luck. See you next week. (Or later this week. I'm not sure.)