Remember our cracked-skull columnist, Alex Arnon? He hit his head a while back, fainted, and woke up a delusional man with tidings of a world where small markets ruled all comers. Over the past month, Arnon has been dealing with "personal matters", a thinly veiled cover-up for Arnon's voyage through the Serengeti to produce his new TV pilot for the local access channel: "What Blue Wildebeast Wants to Be A Millionaire?" (I tried to tell him it wouldn't work, especially with a total production budget of $3.54, but Arnon is a freakishly determined young man who doesn't need my sass.) Regardless. He's been kidnapped by a rampaging horde of zebras and is being ransomed off for drugs and money, even though zebras don't have the opposable thumbs necessary to do drugs or the credit score to spend the money. Until I can patch together a resolution to the situation, I'll be taking the reins to our Small Market Monday feature. Just let me knock myself in the head with this small market butter churner and I'll be right with you.
Oh, how the mighty have fallen. Gaze upon them, young small marketeers. Once, this team was the league's holy-of-holies. The team that the modern league juts out and features more than any other. The team with a market bigger than its britches and stars upon stars upon stars. But stars can't match grit and heart and guile -- not like you see in teams like the 29-48 Washington Wizards or the 24-52 Cleveland Cavaliers. No, this team of star power and free agent shuffling isn't a lock to win anything.
I refer, of course, to the Miami Heat.
"What!" you say, exclaiming in shock. "But Aaron, didn't they just win a flippity-gibbit of games... in a row?" Yes, readers, I looked it up -- they did indeed. But when I turned on my nationally televised grit-n-grind matchup between the plucky Charlotte Bobcats and the flagging Miami Heat, I couldn't help but feel bad for the boys in the gross-looking black and red jerseys. Sure, they had LeBron and Wade -- once. But they're gone now. And Chris Bosh can't play the entire game! Just look at some of the lineups Coach Spolestra was forced to play now that the team has lost their two stars!
Norris Cole / James Jones / Shane Battier / Rashard Lewis / Chris Anderson (Outscored CHA by 4)
Mario Chalmers / James Jones / Mike Miller / Rashard Lewis / Joel Anthony (Outscored CHA by 1)
Norris Cole / James Jones / Shane Battier / Rashard Lewis / Chris Anderson (Outscored CHA by 5)
Look at those lineups! Isn't that wild? Somehow, Miami's D-Team gutted out a win against the good ol' Bobcats -- it was tough, but the Bobcats took pity on those hilarious lineups and decided to lay off the gas a bit. But we all know who's going to be laughing in the end. Just goes to show you, really... there's no such thing as a shortcut to a championship. You need to play terrible basketball for enough seasons in a row to luck your way into a franchise-changing superstar, potentially playing poorly enough that you alienate one of the NBA's best fanbases and force your team to move to a different location where the team will blossom into a perennial contender and cast the ire of the fanbase scorned, strengthening the resolve of the players that had little to no control over the move in general! That's how you get a ring in the NBA, not with this "free agency" stuff. Because if LeBron James and Dwyane Wade are "free" to "agent" for the Miami Heat, they're also "free" to "not-agent." And this is clearly -- CLEARLY -- what they have chosen to do. Good luck getting past the Eastern Conference Finals without your stars, Miami!
... wait, the Knicks are the 2nd best team in the east? OK, maybe they'll still get past the ECF. STILL THOUGH.
• • •
The State of The Small Market Union (Sponsored by The Memphis School of Modern Dance)
The state of the union is strong, folks -- like it always is, and always will be. We currently have FIVE solid small market playoff matchups to look forward to as the regular season winds to a close and the playoffs begin to play-off. In the West, the two topline matchups are small market mainstays -- San Antonio and Oklahoma City will be facing off against some combination of Utah, Los Angeles, Golden State, and Houston. Hooray! Elsewhere in the West, the Memphis Grizzlies look to be facing off against the Los Angeles Clippers in the first round, searching for redemption from their discouraging playoff loss against the Clippers this past season. In the East, there are quite a few more large markets at play -- only two small market mainstays are in the East's playoff picture, and it's entirely possible they'll meet in the first round! Those matchups, as we stand: ATL/IND & MIL/MIA. Go team!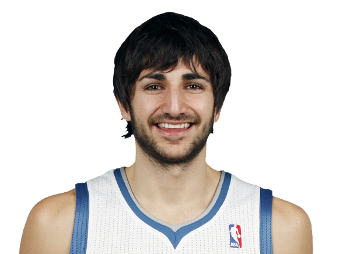 Minnesota Air Traffic Control presents the "Raven in a Jet Engine!" Ricky Rubio MVP Watch
Goodbye, handsome Chandler Parsons. Hello, handsome Ricky Rubio! And just in time, too -- Rubio's last week has been a veritable Typhlosion of small market heroics. His overall averages over that timeframe? Twelve points, four rebounds, ten assists, four steals, and four turnovers per game. Nice, right? Nice! But to simply glide over the statistics is to glide over what makes Ricky the truest small market hero of them all -- in the past week, Ricky Rubio has gone 7 of 33 on two point shots. That's 21%! Look at this man, this beautiful man. Here he is, seeing his big men struggling to get rebounds. His heart! -- ... she aches. But Rubio is not a chump. He's a lover. He's a fighter. He's the kind of a player who misses 26 of his 33 two point shots just to help his friends catch a break. Whattaguy. Easily this week's Small Market MVP. Easily.
Small Market Mondays Game of the Night: LOUISVILLE vs MICHIGAN

There aren't any NBA games on Monday, because David Stern doesn't want to one-up March Madness. That's totally fine for us over here at Small Market Mondays -- there are few things more Small Market than a game in the Georgia Dome between a team from Louisville, Kentucky and a team from Ann Arbor, Michigan. AND you're telling me the shot clock is 11 seconds longer, AND you're telling me there are a maximum of three real NBA players in the game, AND the three point line is incomprehensibly close... even though the kids can barely hit it? It's everything I've always dreamed of, friends. SIGN ME UP.
Other quick-hits for great small-market matchups in the coming week:
Cleveland Cavaliers at Indiana Pacers (TUE, 4/9): The Pacers are probably going to wipe the floor with the Cavaliers, but it's always nice to see Kyrie Irving playing unnecessary basketball games at the end of a season when it's actually in Cleveland's best interest to close the season on an incredible losing streak. Everything's great!

Charlotte Bobcats at Detroit Pistons (FRI, 4/12): It's a wonder this one isn't on Pay-Per-View. Two teams with absolutely nothing left to play for are in essence shelving their young players and putting out rosters that barely resemble NBA teams. Gonna be great! Grit! Hustle! Grind!

Milwaukee Bucks at Charlotte Bobcats (SAT, 4/13): If you thought Charlotte was FLAT on Friday, wait until you see how FLAT they are on a back-to-back at home against what passes for a playoff team in the Eastern Conference! [Ed. Note: FLAT is an acronym standing for "Fantastic Largesse! (... and Also Tenacious!)"]
See you next week, Small Marketeers! Stay frosty.