Hey, everyone! We've been taking a bit of a break for the start of summer, but we're back. Our three main writers -- Aaron McGuire, Alex Dewey, and Alex Arnon -- are all slumming it in Vegas to cover the haps and antics of this year's Las Vegas Summer League action. Arnon and McGuire have been in town all weekend, putting together a cornucopia of miniature stories and notes for later digestion. This post represents our weekend reflections, to be updated throughout the weekend's action.
• • •
REFLECTION #1: OUR PLAYER OF THE MOMENT, MarQuez Haynes
Alright, alright. You may wonder why this isn't CJ McCollum. Or any of the myriad other players who played more minutes, produced more baskets, or just have names you recognize. You know what? Names you recognize aren't what Summer League is about. Summer League is about the journeymen who look stunningly good for a short stretch and captivate your imagination. MarQuez Haynes is one such player, at least for me. Haynes is a journeyman with a remarkably well designed website. He attended Boston College and UT Arlington, and has spent the last three years overseas with Gran Canaria and Elan Chalon. He wanted to be an astronaut growing up and considers Floyd Mayweather his favorite athlete. (On a totally unrelated aside, Floyd Mayweather stepped on Alex Arnon's feet yesterday while randomly traipsing through press row. If MarQuez wants to meet his favorite athlete, he should obviously become a Gothic Ginobili writer.)
Ahem. Back to the actual basketball. Haynes is here for the same reason most players are -- he wants a shot at playing in the big leagues. I don't really know if his performance this weekend is going to get him that, but I found it impressive as a statistical curiosity. On Saturday, he was the Washington backup for Sundiata Gaines. He registered 6 assists in 20 minutes of play, along with two made shots. Now, he missed five shots, so that's not the most impressive thing in the world, but take a step back for a moment. The Wizards made 19 baskets in yesterday's game. Haynes either assisted or scored on eight of those nineteen. That's hilarious. He also blocked the first shot that was taken after he came into the game. For the sake of my curisoity, I decided to calculate Haynes' exact assist percentage in that dreary Wizards game. In order to do this, I had to figure out every single shot his teammates took with Haynes on the court. The results?
Otto Porter jumper

Otto Porter jumper (miss)

Glen Rice 3PT jumper, assisted by Haynes

Frank Hassell three (miss)

Jan Vesely dunk, assisted by Haynes

Chris Singleton jumper, assisted by Haynes

Glen Rice jumper (miss)

Andrew Lawrence 3PT jumper, assisted by Haynes

Glen Rice jumper, assisted by Haynes

Andrew Lawrence layup (miss)

Andrew Horner layup (miss)

Glen Rice jumper (miss)

Frank Hassell layup (miss)

Ryan Thompson jump shot, assisted by Glen Rice

Glen Rice dunk

Otto Porter layup, assisted by Haynes

Otto Porter layup (miss)

Otto Porter floater (miss)

Chris Singleton fadeaway jump shot (miss)

Otto Porter jumper (miss)

Chris Singleton jump shot (miss)

Glen Rice jumper (miss)
So, when Haynes was on the floor, his teammates made nine shots. (His teammates missed 14, and he missed 5 as well, but shush.) He assisted on six of those, for an assist percentage of 66%. You hear me, NBA? Marquez Haynes assisted on 66% of his team's shots in an NBA summer league game. Perfect backup guard, right? ... of course, he followed up the 66% assist percentage game with a game of one assist, but Haynes made 4 of his 6 shots, which means he managed to shoot 66% from the floor in the game. (EDITOR'S NOTE: Immediately after I wrote this -- with 50.8 seconds remaining in the game -- Haynes made a three pointer. So, I suppose he actually shot 5 of 7. Let's pretend that last shot never happened.)
It stands to reason that MarQuez Haynes has a spiritual connection with the number 66. He may assist on 66% of the shots his teammates make. He may shoot 66%. He may snag 66 rebounds. He may play 66 seconds. He may drive to the game on Route 66. Who knows? All that's clear is that Haynes will always -- ALWAYS -- be repping his 66 roots in the box score.
Godspeed, MarQuez Haynes. May the NBA accept your 66 revolution with strong hearts and open minds.
-- Aaron McGuire
• • •
STORY IN A TWEET #1: AMARE'S MORTAL ENEMY, REVISITED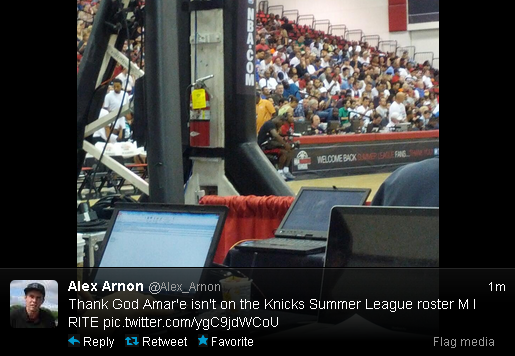 DEWEY'S CORNER: Gal Mekel Overdrive
Trying to assess the leap from basketball's lower leagues (your NCAA, your Euroleagues, your CBAs) to the NBA presents quite the challenge for the objective analyst. How do you even project that? Summer League, even more than these lower echelon semi-pro leagues, presents different incentives that really tend to warp the frame of any analysis th -- ... Okay, let me cut this line of thought short: Gal Mekel is the next Bill Russell. Okay, hold that thought, it's really not as absurd is it may seem. After all, both of them were born on Planet Earth and have some connection to the city of Dallas. This puts Russell and Mekel in rare company; they are the exact same player, but the other is the next of the one. [Editor's Note: Dewey, where are you going with this?!?]
Holding that thought a bit more, would Bill Russell honestly dominate the Summer League of his time? Yeah, yeah, I know, "of course he would, he was a college star. All he'd done up to that point is win." But didn't we also say that about Adam Morrison? I don't know. Yes? I was really young then. But what if Bill Russell wasn't dominant in a proto-Summer League precisely because of the things that made him great today? Would Russell -- disdainful of individual glory -- have had overawing statistics that would send us into flurries of pre-pre-season hype in 1955? Would Russell's reportedly photographic recall of every play in his career be expressed in 25 minutes of four games against gunners hoping to stand out with their jump shot and bigs trying to show off a prokaryotic back-to-the-basket game? Would Russell's mastery of the transition game and outlet passes -- a mastery that helped propel his teams to greater heights than had ever been achieved before or since -- show up in a mix-tape set to, uh... "Smoke Gets In Your Eyes" by the Platters? Was that popular in the 50s? [Editor's Note: Yes, it was. 1958, to be exact. Good work.]
All of this to say nothing of the leadership abilities, rendered useless or meaningless or "a nice intangible". Sure, I'm not saying he'd fail Summer League. He's Bill Russell. The winner to end all winners. The original Trill Barton. But what if, my friends? What if the special form of incentives in Summer League didn't project Russell out as more than an average starter? Maybe his athleticism is the dominant theme. Limited offensive game, some individual talent on defense, lengthy, good timing, good feel for the game... Possibly the best player in the draft...
And yeah, that's where the comparisons with Gal Mekel begin to break down somewhat. Just a little bit. Very few people outset call Gal Mekel the best player available. [Editor's Note: Nobody has ever called him this, Alex.] It's an irrational Summer League fascination to pass the time. But maybe the next-level skills that actually translate to the NBA, the skills that transcend the limiting factors of an offense, the skills that increase in value with the skills of one's teammates, the skills that increase with time spent in the league? The skills for which teams end up paying a couple million a year extra, anyway? Maybe those skills are impossible to simulate. And maybe that's Gal Mekel's future.
Either way, Mekel was fun to watch in summer league. Great command of the floor. Good ball control, excellent floater, some very nice passes. He looks like he has a future. And yeah, maybe he's not the next Bill Russell. [Editor's Note: He isn't.] Maybe he's not the best player in his draft. [Editor's Note: He isn't.] But he's fun, he's got talent, and he's a passable backup point guard. [Editor's Note: He is.]_ _Perhaps that's enough, readers. Not the hero summer league deserves, but the hero it needs right now.
Gal Mekel for president, 2013!
-- Alex Dewey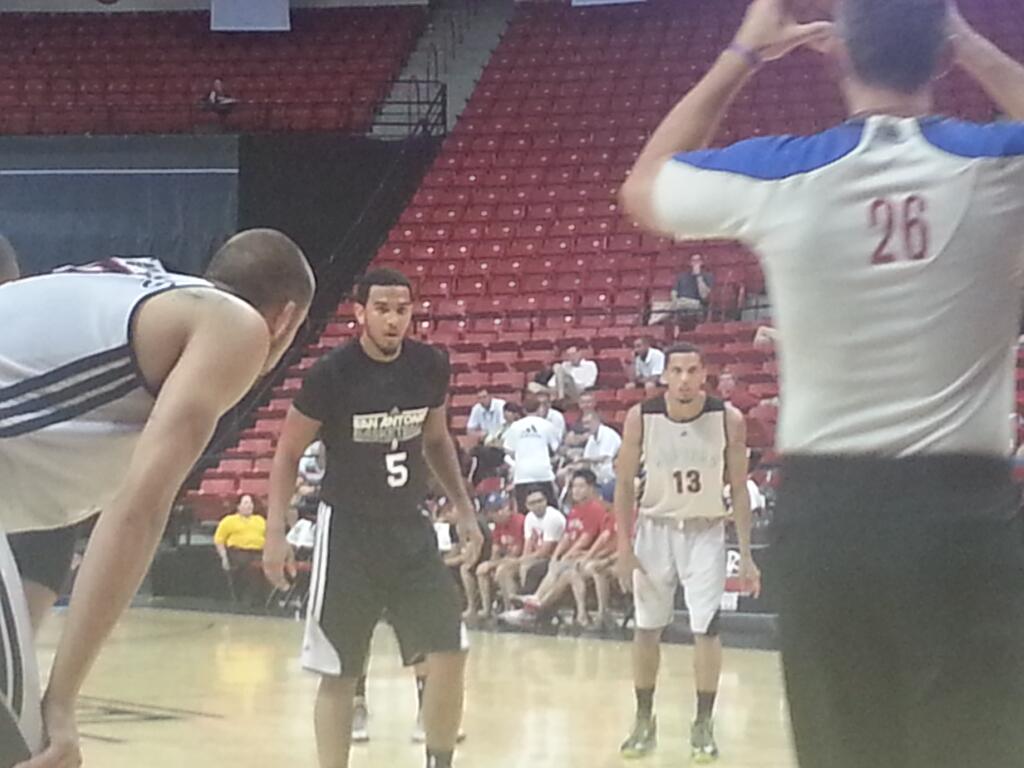 FINISHING UP WITH THE BROTHERS JOSEPH

Going into the day-concluding matchup between the Toronto Raptors and the Summer Spurs, there was a single subplot I was excited for. The Spurs were starting Cory Joseph, a rotation guard during the regular season and one of Tim Varner's very favorite Spurs players. I'd gotten wind of a rumor before the game that the Raptors were going to be starting Devoe Joseph, Cory Joseph's journeyman older brother. The Elder Joe played one season with the Minnesota Wolverines and one season with the Oregon Ducks before falling out of the draft and ending up in Ukraine at BC Khimik. Both are point guards. Both are good. And both, according to someone I talked to, would be starting for their respective squads on Sunday night.
The brother-versus-brother matchup is one of my favorites in all of sports, no matter the level of competition. Neither my brother or I played much in the way of organized sports when we were young, but there was always a certain meta-game present in any sort of competition where we'd face off. Playing H.O.R.S.E., squaring off at Scrabble, exploding each other repeatedly in Team Fortress 2. Always a sort of latent energy you don't always get in a casual game. The younger brother is always hungry, trying to one-up the one who came before. Prove their place and show that they're as good as their elder.
On the other hand, there's this sort of desperate energy from the older soul. It's motivated by a lot of things -- the rigid application of familial narratives chief among them. Above all, though? It's a valiant effort to evade a brutal embarrassment. "Dude, your little brother beat you. Duuude." No older brother wants to deal with decades of reminders about that one time their little brother schooled them. Nobody's ever up for that. As a proud older brother, believe me -- every single one of us wants to avoid this.
Unfortunately for my narrative thirst, the rumor turned out to be bunk. Joseph's elder brother certainly didn't start, and in fact, he didn't even get into the game until the second quarter. He played about four minutes of first half action before subbing out, which was hardly enough time to get full coverage of the family feud. Alas.
All that noted, it was a fun few minutes. There wasn't any of my hopeful drama-laden faceoff, but there was one notable possession where Devoe and Cory matched up directly onto the other. I was close enough to the court to hear trash talk (a fun experience, but that's a story for another day), but neither of them mussed the other to any large degree. No big trash talking, just stony faces. Both of them seemed to be trying to treat the other as they would any other opponent. Let the game do the talking, game recognize game, all that fun stuff. This one possession, though -- Joseph missed a jumper and got the ball back with Devoe matched on him. Devoe challenged him, and Joseph ended up dribbling out of the shot and passing the ball inside. Missed shot by Baynes. The elder flashed a fleeting smile before he took the ball up the court, and Cory tried not to look at him. Not exactly "one shining moment", but a fun distraction in a marginally interesting day-ender.
There wasn't a huge one-on-one matchup, and I suppose that wasn't a fair expectation. But they both had good games, in the end -- Cory had a 16-6-6 line on 13 shots, and Devoe had 7 points on 5 shots. Cory won the matchup (insofar as it existed at all), and Devoe's team won the night. The younger brother, fresh off spot minutes in the NBA Finals, played a markedly better game and looked the part of a Summer League Superstar. And the elder brother, fresh off a season in Ukraine, had himself a nice little game as a roleplaying second guard. The Raptors allowed Devoe to stay in the game for most of the 4th quarter after a 4 minute first half. Perhaps they'll show some faith in him and throw him a bone on the roster. And for one night, Devoe's team got the all-important W against his little brother's NBA finalists. Both winners, both losers.
(Just like writers who make their bread watching these ridiculous games, oddly enough!)
-- Aaron McGuire