Hey, everyone! We've been taking a bit of a break for the start of summer, but we're back. Our three main writers -- Aaron McGuire, Alex Dewey, and Alex Arnon -- are all slumming it in Vegas to cover the haps and antics of this year's Las Vegas Summer League action. Arnon and McGuire have been in town all weekend, putting together a cornucopia of miniature stories and notes for later digestion. This post represents a throughout-the-day effort by Aaron McGuire to de-mystify the strange and unreasonable tournament structure that the powers that be imposed on the Summer Day's concluding proceedings.

BRACKETOLOGY, SUMMER LEAGUE EDITION

After years of inconsequential Summer Leagues, the NBA has decided it's time to stop messing around. It's time to get serious, folks. This year, they're attempting to institute an NCAA-style tournament for Summer League competition, leading to an actual Las Vegas Summer League "champeen" (as our lame-duck commissioner might well intone). In it, Summer League's 22 teams will face off for the most illustrious of basketball honors. Summer League Champion. Which team has the heart of a champion, dear readers? Which of these world-beaters will be named the greatest of all the death machines? Who, at the end of the day, will be able to count their rings?!?
... alright, I'll stop. I tried. I'm a statistician, not a hype-man.
Barring some end-state where the summer league tournament is a practice run for a future implementation of the Sports Guy's "entertaining as hell" tournament, just about everyone collected was mystified upon hearing of the hastily-constructed tournament restructuring. This widespread mystification became all the more apparent when the media and fans congregated at Summer League, sat themselves down, and started to look at the schedule to plan out their week's coverage.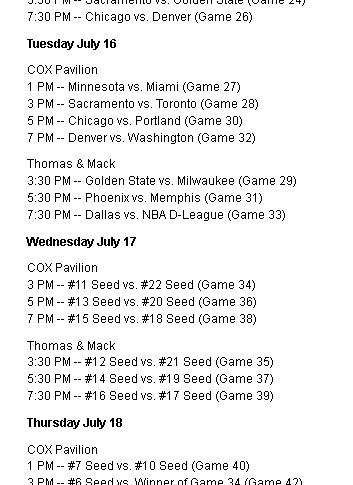 "Wait, what?"
Cue widespread confusion. "Who's going to be playing on Wednesday?" ... "When do our beat writers need to go home, exactly?" ... "How bad do you need to be to become the #22 seed at the NBA's Summer League?" Lots of questions, few answers. But have no fear, my friends and neighbors -- we've got you covered. As Tuesday's game action rolls forward, Gothic Ginobili will be solving the NBA's seeding crisis and giving you the juicy details on who's playing who. By the time the day's over, we'll know exactly who is seeded where and the final schedule for Wednesday and Thursday's action.
And we'll look good doing it, too.
The bracket can be found here. For your sake, here's a repost of the bracket image.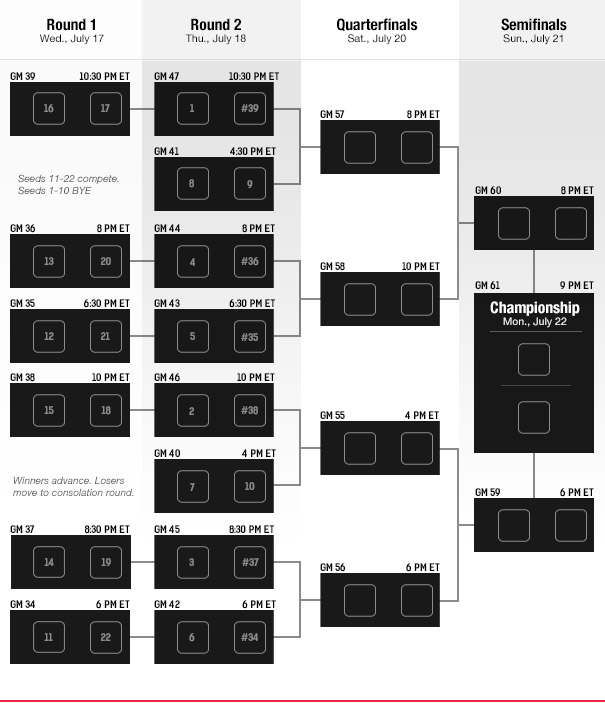 • HOW'S THE BRACKET SEEDED? •
The seeding system -- while rather annoying to calculate -- is reasonably easy to explain.
The__ first criteria__ teams are seeded on is overall win-loss record.

Given that each team will have 3 games, it's quite likely there are ties in overall record.

Assuming a tie in overall record, the second tiebreaker is a point system related to the number of quarters that individual team has won. The system gives teams one point for a quarter they won, half a point for a quarter they tied, and zero points for a quarter they lost.

If there is a tie between both overall W/L record and their "quarter points", the third tiebreaker is the team's head-to-head record -- if the tied teams had previously played each other in summer league, the winner of that game gets the higher seed.
The fourth tiebreaker is point differential.
And the final tiebreaker, in the unlikely event that EVERY SINGLE ONE of these criteria is tied, is a coin -- seeding would be determined by coin flip.
Piece of cake, right? (Jokes aside, it's a reasonably well designed system given the constraints. Good job, NBA.)
• WHAT DO THE STANDINGS LOOK LIKE? •
Here's the most relevant part of this post for those still reading. What do the standings look like? Who's going to be playing who?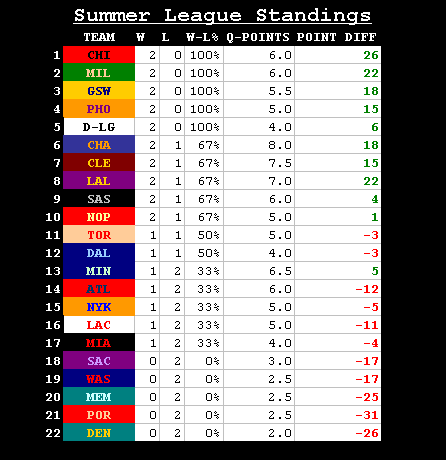 What do these standings tell us? A few things. On Wednesday, seeds 12 through 22 will see action -- that means none of the top 11 teams will be playing Wednesday. (Related: Wednesday may end up being the worst day of basketball in the history of the human race.) Due to that, any team that's locked into the bottom 12 will be playing on Wednesday no matter what. There are a few teams that are locked-in to be playing on Wednesday. They are:
MIA, LAC, NYK, ATL. Even if every team below these four teams loses, they don't have enough quarter points to win a tiebreaker with any of the other teams that have clinched 1-2. Since 10 teams have already registered two wins, only one spot in the top 11 is available for a possible 1-2 team to snag it. Minnesota, Toronto, Dallas, or Sacramento would be the team to grab it -- not any of these four. The WAS/MEM/POR/DEN quartet is also in the mix for that spot, but they'd need to dominate their games today, which looks unlikely for Memphis (Phoenix is fielding a good summer league squad) and unlikely for Portland (as Chicago currently rates out as one of the "elite" summer league teams, insofar as a summer league team can be categorized as such.)
Conversely, there are a handful of teams that have clinched a bye on Wednesday. These are teams that you definitely won't be able to see on Wednesday. These teams are:
CHA, CLE, LAL. The Spurs and are also unlikely to be playing on Wednesday, but there's a fringe possibility they slide into the #11 seed if Toronto and Dallas both win their games today (and win 3 or more quarters) and the D-League manages to win at least two quarters in today's matchup. This is also contingent on Phoenix and Golden State both winning a quarter in their games.
Seeding-wise, things will clear up significantly as the day goes on. Obviously. To that end, I'll be updating these standings to reflect new data. Don't worry, guys. We've got this. We're going to know the schedule before anyone else does. It's going to be a secret between you and I, dear reader. You and I.
UPDATE: Well, I've been updating my lucky Twitter followers of all this thick and juicy breaking news all day. Make sure to follow me on Twitter, as I am clearly the only journalist courageous enough to tackle the real tough questions on Las Vegas Summer League Tournament Seeding. Here's the scoop with three of today's games in the book:

The Warriors have clinched a seed of three or better.

The following teams will be guaranteed to be playing on Wednesday: MIN, ATL, NYK, LAC, MIA, SAC, WAS, MEM, POR, DEN.

The following teams are guaranteed a bye day and will not be playing on Wednesday: GSW, CHI, CHA, TOR, CLE, LAL, MIL.

The following teams are still up in the air: PHX, D-League, NOP, SAS, DAL.
LIFE IS SO CRAZY.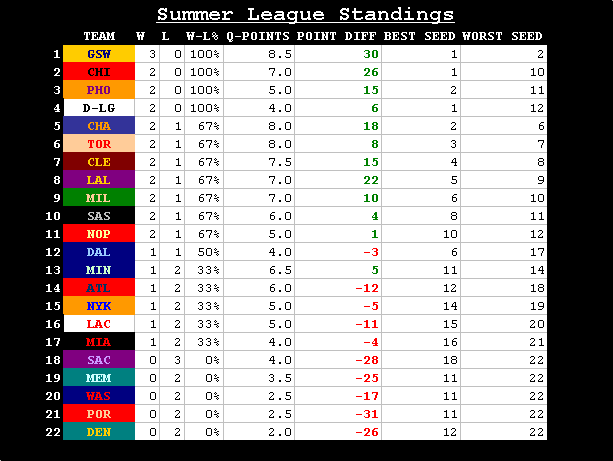 Here are the updated standings as of the end of Q1 of MEM/PHO and CHI/POR.
-- Aaron McGuire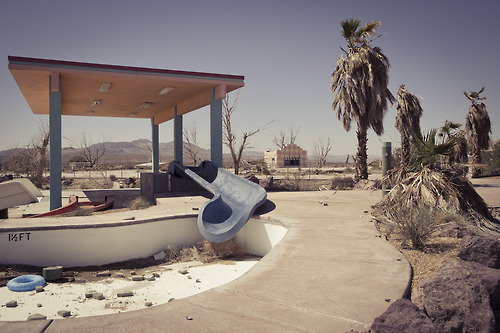 FINDING AUTHENTICITY IN THE MOJAVE WASTELAND
There's a sort of paradox that lies at the root of all team sports. Consider the underlying juxtaposition: the dynamism and entertainment of team sports alongside the dismal grind of the athlete's preparation. "He's an exciting, dynamic player" must be said, regurgitated, challenged, and deconstructed at its core before a team decides to take a chance on the player through waivers or trade or draft. The player's excitement and dynamism only emerged because of an enormous sacrifice of hours a day in training. Relentless decades in the video room, relentless self-analysis, relentless self-betterment.
I look at my endless, sprawling drafts and songs and -- alas! -- drawings. They're scattered. Various hard drives, scratch paper distracted from original function, Christmas albums published and unpublished, blogs with two entries that I really got enthused about and forgot the next morning, and all the sordid rest. And there are still days I wake up and can't seem to compose a sentence that anyone else on Earth can understand, at least to the extent that I want them to. It's dispiriting. And there are days I wake up and all the experiences, even those I'd previously classified as useless, are consummated together within my soul. And my prose flows freely. Comprehensible, understandable, stark. And most days are in the middle. If I'd worked at it less, I'd have more days like the former; if I'd more, I'd have more days like the latter. That's what I tell myself. And at the core of competition with the self, that's what we all have to tell ourselves. It's a conversation with ourselves that can be fraught with delusion, but it's a conversation about substance, and there's some sort of empirical measure to answer for.
"This isn't brilliant, but it's publishable."
"This isn't publishable, but it's fluent."
"This isn't fluent, but I kept the rhythm and the intonation. I can feel proud of this, given...".
Some of these players get paid millions of dollars to play a game, and in our culture we tend to get all righteous about this when teachers and firefighters and so on do so much more for our society and all that. With good reason. And then the counter: should we REALLY be determining what people can earn based on what others can't? Is there not room in a perfect society for a million-dollar athlete and a properly-valued million-dollar teacher? And the elephant in the room, the baseline here, might be that we tend to see sports as fun, above all else. But it's also a sort of strange evidence one can put forth of our incompleteness as a society, an unaccountable waste of time and resources, or at the very least a tasty side dish to the main course of life.
Sort of like... Las Vegas.
See what I did there? Confession: being in Vegas makes me feel authentic by juxtaposition. I can resist the casinos with placid frugality. I can resist the nostalgia of the nebulously blended together "Fifteen to Thirty-Five Years Ago aka When Those Of You That Can Run a Tab Were Young" with naught but vigorous activity. I can resist the desire to make myself worse, to forget, to spend, to be false. I can resist. I can resist. I can resist. I can feel superior and get drunk on my own apparent superiority and it's actually cheaper than literally getting drunk. But I know it's a lie and I know it's a fictional narrative designed to increase perception of my own value and character. I didn't become a better person because I surrounded myself with more vice. What's more, I know dismissing it all as vice is its own form of inauthentic rabble.
It's a way for me to have a confident, judgmental stride that I haven't deserved, an easy conversational shorthand to find common ground with fellow travelers. It's awful. Sometimes I think we watch sports in its spectacle to get to this form of paradoxical blend of miring ourselves in the drama and the simultaneous feeling ourselves above the drama. Rooting interests keep us grounded, aesthetics, sportsmanship, but sometimes I just want something interesting to happen. And, put it this way: My moral sense isn't always the first one to respond to an interesting happening.
Summer League is pretty neat because there is no such pretense of anything else. The league is too meaningless to be a determining factor in anyone's career, it's a Bayesian flyswatter of slight probabilistic meaning. And the competitiveness of the product on the court is nil and arbitrary. Lance Thomas isn't exactly competing with Deshaun Thomas, even if they may both be going for the board. Sure, it would be nice for each player to snag it. It'd be worse if they don't. But they're mostly competing against their team's established rosters, which has so little to do with the direct, symmetric competition before us that they might as well just repeat the tautological mantra: "do more, do better." And thus there's a strange blend of incentives. It's an overdose of a 35-year-old-on-a-28-win-in-a-contract-year team vigor. And that blend of incentives writ large determines the game. The fans know it, the writers know it, the front office people, the coaches, the players know it.
For all the occasional on-court absurdity, it's not wearing any alibis: In the end, Summer League is exhibition, it's learning, it's competition against the self that reigns here, for every single participant. Even for the fans, who are mostly in it for a good time and maybe some free T-shirts, there's not necessarily any sort of rooting interest so much as pursuit of entertainment. They have to find out what to watch for and enjoy it. It's authentic, even when the back-and-forth sequences of turnovers can make you grimace. Summer League is a nice bridge between the dismal "how athletes are made" (which takes decades) and the fascinating "what athletes can do" (which may take a tenth of a second). It helps us understand what must go on first, and gives us a taste of what symphonies this overture of decades is building to. And best of all, it doesn't pretend to be anything different.
Except for this tournament thing. What's up with that?
-- Alex Dewey
Continue reading
---