Long ago in a distant land, Alex Arnon was watching a Kings/Suns preseason game when he became so furiously enraged at a Tyreke Evans double-teamed isolation jumper with 19 seconds on the shot clock that he hit his head, fainted, and woke up a delusional new man. To my understanding, he's now wholly ensconced in a bizarro world where some guy named Xenu created the Earth, Segways changed the very core of how people get around, and small markets make up the vast majority of NBA coverage and traffic. So just remember the motto we've provided our cracked-skull columnist: "No superstars? No problem!"

Buon giorno, friends! I'm in an absolutely ecstatic mood this morning, because two of my absolute favorite NBA-related things happened this week. First, the Pacers broke yet another record by showing those rambunctious big market Canadian rapscallions that there_ actually is_ another facet to this wonderful game called "defense". But that wasn't even the biggest news this week (and honestly, with the sheer number of records the Pacers break, when is it?) -- there was also a blockbuster trade which shocked both the championship picture and our entire beloved league to its very core!
To summarize the trade that fantasy GMs across Arkansas are still talking about in hushed whispers, the Bobcats shipped out legendary sharpshooter Matt Carroll for 2003 NCAA champion Hakim Warrick. Yeah, I know. You've probably been completely over-exposed to all the various in-and-outs of the Hakim Warrick/Matt Carroll trade. Happens. But kindly lend me your ears for a second, as I've fired up ye olde Synergy Sports machine to help you understand it even better. In case you're unfamiliar with Synergy, it's some sort of computer-internet wizardry where you type in a player's name and it tells you all these fantastical things about numbers and "statistics" and liberal mumbo-jumbo like that. Now friends, I have to give you a disclaimer: math isn't exactly my strong suit. But you're going to have to bear with me here.
The first thing that stood out to me is Warrick's career 49.4% shooting percentage -- that means if he take 10 shots then there is a very good chance that he'll make at least 2 of them. Cowabunga! However, something else caught my eye: when taking the opposing defender to the rack off his patented bicycle kick slide-dribble spin move, Hakim Warrick scores a sizzling 2.7 points per possession! On the other hand, Matt Carroll is a very respectable 38.4% three point shooter over his career. But you need to unskew those numbers, compadres! Because that's his three pointer percentage, you need to multiply it by 3 to get his "true" shooting percentage, which comes out to a super rad 109.7% true shooting rate! WOW! And how can we forget about his defense? In Matt Carroll's career as a lockdown defender, opponents who suffer from fatal cardiomyopathy while taking a shot against Carroll have shot 0-50 against him, and rumor has it that at least five of them tragically passed away after being faced with Carroll's bruising defense back in his no-good hooligan high school days.
In the end, it's a style change for both teams, but one of those rare win-win blockbusters that everyone can feel happy about. Phenomenal trade.
• • •
The State of The Small Market Union (Sponsored by The Memphis School of Modern Dance)
This time last week, East coast big markets were dominating the NBA landscape due to the unfortunate tragedy that was Hurricane Sandy. However, with the time for charity over (charity toward big markets of course, we small marketeers take care of our own!), the Knicks were handed their first defeat at the ferocious claws of the Memphis Grizzlies. Very unsurprisingly, the big ol' softies have the NBA's best record at 8-1! Why unsurprisingly, you ask? Because Monsieurs Gasol and Randolph have been taking lessons at The Memphis School of Modern Dance to improve their fancy footwork, of course! Remember to book your next lesson by calling 1-800-867-5309 today!
(Advertisement paid for and sponsored by the Memphis School of Modern Dance. "When you're here, you're family.")
By the way, I'd like to take a second to give a shoutout to the Washington Wizards. They may be in a big market but those guys sure have the heart of a small market warrior. Missing their two best players, Johnathan Wall and Maybyner Rodney Nenê Hilario, they've banded together as a team, losing every single game they've played by an average of 7.8 points. But unskew the numbers, folks! If John Wall's career average is 16 points a game (Ed. Note: It is.) and Nenê's is 10 points a game, so that means the Wizards are currently projected to win all their games by an average of 18 points when they both come back! Definitely a team to keep your eyes on!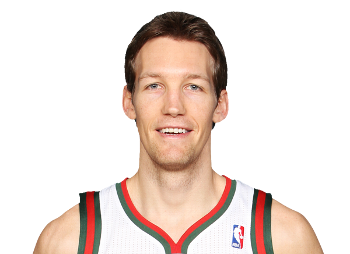 Bubba's Bait Shop Presents: "The Buck Stops Here!" Mike Dunleavy MVP Watch
We dodged a bullet this week, as Mike Dunleavy's father was (thankfully) not named the new Los Angeles Lakers head coach as big market panderer Mike D'Antoni took it instead. Every blackened smog cloud has its coal-tinged lining however, and Dunleavy Jr. seems to be understandably shaken up by the terrifying news that his father could've been a big market sell-out as he went 11-27 from the field this week. Yikes! And while his Bucks won all 3 games they played thanks to Dunleavy's efforts all over the court on defense and as the primary ballhandling wizard he is, it's quite obvious to any astute observer of PTSD that he is a changed man. Steal one furtive glance into his eyes and you can just see the despair wallowing around in there, trying its best to get out of a broken-down man.
So, dear readers, we're going to hesitantly ask you to suggest the next player to be tracked by our world-famous MVP watch here at Small Market Mondays in our comment section below. And please, please say a prayer for Dunleavy and his family in these trying times.
Small Market Mondays Game of the Night
Last week's game of the night was a DOOZY between the Blazers and Hawks. They combined for 97 missed shots which means there were 97 opportunities to watch the most exciting part of basketball - the rebound battle! The Trailblazers managed to win the rebounding battle 47-41 but lost the scoring war 95-87. And since David $tern (the dollar sign stands for money) is a flashy big market apologist, that's the thing that'll display in their record.
But enough about the past, let's talk about tonight! This is quite possibly the juiciest schedule we'll see all season. The glorious Indiana Champacers take on the team-to-watch Washington Wizards but since the Whizzles are just a small market at heart I'm afraid they're ineligible. The Nuggets visit Memphis, and while it'd be great to watch the best team in the league in a slugfest at home we can do you one better here at Small Market Mondays. Tonight's official game of the night has to be the Milwaukee Bucks visiting the Charlotte Bobcats. Rumor has it that you can see Hakim Warrick bust out his legendary bicycle kick slide-dribble spin move for the first time as a Bobcat!
My source on the inside even tells me that he's bought up all the tickets in the arena and is selling them off for the ultra-low price of just $2 to go to a local charity called "StubHub" for those who accidentally bang their toes against their dressers on dark late-night walks to the restroom. Like me! What a guy!