Long ago in a distant land, Alex Arnon was watching a Kings/Suns preseason game when he became so furiously enraged at a Tyreke Evans double-teamed isolation jumper with 19 seconds on the shot clock that he hit his head, fainted, and woke up a delusional new man. To my understanding, he's now wholly ensconced in a bizarro world where some guy named Xenu created the Earth, Segways changed the very core of how people get around, and small markets make up the vast majority of NBA coverage and traffic. So just remember the motto we've provided our cracked-skull columnist: "No superstars? No problem!"

Friends, I still can't get over the week's most wonderful of news! Rudy Gay has finally left behind our beloved Grizzlies, and we replaced him with Tayshaun Prince! You may be wondering why I'm so happy that the Grizzlies lost their "best" scorer, and there's quite a simple reason why. Rudy Gay is a Big Market Bully, someone who eschews teamwork for his own personal gain; Tayshaun Prince is a Small Market Sacrificer, someone who would do anything for his team.
It makes sense then that Rudy Gay is on his way to Toronto (a place in Canada) to play his me-me-me game in a fancy pancy wannabe-European big market. Honestly, who espouses arrogance and self-centeredness more than the French? When you remember that Toronto is the capital of Ontario which is a state in the province of Quebec_ [Ed. Note: Ontario is not in Quebec, Alex] which for a reason unbeknownst to me tries to be _French and not American even though we're right next to each other... then yeah, folks! It makes perfect sense that Rudy "16 shots per game" Gay now plays for their home team. He never really fit in with the Grizzlies' true American grit and hard work "grind", instead relying on isolation mid-rangers and stand-alone reverse pivot jump-o's instead of running the tried and true pick-n-roll or hop-n-pop. [Ed. Note: Why do you write for a basketball blog, again?]
It also makes sense that Tayshaun Prince will now play in the heartland of the good ol' USA for America's team. In Detroit he's done nothing but sacrifice: he shot less so Brandon Knight could develop, he passed more to Greg Monroe so he could do cool big-guy stuff, and he kept his facial bones intact so that Rip Hamilton could be the only guy on the team with a sweet mask. Surely he's going to be a consummate teammate as always, offering to teach Marc Gasol better English (and hopefully Tony Allen along the way), going out and decidedly not beating anyone up with Zach Randolph, and also doing whatever cool trickaroonies he does on a basketball court.
Also apparently this deal was really good for Memphis' "cap space" but Tayshaun's and Rudy's heads look kinda the same size to me so I dunno what all that hullabaloo is about. Whatever, though, that's just another way the Grizz win this trade (besides not being located in the country of Canadia, of course). [Ed. Note: IT'S SPELLED CANADA.]
• • •
The State of The Small Market Union (Sponsored by The Memphis School of Modern Dance)
Timothy Theodore Duncan went down in a game against the Wizards Saturday night. The one man who encapsulates everything which we as small markets stand for was struck by what could've been a season-ending freak injury to his knee. Thankfully, and I mean thankfully, our savior only has a sprained knee and sprained ankle, two injuries which have left him listed as "day-to-day". As such, this section will be put on day-to-day until the messiah makes his return, just as Jesus' Gestapoles did for Jesus when he was murdered by Lazarus but then raised himself from under that boulder they put on top of his grave.
I guess what I'm trying to say is pray for Timmy D. Or else.
Sperry's Space Stuff presents: "Rocketing To The Top!" Chandler Parsons MVP Watch
Just as Mike Dunleavy was wrecked by the news of his father possibly being hired to coach the Lakers, The Jimmer was wrecked by the news that his beloved franchise might be moving from Sacramento. As such, his play suffered and he's been replaced by Houston heartthrob Chandler Parsons. Because this is his first time on MVP watch, I've made you a nice little list to get acquainted with him:
Chandler is the frontman of his own "98 Degrees" cover band, "37 Degrees (Celsius)."

Chandler Parsons and Tyson Chandler once hugged and didn't let go for dozens of minutes in an attempt to fuse into Tyson Chandler Parsons.

Chandler's parents best friends had a child named Ross so they named him Chandler in an attempt to make sure he always had a friend.

Chandler ditched the aforementioned Ross after meeting the object of his newest bromance, Jeremy Lin.

Chandler played for the Silverhawks in high school. His new goal is to become a Silver Fox as a senior citizen.

Chandler was drafted 38th overall in 2011 but that's like being a lottery pick for a white guy who doesn't play center so he's reportedly "super chill" about it.

Chandler has a habit of adding parsley to every meal because it kinda sounds like his last name and makes him giggle.

Chandler has promised to never make any male offspring play golf because they'd just be par sons.
Congratulations, Chandler! Make our feature proud.
Small Market Mondays Game of the Night
Great news, compadres and compatriots! Tonight is a night for the ages as far as great quality basketball goes. As such, tonight we have a choose-your-own-game! Here are your two options. If you watch any other game, you're excommunicated! Forever!
Chicago @ Indiana - The highest profile game tonight and quite possibly the highest profile game ever. Derrick Rose is injured for the Bulls and Danny Granger is injured for the Pacers, but that makes this game even more watchable! Do you have any idea how many amazing rebounds will be collected without those guys to "create offense"? Can you fathom the strategy behind the 18 seconds it'll take to get the ball to a power forward in the post for an old-timey hook shot? How about trying to imagine one of these teams scoring over 80 points!? This will be basketball at its purest, ladies and gents, full of everything the game is about - rebounds, offensive rebounds, and boards! Ha-ha!
Portland @ Minnesota - Minnesota took on Portland's infamous injury curse by stealing Brandon Roy away in an effort to rejuvenate his career. What ended up happening was Roy got re-injured and made me super duper sad all over again and then Minnesota's players started dropping like flies right after him. This is what happens when you tamper with the moving Indian burial ground known as the Portland Trailblazers. Look for Ricky Rubio to attempt some sort of fancy behind the back pass of Roy's injury curse to Damian Lillard. If there's one person in this league who can pass something that serious on, it's Marco Rubio, Senator from the sinful state of Florida who somehow finds time to moonlight as the starting point guard for the Minnesota Timberpups.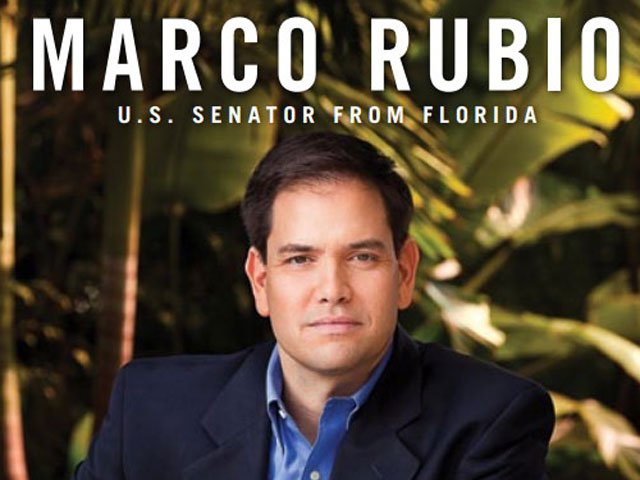 Keep on keepin' on, Marco.