"Did you graduate from Auburn?"
"No, but I have a couple people working for me who did."
- Charles Barkley
Dear Joel Embiid,
How are you? I hope your back is feeling better. Back injuries are no joke, and I imagine a spinal stress fracture is pretty painful. You seem like a tough dude though, and I'm confident you'll rebound from this. (Pun intended.) I'm sorry I didn't get to watch you play in March Madness. I'll be honest, I don't really watch college basketball much. I've been keeping up with your highlights though, and with your teammate Andrew's, and with Jabari Parker's at Duke, and with all the big NBA prospects. It's really cool to watch you guys play, and exciting to imagine a future where you're all playing in All-Star games, breaking records, making faces at Joey Crawford, and dominating at the big stage of NBA basketball. That's what I'm into, you know? I love NBA basketball. So yeah, I'm not really into the college game, but it's not like I can ignore dudes like you. Especially with how March Madness is, I can't help but tune in, or pull up YouTube, and watch what kind of crazy stuff you're doing and get hyped about the NBA player you might become.
That's why I was really bummed out when I read a while back that you were thinking about staying another year in college. Look bro, I get it. This is all really new to you, you're overwhelmed and excited and you're in the thick of it with your teammates and your coach and the Kansas fans, and you've gotta say the right thing. Obviously you can't just come right out and say you're heading to the league in a few months, even if you are. And I'm sure there was some honesty in there too, I figure you probably meant it a little when you talked about how you weren't sure you were ready for the NBA (You totally are, though). But don't indulge those temptations dude. More than ever, you're going to hear both people on the television and people close to you talking about all sorts of high-minded ideals. They're going to be talking about "maturity" and "learning to play the right way." You're going to read about this new NBA commissioner Adam Silver, and how he wants to institute a two-year rule for prospective NBA players. You're going to see a lot of people, smart respectable basketball people, agreeing with him. You're even going to hear guys like Charles Barkley (my hero) supporting the idea. They're going to talk about how it's important to get an education. They're going to bring up all sorts of examples of great college players, two to four year guys, who went on to have great NBA careers. They'll probably bring up Tim Duncan. They'll talk about Damian Lillard. You're going to be hearing all these smart voices, thinking about your school, those Kansas fans, and maybe a little nagging voice of uncertainty in the back of your head, and you're going to really think about it. You'll think about staying.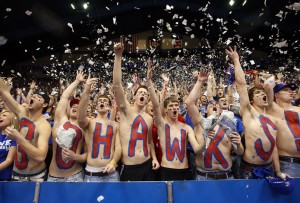 It's important you ignore all of that, and get the hell out of college. Get to the NBA, as fast as you can, as soon as you can. It's a real bummer that Kansas bowed out so early. It sucks. There are probably a ton of feelings that keep you tied down to Kansas and the dreams of a NCAA title. But you can't let it cloud your vision. And really, that's all you have to be worried about, because that's all you're going to lose by going to the NBA. Don't listen to this crap about how you need "an education," because you and I both know your main priority is winning ball games for your team, your fans, and your school. You're an NBA player in everything but title, and the only difference between you and them is that you aren't getting paid yet.
Don't worry about college. You can go to college later! I can't stress enough how easy it will be for you to go to college later. Whether you'll still feel like it will be up to you, but you're going to have a long career and a good half-century to get an education after your NBA career is over. You'll have the time, the motivation, and the money to pay for it. You'll have years of experience as a professional working adult that'll provide the direction you need to steer that education wisely. If you get to that point and find that you don't feel that you need it, great. You probably won't need it. Some of the most successful people in this country, athletes or otherwise, never attended college. Kobe Bryant and LeBron James have built pretty successful brands for themselves outside their athletic achievements, and neither has had the benefit of a single semester of higher education. Smart guys are smart guys.
Speaking of those guys, if you ever find yourself looking at a chart showing the correlation between length of time in college and longevity of NBA careers, which is something I've seen floated around lately, here's a real solid rebuttal: Kobe Bryant, LeBron James, Dwight Howard, Tyson Chandler, Amar'e Stoudemire, Josh Smith, Jermaine O'Neal, Tracy McGrady, Al Jefferson, and Kevin Garnett. That's a good solid list of All-Star NBA players who enjoyed or are enjoying long NBA careers, straight out of high school. Lot of big guys on that list too. And having watched your potential at Kansas, I don't think it's a reach to say you'll probably belong in that same stratosphere with those guys.
But hey, somebody'll be in your ear. Maybe it'll even be that same little voice that sounds a lot like you. That voice might say "But most of those guys are Hall-of-Famers. What if I'm not as good as them?" You never know, right? Well, there's also: Shaun Livingston, Dorrell Wright, Martell Webster, JR Smith, Gerald Green, Monta Ellis, Andray Blatche, Amir Johnson, and Kendrick Perkins. Don't get me wrong, I love Kendrick Perkins. But I'm pretty sure you're better than Kendrick Perkins. I'm pretty sure you could step on an NBA floor right now and be a more valuable contributor than big Perk, and he's had a long successful career. He's won a title, and he's made a lot of money. In terms of an NBA career, that's the most anybody can expect from themselves. Not everyone can be Michael Jordan. To make it, to carve out a role for yourself however big, to be valuable, and to win. That's success, no matter what anyone says about you. That's what you want for yourself.
But does it seem like that's what these people want for you? Doesn't it seem strange that all these talented high school players, many of whom have had all-time careers, many of whom are respected as some of the smartest in the league, never went to college? That they never learned to "play the right way?" That they developed in the league, playing against the best basketball talent in the world, and were all the better for it? Isn't it strange that you're a legal adult with a set of marketable job skills which, as evidenced by your draft stock, are valued in the millions of dollars a year, and yet not only are you required to work unpaid for a year of your adult life, but there are prominent media figures who guilt you and your peers for thinking something might be ethically wrong with that system? That the average NBA career is less than ten years, yet you're expected to sacrifice your body, your health, and a year of pay to work at what amounts to an unpaid internship? Does it seem like people are thinking of your professional well-being and security when they're talking about whether you "learn the game" or not, or whether you're "mature?"
Isn't it depressing that Perry Jones III, a versatile 6'10 big man who can play three positions, was a projected lottery pick had he entered the draft after his freshman campaign at Baylor? He stayed another year though, and when he didn't show the progression scouts expected (as many college players playing within a system don't), he saw his draft stock fall. Then doctors red-flagged his knees, a mark against his health that sent him tumbling all the way down to the 28th pick, where my Oklahoma City Thunder snatched him up. He's been pretty good, but he doesn't get a lot of minutes. He would've gotten more time had he gone to a team that would've featured him. His knees appear to be fine. He's making about $1 million dollars this year. He could be making $5 million. Who knows, he might've proved himself and lined himself up for a big contract. At this rate, it's doubtful he'll get the chance.
What if your spinal injury affects your play? I'm praying that it doesn't, but what if it does? It's not uncommon for talented NBA prospects to appear to stagnate in their second year because of the nature of college basketball and more stringent offensive systems. What if your health isn't the same on top of it? Your circumstances won't matter to NBA scouts, they'll drop you on their board in a second. But right now it's unlikely you go any lower than #3 in this summer's NBA draft, regardless of your back. You're that good. And that rookie contract is guaranteed, not like some other sports leagues. If things go the worst they possibly can for you, you'll be covered on hospital bills and whatever you need. You'll be taken care of.
It bothers me that you have so little choice in the matter. It bothers me that Adam Silver and a bevvy of owners are so transparently unconcerned with the professional freedom of the players that form the foundation of the sport. It bothers me that game breaks are inundated with "NBA Cares" advertisements where players extoll the virtues of giving back, yet the league has sought to structure itself in such a way that increasingly penalizes players for the faults of management and ownership. It bothers me that the NBA offers only the most half-assed of educational programs to help teach young players about financial management. It bothers me that the players union has been actively complicit in working against its own membership. It bothers me that the media, whose responsibility it is to hold truth to power and protect the interests of players, seems to be overflowing with prominent voices enthusiastic about propping up an ethically broken and exploitative business model.
But hey, you know what? A lot of things bother me. The truth is, that's the system man. It is what it is. I'm not saying you or me can do anything to change it. All you can do is know how to get the most out of it for yourself. And look, I believe that everyone is entitled the freedom to do what they think is right for themselves. I'm not trying to tell you how to live your life. You know your body, and your skills. If you think staying at Kansas an extra year is what's best for you, then more power to you. That's your right. If you want to give up basketball and join the Peace Corps, Habitat for Humanity, whatever, that's your right too. You're the master of your fate, there's no rules to this thing. But if you want to make a career out of playing basketball, you should look at what decision gives you the best odds to succeed while securing a future for yourself and yours. That's getting yourself an NBA contract, as big of one as possible, as soon as possible. If you're ready, you're ready. If you're not, you'll have more than enough time getting ready. Getting ready will be your job. Because we both know that's what you're already doing for them. A job. They're just trying to stiff you on pay as long as they can get away with it.
Tournament, no tournament. Ready, not ready. Healthy, not healthy. Just don't give them an excuse not to pay you, Joel. You've already earned that money, you've just gotta collect. Anyway, I hope you get to feeling better. I'm rooting for you.
Love,
Jacob H.
Continue reading
---