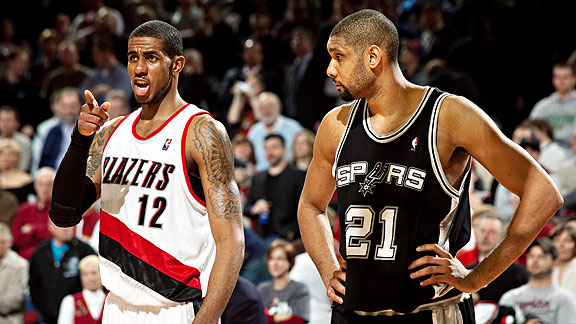 For the last two seasons, watching LaMarcus Aldridge go to work offensively has been an absolute joy. Aldridge owns one of the most unstoppable pet post moves in the league, and represents one of the few joys that classical post aficionados can get from the modern NBA. He does this exceedingly graceful hard right shoulder fake followed by a soft jump hook. If the defender doesn't overplay it, of course -- if they do, he simply shakes them off and explodes to the rim for a dunk. Sounds a touch unimpressive, perhaps, but it's remarkably effective -- Aldridge converted on an absurd 63% of his hook shots last year. Extremely high. It isn't quite Kareem's skyhook, but it's still almost impossible to stop. He folds that in with an excellent long range game -- albeit absent threes -- that takes his defender out of the post and some of the best free throw shooting from his position (81% from the line, on an above-average FTA/FGA to boot). To a man who likes watching big men work for their own offense, Aldridge is sublime -- he hearkens back to the days of McHale and Olajuwon, with a touch of a modern flair.
As for his defense, it's just about as impressive -- he's never going to be confused for Kevin Garnett, but he's been consistently excellent on that end for Portland He's better at covering the pick and roll than almost anyone in the league (excepting, of course, Garnett and Taj Gibson) and he's a solid defender in the low post. His length makes him a decent spot-up cover when he's engaged, although at times last season he looked a touch lost when he had to float on his man outside the paint. I'd attribute that to the general miasma around last year's Blazers before I really impugn Aldridge, though -- he's been an excellent defensive player for years and one of the top defenders at his position since 2010. His only real flaw, defensively, is his relatively disappointing rebounding -- Aldridge is per-possession one of the worst rebounders among any star big man, and he's never going to average the eye-popping rebounding totals that a Kevin Love or a Blake Griffin type player puts up. That's not necessarily to say he doesn't help the Blazers on that end -- the Blazers have traditionally rebounded better as a unit with Aldridge on the floor, and part of that is for the same reason Epke Udoh improves a team's rebounding despite anemic personal rebounding numbers -- he often blocks out the other team's best rebounder, and he's rather adept at tipping out boards to the Portland guards.
Here's the thing. On offense, you have a superstar player who produces blisteringly efficient offense on a silky-smooth classical style unlike anyone else in the league today. On defense, you have a stick of pick-and-roll dynamite whose slim frame is misleading to his actual defensive value, and whose defense is far and away the best out of all the rising star power forwards in the league. His contract is a laugher, paying him around $13 million annually for one of the few legitimate superstar players in the league. He's humble. He's smart. He's got a compelling personal story and a lovely family. He supports his teammates, loves Andre Miller, and stays generally absurdly healthy despite playing in one of the most health-luckless franchises in the league. Without adding a three to his game, it's almost beyond the realm of possibility for Aldridge to be more efficient or multifaceted offensively. Without a front office that can surround him with talent that at least approaches replacement-level, it's essentially beyond the realm of possibility for Aldridge to single-handedly lead a defunct roster to contention in a brutal conference.
I put the question to you. What more does he need to do to be appreciated? Continue reading →