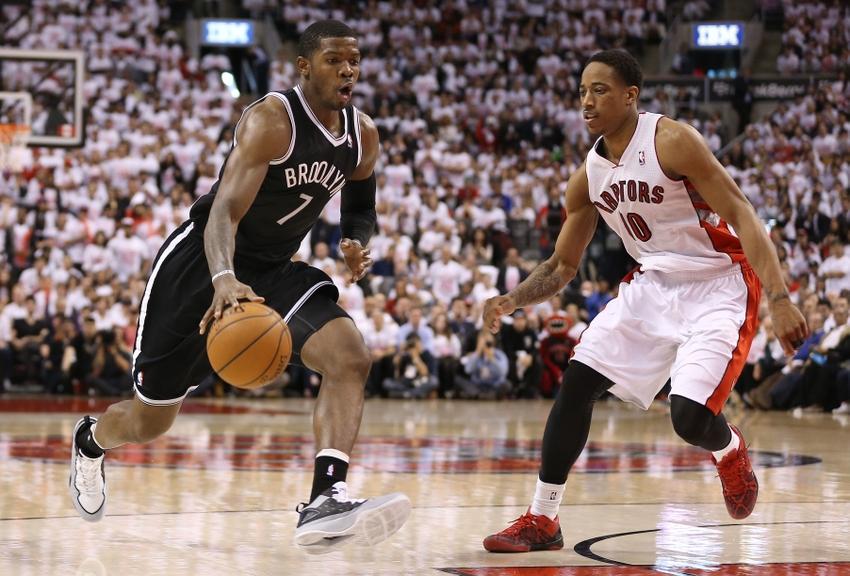 never a good idea, but: my playoff predictions! West: SAS in 5, OKC in 7, LAC in 7, POR in 6. East: IND in 4, MIA in 5, TOR in 5, WAS in 6.

— Aaron McGuire (@docrostov) April 18, 2014
A few weeks ago, I put those first round predictions on Twitter. I didn't have the time to do a huge piece explaining all of them, but I figured it made sense to scribe them down and revisit the predictions when reality had rudely awakened me to the dire mortality of my reasoning. Strangely enough, they haven't actually been that bad -- one in particular will haunt me for the rest of my days (... OK, no it won't), but for the most part my original reasoning has proved to be some combination of apt and silly. Given that all seven series currently have two games in the books, I felt like this would be a good time to do some revisiting. Reflect on what we've learned in the first two games, revisit my original thoughts, revise predictions when necessary. All fun things. We have a lot to get to, so let's get to it. Let's start in the east. I'll work my way westward tomorrow.
• • •
INDIANA (1) vs ATLANTA (8) -- Tied up at 1-1

Original prediction: INDIANA IN 4
Well... I was wrong about that. Look, I'm all for respecting a team that suffered injury trouble, but let's not overstate things. This Atlanta team won 38 games this year. They were outscored on the season by about half a point a game (... although, come to think of it, two other playoff teams were outscored by more), and they sport roughly two NBA-caliber high rotation players in Millsap and Horford. Jeff Teague is a marginally below league-average point guard and Kyle Korver is an excellent tertiary piece with his silky quick shot. Both of those mean something, but having those two as your 3rd and 4th best players (2nd and 3rd with Horford out) is a really bad look for an NBA team. Their offense and defense are well-designed but not well-executed, for the most part, and they just aren't that hard to gameplan. I figured that nothing Indiana did would override the fact that Atlanta is simply not a good basketball team.
Alright, yeah. I was wrong. Indiana's absurd inflexibility (as expertly noted by Zach Lowe) hurt them when Coach Bud chose to use Antic as a floor-spacing center and play "come-at-me" defense in a way that would reinforce George's worst tendencies. The Hawks romped Atlanta in Game #1 and as the series moves back to Atlanta it's an open question whether the Pacers can get it together and win the road game they need to retake home court. I still think they will, but lord almighty... how do you handicap this Pacers team? If they play to their worst tendencies they will lose to everyone. Literally everyone in America. The Kentucky Wildcats? They upset the Pacers. The Washington Generals? They upset the Pacers. Your little league team? They upset the Pacers. It's ridiculous! How can a team with such a refined command of the crisp grime (like: Memphis!) play like this without any real driving factors? Cripes.
The only thing keeping me from picking Atlanta at this point is that I can't fathom a world where Atlanta is actually a good enough team to beat this Indiana squad. I refuse to believe that's going to happen until I see it happen. Plain and simple. The Antic gimmick is a strong play by Coach Bud, but I have to believe the Pacers won't be quite so befuddled over the course of a long series that they won't be able to gameplan it out. I have at least a little bit of faith in Coach Vogel. Don't let me down, Frank. Still, it won't be a short series -- my guess is 6 or 7 games, simply because the Pacers have been rubbish on the road recently and expecting them to sweep the two games in Atlanta necessary to finish it in five is a fool's errand.
• • •
MIAMI (2) vs CHARLOTTE (7) -- Miami leads 2-0
Original prediction: MIAMI IN 5
It kind of hurt me not to make the original sweep prediction here. I'm pretty sure that this is the worst Miami team of the last four years -- even if we're accounting for the "pedal off the medal" factor, this team just isn't quite as crisp or clean as any of the last three Finals-bound iterations. LeBron isn't slower, but he's lazier. Wade is markedly worse than 2011. Bosh has been a bit of a disappointment this year, too. Not terrible, mind you, but certainly not up to the standards we'd expected. I don't think I'm alone in saying that I expected Bosh to take the reins a bit more as Wade cycled into a late career preservation phase. He hasn't, really, and although his defense has been solid his general game has been a big disappointment for me. He's a max player who's playing like a 12-13 million dollar man. Still a great player, but not quite up to snuff. And outside of the big three, this hodgepodge of declining aged roleplayers doesn't elicit nearly the teeth-gnashing fear of Miami's 2012 or 2013 group.
In sum, it's just really hard to get a feel for this Miami squad. It's a very uneven team, and while they're probably the most likely champion (even now), it's tough to predict them sweeping. So I didn't. But I kind of felt like they would. Even against Charlotte, a team that I've really enjoyed watching. As I noted yesterday, the step the Bobcats took this season has been one of the more heartwarming stories of the year. Their ceiling isn't through the roof or anything, but they're a respectable basketball team that might be even better next year as Clifford's tendrils take root. And I'd give them a puncher's chance at a competitive series against Indiana, Toronto, or Chicago. But Miami is just an absolute nightmare matchup for them. Al Jefferson (especially as balky as he's been) can't dominate against Miami's stout front-line defense in the same way he can against most of the league. Kidd-Gilchrist can't hide on offense against Miami's pressure D, and it's just incredibly hard for Charlotte's cut-based system to find daylight when Miami deigns to play its game.
So, what have we learned? Not a ton, so I'd probably maintain my Heat-in-five thoughts. Yes, Miami won both games, but they just barely won last night's contest and the first game was exceedingly close until the end. This isn't like last year, where Miami roundly obliterated the Bucks in the first two games (by 23 and 12 point margins). Or even the year before, where Miami completely stunted on the New York Knicks (by 33 and 10 point margins). It's more like the 2011 Sixers than anything else in Miami's history, who lost a tight game one contest by 8 points and a more lopsided game two by 21 points. That Sixers team went on to lose in 5 games, which is probably the most likely fate for the Bobcats now that we've got a better sense of where these two teams stand. Miami's too sloppy to sweep these next two games in Charlotte. Right? (Please?)
• • •
TORONTO (3) vs BROOKLYN (6) -- Tied up at 1-1

Original prediction: TORONTO IN 5
The way I visualized this series in my head had Toronto dominating Brooklyn on the boards and crushing them in the paint, with Jonas and Lowry and Amir rocking rims and finishing calmly over Brooklyn's not-so-stout interior defense. I didn't really think Brooklyn would be able to fight back from that without some incredible three point shooting and a lot of forced turnovers. And Garnett would need to have a throwback series, obviously. Two games in, and... well... pretty much all of Brooklyn's needs have come to pass, and they've totally outclassed the original matchup issues that I thought would swing the series Toronto's way. To wit, through two games:
Jonas Valanciunas is averaging 16-16 on 55% shooting. Beastly numbers. Less beastly: he's turning the ball over on 30% of his possessions, which is astonishingly bad. He's averaging 6 turnovers a game. Bad news bears, kid.

Amir Johnson is shooting 75% at the rim, as expected. Unfortunately for Toronto, he's barely ever getting there, as Garnett and Plumlee have done an expert job keeping him off the glass and away from the rim.

Kyle Lowry is doing his normal Kyle Lowry thing, averaging 16-7-7 on 13 shots a night. One adjustment Casey might want to consider? Entreating Lowry to do his Kyle Lowry thing on defense, against Joe Johnson this time. Johnson has completely torn the Raptors defense up in the two games to date, mostly matched on Demar DeRozan. Maybe a different look with Lowry could trip him up.
Yikes. It's not a lost cause for Toronto yet -- 1-1 isn't a death knell, and there are certain adjustments the Raptors could do to change the game a bit against Brooklyn's unconventional lineups. But the Raptors clearly don't outclass the Nets as much as I thought they did (if they even do at all), and my five-game gentleman's sweep seems like an extremely unlikely dream right now. I'd still pick Toronto, but after those two games, I'm thinking this series probably goes the distance. On a somewhat unrelated note, it'd be nice if Terrence Ross could do anything. He's made 2-12 shots in 21 minutes a night so far, and he's turned the ball over almost as many times as he's snagged a rebound. Get it together, Ross.
• • •
CHICAGO (4) vs WASHINGTON (5) -- Washington leads 2-0

Original prediction: WASHINGTON IN 6
This was one prediction where quite a few people called foul. But I maintain now what I maintain then -- Nene is a terrible matchup for Noah. Noah is a fantastic defender, but like most great big man defenders, he doesn't operate well when the opposing offense drags him too far from the paint and makes an active effort to force him to guard too much space. A weapon like Nene forces Noah to guard a massive chasm of offensive activity, and it's simply exhausting. Washington has some of the best cutters in the business, too, which makes Nene's matchup difficulty doubly tough for Chicago to wrangle. But the Bulls still have a stout defense -- having one or two interesting offensive quirks like Nene's versatility that can squeeze out a few more points over the course of a game are ridiculously useful, but you don't beat the Bulls on that alone.
No, you beat the Bulls by suffocating their already-stagnant offense to "failed autoerotic asphyxiation" levels. And the Wizards are doing that well -- in spots, at least. Mostly in the second half of games. Noah, Gibson, and Dunleavy are the only Bulls that have gotten anything going offensively, and they're generally carrying the team right now. Due to red-hot starts (or, well, whatever Chicago's approximation of "red hot" can possibly be called), Chicago's offensive rating over the full series (roughly 107 points per 100 possessions) is actually a vast improvement over their season-long 102.5 mark. But that covers up the fact that Washington's stout defense has effectively shut down Chicago over the late period in both games to date. In fact, in Tuesday's win, Chicago went scoreless for almost four minutes of overtime, only able to generate offense when it was essentially too late to matter.
Honestly? I could see Washington pulling it out in 4 or 5, but I've got a suspicion the Bulls are going to win one of these close ones eventually. And on-the-ropes home teams rarely lose game 5 to a roadster. Wizards in 6 still sounds like the most likely scenario for me.
---