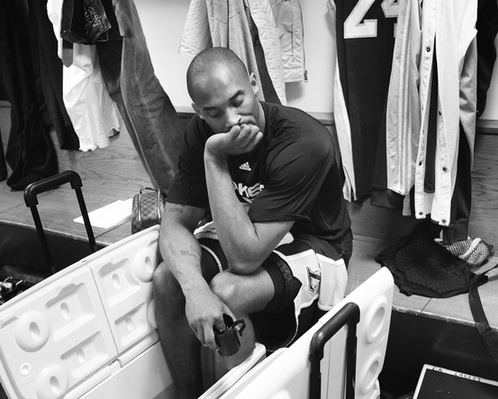 As Kobe Bryant took his fateful final step and hobbled off the court with a grimace and a quieted crowd, visions of Butch Cassidy and the Sundance Kid loomed over the proceedings. Because, let's face it -- they never had a chance. You know the apocryphal story of the two old western outlaws. Everyone does. And most people know the film, too, where the two friends gamble with fate all throughout the duration. They endure close call after close call, openly debating whether to hang up their guns or keep searching for a final heist to end it all. They go straight, then they don't. You CAN'T just go straight after what they did. You think you can evade that world, but you simply can't. The film fools some into thinking they'll find their eternal idylls, but that was never in the cards. Never is, really.
In the end, it was never some incredible feat that had them knocking on death's door. It was the tiniest mistake. The most imperceptible setback could ruin them -- and it did. What finally brought them down was the most innocuous heist of all time, and a detail they simply couldn't have seen coming. A small child recognizes the brand on their mule, and the Bolivian police force isn't about to let the two men go. They go out in a blaze of glory, shining brightest before their shortened last breath. The outlaws spent the whole movie fleeing from the stark inevitability of consequence. But that mistakes the moral of the movie -- the two were cornered from the moment they started the grind.
For a variety of self-evident and not-so-self-evident reasons, Bryant's injury brought me back to that film's conclusion. That same feeling of disturbing inevitability fell over the proceedings, despite the nature of the pain. Not a single doctor blames Bryant's insane minutes total, or the irresponsibility of keeping Bryant in the game after his numerous contusions and scary falls. But SOMETHING was going to happen. A 34-year-old player simply can't play 48 minutes a game to close a season. There was going to be a break, a strain, a pop. And it wasn't going to be pretty. Degradation by aging is inevitability -- by cheating it, you evoke Death's wrath and risk a more sudden and overwhelming pain than you'd have experienced if you simply tamped it down over time.
But Bryant doesn't seem the type who simply sees fit to fade away. Not to me. He's the Butch Cassidy player. If everyone goes out, they'll go out -- Bryant will go out in a blaze of flaming glory, challenging Death to a tête-à-tête on his field of battle. "Just TRY and strike me down. Just TRY and injure me. I'll come back. I'll keep fighting." And so it has been -- Kobe Bryant has cheated Death. He's put off his career's closing act as long as he possibly can, putting up the best offensive season of his career at an age where the superstars cease to be super. And when he returns from this injury, he'll continue to do so, for a time.
Bryant's career is mortal. It's quite the depressing reminder -- everything ends. Continue reading →