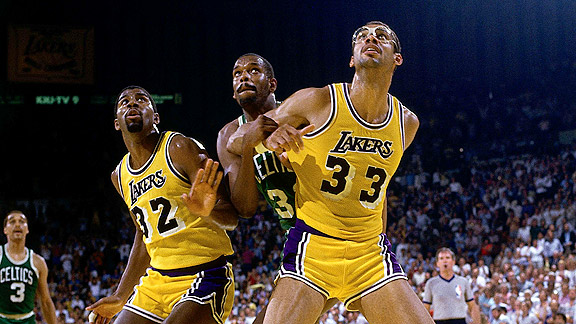 In celebration of our opening night, we're going to try the good try to make up for the NBA's lack of one. We're going to try and make it up to you by posting three full classics of NBA matchups of the teams that WOULD have been playing on opening night, if the season's schedule hadn't been scrapped. Here's game #2: the chill zombies of Seattle vs a star-studded Lakers team.
When I noticed that OKC was playing on the opening night that was not to be, I had a short debate with Alex as to whether we should restrict our search for games in the last few years where the franchise was actually in OKC (and games from when the Hornets were in OKC) or just open ourselves up to Seattle in hopes of using some actual classic games. It didn't take all that long for us to decide we'd extend our search. After all, what kind of a classic is a 2010 playoff game, really? Nonetheless. The game we have for you may not actually feature OKC, but it's still a pretty great one -- it has a still-rookie Magic, a still-spry Kareem, a still-ballin Dennis Johnson, and a still-underrated Gus Johnson. It also was the clinching game of the eastern conference finals, with Kareem doing what Kareem did in clinching situations.
Click the jump to watch the full game on Youtube (credit to lakeptic), with my "expert" commentary.