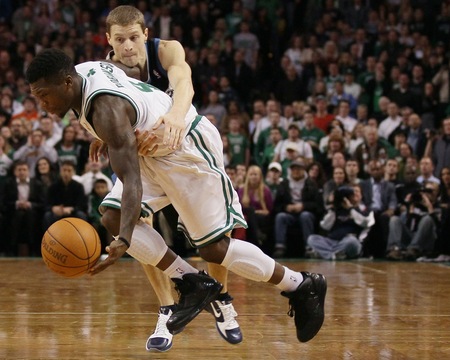 ESPN's Truehoop has had a strong few weeks. They've been rolling out an excellent ad-hoc series based around rule improvements and other game enhancements to the game of basketball that could make things better for the players and the fans, titled HoopIdea. Today, Adam will share his own idea to make the game better: ending the beneficial foul. 
A series of good passes leaves a player wide open for a three. He catches the ball, rises, and hits the shot. But before that can happen, the refs blow the whistle, and the ref gives his team the ball out-of-bounds. You see, a reach-in foul on the floor a second earlier had stopped the play. It hadn't stop the passer, it hadn't stopped the play, but it was a foul nonetheless. Sometimes the fouled team gets an extra free throw, but usually this kind of foul ends with a side-out and nothing else.
Later, in the same game, a big man catches the ball near the rim. He goes up, only to be pummeled. The player sighs loudly going to the free throw line. After all, he hates shooting free throws. And as two shots clank off the rim, the opposing coach applauds his player, while the announcers swoon about how good a foul that was. The fouled team loses the game by two points, two points that they could've spared had their big man not been forced to shoot pressure free throws. Do you know any other sport where breaking the rules, committing a foul actually benefits a team? Where a foul is a strategic device rather than a mistake with grave consequences? I don't. I propose that basketball shouldn't be such a sport either. What's more, the changes couldn't be easier to make.
Let's sketch out the two major situations, and how I'd tweak the rules. Continue reading →