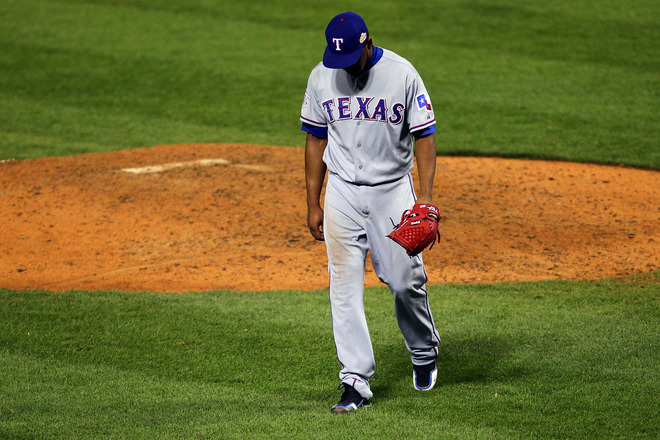 "Tonight, the Texas Rangers of Dallas, Texas won the World Series."
... Except for the part where they didn't. Explanation time. I wrote those words at roughly 11:41 PM, EST. The Cardinals were coming up for their last half inning. The Rangers were up 2, and had Neftali Feliz coming out -- a closer who, like Valverde, makes you sweat a little but reliably gets his three outs about as well as anyone. And yes, he certainly made it interesting. Struck out The Riot to get the Cards down to two outs, gave up a double to Pujols, walked Berkman, and got Craig on a nasty pitch. Then he got David Freese out to his last strike. Cards still down two. So I looked away from the TV and continued writing my post.
Whoops. With the game suddenly and without warning tied, I put down the computer and watched the game. Within 10 minutes, the Rangers had once again built a two run lead in the 10th on a clutch Andrus single and a Hambone homer. And once again, I picked up my computer and continued to add things to this post -- I was intending on posting it last night, after all. And once again, in the bottom of the 10th, the Cardinals were down to their last strike, and pulled out a clutch Berkman hit to tie the game and send it to another inning. But the Rangers' magic was gone -- they wouldn't score again, while Freese would proceed to blast Mark Lowe's fifth pitch of the game into the stands to make Lowe the game's loser and to force a game 7 that looked completely inconceivable not but an hour before. And made this post almost completely irrelevant, where it will only become useful if the Rangers win the world series tonight -- a tough thing to call.
... Whoops.