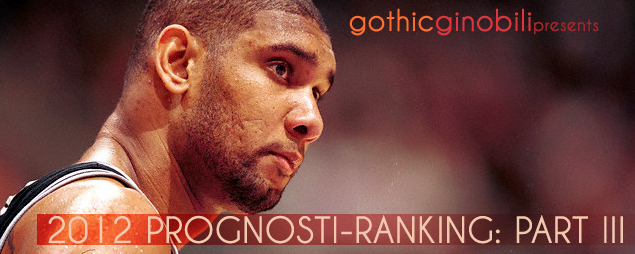 And so it comes to two. Our intended-to-be three part series preemptively ranking the playoff teams based on our expectations for them was to end tonight, with our predictions for both the final un-predicted 2nd round matchup (Spurs vs Grizzlies), the conference finals, and — at last — the 2012 Gothic Ginobili pick for the team we think will raise the banner (in — spoiler alert — a tough 7 game slog). Or at least, that was what was SUPPOSED to happen. Then I wrote an incredible amount about the prospective finals, looked at my word count RIGHT as I was about to post it, got embarrassed, and realized the only reasonable way to do this was to split it into Part III and a final post examining the matchup. So… yep. Final part comes tomorrow at lunch. Until then, visit Part I for the first 6 teams, Part II for the next 5, and click the jump to identify our last five standing.
• • •

WHY THEY'LL DO BETTER: Because they're facing the Spurs.
I hate tired narratives about how any has "another team's number" after a single playoff series. But there's absolutely no denying that last year's Grizzlies obliterated the Spurs in last year's playoffs, and thoroughly dismantled a 61-win team like it was nothing. The common refrain of "well, Manu's arm was broken!" is true in fact but not necessarily as impactful as Spurs fans would like to admit -- even against the defense of Tony Allen (and with a broken arm, as I just noted), Manu's playoff PER in 2011 was 22.3 -- not quite as good as his regular season PER, but good enough that it's hard to argue he could've played much better against Allen's lockdown defense even without the broken arm. After all; it's his best playoff PER in his entire career.
While the Spurs almost certainly would've won game 1 against the Grizzlies if Manu had been around, that still would've necessitated a game 7 victory to advance -- even with home court advantage, with how the Memphis bigs were abusing Tim, I have trouble believing that a game 7 for the series (even in San Antonio) was anything but a 50-50 proposition, or some percentage in favor of the Grizzlies. They had the Spurs number last year. And, as is commonly reported, they're arguably better this year. Sure, they don't have Randolph producing the finals MVP type numbers he produced last year against the Spurs -- they instead have Rudy Gay in place of Shane Battier, which is the equivalent of trading in a 1995 Camry directly for a brand new Masarati. Tony Allen is getting into his late-season dominant form.  Mike Conley is playing his best ball of the season. What's not to like, here? How do the Spurs beat them? Are the Spurs really better than last year?
WHY THEY WON'T: I realize it was the regular season. I realize that this Grizzlies team has a higher ceiling with Rudy Gay in the place of Shane Battier, and I realize that they're younger than the Spurs. But I can't help feeling this Memphis team is feeling the 66 game season far, far more than the Spurs are, and I can't help but think that the Spurs' record against the Grizzlies this season (a regular season sweep) actually meant something. There are a few reasons I lean this way.
It's an underreported story, but Marc Gasol has been absolutely lumbering up the court after halftime of every game since the ides of March. While he's shown flashes of the casual dominance we expect from one of the 5 best centers in the league, he's also been exhausted down the stretch of almost every close Grizzlies game in recent memory. When the team froze him out late in the game against the Clippers, that wasn't because they simply forgot he existed -- it's because Gasol hasn't been strong enough to play go-to-guy crunch time minutes since March. Frankly? We shouldn't be all that surprised about it. In the 2012 season, Gasol quietly played just 200 fewer minutes than he played last season despite 800 fewer available minutes to play. The net result: in 2011, Gasol played 65.7% of all possible regular season minutes for the Grizzlies... which does not compare favorably with 2012, where he's played 74.8% of them. An almost 10% rise in the percentage of total minutes played is an exhausting increase in a normal season. Double that if you consider that he played all of these minutes in a shorter, more compressed timeframe.
For all the ink spilled about how thoroughly Randolph and Gasol dominated Tim Duncan in 2011, less has been written about why they were able to abuse him defensively. Duncan suffered a wear-and-tear ankle injury on March 21st, 2011, in the first 5 minutes of a game against the Golden State Warriors. While Duncan came back and was relatively efficient on offense, there were signs of his decreased lift if you looked hard enough at both his defense (which was markedly worse post-injury than at any other point in the season) and his rebounding. In the remaining 7 games of the regular season, Duncan averaged 0.178 rebounds per minute versus the two "large" frontcourts he faced in last year's Hawks and Jazz. Conversely, he averaged 0.352 rebounds per minute in all other games, comparing more favorably with his rebounds-per-minute production of 0.264 pre-injury. Combined with his significantly lessened defensive presence post-injury, the Duncan that suited up for the Spurs' 2011 first round series simply wasn't the Duncan that led the team to a 41-9 start. This year, he's playing better than he has since 2010.
The Spurs swept the Grizzlies this season, and it wasn't a particularly close sweep. They won by an average of 9.5 points (better than the Spurs' overall differential on the season), and unlike most teams, they can actually say they faced Zach Randolph (including a fully healthy one!) in 2 of their 4 meetings with Memphis. In three games, they led by totals of 15, 20, and 8 going into the 4th quarter. In just a single game did Memphis hold a lead at any point in the fourth -- a Spurs road victory in Memphis where they entered the quarter up six before a 9-0 run on a tired Gasol put the Spurs ahead and a vintage minute by Tony gave the Spurs the lead for good. In the last minute of that game in particular, the only close game between the two teams this season, Duncan was absolutely dominant defensively -- he blocked two at-rim layups and altered three more shots, and absolutely ate Marc Gasol's lunch down the stretch. It's possible that the playoffs are simply a completely different game. But with Tim looking rejuvenated at the moment and Gasol/Randolph both looking rather haggard, I can't help but think that this regular season matchup told us more than we'd like to admit about where these two teams stand this season.
Overall? I don't see a Grizzlies team with a worn down Gasol and a finally-showing-his-age and coming-off-injury Randolph overwhelming the Spurs frontcourt in the same way that they did last year. Especially considering Tim Duncan's recent dominance on the defensive end, and the fact that he's simply far more healthy than he was in 2011. Instead, I see Randolph playing the role of last-year-Duncan in this series -- a player fully capable of having a better series, but given his recent injuries, unable to exact the same kind of series-changing dominance that swung the 2011 series. I don't think the series will be easy, but given all the factors I've just named, I really don't think the Grizzlies will win it. Which means I'm taking the Spurs in 7.
• • •

WHY THEY'LL DO BETTER: The Thunder are a really, really excellent team. Kevin Durant isn't the MVP, but he's one of the three best players in the league and you're silly if you think otherwise. Russell Westbrook certainly has his issues, but he's capable of going off for 40 if he gets going and has one of the most devastatingly pure straight-up rise-on-a-dime shots in the league. James Harden is playing with the ruthless efficiency of a newly formed Manu Ginobili, and would probably be the best player on 20 or more teams in the league. Serge Ibaka is an offensively talented fourth man with decent help defense and a multifaceted fit. Perkins STILL hasn't fulfilled his absolute potential with this team -- if he were to do it, they'd be title favorites for the next 3 years, and you get the sense he's extremely close to figuring it out. Could this be the playoffs he puts it all together? If they face the Grizzlies, I think they win it relatively handily. Alas. I don't think they'll face the Grizzlies. I think they'll face the Spurs, leading to, well... my complete lack of confidence they can get any higher than this.
WHY THEY WON'T: I don't know if I really want to reiterate everything Zach Lowe said in his brilliant piece on the Spurs' several season running dominance of the Durant-Westbrook Thunder that he ran earlier this season. So I won't. I'll essentially order you to read Zach's thoughts, because it's some absolutely excellent work and outlines all of the reasons I have ABSOLUTELY NO FAITH that this Thunder team can beat this year's Spurs team four times in one series. They've beaten the Spurs twice in the last three years combined, and both times were in Oklahoma City. Brooks has never shown any ability to adjust to Popovich rotations or the Spurs offensive attack. For the Thunder to beat the Spurs, they'll need a lot of things to go right. They'll need Matt Bonner to stop confusing their big man rotation. They'll need Perkins to give them something -- anything -- to try and make Tim Duncan get off Ibaka on defense. They'll need James Harden to utterly befuddle and dominate Manu Ginobili over a 6-7 game series.
And in the end? They'll need to win at least once in San Antonio, and probably twice -- the Spurs have been a 20-3 road team over the last 23 road games of the regular season, and while it's unlikely they continue at quite that pace, I see no reason why they won't take a game or two in Oklahoma City. I can see one of all these things happening. Perhaps two of them. But I simply cannot see enough of them going right to net the Thunder more than a win or two in the course of the series. I think it'll be a close-in-margin but short-in-duration series, much like last year's Western Conference Finals. I'm taking the Spurs in 5, and booking the Spurs a slot in the Finals. Against whom? Well...
• • •

WHY THEY'LL DO BETTER: Too many people are sleeping on the Rose-less Bulls. Really. I've heard rumblings that they'll barely get past the Sixers, and virtually nobody is picking them to make a conference finals over Boston or Atlanta. Now, I'm of the opinion that the Bulls would rather see Boston than Atlanta. The Celtics offense is disgustingly bad at this point (rating out as 25th worst in the regular season), has gotten progressively WORSE over the course of the season, and is in no way going to be able to reliably generate more than 80 points per game against the Bulls sans-Rose defense. Atlanta can't shut Chicago down like the Celtics could potentially do, but the Bulls have overperformed on defense against poor offensive teams all season. In the case of Atlanta, there are two or three game-changing offensive players that'll provide defensive challenges for the Bulls in Josh Smith, Joe Johnson, and (potentially) a returned and rested Al Horford (at least for the last few games of the round). For Boston, you have Rondo. And... well, Rondo. Good luck putting together a coherent offense against a Thibodeau defense with only one useful offensive player, guys.
But, regardless. That's beside the point. I think the Bulls -- even without Rose -- are more than up to the task of getting past whoever their 2nd round opponent is. Perhaps not if they had drawn the Pacers, but with the Celts and the Hawks? No. I don't see them going out early. Instead, you wonder the real question. Can the Bulls beat the Heat, even without Rose? I feel like I'm the only person who thinks this, but I'm not so sure they can't. In one of the silliest stats of the NBA season, the Bulls have a sparkling point differential of +12.2 against the Miami Heat with Rose off the court this season. This compares rather favorably to their point differential against the Heat with Rose on the court; a positively Bobcatsian --16.9. Part of this is because, in games with Rose, the Bulls' bench faced the awful Heat reserves. But that isn't entirely the case. In games 2 (the John Lucas game) and 3 (the game where Rose sat out in crunch time) of the season series with Miami, the Bulls' bench were significantly more effective versus both the Heat bench AND the Heat starters. The overall narrative may be that the Bulls can't possibly hang with the Heat without Rose, but it simply hasn't been true this season. So far.
And they do have home court advantage, meaning that if they force a Game 7 (something I think is reasonably likely), they'll have an insane Chicago crowd buzzing and one of the most intense playoff atmospheres LeBron could possibly face at his feet. The 2009 Magic defeated a markedly superior Cavaliers team through timely three point shooting, and the 2012 Bulls -- believe it or not -- shot 38.6% on threes for the season if you remove Rose's three point shots. That would project out as the 2nd best percentage in the league and actually better than the 2009 Magic were in the regular season. Not only that, the 2012 Heat had the 5th worst three point defense in the league. And bench three point shooters tend to perform better at home than on the road. While the Rose-less Bulls were an inferior team to the Heat in the regular season, they strongly fit the profile of most giant-killing underdog teams that upset better teams in the playoffs. Strong three point shooters, lockdown defense, and high energy players.
And, again. They just happen to have homecourt advantage. Most underdogs don't have that. Which leads to the befuddling question -- can someone tell me why, exactly, we're sleeping on this team as a fringe title contender? Their style is different, yes. Less ball dominant scoring from Rose. They'll need a lot more ball movement, and solid (if not great, at least at 2009 Rafer Alston level) performances from John Lucas III and C.J. Watson. They'll need to lean on their three point shooting and their defense -- which, by the way, projects as better without Rose over the whole season, taking the Bulls from a "reasonably good, top 3" defensive rating to "the closest thing to the 2008 Celtics in this year's playoffs" on the defensive end. I actually struggled with my final pick here a lot, because even though they're clearly the underdogs, I see a multitude of reasons why this year's Bulls could shock the world and upset the Heat in a 7 game thriller, perhaps even in 6. It's simply not impossible, and anyone who thinks that hasn't seen enough of the Bulls this season. They fit virtually every underdog giant-killing contender template that's worked in the last 10 years. This isn't a team that's a sitting duck against the Heat. This is a team that could -- with a bit of luck -- upset them. And it's foolish to think otherwise.
WHY THEY WON'T: Just because I think they could potentially do it doesn't mean I think it necessarily MUST happen. That's an important distinction. I also think that -- much like almost every 2nd and 3rd round series I've described -- a lot will come down to rest. I think LeBron is going to be rather worn out by the time the conference finals roll around, but I'd be shocked and appalled if he was more worn out than Luol Deng. Considering that, and considering that the Bulls' only hope for defending Wade is helping off Bosh (like they did in last year's ECF), I don't see how they win a long series with the Heat without Deng shutting down LeBron and the Bulls getting very, very lucky on threes. I think it'll be close. Six or seven games, definitely, and far tougher for the Heat than anyone's expecting. But ultimately, the talent disparity between a team whose best player is Joakim Noah and a team whose best player is LeBron James will shine through, and the Bulls will probably lose. I'm picking the Heat in 6, setting up LeBron's second shot at Duncan, Parker, and Pop.
• • •
I was actually intending this to be one last post for all five of the final teams -- I got far too long winded, though, and it ballooned. On Alex's suggestion, I'm splitting this part 3 into parts 3 and 4. Combined, they're almost 4,000 words, and I probably could write a bit more on the Heat-Spurs series I'm projecting in the finals. It's a comically long preview. Don't worry, though. The next part is fully done. It will come around lunchtime tomorrow. Not a long wait, on the real. See you then.