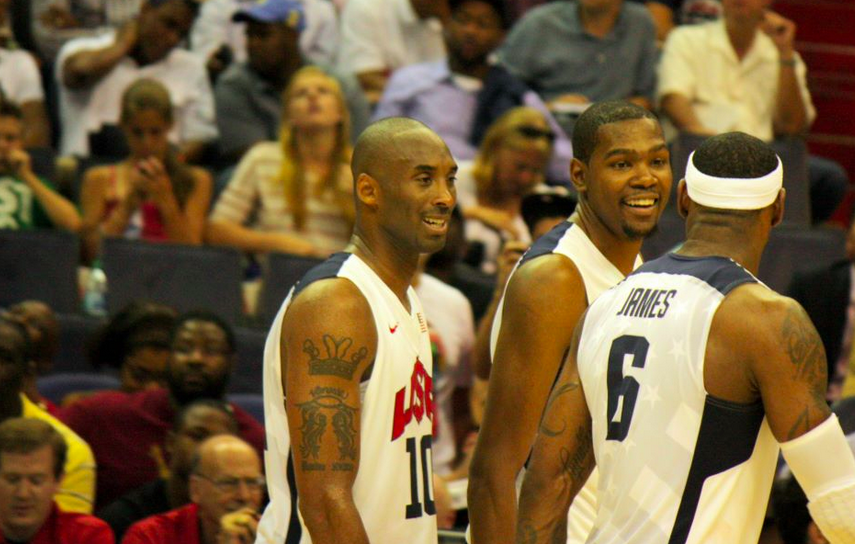 A few months back, our friend Kirk Henderson managed to score two tickets to yesterday's USA vs Brazil scrimmage in Washington D.C. Aaron would've tried to get a ticket as well, but he's on vacation in Arizona right now. Sucks! Anyway, Kirk wrote up a great eleven-point bulleted list in the style of Rob Mahoney's "The Difference", a set of posts where Mahoney gives one bullet of analysis to every point in the final margin. For your perusal, Kirk's Olympian-themed "The Difference," replete with photographs taken by Kirk from his enviably close seats.
Apparently, there are people out there who have little to no interest in international tournaments like the World Championships and Olympics. I do not understand these people at all. If you're a diehard NBA fan like I am you can't in good conscience normally root for most of the players who end up on Team USA -- the Olympics are the only place to root for these guys. Also, given that they often represent 12 of the most talented basketball players alive, they can elevate the sport to an art form. It's beyond beautiful to watch in person.
As dominant as Team USA can be, basketball is a fantastic sport because on any given night, either team can win. Brazil came out with something to prove, and seemed excited at the chance to stop a faster, smaller Team USA by pounding the ball inside. Up 10 after one quarter, Brazil ran headfirst into a LeBron-shaped brick wall in the second quarter and only managed to only put up 5 points. Team USA continued to apply the heat in the 3rd and withstood a furious Brazilian rally to start the fourth and finally put the game away.
• • •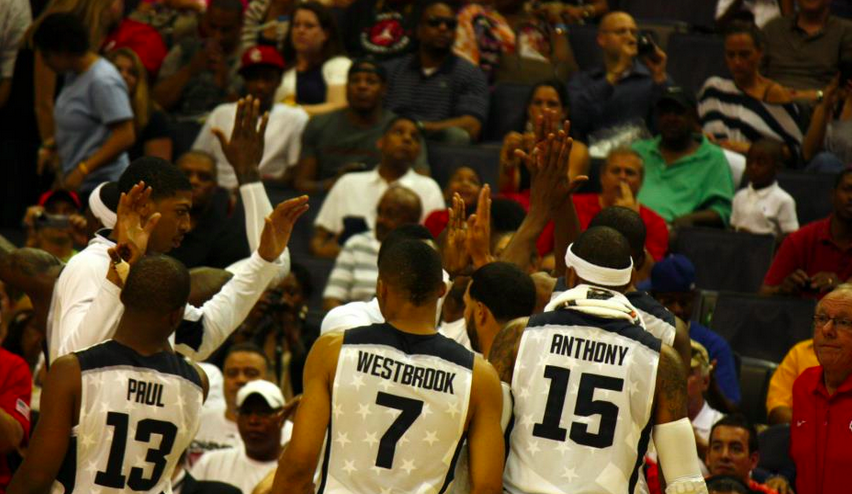 Let's be clear: this game could have easily been a whole lot tighter had Marcelo Machado managed to hit any of his five threes. Normally, he'd hit those. However, Team USA also could've ran away with it as they only shot a hair above 40% for the game. The turnovers Team USA forced (23 in all), particularly the 5 from young Raul Neto, completely changed the flow of the game in key moments.
At some point in the 2nd quarter Coach K went with a nightmare lineup of Chris Paul, Russell Westbrook, Kevin Durant, Carmelo Anthony, and Lebron James. Think about that. Two point guards, three small forwards. Talk about crazy. So much ball handling, speed, and skill -- it honestly looked like a cheat code from NBA 2K12. As basketball trends towards positional ambiguity, we fans need to take note of moments like this. Evolution is happening, and we're watching it.
That said, the sheer size of the Brazilians hurt Team USA early in the paint with solid post play and interior rebounding. Team rebounding has to be an emphasis moving forward. Tyson Chandler getting one rebound is simply not going to cut it when Team USA faces Spain's larger, more skilled, and more aggressive front line.
• • •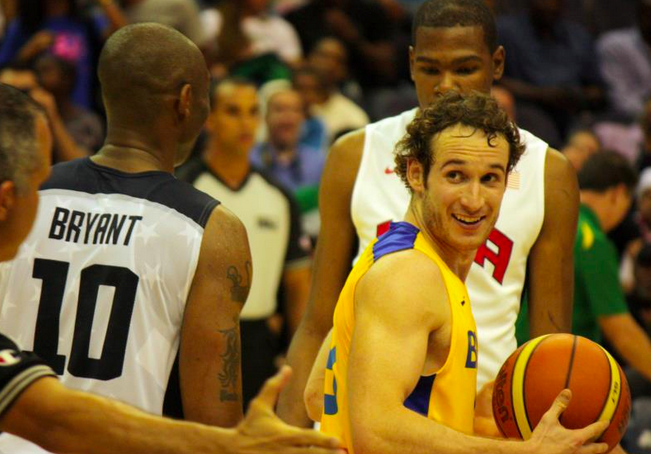 We need to take a minute to admire the brilliant play of Brazilian point guard Marcelo Huertas. Check out this stat line: 11 pts, 13 assists, 5 rebounds, shot above 50%, and played only 30 minutes. I'm VERY disappointed that his name is not coming up in the big media write ups. Marcelo managed the Brazilian offense in a way that should leave any NBA lifer wondering why he isn't in the league. He's better than half the starting point guards currently on NBA rosters. I wasn't able to hear the game, but from what I've seen on the internet, Fran Fraschilla said the same thing.
Lebron James is the clear alpha dog of Team USA. No other player came close to his point totals (30 points on twenty shots).  The shots were not falling from outside the arc tonight with the team managing to shoot 6-24 from deep. Lebron essentially took over in spots, getting to the basket at will and doing things that seemed flat unfair. The pleading smiles from opposing players after a foul call was highly entertaining. Nice to be on the cheering side of that for once.
I remain unimpressed with both Kobe and Melo. I know that may be a bit treasonous in some circles, but Bryant should not be taking away minutes from the human ball of energy that is Russell Westbrook. If his shot isn't falling he isn't much use as his defensive prowess is a thing of the past.  Melo seems to be living off a reputation that is based in folklore.  Both should continue to see minutes, obviously, but fewer would be better in my opinion.
If you follow me on twitter, my political leanings are clear, but it was simply awesome when President Obama showed up at the game. Tip off was delayed by a solid 5 minutes as people cheered. Later on he was on the kiss cam and didn't kiss the first lady which produced a hilarious round of boos. They were shown again and he made up for his big mistake. I'm sure the President can't get out much, but I thought it was really fantastic he came to cheer on the teams while they were in DC.
• • •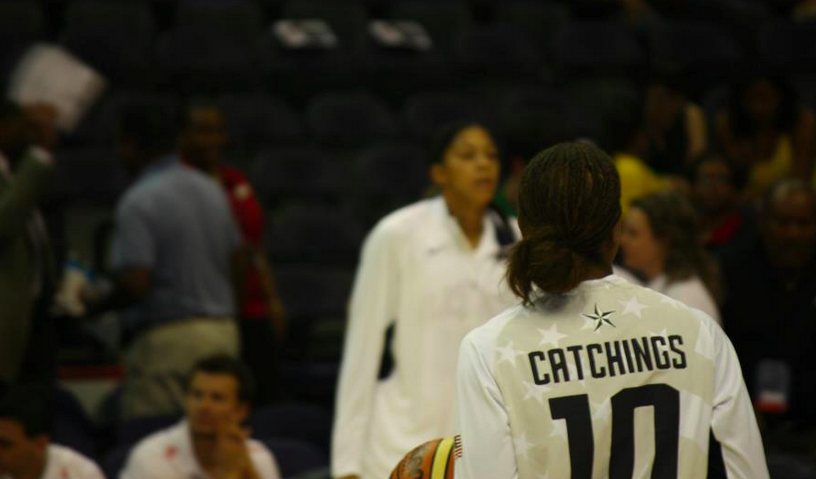 I was highly, highly disappointed by the number of people who bought tickets to a double header with the Men's and Women's national team and didn't bother to show up until right before the Men's tip off. I understand women's basketball isn't everyone's cup of tea, but the team that stepped out on the floor tonight to represent the United States is in the discussion with the best sports teams ever assembled. Tonight's blow out win was impressive; the women showed all aspects of their games, brute force, highly refined skill, and a sense of offensive team work the US Men's Team could learn a thing or two from.
On a closing note... I really think we fans need to savor this team. The Dream team lead to the Dream Team II (which was a hidden mess, despite how good they were) which lead US Men's basketball down the road to the embarrassing finish in the 2002 World Championships, then on to the cringe inducing 2004 Olympic team. My point? There's a chance playing on these teams might only be a fad. Colangelo has done well making it something special, something to aspire to for the young guys. But all it takes is a couple of small missteps and this collection of talent and youth could go up in a puff of smoke. Appreciate this team and their time together. It might just be some of the best basketball we get to see during our lifetimes.