Welcome to Gothic Ginobili.
This site has been around since 2011 -- for most of that period, we were an ESPN TrueHoop Network affiliate. With the dissolution of the network we've found that title to be officially defunct, but we still exist. We used to be much more active. Our claim to fame was our 2012 Player Capsules, where our head editor wrote 370,000 words in five months outlining the follies, foibles, and fantastic talents of every player in the NBA.
The Gothic is many things. It's weirdly thorough spin on NBA coverage. It is not a Spurs fan-blog. This confuses most people. "Why name it after Manu Ginobili if it isn't a Spurs blog?" was a common question throughout the blog's limited popularity. It isn't a Spurs blog, despite my affection for Manu Ginobili. This blog simply isn't meant to be some kind of breathless exaltation of the Spurs -- we only wanted to cover the Spurs in the context of the league as a whole. But even if we never WANTED it to be that, it did occasionally drift towards the sorts of topics Spurs fans hold dear. Would've been a lie to pretend otherwise.
So we named it after a Spurs player. Wanted to hint at the fact that despite our best efforts we'd likely drift towards Spurs-related topics a bit more frequently than other teams. We also wanted to celebrate Manu Ginobili's beautiful name. Why "Gothic"? I worked for a paper that called itself "The Gothic Guardian" in college, and "Gothic" makes for a nice shorthand. That's it. No further motive. Could've just as easily been "Giraffe Ginobili" or "The Ginobili Gaffe-Fest". Especially if we'd started this after the 2013 finals. (BOOM! RIMSHOT!)
As of writing (mid-October 2015) we're down to a single writer -- the founder, Aaron McGuire. I happen to be the one writing this, so I'll stop this third person bullshit. I'm an applied statistician in the financial industry and technologist by trade, formerly employed at a top-5 bank and currently employed at a credit consulting firm in Richmond, Virginia. I am a Spurs fan with Cleveland sports parentage who was born in Los Angeles, moved to Arizona, and went to college in North Carolina. Trying to understand the tortured leaps of logic that led to my complicated sports fandom is a topic for another column. Or another 20 columns. Or the goddamn Parthenon. Columns all around you. Everywhere.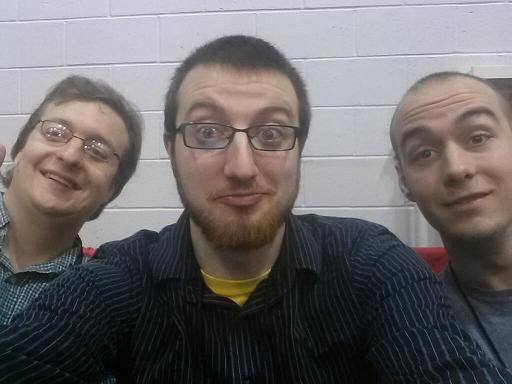 PICTURED: Alex D., Aaron M., Alex A. at the 2013 Las Vegas Summer League
Our former writers included a number of excellent folks who would make excellent twitter follows, if you're into that sort of thing:
Those were our dudes. Now, I am our dude, which makes looking in the mirror a real trip.
Hope you enjoy the sporadic posts I throw up every now and again.