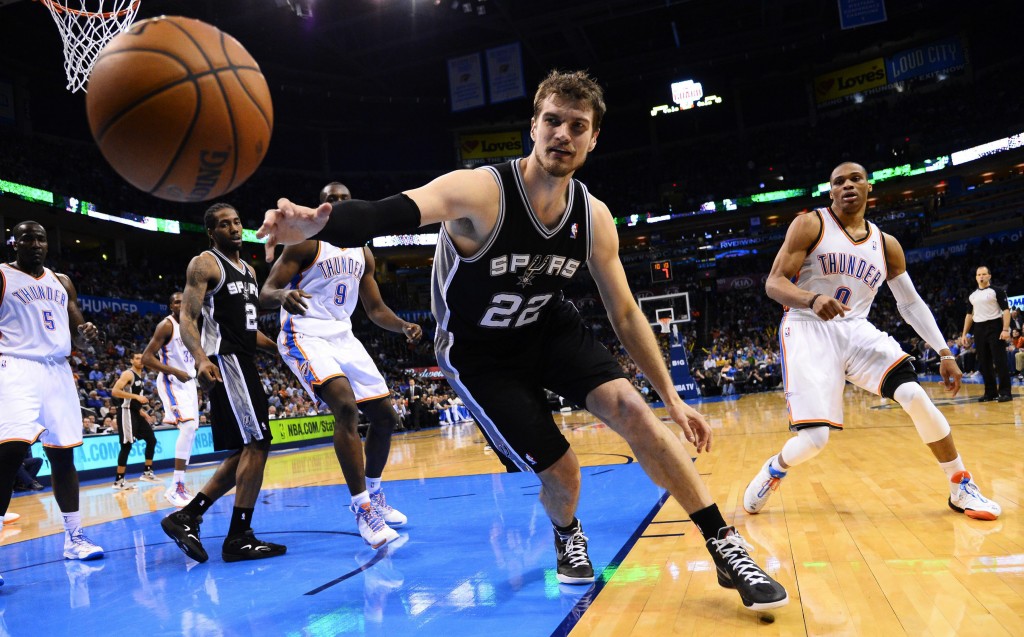 Hey, folks. In our stable of rippling thoroughbred writers, we've managed to accumulate four writers whose names begin with "A." It's hard to fashion a feature out of the first letter of someone's name, though. We've also managed to accumulate two San Antonio Spurs fans and one Oklahoma City Thunder fan. Fitting with that, after every Thunder/Spurs game for the rest of eternity, the powers that be at Gothic Ginobili ... er, me ... will throw our three SAS/OKC rooting authors in the sarlaac pit to talk about the game and the matchup, all while being slowly digested by the most confusing creature George Lucas ever imagined. Today's broader topic: the April 4th, 2013 matchup in the Oklahoma City Thunderdome.
First question isn't a question. It's just a quote and a statement. "Home-court advantage mattered more last year because the Spurs were on a 20-game win streak." That was an actual thing Reggie Miller said on live television. No moral.
Alex Dewey: I agree with that. It makes perfect sense to me.
Jacob Harmon: What is he even saying there?
Alex Dewey: Oh, wait. Hold on. I'm that guy from Memento, I forgot.
Aaron McGuire: I have absolutely no idea. I mostly just noted it down it so we could gawk at it. What could he possibly be saying? What could that possibly mean?
Jacob Harmon: Who did it matter more to? The Spurs? The Thunder? I... I don't know.
Aaron McGuire: Is it... like... "the Spurs were on a 20 game winning streak therefore home court was... less important... because... they were 20-0 in the streak, and they won everywhere. The Thunder didn't care about home court advantage because the Spurs were 20-0 during the streak but 0-4 afterwards. Professional analyst, Reggie Miller, reporting for duty."
Jacob Harmon: Did you hear him say "Tim Duncan looking for the foul on the block by Tim Duncan"? Reggie's observations come from a place outside time and space, man.
Aaron McGuire: Fair.
Alex Dewey: Look, Aaron. You're being such a jerk about this. I'll have you know, Reggie was using an advanced maximum likelihood estimator with some factor analysis. He reasoned backwards from the 20-game winning streak and noticed that 10 of those came in the playoffs and 10 came in the regular season, therefore, home court was not the dominant factor in the Spurs winning streak.
Aaron McGuire: Haha, look at Dewey, with his nerd-rat pocket square statistics.
Alex Dewey: Real talk, though -- was Reggie Miller smoking a tailpipe blunt filled with neurotoxins on-air?
Aaron McGuire: That seems unlikely. Anyway, one last thing that has to be noted before we stop talking about Reggie. "MOMMY HAS SOMETHING FOR DADDY TO DO" has to rank among the worst dunk calls in the history of the sport, doesn't it? It just... it didn't make sense in the moment, and even afterwards, there was a lot of innuendo and sketchiness in that commercial in general.
Jacob Harmon: I felt the gutter thing was really meta. The innuendo is that this kid's mom is about to take Kevin Durant to town, then it turns out she just wants him to do chores. But he's cleaning the gutters, the implication being that the viewer's head is in the gutter for thinking that there was a sexual connotation to the "mommy has something for daddy to do" line. Was this obvious, or am I a genius?
Aaron McGuire: I thought something roughly similar when I first saw the commercial, but I never stated it as eloquently. Respect. Still, I'm struggling to think of any dunk calls that would be worse than that in terms of being creepy and out of place. Best I can think of are some don't-you-dare ones, like "BOOM GOES THE BOMB" in OKC or "THE JET PLANE HAS CRASHED INTO THE BUILDING" if Jason Terry hits a game-winning three in New York. Just these horribly offensive wastes of nature. That's how that dunk call struck me, albeit in a much less offensive-to-my-core-nature way. Come on, Reggie. Pull it together. Anyway. NEXT QUESTION, FOLKS. Continue reading →